Samsung re-reigns first place in smartphone shipments, low-end terminals contribute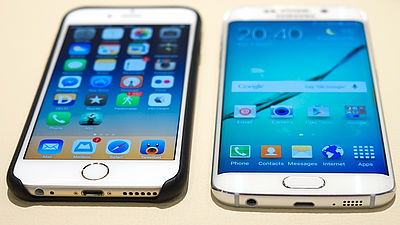 ByKārlis Dambrāns

In 2014Samsung was deprived of Apple by top smartphone sales volumeBut in the first quarter of 2015 Samsung pushed Apple and found that it was recapturing the top shipping unit.

Samsung Electronics Announces First Quarter Results - Samsung Electronics Official Blog: Samsung Tomorrow | Samsung Electronics Official Blog
http://global.samsungtomorrow.com/samsung-electronics-announces-first-quarter-results-2/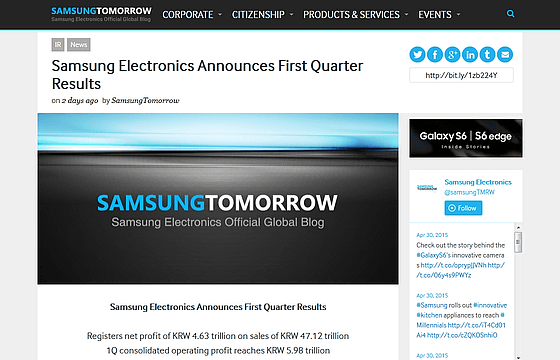 Samsung Reclaims Title as World's Largest Smartphone Vendor in Q1 2015
https://blogs.strategyanalytics.com/WSS/post/2015/04/29/Strategy-Analytics-Samsung-Recaptures-Title-as-Worlds-Largest-Smartphone-Vendor-in-Q1-2015.aspx

According to analysis by Strategy Analytics, the number of smartphones shipped worldwide in the first quarter of 2015 (January - March 2015) is 345 million units. This is 21% higher than the previous year's 285 million units, and the market is still growing on a global scale, but the growth rate has been slowed since it was 33.2% in the same period last year. In the fourth quarter of 2014, both Apple and Samsung shipped approximately 74.5 million units, slightly on top of Apple, while Samsung got 83.2 million units, while Apple dropped to 61.2 million units this fiscal year We increased the number and recaptured the top. In terms of share, in the last year it was 19.6%, but Apple has decreased to 17.7%, Samsung has increased to 24.1%. This is followed by Lenovo's Motorola Mobility, which is 18.8 million units (5.4% share), and Huawei has 17.3 million units (5.0% share).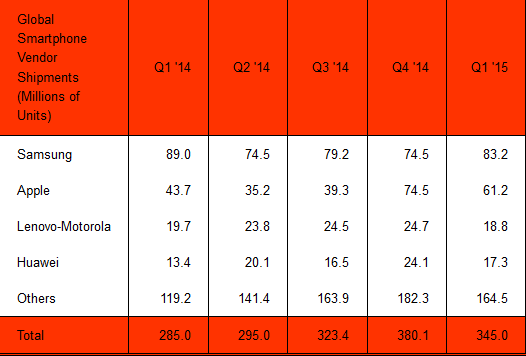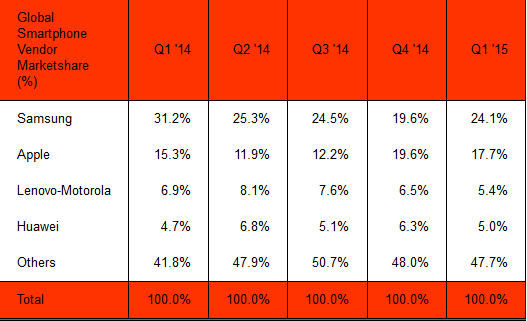 Although Samsung seems to be making a big difference in rival, smartphones shipped have "Galaxy A"Galaxy E"Galaxy JBecause many low-priced smartphones are included,Profit rather declineddoing. In contrast, Apple has increased unit sales of highly priced iPhone 6/6 Plus, so despite the fact that shipments are decreasingAchievement of record highs. Especially sales in the Chinese market are good.

But Samsung also makes a positive prospect that Galaxy S6 and Galaxy S6 Edge will make a big contribution to sales in the second quarter of 2015.