Microsoft official machine learning site "How Old Do I Look?" Which guesses age from images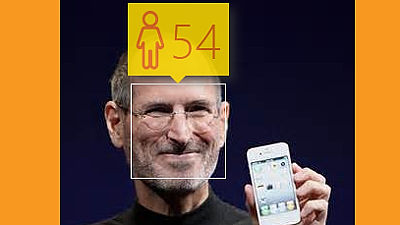 A team promoting a project mainly for machine learning at Microsoft will use the face detection API just released from the company to measure the age of the subject from the image "How old do I look?"We are developing a service called. Since it is said that it is official service of Microsoft, I tried how high accuracy it is.

How old do I look?
http://www.how-old.net/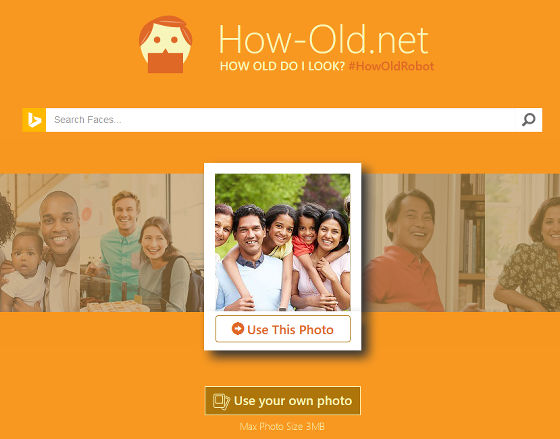 To "How Old Do I Look?" To measure the age of the subject appearing in the image, there are a method of searching and a method of uploading, first try the search method. Enter "Steve Jobs" in the search window displayed when opening the above URL and click the magnifying glass icon.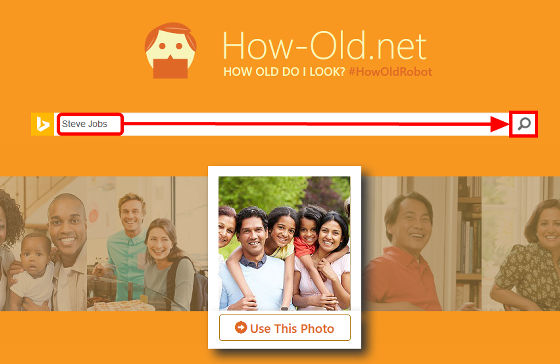 The image related to "Steve Jobs" was displayed side by side with Zurat. I will select the image when iPhone 4 was announced at 2010 WWDC. To select images, click "Use This Photo" OK.




Mr. Jobs' face part is surrounded by a white border line and 54 is displayed at the top. The image is a copy of Mr. Jobs at the age of 55, and the error is only 1 year old.



Next time I will pick Mr. Jobs of a younger day.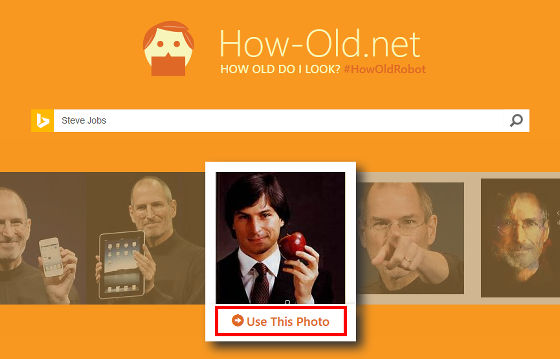 The result was 36 years old. It seems that the picture was taken in the early 20s when Mr. Jobs established Apple.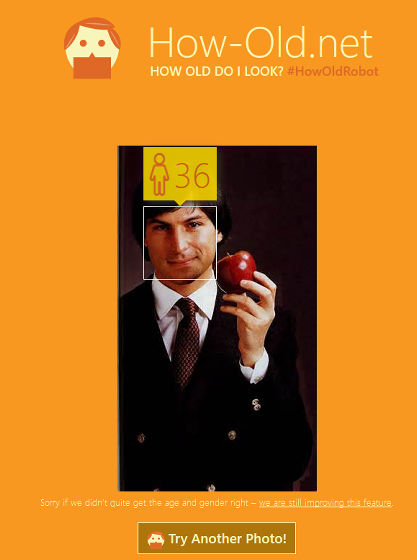 Mr. Jobs was 39 years old and Mr. Gates was judged 43 years old in a picture of Mr. Steve Jobs and Mr. Bill Gates born between 1955.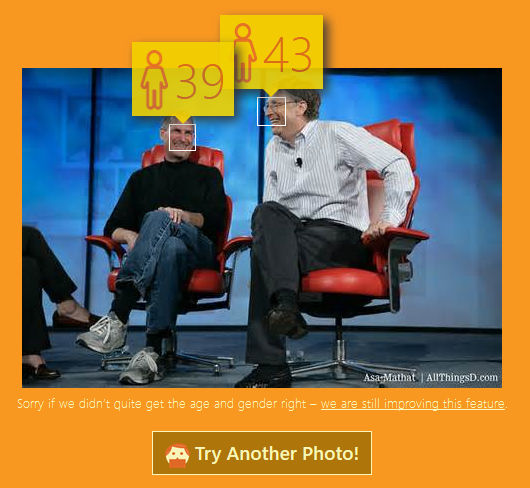 "How Old Do I Look?" Also supports searching in Japanese.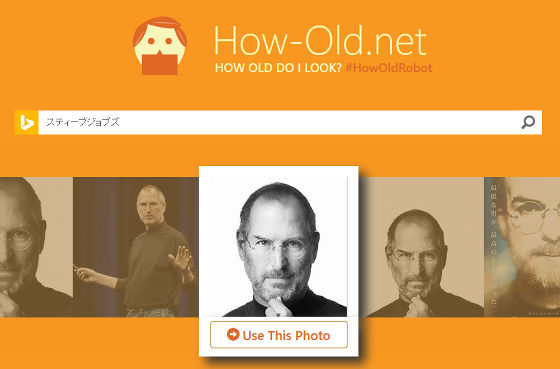 Next is an image of a female human rights activist from Pakistan and a picture of Malar · Yusufuzai of 17 years old as of 2015.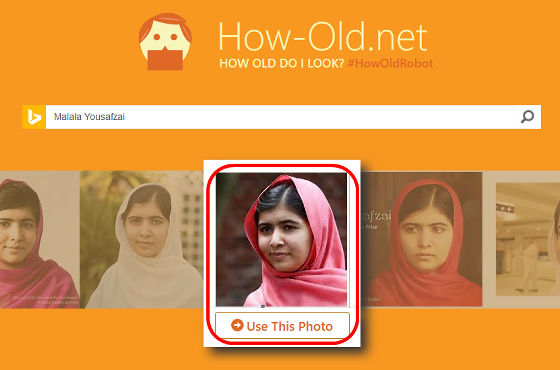 The measurement was 27 years old and it was higher than the actual age.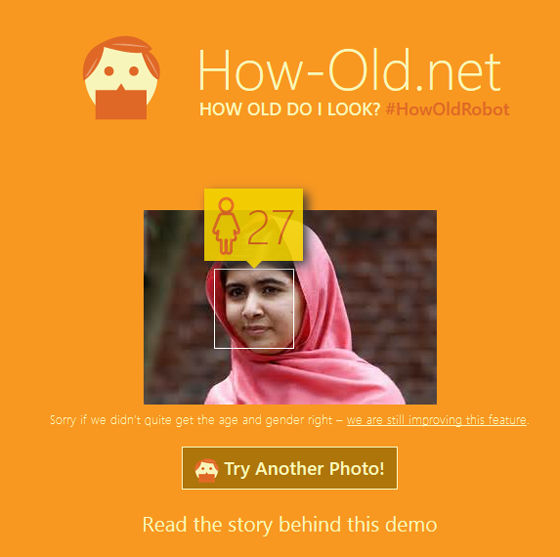 "How Old Do I Look?" Can also upload a locally saved image and measure the age. Click "Use your own photo" to upload.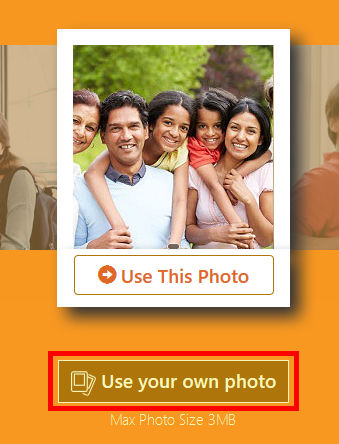 Select the image to upload and click "Open" at the end.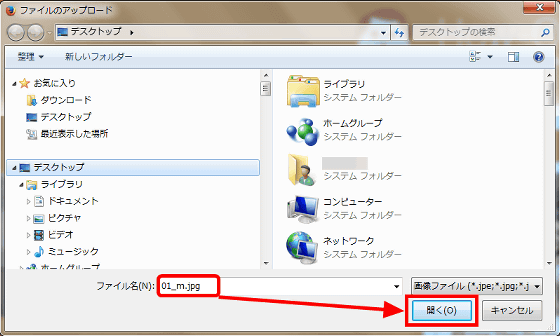 The age can be measured neatly even with the uploaded image. As image of Tatsuya Okawa is 33 years old as of 2015, the measurement result is younger than the actual age.



Also, users using "How Old Do I Look?" Tweeted images of measurement results on Twitter, so I picked up some of them. A face that Microsoft's former CEO Steve Ballmer is opening up is 89 years old. It may be that accuracy deteriorates if it is changed face.

Lmao@ Microsoft@ GabeAul@thurrott@ Satyanadella@ Towarren@ Maryjofoley@ Joebelfiore@JoannaStern# Build 2015Pic.twitter.com/r9hJ8qAKzT

- Brian Fagioli (@ brianfagioli)2015, April 30
The children lined by two people were measured that the left girl was 30 years old and the right boy was 7 years old. The girl's baby doll is 4 years old.

OK Microsoft is straight up trolling my sister and the plastic baby herehttp://t.co/A3cpV0qszQPic.twitter.com/BKsuvz0Zkb

- Tom Warren (@ tomwarren)2015, April 30
It seems that Alf who is the main character of the American television drama "Alf" was not recognized as a face.

Alf is foreverPic.twitter.com/Z56XhgBul 6

- TC (@ chillmage)2015, April 30