Blind test of high end smartphones' camera quality such as iPhone 6 Plus and Nexus 6, smartphone which became the first place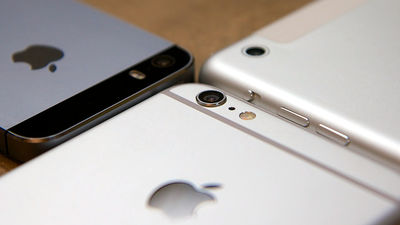 ByBen Miller

There are countless new terminals released in the year, but in the smartphone market, in recent years all terminals have similar specifications, so I also have to worry about choosing a smartphone based on what criteria often. Still if you are a person who will shoot pictures with Padya Pasha on a smartphone from now on, the number of effective pixels of the camera etc is particularly bothersome. However, although I tried trusting only the numerical values ​​published as specifications, I tried purchasing it in practice, but since it is sometimes unsatisfactory in image quality, in reality thousands of people have the most beautiful pictures Whether it is reflectedBlind testThen, "What smartphone camera is best?" Is a news site that distributes camera related newsPhone ArenaIt is investigating.

Nokia Lumia 930 wins our blind camera comparison, followed by Galaxy Note 4; HTC One M 9 ends up last
http://www.phonearena.com/news/Nokia-Lumia-930-wins-our-blind-camera-comparison-followed-by-Galaxy-Note-4-HTC-One-M9-ends-up-last_id67659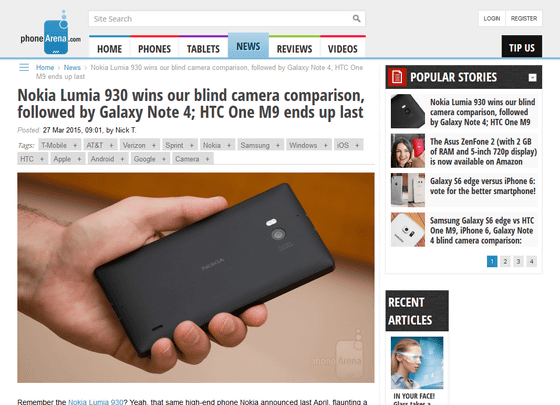 The following six smart phones were tried in the blind test. The numerical values ​​in parenthesis represent the effective pixel number of the main camera, and the image quality of the photograph taken with the main camera is evaluated by blind test.

· Galaxy S5 (16 million pixels), released on April 11, 2014
· Nokia Lumia 930 (20 million pixels), released on July 4, 2014
· IPhone 6 Plus (8 million pixels), released on September 19, 2014
· Galaxy Note 4 (16 million pixels), released in October 2014
· Nexus 6 (13 million pixels), released in November 2014
· HTC One M9 (20 million pixels) released on March 27, 2015

The first subject to be photographed was an ordinary house. It seems that there is not much change except for coloring ... ...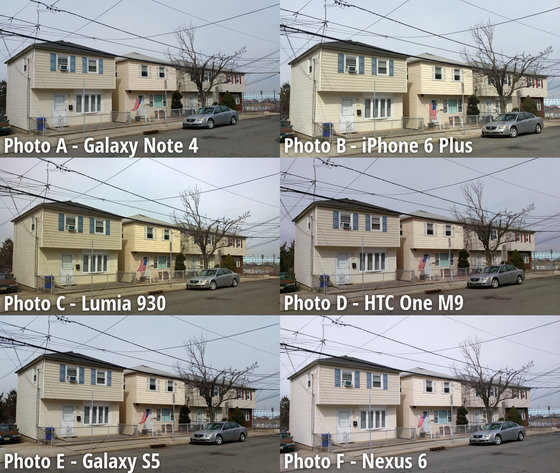 When I try to enlarge the picture this way.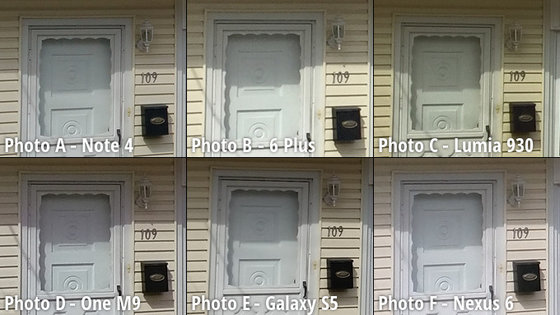 Looking at the branches of the tree, you can see that there are smartphones that are sharply taken and those that are not.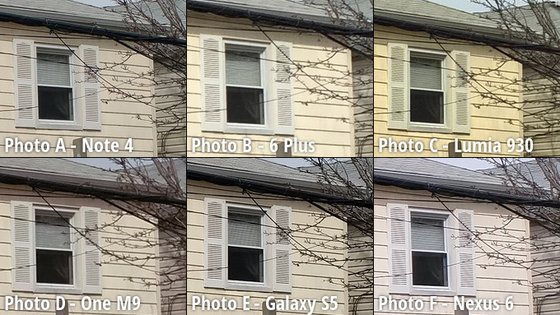 1863 people (39.44% of the total) voted for photos taken with Photo B, that is, iPhone 6 Plus, among the 4724 people who voted for the picture that I felt was the most beautiful of the six pictures . Others are Nexus 6 976 votes (20.66%), Galaxy S5 648 votes (13.72%), Galaxy Note 4 443 votes (9.38%), Lumia 930 415 votes (8.78%), HTC One M 9 379 votes 8.02%).

I shot another house. The color considerably varies depending on the camera.



Up the antenna above the roof.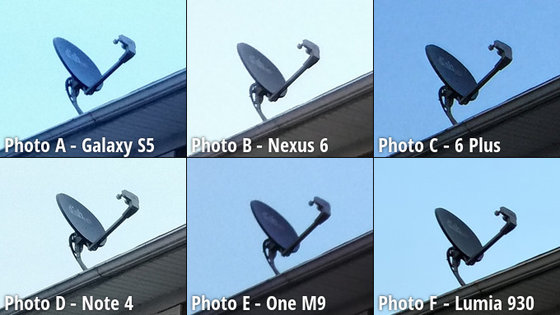 After all seeing the branches up, you can see the difference for each camera.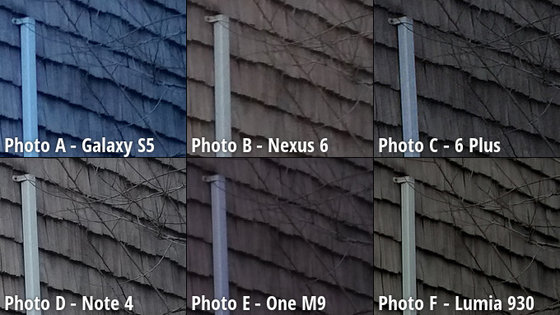 The most votes in this subject were the pictures taken by Galaxy Note 4, and 2475 votes (56.21%) are gathered which account for more than half of the total. The total number of votes is 4403 votes, 1268 votes for Nexus 6 (28.8%), Lumia 930 for 511 votes (11.61%), iPhone 6 Plus for 80 votes (1.82%), HTC One M 9 for 37 votes (0.84 %), Galaxy S5 was 32 votes (0.73%).

Next night shooting.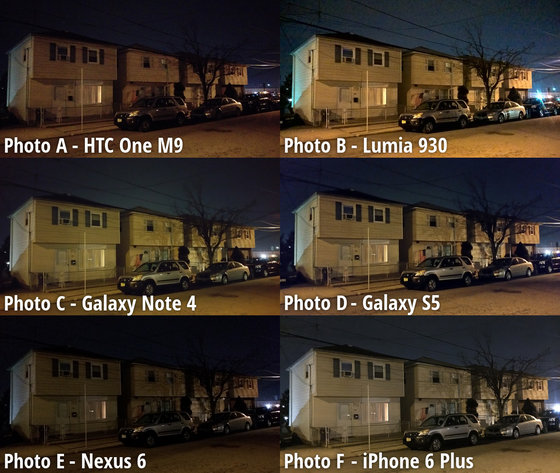 Enlarging the photograph makes it clear that the difference in image quality of each camera is clear.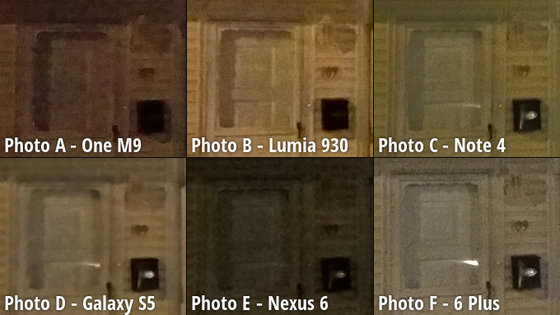 Especially Nexus 6 and HTC One M9 seem to be poor at nighttime shooting compared with other smartphones.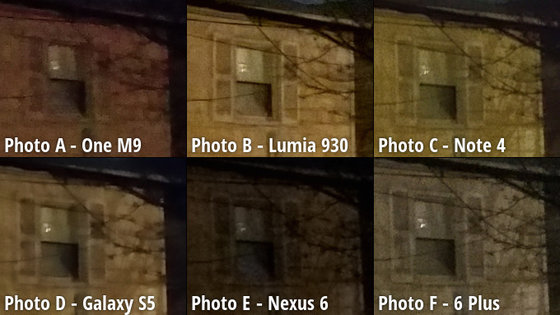 IPhone 6 Plus gathered Lumia 930,1530 votes (36.68%) that gathered 1563 votes (37.47%), of which 4171 people evaluated these pictures in total. Then Galaxy S5 has 786 votes (18.84%), Galaxy Note 4 265 votes (6.35%), Nexus 6 23 votes (0.55%) and HTC One M9 4 votes (0.1%).

Next time we are wearing a wrist watch.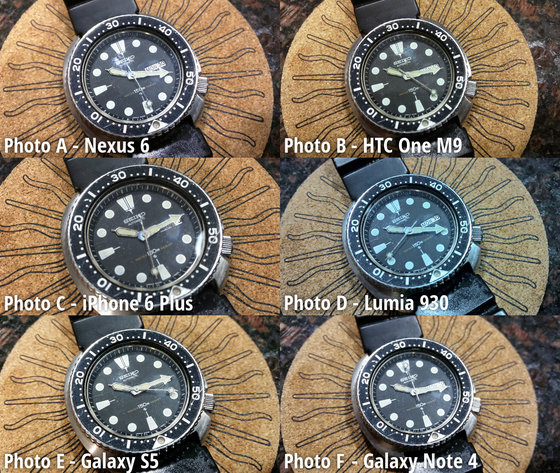 The difference is evident when looking up details, and the photographs taken with Nexus 6, Lumia 930, Galaxy S5 clearly show the "40" number, whereas in iPhone 6 Plus, HTC One M9, Galaxy Note 4 Numbers are blurred in photographs taken.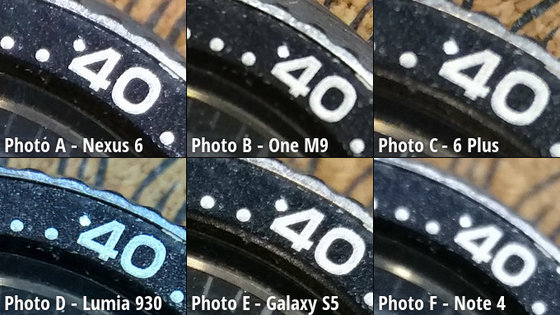 Nexus 6 gathered 1462 votes (36.52%) in 4003 votes, 1341 votes (33.5%) in Galaxy S5 the next most votes. Below that it follows 595 votes of Lumia 930 (14.86%), 436 votes (10.89%) of HTC One M9, 133 votes (3.32%) of iPhone 6 Plus, 36 votes (0.9%) of Galaxy Note 4 .

The photograph taken by collecting multiple plush toys is the next subject. Pictures taken with Lumia 930 seem to be considerably colored compared to others.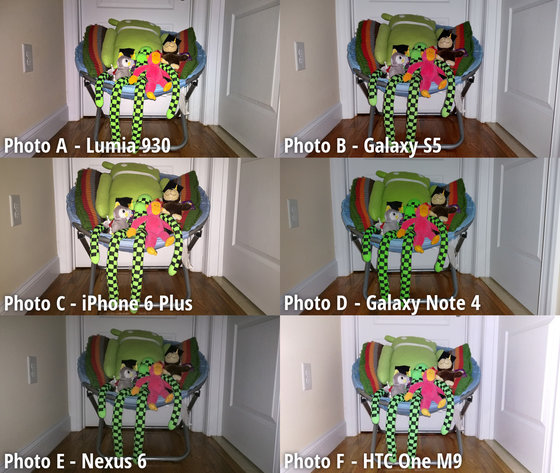 Looking at the pictures up, you can see that the pictures taken with HTC One M9 are too expensive and the texture of the stuffed animal is indistinguishable.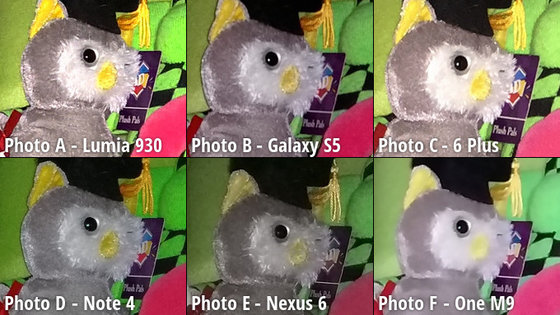 HTC One M9 finished in impressive knit material as well.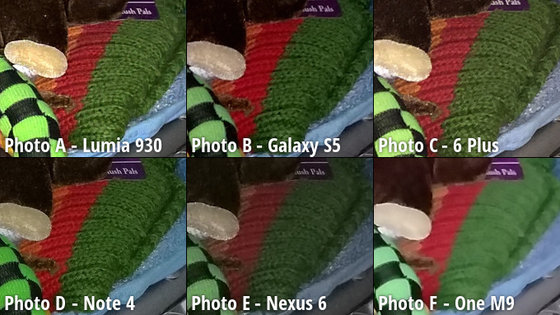 The most table among these pictures was collected by 2022 votes (53.62%) of Lumia 930, and it was the biggest top that gathered more than half of the total. IPhone 6 Plus got 548 votes (14.53%), Galaxy Note 4 427 votes (11.32%), Galaxy S5 414 votes (10.98%), HTC One M 9 349 votes (9.25%), Nexus 6 was 11 votes (0.29%), and the total number of votes was 3771 votes.

At the end, I shoot something piles of games and DVDs.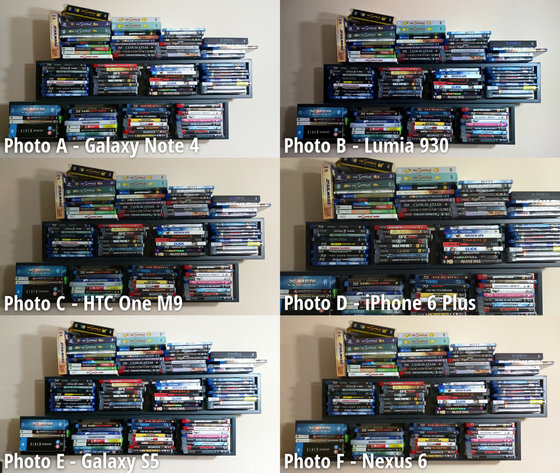 As each title is enlarged, it is clear at a glance which picture was taken beautifully.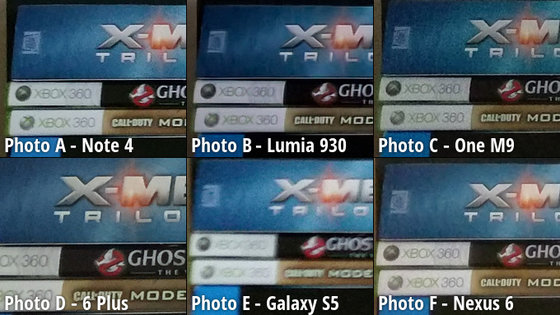 The highest number of votes was 2290 votes (61.31%) in Galaxy Note 4, followed by 926 votes (24.79%) of Lumia 930, 225 votes (6.02%) of Nexus 6 under it, 190 votes of iPhone 6 Plus ( 5.09%), 61 votes (1.63%) of Galaxy S5, and 43 votes (1.15%) of HTC One M9. The total number of votes was 3735 votes.

From these test results, "Nokia Lumia 930" was "smartphone that takes (comprehensively) the most beautiful pictures". HTC One M9 has the same number of effective pixels as Nokia Lumia 930 is 20 million pixels, but the number of votes is the smallest.

The final result of totaling all the votes of the blind test is as follows.

1:Nokia Lumia 930 (6032 votes)
2:Galaxy Note 4 (5936 votes)
3:IPhone 6 Plus (4344 votes)
Four:Nexus 6 (3965 votes)
Five:Galaxy S5 (3282 votes)
6:HTC One M9 (1247 votes)