Ten questions frequently asked me who couple around the world with a couple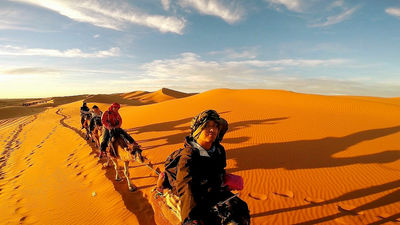 "Why did you fight with your couple?" "How much money do you spend on traveling?" All answered difficult to answer in all.

World newspaperA special reporterRyuta Matsudais. We departed on a journey around the world on June 19, 2014, and returned home safely last month. Beginning in Taiwan, I traveled to the west for 27 countries in total in Asia, Europe, Africa, South America, North America.


◆ Reason for going on a trip
Eight months is long and short, it has gone by in a blink of an eye. I think it was because this trip was very fulfilling. Wow, I really enjoyed it.

Why did you think that our couple would go out on a journey around the world? That is because "There are countries that are easier to live than Japan, actually let's go find it!" That was the reason. Of course, I would like to enjoy different cultures, or I would like to actually see beautiful scenery, but there are reasons mentioned above in the back of my mind. Well, from the results, if considering security, culture level and work etc., three of Japan, Australia and Malaysia are settlers. Next time I would like to go there for a long time.

After returning home, I have opportunities to meet with people I met on a trip and friends I was unable to meet in the middle of the day, and I have been asking questions every time. So this time I would like to introduce the ladies and fighting circumstances etc. that I was happy and bad about traveling with my husband and wife, which was frequently asked.

Q1:How was your baggage for a trip?
A:Total of four each with one large backpack and one small back

I've always liked itKarrimor (carima) Cougar 70 - 95As the main, and sub[Gregory] GREGORY day and half packI made it. My wife is the mainOSPREY (Osprey) SOLDIER 28 80 L, Colombia's 20L bag in sub. Osprey which my wife was making main is basically rolling and when it is called Isa, it is a type of carrying back. I have never carried it on this trip. It was not necessary to shoulder anywhere in the world, as the road was paved to a certain extent. So, if there are people thinking about going on a journey in the future, I recommend Osprey regardless of gender. The part of the wheel is big and strong, so you can roll it anywhere. Pictures are taken on the day of departure.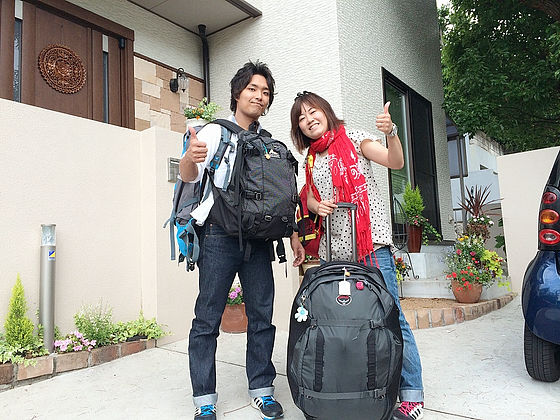 Q2:What was the good thing about traveling with a couple?
A:1, Anyway fun!
After all it is best to have fun than anything! Even if you see the same place or the same attraction, two people are more fun than one person! I was laughing every day. Photograph taken in Ayutthaya, Thailand.

Four reasons I want to run through the world heritage Ayutaya with a motorbike
http://sekaishinbun.net/2014/09/06/ayutthaya-bike/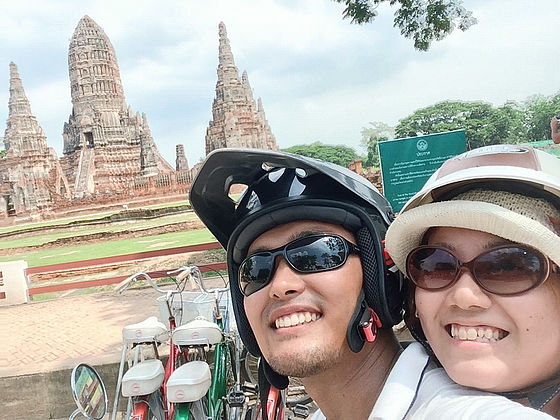 2, sharing values

I think that each person feels the same scenery and the same situation even if it gets to the same situation. I thought that it was very good as a couple that we shared the same with each other and confirmed our values. Especially in Cambodia, Philippines and India there were many culture shocks such as street children and caste system. I took pictures when I played with children in the Philippines.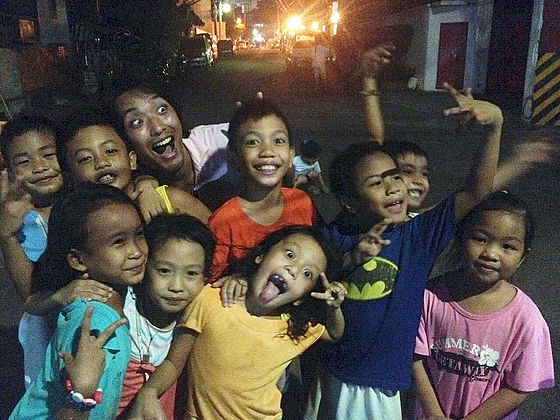 3, Reliable Safety!
It may be a woman's saying, but two people are safe than one person. I also went to a place where security was bad, but we were able to continue the journey safely without being caught in trouble almost. A few travelers also had to stop traveling due to one problem. Everything is safe first. The thing that was convenient soon after all was that you can manage luggage by turns when you go to the toilet. The picture was taken when I saw the night scenery in the area where frequent robbery occurred frequently by Bolivia 's La Paz (Because they were told that they are dangerous, I invited other travelers and went by four people).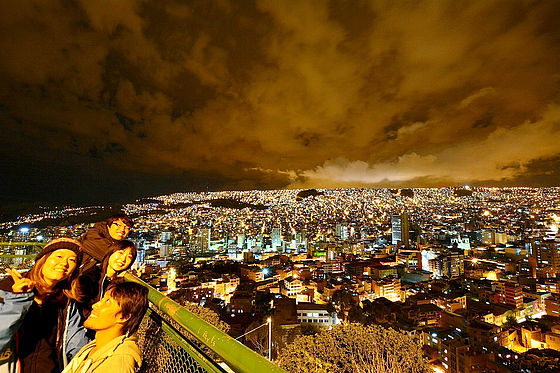 Q3:What was wrong with traveling with a couple?
A:1, I can not go to the place I want to go, I have to go to a place I do not want to go

I think that there is a couple's journey, but the place I want to visit is not necessarily the place the wife wants to go. The opposite is also true. In this trip I broke a little with "India". I wanted to definitely go to school, but my wife never wanted to go. Although I decided to talk a lot and eventually I got an accident on the site, my wife seems to hate India. I love it, but ....... The picture was taken when I played Henatatu who became the source of an accident in Delhi, India.

A story of Indian henna tatto (mehandi) - matsuda-cho
http://matsuda-cho.com/2014/10/15/india-mehandi/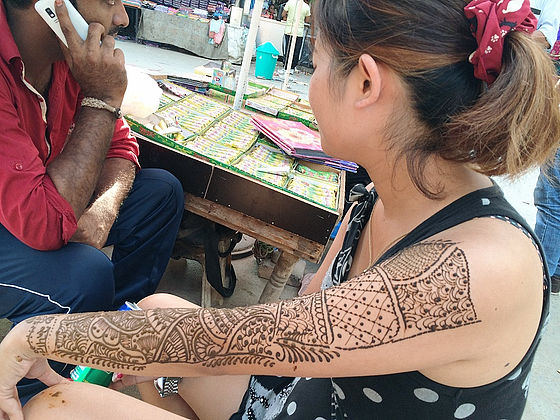 2, Improvement in English is not good
I think that this is for each person, but we used to speak with quite a few people so we did not have so many opportunities to speak English. Of course, I will be able to speak at least the minimum necessary, but I think that if you want to master a further communication English, it would be better for a person traveling alone. Even though I do not want to travel alone, I have to speak from myself. The picture was taken with the Brazilian couple who got along well with Munich in Germany. The power of drinking is great.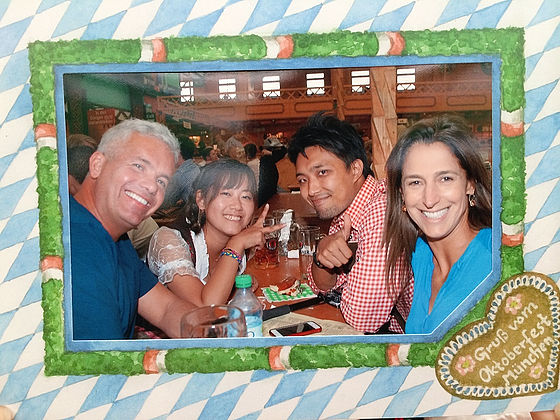 Q4:Where did the two of you rave acclaim?
A:1,Uyuni salt lake

I was deeply moved here. The picture and the scenery of the reality seen before going were not insane, and it was more than I imagined. And from the morning till midnight it is a place to show you the scenery you have never seen before any time. I was satisfied to be popular in Japan. Bolivia in South America is far away, but I hope everyone will go there.

【Uyuni salt lake 2015】 morning, noon, evening, night four faces
http://sekaishinbun.net/2015/02/01/uyuni-2015/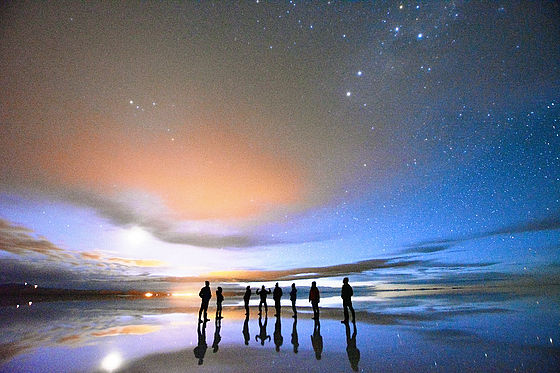 2,Oktoberfest
Oktoberfest in Germany who wanted to go once in my life. It is an event that beer lovers gather from all over the world and enjoy drinking like crazy. I wore clothes in German traditional costume, but various people praised me.

Approximately 6 million liters of beer will be consumed! Five reasons why Oktoberfest in Germany is outstanding
http://sekaishinbun.net/2014/10/05/oktoberfest-2014/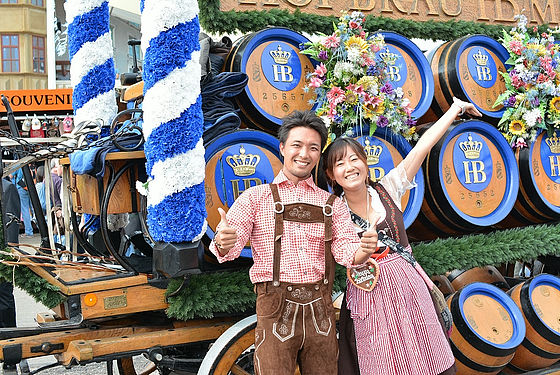 Q5:Where are you both disappointed?
A:1,Mont-Saint-Michel
This is different from the above Uyuni Salt Lake, the scenery of reality is completely different from the picture we saw before going out, and two people blurred as "Who did you do this?" Mont Saint Michel often seen in Japan was too beautiful so I was expecting too much. I think that there was also something wrong with the weather ... ....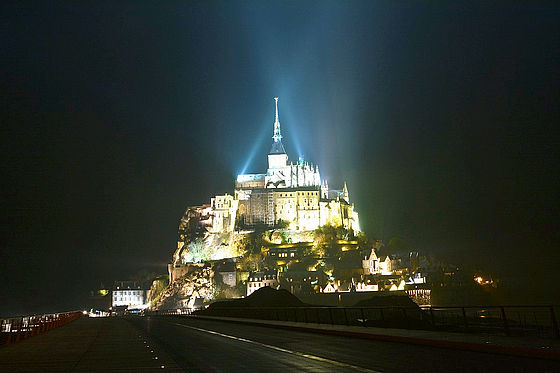 2, under constructionTrevi Fountain
The Trevi fountain in Rome, Italy was under construction on a large scale, the fountain was drained and almost covered with steel frame. In a sense it was a valuable experience that you could walk on the promenade above the fountain. Also I would like to go after construction is completed.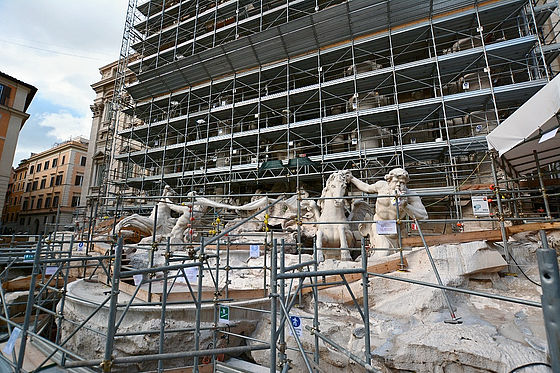 Q6:Did not you fight?
A:I did not do it at all ... ....

There was no thing that each other endured, and we wanted to say what we wanted to say firmly, but no fight at all. However, men have one thing to watch out for. A woman's day visited once a month. Understand the tough things, let us treat you more gently than usual. That alone will make the journey progress smoothly, the evaluation will rise as a man with understanding. Since Mia, a reporter in the same world newspaper, has written about the woman's day of traveling, please read and study.

What happens when the girl's day comes on the trip? I asked 10 people
http://sekaishinbun.net/2015/03/10/period-travel/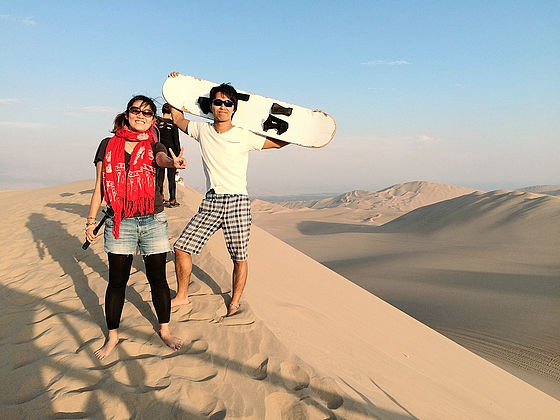 Q7:Have you eaten rice firmly? Was your stomach condition OK?
A:I am totally fine! The bride ......

Especially in Europe etc., eating out is high, so we cooked in self-catering accommodation. When eating out, of course, I tried to eat the food of that country. The picture is my eighteenth cooked pasta with eggs.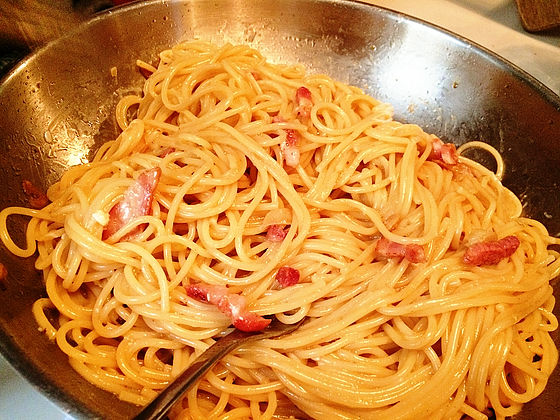 My wife broke his stomach several times, but I was fine at all. When you hurt your stomach, it is recommended that Hodogyo Shimaru. Although I do notice smells to carry around ... .... The pictures are the stalls eaten in Agra, India.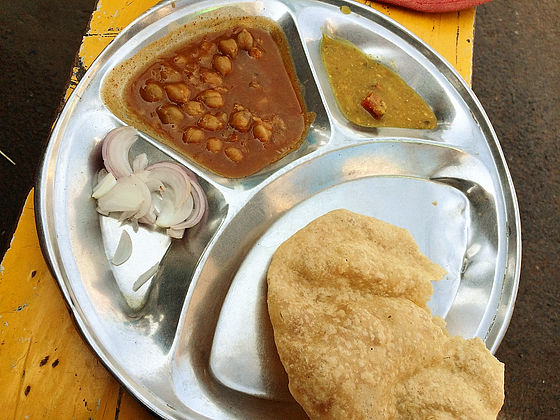 The cost performance was good in Nepal! It was very delicious like dumplings called peaches. However, the level of the Japanese food store in Nepal is higher and the price is cheaper than that, so it passed considerably. The picture is the ramen set meal which I ate in Nepal.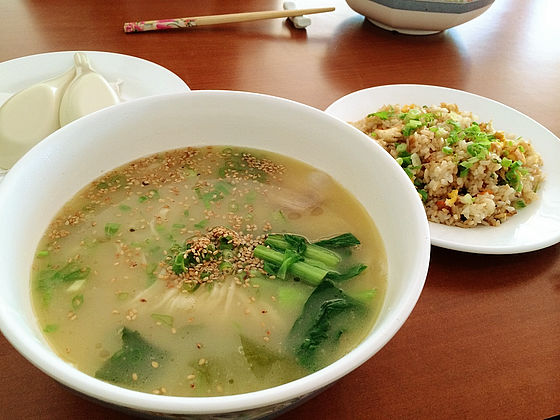 Q8:How was the fund of the trip done? How much did you use?
A:Roughly save 4 million yen

The story of money is iron plate story. While working or farming, I think there are various traveling styles, but we usually traveled by cutting down savings. I saved about 2 years hard before I left for the trip. The picture is the money of Nepal. Himalaya is printed on the back.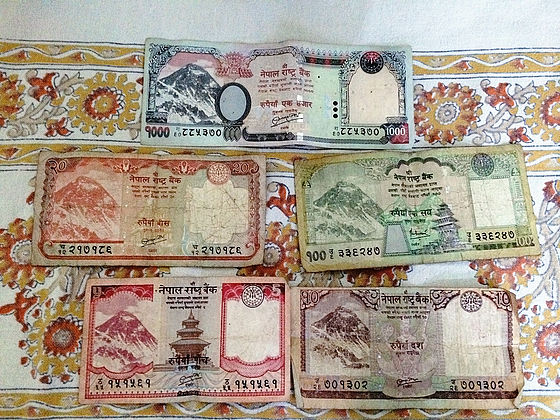 And once this trip doubled as a honeymoon, I did luxuriously only lost in a very pleasant trip. Besides, I used roughly 4 million yen, including summary payment of residence tax when leaving Japan and overseas travel insurance. The picture was taken when I went to the Discovery Cove of Ultra Resort Theme Park in Florida, USA. We also made 36,000 yen per person!

What is the "Discovery Cove" at 1st place in the world popular theme park?
http://sekaishinbun.net/2015/03/07/discovery-cove/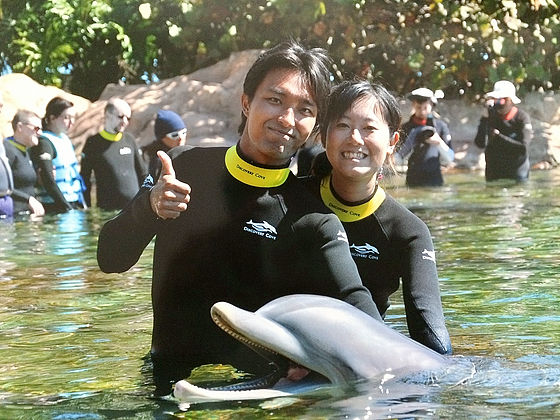 Q9:How did you plan your schedule? Is there a couple's role sharing?
A:Almost I was doing

Transportation, visa, accommodation, future plans etc. When I say the role of my wife ... ... When I decided a lot and checked with my wife, it was a role of "Okay!" Oh, but the schedule of Disney World and Universal Studios that I went to in the United States made everything perfect, in order of the attraction you ride. Because each personality has this, I think that it should be divided so as not to become stressful. The picture was taken when I met Mickey at Disney World in Florida, USA.

Mickey who talks as "Hello", wild animals etc ... "Discovery" was shown to American Disney World
http://sekaishinbun.net/2015/03/03/disney-world/



Q 10:What did you get with a couple around the world?
A:Thinking from my heart that "two people can do anything"

That is the best thing on this trip. Of course, I thought so in Japan, but it is in a situation favorable to myself that it knows the words, understands culture and also knows national character. But actually I went on a journey and I could not understand the words, the culture was different, the national character was completely different, I helped each other and got over together. That's why I was able to truly think that "two people can do anything". From now on, I'd like to live with my wife in an upright position. Because you can do anything. The picture was taken when I went to the graveyard of a train near Uyuni in Bolivia in South America. It is the best favorite among the pictures of two people. It is a picture that I can go anywhere.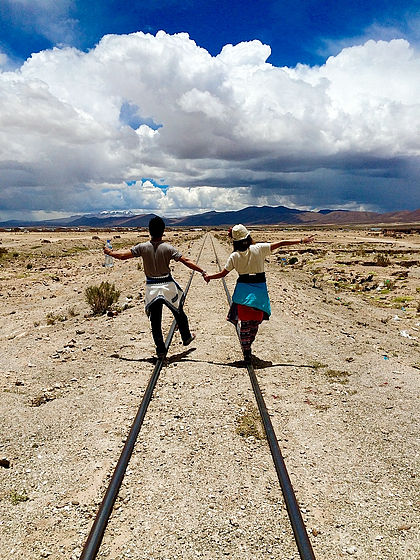 The journey around the world this time was a beginner, the first experience, and there were lots of things I do not know. So we will consult with them, troubles, think, decide, to reflect. That was a good experience. If one is an experienced one, the other will be amenable.

And we still have only 27 countries going with them. There are 195 countries in the world that are approved in Japan all over the world. That means that we are still seeing only about a seventh of the world. I am excited just by imagining what kind of world is spreading to the remaining seven six! Someday, I would like to do my best with the goal of traveling the world with two people, no, no, I am going to take my family.

Although it was a short period of time, I would like to express my sincere gratitude to those who read articles at GIGAZINE and the world newspaper. Everyone was there, so I managed to write it. I would be pleased if someone who is interested in traveling abroad, even a little even if I wrote an article I wrote. Thank you very much.

Statement · Interview: Ryuta Matsudahttp://matsuda-cho.com

Supervision: World newspaperSekaishinbun.net