"Chara Merry Sakura Chocolate Frappuccino" using Starbucks cherry blossoms and so on at the Sanjo Ohashi store in Kyoto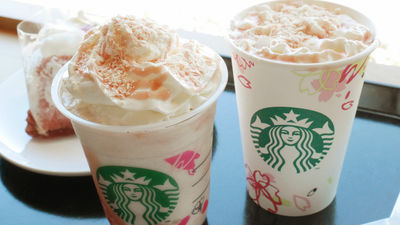 Although the cold days are still continuing, Starbucks coffee is a little earlier than the season of cherry blossoms "Character Merry Sakura Chocolate Frappuccino"CARAMERY Sakura Chocolate Latte"Sakura chiffon cakeWe will release. Since there is a Sanjo Ohashi store in Starbuck's concept store in the neighborhood, I went to a shop and tried to taste the products using cherry blossoms.

Flowering declaration earlier than Starbucks! "Chara Merry Sakura Chocolate Latte", "Sakura Chiffon Cake", 2015 "SAKURA" Series Appears February 15
http://www.starbucks.co.jp/press_release/pr2014-1145.php?nid=nw_01_pc

Kyoto Sanjo Ohashi Store | Starbucks Coffee Japan
http://www.starbucks.co.jp/store/search/detail.php?id=68&mode=concept

The address of the Starbucks Coffee Kyoto Sanjo Ohashi branch is "Kamigyo City Kyoto City Kyoto City Kyoto City Kawaramachi Higashi Nakajimacho 113" Nearest station is Kyoto City Hall in front of Kyoto Municipal Subway, Kawaramachi of Hankyu Electric Railway, Gion Shijo Station of Keihan Electric Railway, Sanjo Station etc.


Arrived at the shop.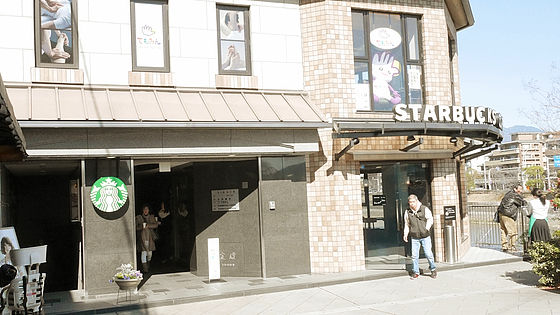 Also appeal new items using cherry blossom at stores.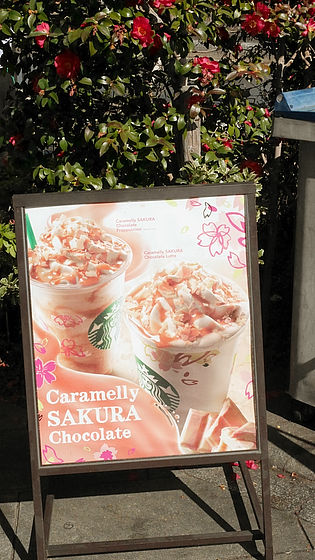 The warm season from May to September will have an outdoor seating called a refrigerator floor, but the season is not equipped with a refrigerator floor.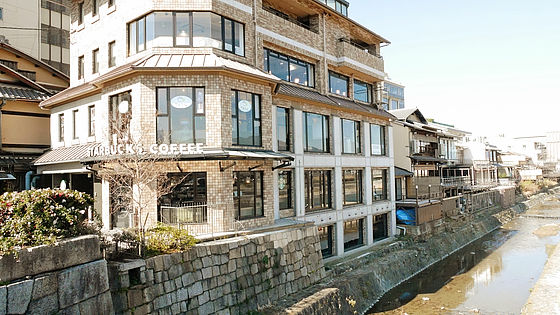 Apart from being on the river, the atmosphere of the shop is normal.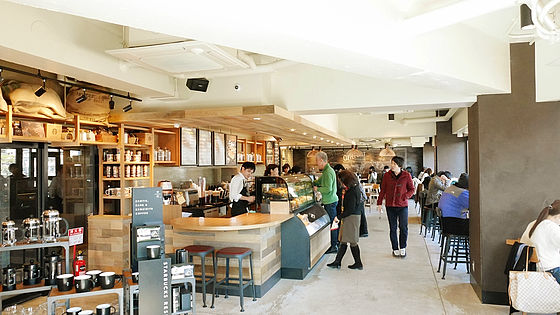 Seasonal tumbler and others were on sale.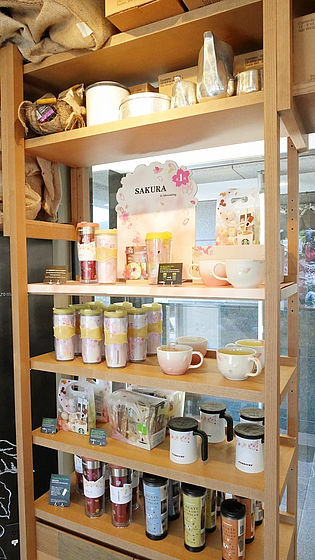 I visited the shop during the day on weekdays, but the seat is quite buried.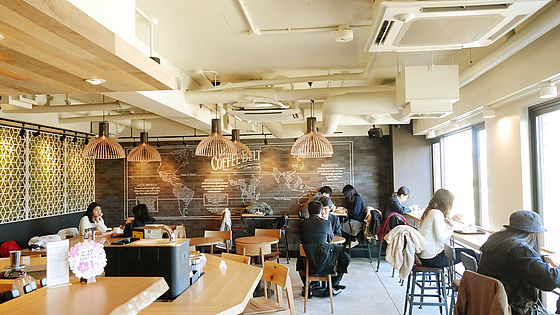 There is a map on the wall where coffee belts can not be easily seen in other shops.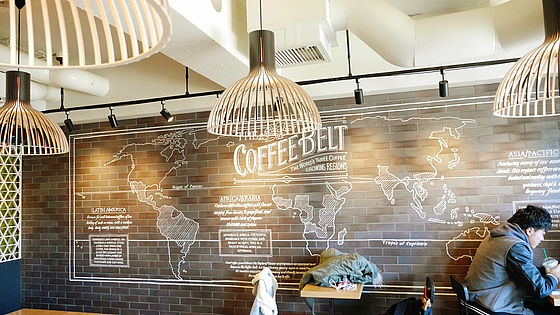 Starbucks ReserveThere was a special coffee bean called.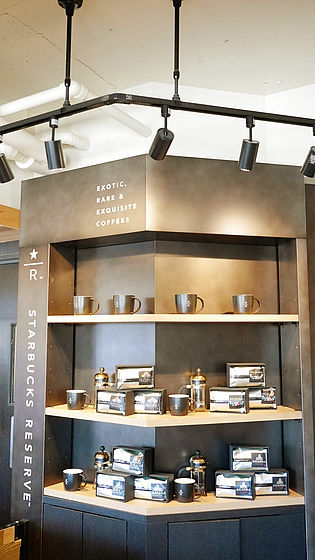 I ordered drinks and foods in line with the cash register.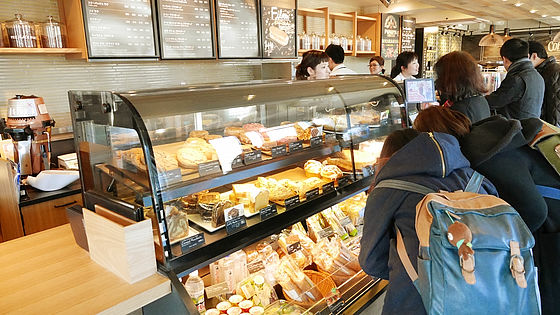 I found Sakura chiffon cake in the showcase.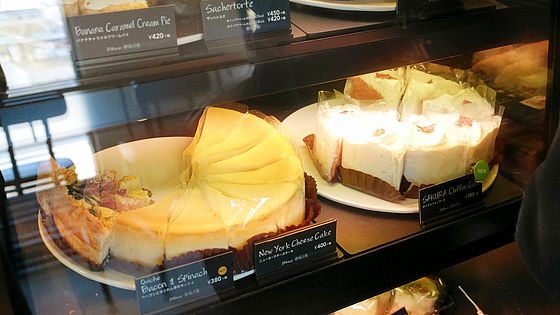 This time at the windowKamogawaI will sit in a seat overlooking the Sanjo Bridge.



Sanjo Ohashi bridge to the right from the store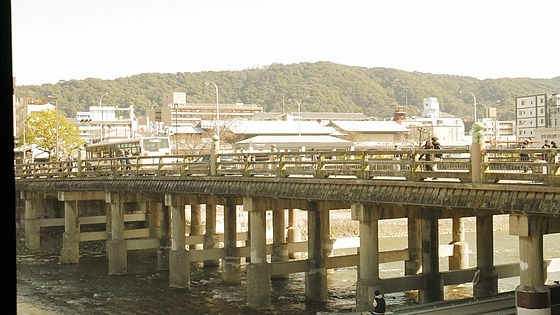 You can see Kamogawa on the front.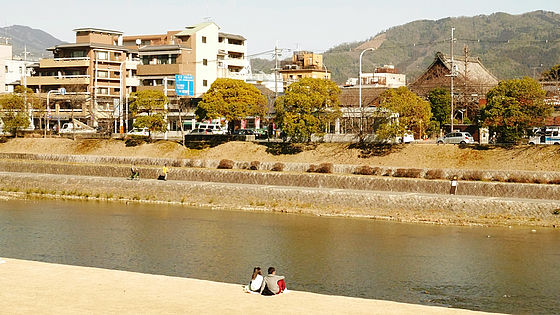 Three new items using cherry blossoms were ordered this time.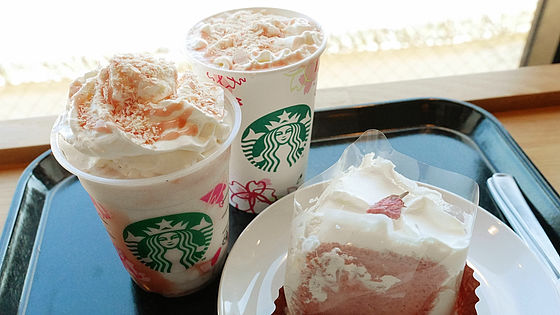 Chara Merry Sakura Chocolate Frappuccino uses Sakura caramel sauce and strawberry chocolate and white chocolate that imagined Sakura petals topping on the cream and Frappuccino uses a mixture of cherry-based cherry-flavored caramel sauce.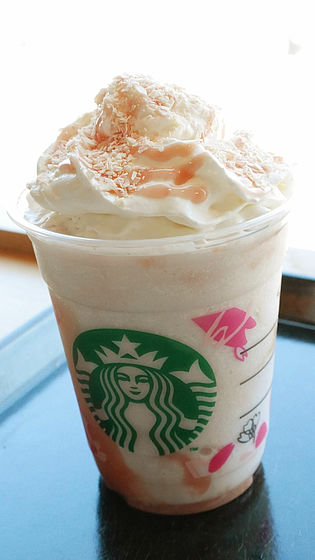 Cherry illustration is drawn also in the cup.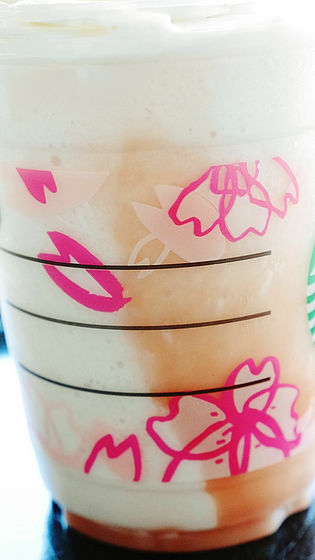 There was plenty of pink chocolate on top of the cream.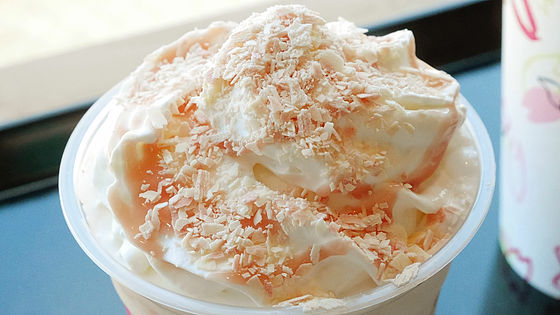 If you look carefully you can also check the Cheramer sauce.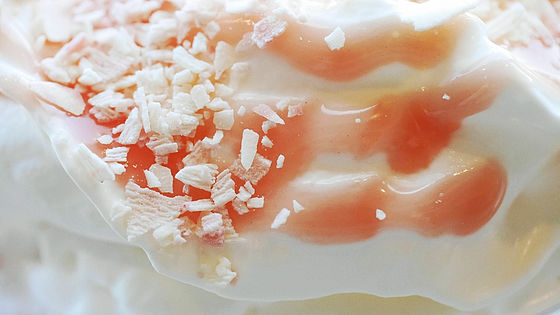 First of all, when scooping from the cream and eating it, the strawberries are contained in the pink chocolate, but the cherry flavor is stronger, the sweetness is modest. Sakura caramel sauce almost does not feel the fragrance of caramel, the taste and aroma of cherry blossoms are condensed and compatibility with cream is outstanding.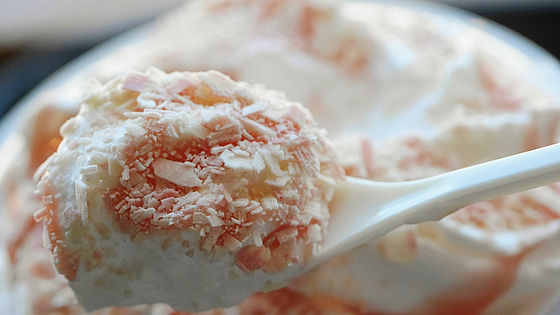 Frappuccino has a strong taste of cream, but the taste of cherry blossoms is well utilized, and plenty of cherry-mushroom sauce was accumulated at the bottom. Although cream is used to a large extent, it is easy to taste because of products that conscious of spring.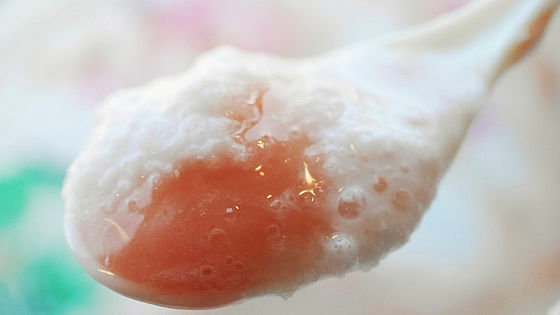 Chara Merry Sakura Chocolate Latte is a hot only offering topping with the same as Chara Merry Sakura Chocolate Frappuccino, but under the cream is Sakura flavored white hot chocolate used.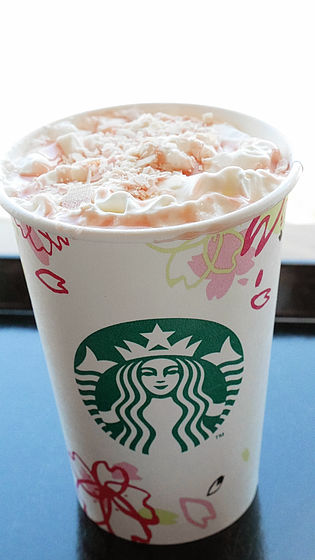 It may be characterized if the feature is that the corners of the cream do not stand.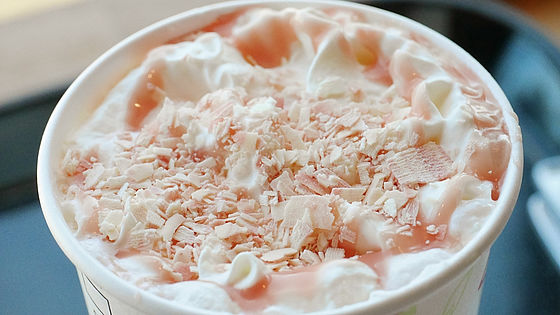 The drink under the cream was slightly pink.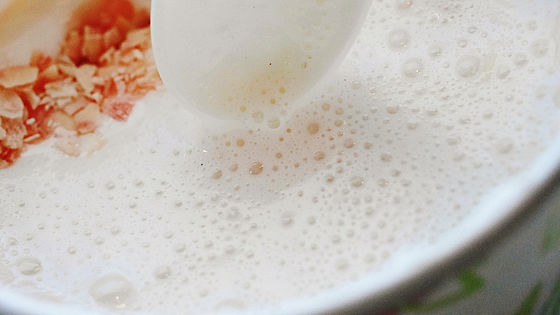 When drinking, Characteristic Sakura Compared to Chocolate Frappuccino Sweetness was conservatively felt, the mouthfeel of the foam milk was gentle, yet the cream was weak, so it was finished in a more rich taste. Since coffee is not included in Frappuccino and latte, it seems to be good for people who do not like coffee.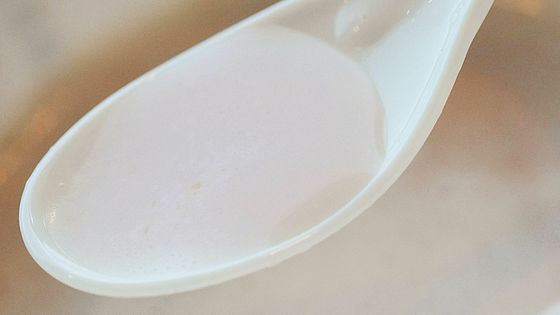 Sakura chiffon cake is a dish that made pasta using cherry blossoms and cherry leaves as powdered into fabric and wrapped in whipped cream and topped with salted cherry.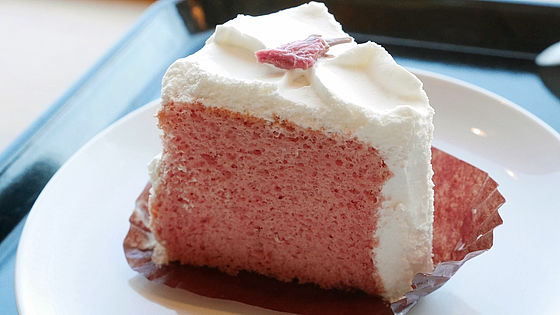 One cherry salted cake is on the cream.



The cream is used for plenty, and the chiffon cake is slightly pink.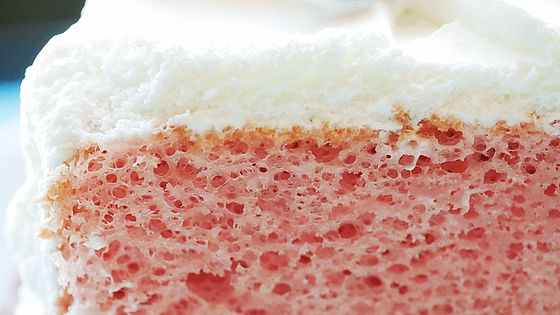 When cutting with a fork and eating it, the cherry flavor is stronger than the drink, but sweetness is modest and it is also gentle taste. The chiffon cake looks delicious as it looks, and it's pretty well compatible with soft cream.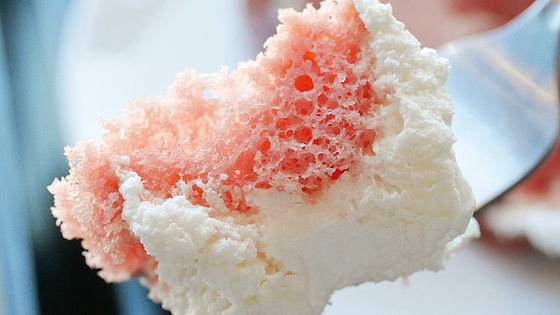 The salting of cherry blossoms was not too salty, it was a good accent. If you eat with coffee,EthiopiaYaLight note blendIt seems to be compatible with, but there was only the same ingredients and it was also compatible with drinks using cherry blossoms.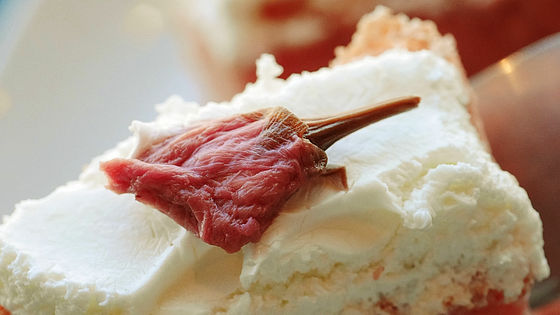 In addition, Chara Merry Sakura Chocolate Frappuccino is 550 yen in Toll, 520 yen in Toll, 560 yen in Grande, 600 yen in Venti and 600 yen in Venti, and 4,000 yen in Chura Merry Sakura Chocolate Latte, excluding tax, 420 yen in short, 460 yen in Toll, 460 yen in Grande, 540 yen in Grande, Sakura chiffon cake is ¥ 380 without tax. The period is until March 17th (Tuesday), so be careful as it will end the sale just before the cherry blossom season.