If you insert it on iPhone or PC you can add up to 64 GB capacity SanDisk "iXpand Flash Drive" I actually tried using reviews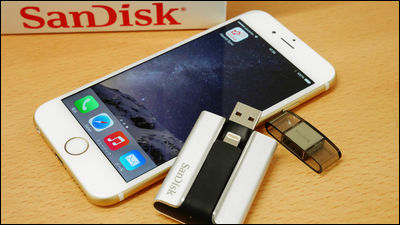 Apple's iOS devices can only use up to 128 GB of main memory capacity, so if you save music, shoot pictures, shoot pictures and install apps, storage space will run out shortly. It seems useful at such times that SanDisk's "IXpand flash drive"Since it is an external storage equipped with a USB terminal and a Lightning terminal, it is possible to add up to 64 GB of capacity by inserting it in the iPhone, furthermore it is a battery built-in type, so you can use it without wasting the battery of the iPhone or iPad at the time of use You can play and transfer. I was able to borrow such iXpand flash drive from SanDisk before launch, so I tried using what actually is finished.

SanDisk iXpand ™ flash drive
http://www.sandisk.co.jp/products/mobile/ixpand/

◆ Photo review
This is "iXpand flash drive".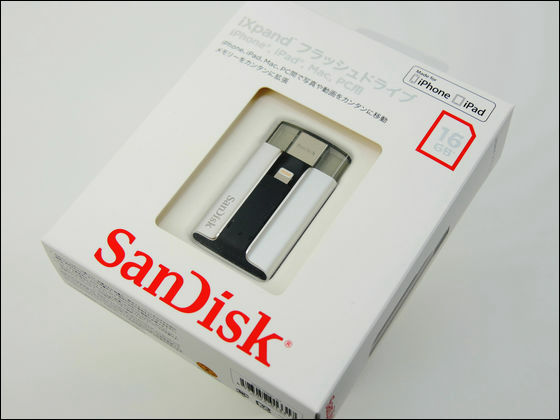 IXpand is a flash drive that can be inserted in iPhone / iPad / Mac / PC and can add capacity to an iOS device with a maximum capacity of 128 GB maximum. In addition to saving music and photos that can not fit in iOS devices, it is also easy to exchange data between PC and iOS device, save data that can not fit in iPhone in iXpand You will be able to enjoy various content anytime and anywhere.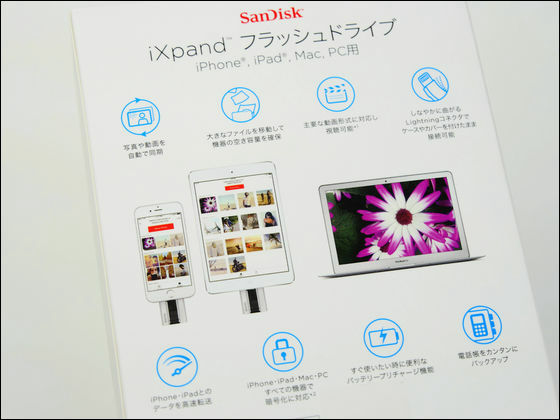 So when I opened the box of iXpand flash drive, there was a quick start guide and iXpand main body inside.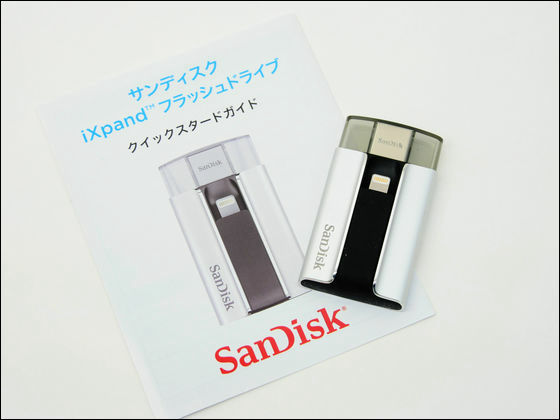 If I bring the iXpand itself to my hand, it's about this size, just like a lighter.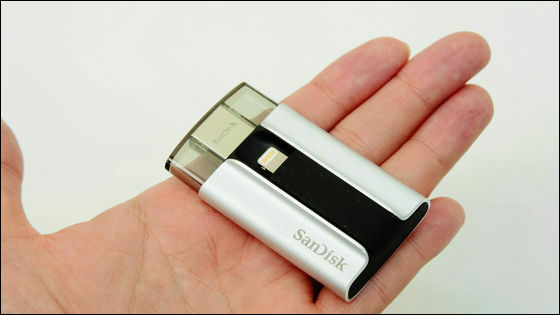 The backside looks like this, the silver metallic surface feels a little gritty like the iPhone 6/6 Plus back part.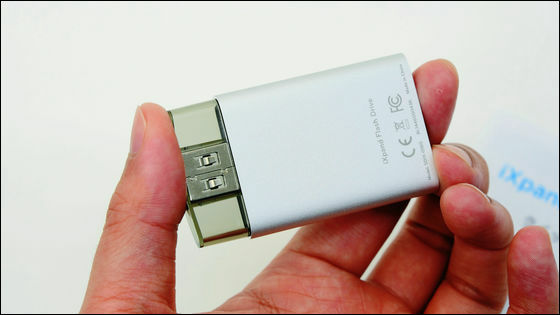 The thickness is 11.80 mm so it will not be bulky even in a bag or pocket.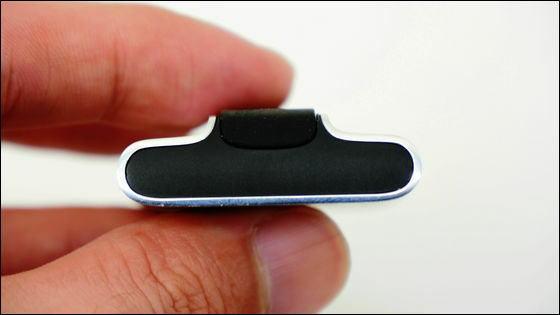 Lightning connector is attached to the surface of the main body ... ...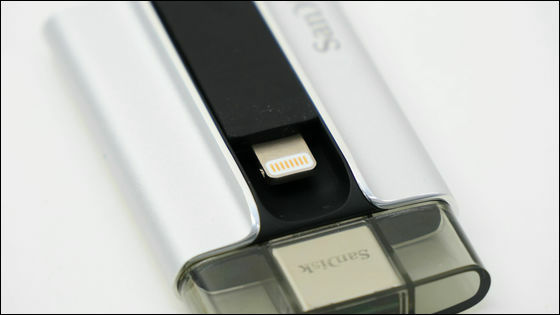 It is made of rubber parts, so it can be easily lifted with your fingers.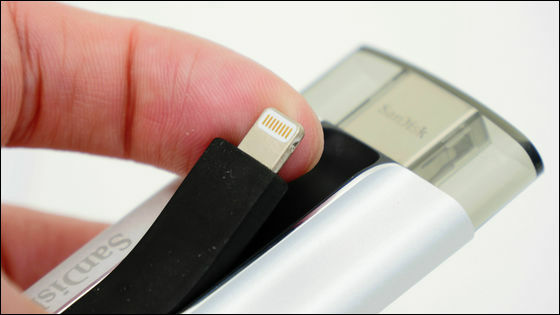 There are small holes on the side of the main unit, and there is an LED light here.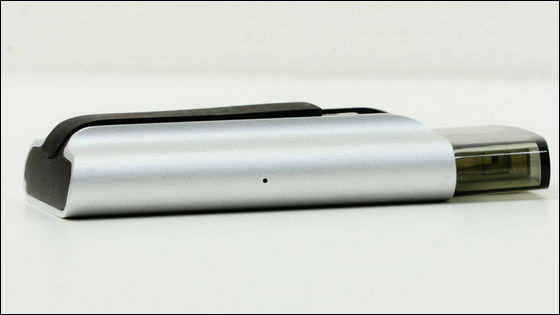 And when you remove Pakari and transparent cap part, USB plug emerges. In addition, iXpand is compatible with USB 2.0.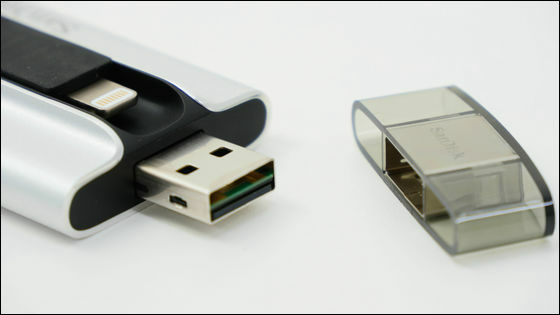 ◆ I actually used it

· I tried to insert it on iPhone
After looking at the exterior one by one, I will actually insert it in the iPhone and try using iXpand. IXpand can be used with iOS terminals with iOS 7.1 or later, PC with Windows Vista, Windows 7, Windows 8, Mac with Mac OS X v 10.6 or later.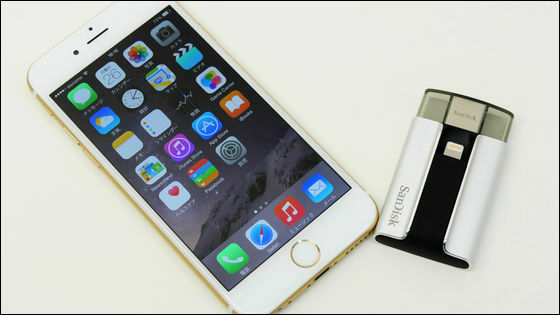 That's why I lifted the Lightning connector part with your fingers and tried inserting iXpand with the iPhone 6.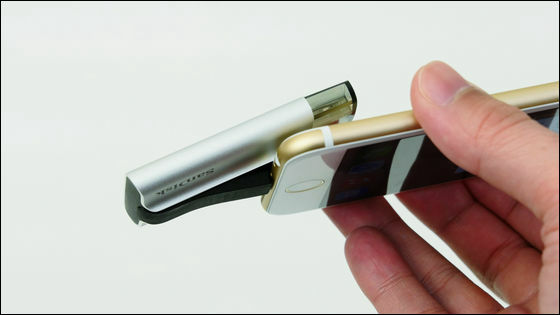 It looks like iXpand is clinging to the iPhone from the back.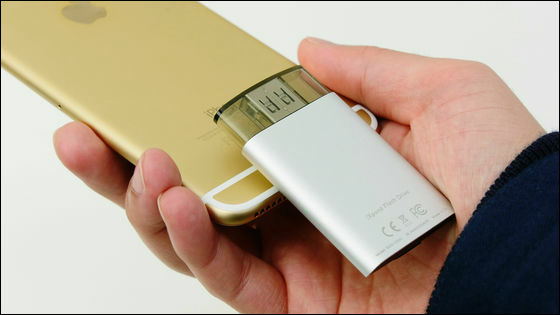 By making the Lightning connector part rubber parts, iXpand can be easily connected irrespective of the width and thickness of the device itself, with or without a case.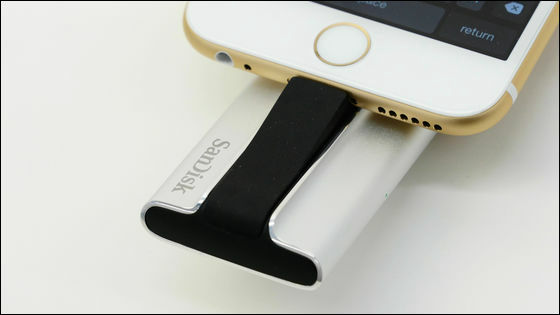 Taking it in your hand is like this. The iPhone and iXpand are more fixed than the imagination with the Lightning connector and have a sense of stability.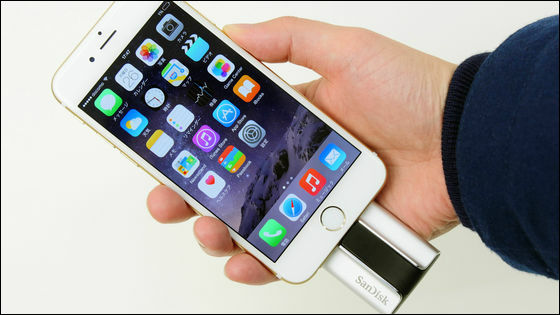 Since the flash drive is not so thick, even if you hold the iPhone in your hand while still connected, it fits in your hand. However, it may be necessary to pay attention to how to hold it slightly because it becomes long in the vertical direction.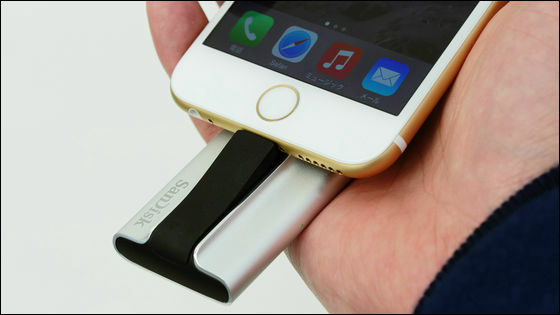 Of course it is also possible to connect the flash drive to the iPhone with the earphone attached.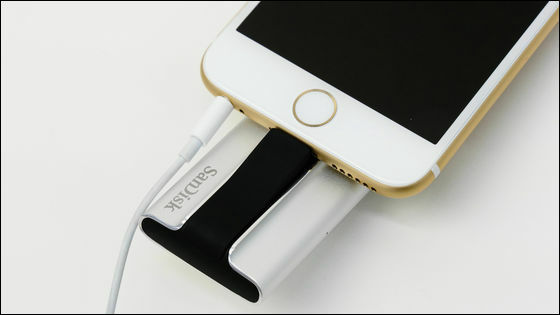 Furthermore, when connecting iPhone and iXpand, the LED light on the side of iXpand's main body lights up in green. When the LED light is lit in green, it indicates that there is enough battery, red indicates insufficient battery power, yellow means charging.



Also, when transferring data from iXpand to the connected terminal, the LED light blinks. In that case, you need to be careful not to unplug the iXpand from the terminal.

"IXpand flash drive" LED light flashes during data transfer - YouTube


Since the Lightning connector has a wide movable range, iXpand can be connected even if the case is attached to iPhone or iPad.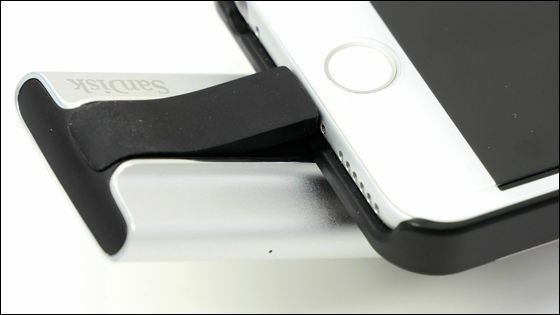 · Install special application
When iXpand flash drive is inserted in iPhone 6, a popup screen will be displayed on the home screen.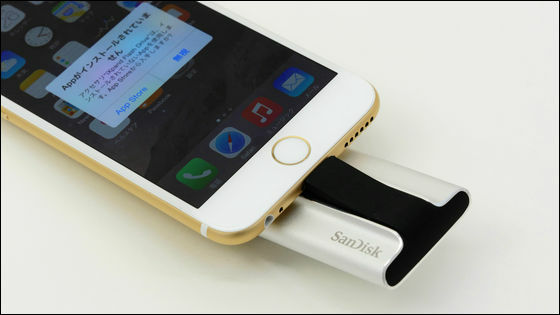 On the screen, "Accessory" iXpand Flash Drive "uses an application that is not installed, will you get it from the App Store?" Appears, tap "App Store".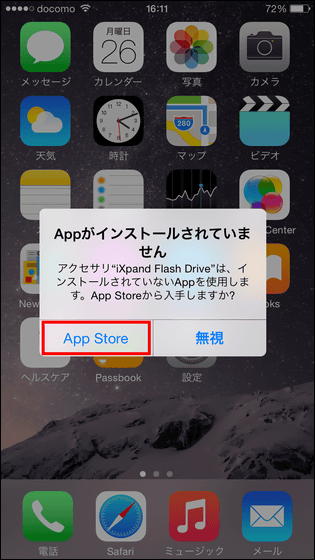 Tap "SanDisk iXpand Sync" displayed.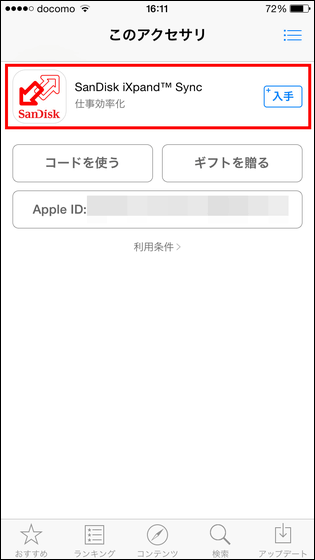 Tap "Get" to install the application.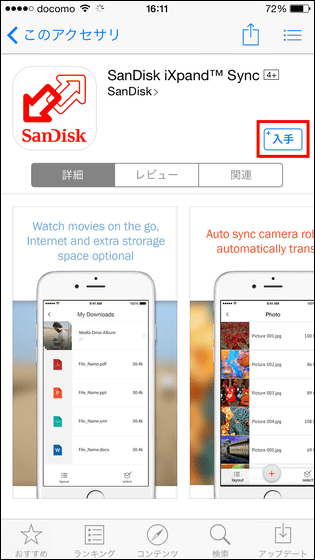 To install "iDesk iXpand Sync" application for iXpand before connecting to the main unit from the following page.

SanDisk iXpand ™ Sync for iPhone, iPod touch, iPad currently on the iTunes App Store
https://itunes.apple.com/jp/app/sandisk-ixpand-sync/id923254823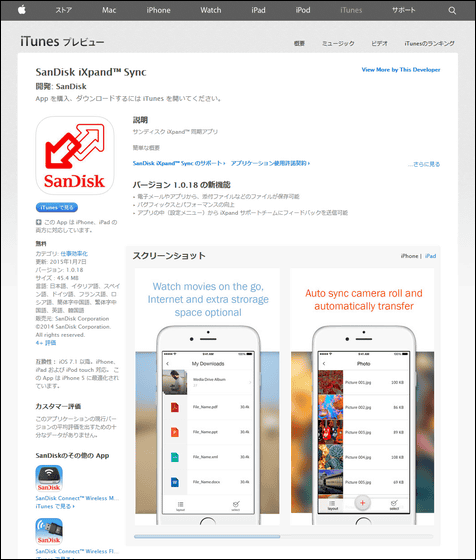 When installation is completed, tap "Open" to start the application.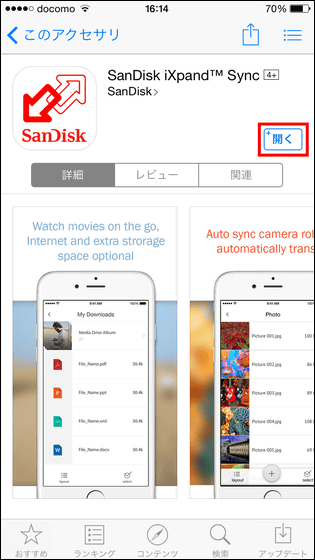 As the tutorial starts when the application starts up, swipe the screen to the left and advance the screen.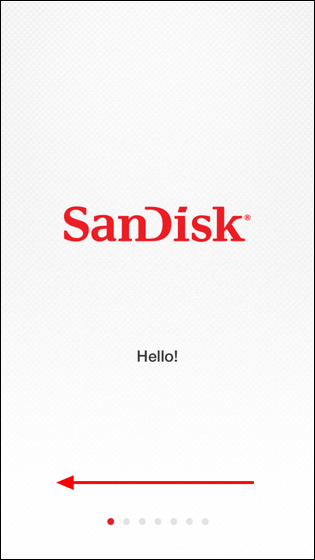 You can easily transfer photos and videos from your iPhone to iXpand.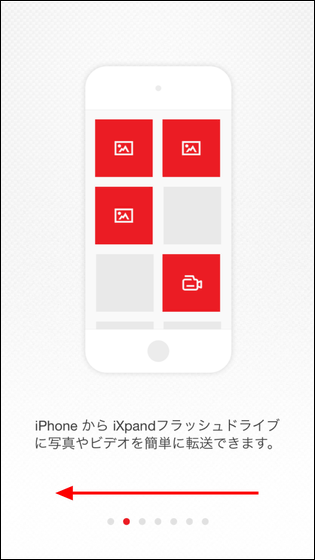 When transferring data, you need to connect iXpand and iPhone using the Lightning connector.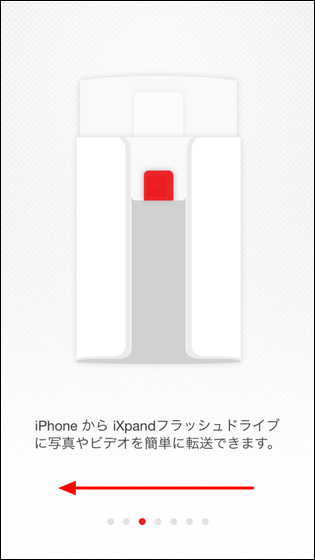 It is also possible to automatically synchronize iPhone's camera roll with iXpand.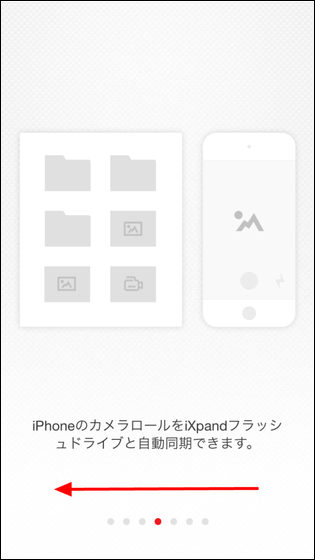 Then, when connecting iPhone to iXpand, images in the camera roll are automatically saved in iXpand.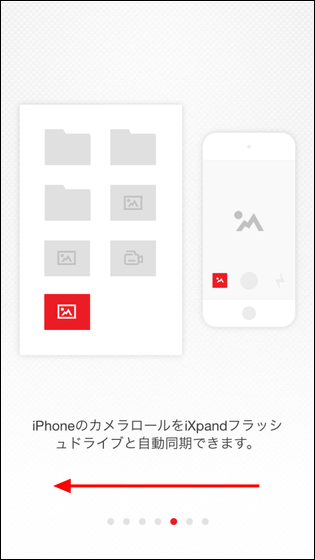 In addition, iXpand can be used like a usual USB memory if inserted in a PC, so you can easily organize saved content.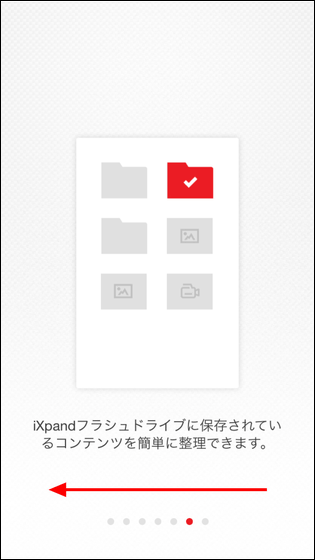 So when the tutorial is over, tap "Let's use it now".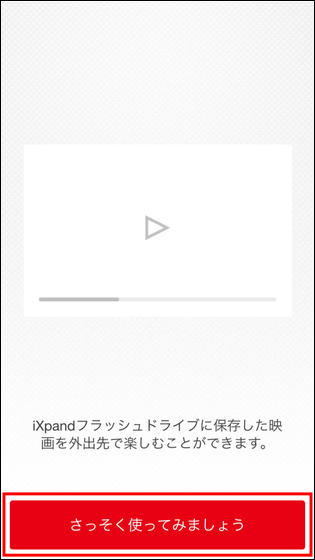 · Use a special application to enjoy files on iXpand flash drive on iPhone
The startup screen looks something like this, the usage of each icon is as follows.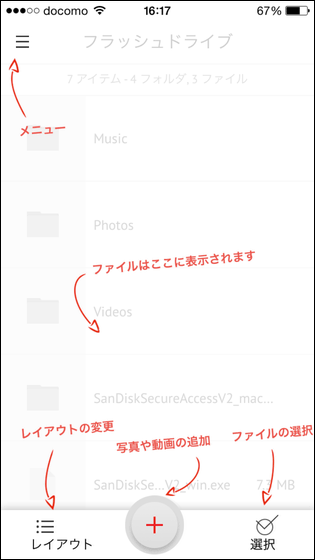 Also, when you start up for the first time you will be asked to provide anonymous data. As for anonymous data provision, setting can be changed at any time from the setting menu.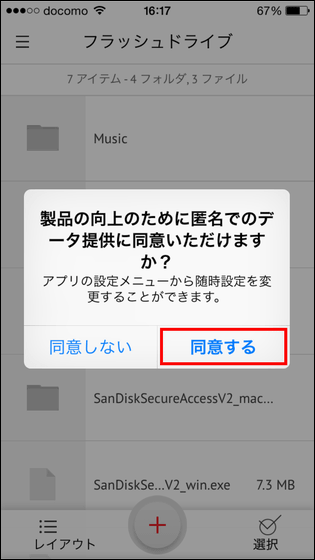 In iXpand, folders and files are displayed side by side like this, so tap the appropriate folder.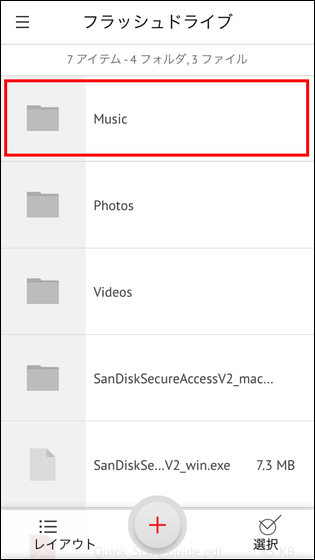 Then the music data saved in the folder is displayed. It saved about 5 MB of data per song, when you tap this ... ....



You can play music. These music data are saved in iXpand, but if you tap it you can play music with haste and play back as if you were playing music data stored on the iPhone's local storage can.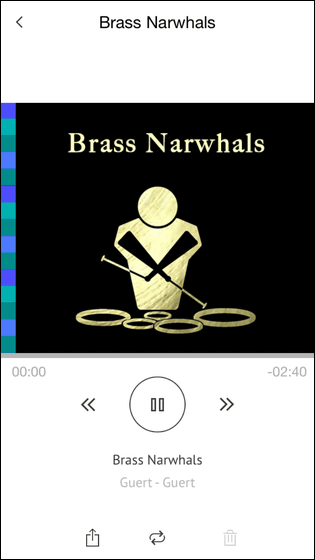 Actually playing music saved in iXpand on iPhone will look like the following movie.

Play music saved in "iXpand flash drive" on iPhone - YouTube


Similarly playing a movie saved in iXpand on iPhone looks like this. I played M4V file with a file size of 25.4 MB, there is a little time to tap to load movies, but once playback has started, you can play very smoothly without choking movies It was.

Play movies saved in "iXpand Flash Drive" on iPhone - YouTube


If you swipe the files stored in the iXpand flash drive to the left ... ...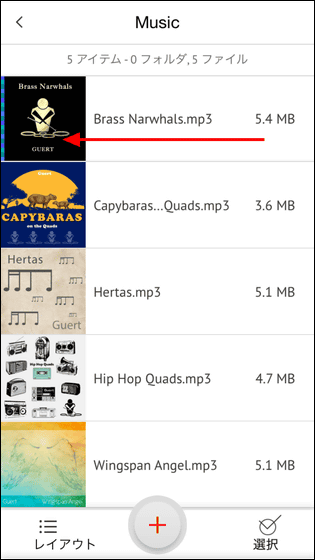 The red three-point reader and the trash can icon are displayed. You can delete the file by tapping the trash can icon and tap the red three point reader ......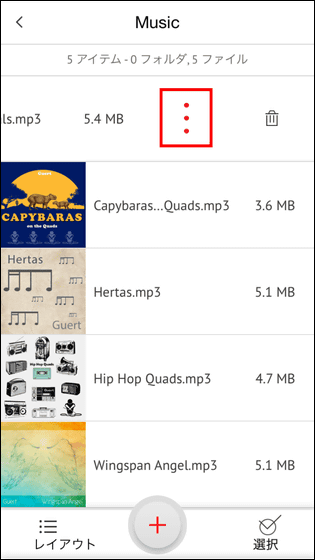 It is possible to save files to iPhone or send them to someone by attaching them to e-mail like this.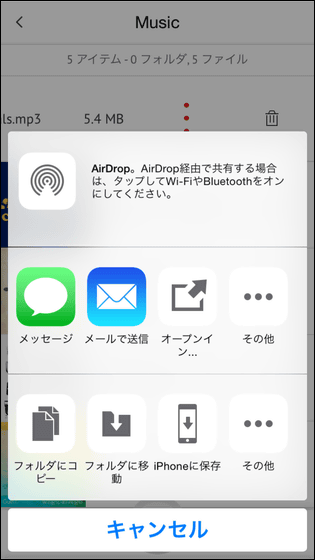 Also, once you play music data saved in iXpand, the red icon will be displayed in the upper right of the screen. Tap this ... ....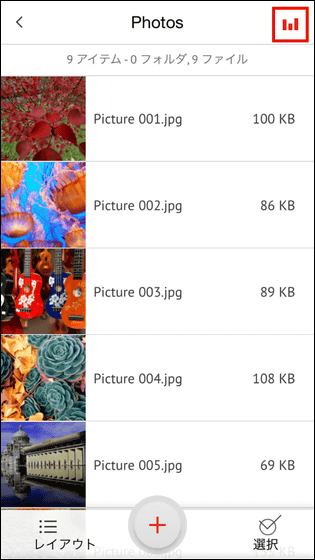 It is possible to display the music player at the top of the screen. Of course, you can play, stop, adjust the volume, etc. from the music player in the control center displayed by swiping up the bottom of the screen of the iPhone.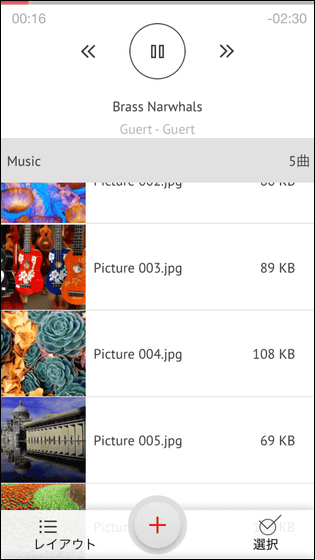 Then tap the menu icon on the startup screen.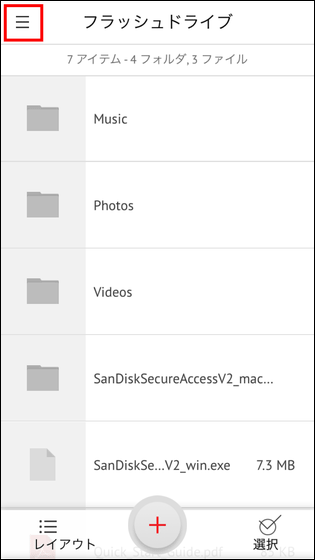 Then, items such as camera synchronization / My download / Contact transfer / Help / setting and iXpand battery level, iPhone free space iXpand inserted, free space of iXpand are displayed.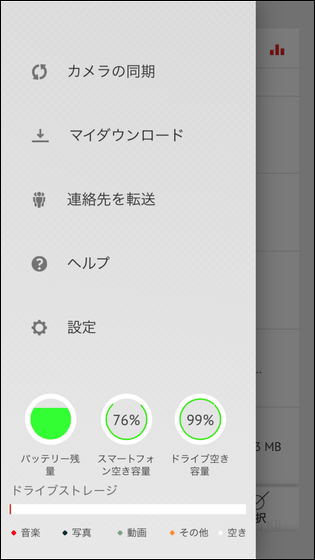 By turning on "Auto Sync" in "Sync the Camera", photos in the camera roll will automatically be copied into iXpand when connecting iPhone with iPhone. If you do not want to use automatic synchronization, but want to keep backup of camera roll, tap "Sync now" is OK.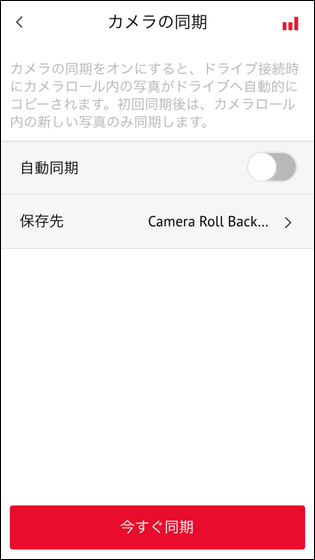 In "Settings" you can activate security from "Security", and if you enable security you can lock your password and password with a PIN. In addition, you can see the details of the application from "Drive Name", change the drive name, "Clear the cache" from the cache, clear the details of the application, and tap "Feedback" Can point out the problems of the application. In addition, you can switch data sharing on and off at any time by tapping "Share anonymous data".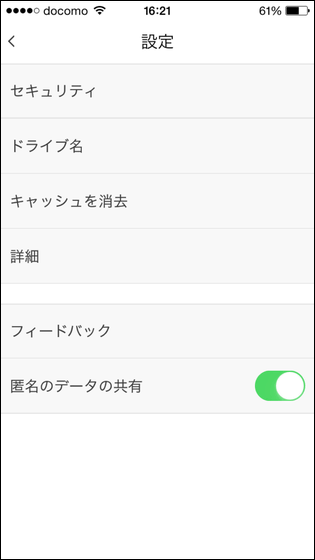 Next tap "Layout" at the bottom left of the screen.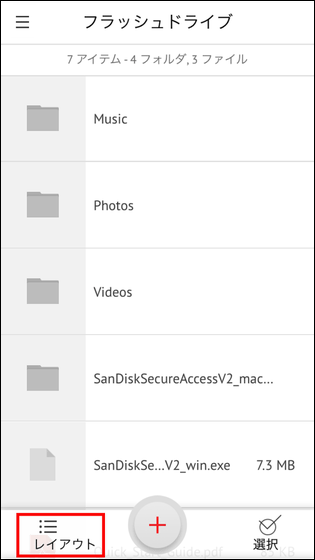 From this screen, you can change the display method of folders and files, change sort order, sort and so on.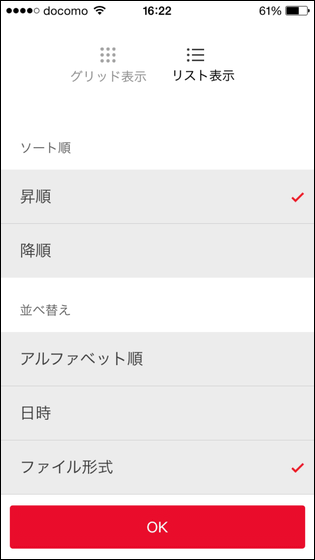 · Save data in iPhone to iXpand flash drive
Using iXpand flash drive's "Sync Camera", you can save all the image data saved in the iPhone to iXpand. However, there are cases sometimes "I do not want to transfer all the images", so at such times select the data individually and save it in iXpand OK.

If you want to save some data in the iPhone to iXpand, tap the "+" icon at the bottom center of the screen.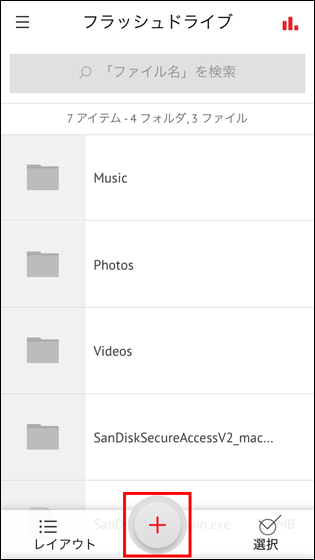 Tap "OK".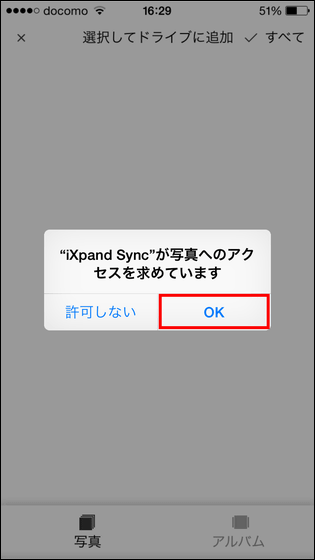 Select the thing you want to save in the flash drive from inside the camera roll and tap "select save destination".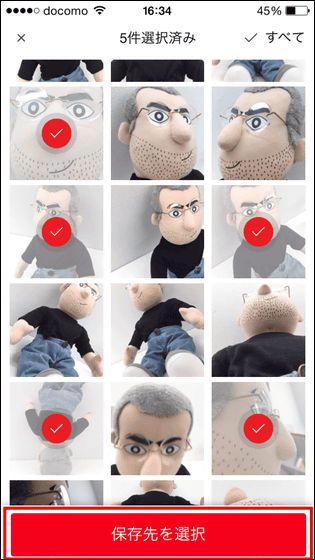 If you tap "Copy here", the image will be saved in the folder, but if you tap "+ new folder" you can create a new folder and save the data in it .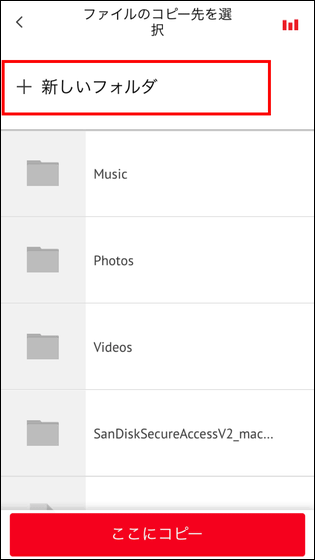 After entering the folder name, tap "OK".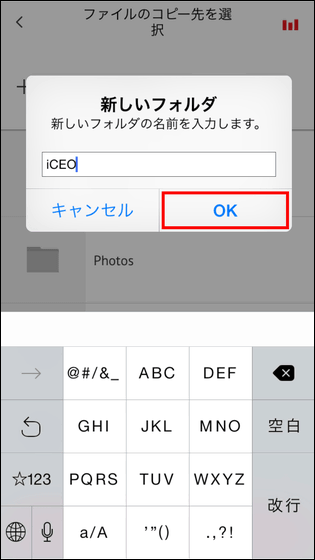 If you tap "copy here" data transfer starts.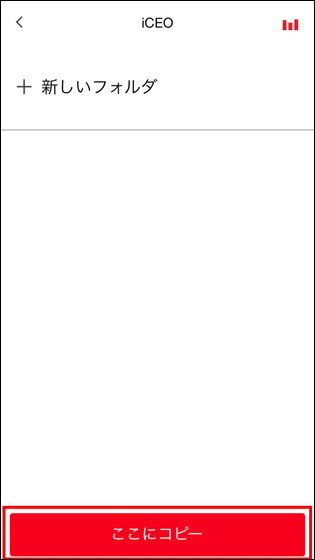 The data transfer is unexpectedly fast, and if it is five files of 2 MB, it will end in a few seconds.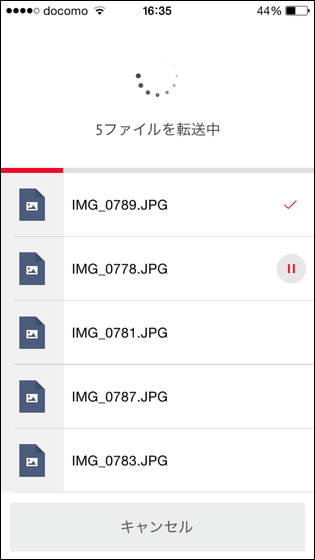 A display will appear when the transfer is completed, so tap "OK".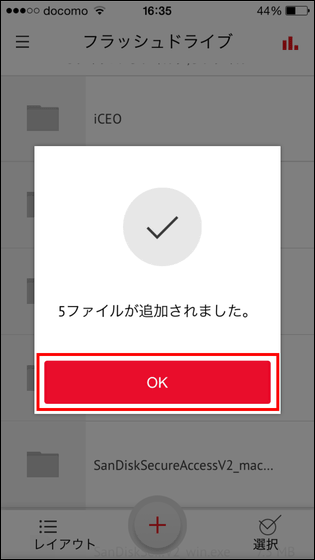 This is successful in transferring the file into iXpand.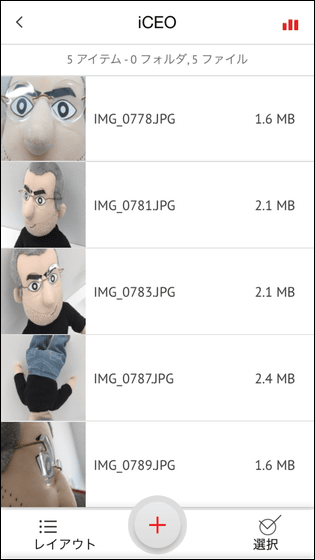 Actual transfer of data from iPhone to iXpand can be seen in the following movie. The transferred photo was about 2 MB per sheet, but it is fairly fast to transfer and you can see that the transferred image is very smoothly displayed.

Copy data in iPhone to "iXpand flash drive" - ​​YouTube


· Save data in PC to iXpand flash drive
Since the iXpand flash drive also has a USB plug, you can insert it as it is on a PC or Mac and use it as an ordinary USB memory.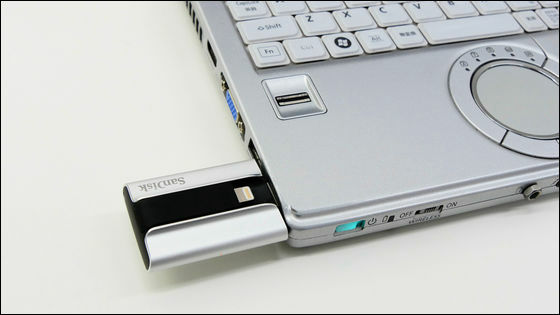 If you insert iXpand in your PC, the battery built in iXpand will be charged, so the LED light will light in yellow.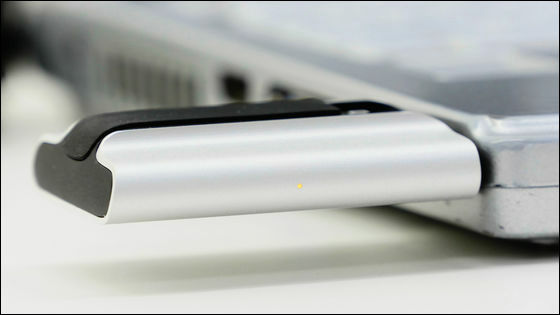 Looking inside the iXpand from the PC, you can see that the file is saved as it is divided by the folder displayed on the screen of the special application.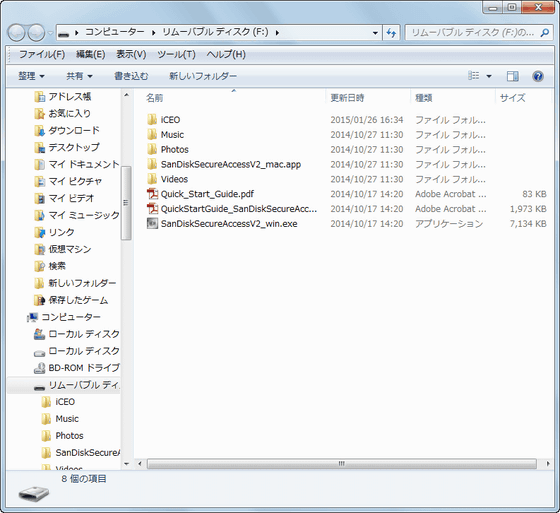 That's why I saved pictures (about 5 - 10 MB of unprocessed photos taken with single lens reflex) from PC to iXpand and display it on the iPhone like this. Since each file size is large, it may take some time to display photos, but the operation is smooth as a whole.

Display pictures saved in "iXpand flash drive" on iPhone - YouTube


·bonus
When you install the special application "SanDisk iXpand Sync" and insert the iXpand flash drive in the iPhone, the special application starts automatically.

Insert "iXpand flash drive" in iPhone and launch dedicated application - YouTube


Impressions
The impression that I tried actually is that you can use it considerably, especially if you store music data on the iXpand flash drive, you can play it with the same feeling as the song stored in iPhone's local storage. Those who have a lot of music data but crying due to the capacity problem of the iPhone Crying person who sorts the songs synchronized with the iPhone saves the music data that can not fit in the iPhone in iXpand, You will be able to enjoy music without having to.

I was able to smoothly save pictures and movies etc. in iXpand and display those data on the iPhone so people who take lots of pictures with the camera can look back at the pictures that can not fit on the iPhone whenever you use iXpand Possible. Furthermore, it is very easy to transfer the camera roll data to iXpand, so it seems to be useful for keeping backed up data and exchanging photo data among friends.

Also, using iXpand makes it easy to exchange files between iOS terminals without worrying about the amount of data transfer, you can easily do when transferring data from PC to iPhone or iPhone from PC to PC Although it is not, it seems to be useful for people who have trouble with iPhone's capacity with bang.

The iXpand flash drive has been sold around 16,000 models for taxes, around 10,000 yen for 32GB models, around 14,000 yen for taxes for 64GB models, around 20,000 yen for taxes for 64GB models, and since February 2015 Yodobashi Prior sale with cameras and big cameras, and other mass merchandising stores are scheduled to be deployed sequentially in the spring.