The law will be enacted if the parent does not restrict children's smartphone or PC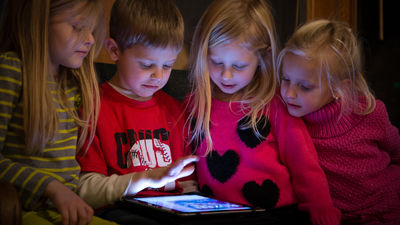 ByJim Bauer

Electronic devices such as smartphones, tablets, PCs can easily watch movies and play games by accessing the Internet. Because it is an attractive tool for children, the problem of "I have been playing with smartphones all the time without playing outside" happens, but I want children under the age of 18 to use smartphones, tablets, PC for a long time A law that imposes a fine of $ 1,600 (approximately 188,000 yen) against a parent is enforced in Taiwan.

Parents in this country are now legally obliged to stop their kids spending time on computers - Quartz
http://qz.com/332675/parents-in-this-country-are-now-legally-obliged-to-stop-their-kids-spending-time-on-computers/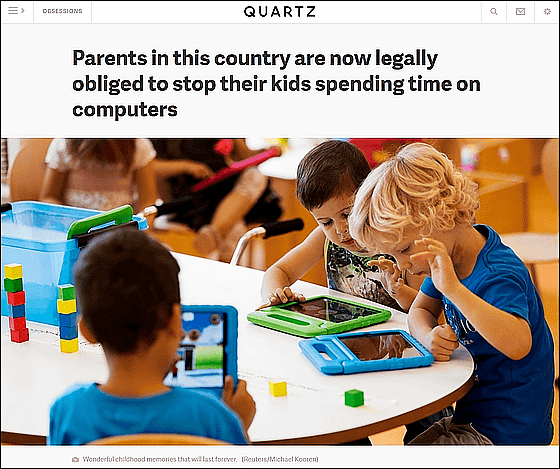 The newly enacted law in Taiwan equates excessive time waste of electronic equipment with smoking, drinking alcoholic drugs, drugs, sexual or violent images, and has infinite number of children under the age of 18 to smart phones, tablets, PCs It is supposed not to let you use. Children who have broken the law will not be punished, but parents who physically or mentally expose their children to electric appliances will be a fine of $ 1600 (about 188,000 yen). However, the law says that the point of "how many hours is wrong" is not specified clearly.

Incidentally,American Academy of Pediatrics(AAP) recommends "Maximum 2 hours per day" for viewing the screen of video game machines · mobile phones, etc. However, the average time spent for various media by American 8 year old children in one day Has reached 8 hours has been found in a recent survey.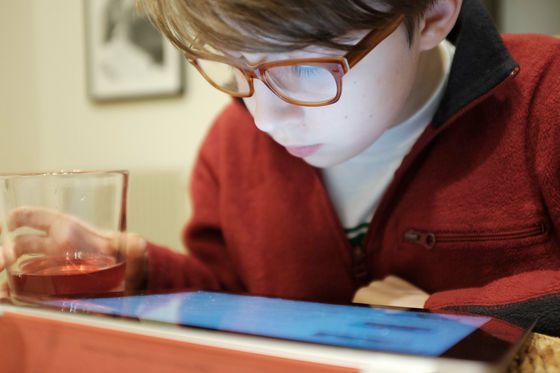 ByHenry ...

Taiwan is not the only country that employs the law restricting electronic media. In China where playing time of online games continued to rise since 2005,Online games over 3 hours a day are regulatedIt is being done. South Korea also adopts a law prohibiting night play of game users under 16 years old. Pope Francis said on January 23, 2015 "Let's leave you talking to each other by placing your iPhone and Twitter by your sideI appealed.

If Taiwan's "Electronic Equipment Restriction Law" succeeds,Cell phone addictionIt is thought that it is effective also for prevention. Electronic devices such as smartphones and tablets have developed rapidly, but correct guidelines for children are required.