A robot who bought a ticket for the first time in the world and got on an airplane "Athena"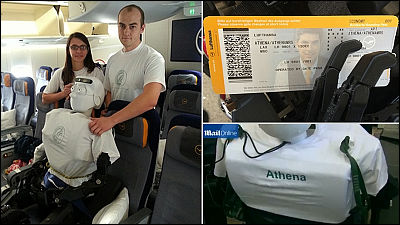 Robots that Google can advance developmentIt was also the dream of Softbank · President Son"Pepper" of emotion recognition robotIn recent years, development around robots has shown a dramatic improvement. Meanwhile, it should be said "finally" A robot that purchased an airline ticket and got on an airplane like a human being appeared.

Athena needs first humanoid robot to buy a seat on a passenger plane | Daily Mail Online
http://www.dailymail.co.uk/sciencetech/article-2875942/The-robot-s-s-going-HOLIDAY-Athena-robot-buy-seat-passenger-plane-passport.html

A robot arriving at the airport on board a wheelchair.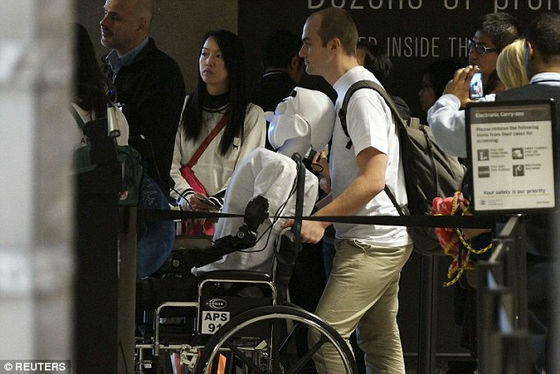 There are a lot of people at the check-in counter. It is a pattern that many people pushed to see the world's first "passenger robot".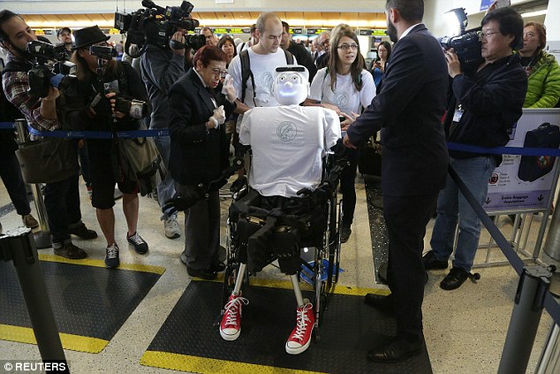 It seems that it was stored in the camera here and there.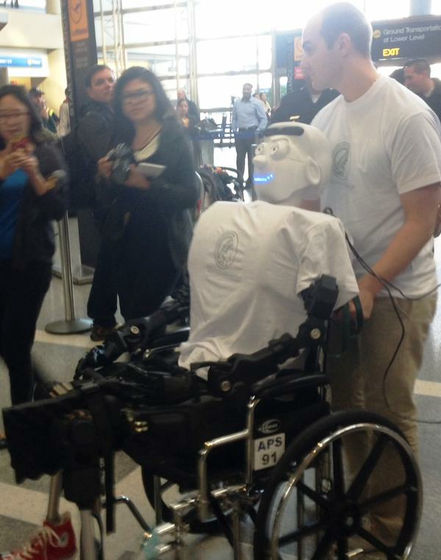 A robot that did not say anything. T-shirts are put on when I look closely. It seems that around the forehead, Kinect's like sensors are mounted.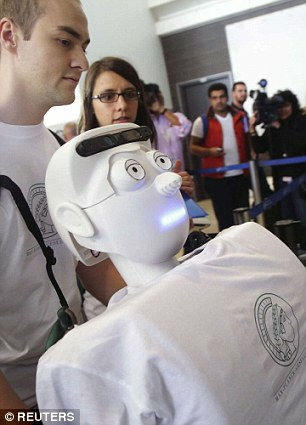 The name of this robot is "Athena". It is "female" developed by German robot researcher Alexander Herzog.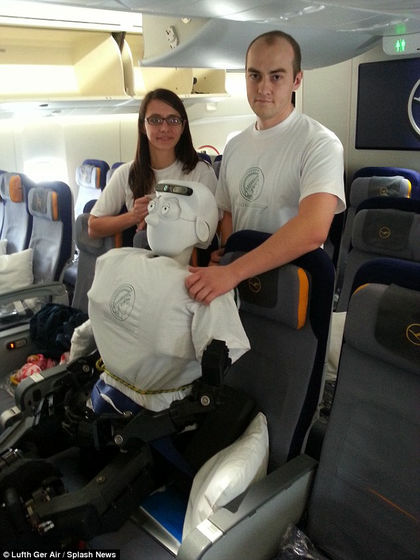 Athena leaves from Los Angeles International Airport on Lufthansa 9801 flight and travels to Frankfurt, Germany. As you can see, the name "Athena" is listed properly on the ticket. My honorific name "MRS" is married ... ....?



Go ahead with the owner Herzog Athena. It is said that Athena possesses a German passport, and Herzog apparently seems to have Athena's passport and ticket. Although it is not as sure as the truth, it must be an episode that tension rises anyway.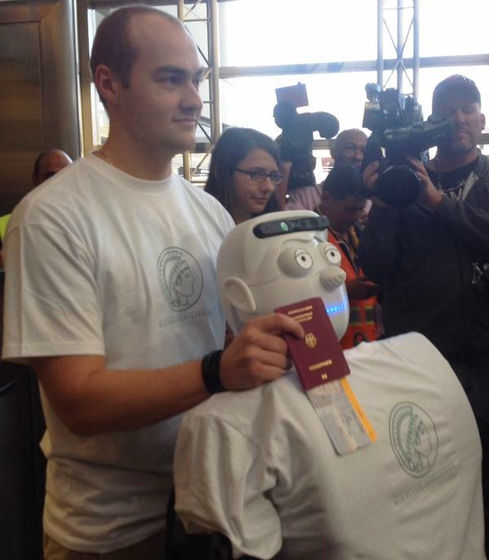 Athena receives security check by being touched by airport staff. Athena is a robot with arms and hands, and it seems that it is supposed to cross Germany to learn gait.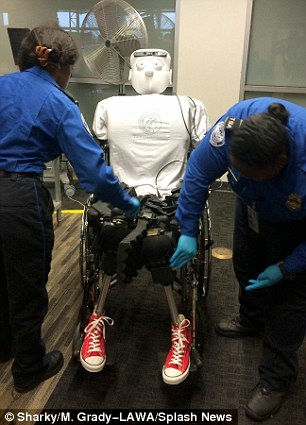 A movie containing the appearance of the day is also released, and you can see the situation of the passenger who can not hide the surprise by Herzog's interview and unexpected "passenger".


The name was printed on Athena 's T - shirt.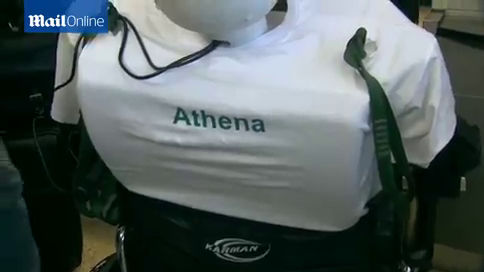 Pasha a camera with a smartphone. Athena became famous people here and there.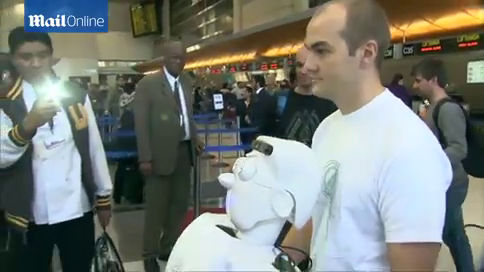 "The children are excited and I am looking forward to whether the seats are next to each other," she said. This person seems to be excited quite a lot.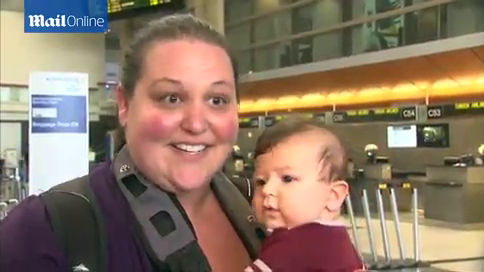 This woman said, "I always talk to the person next to the seat ... ... I was curious as to whether she could talk"?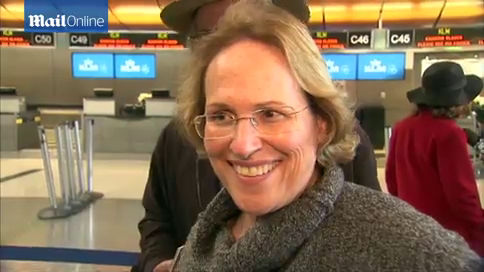 This situation seems to have been relayed even at the official tweet of Los Angeles International Airport, and three hours before the flight "It is said that the flight of the robot" Athena "which will be the first passenger in the world to become an airplane passenger will be shortly before today" Tweets are swept ... ....
First-ever flight by humanoid robot "Athena" as a paid passenger on a commercial passenger airline@ Lufthansa_USAWill occur today at noon

- LAX Airport (@ flyLAXairport)2014, December 15
"Athena" is brought to a scientist and this "humanoid robot" is equipped with a head, arm and leg, a picture of check-in coming soon! It seems that the appearance that it began to rise is transmitted.
"Athena" will be accompanied by scientists. A "humanoid" robot has a head, arms, & legs. Photos to come when she arrives at LAX to check-in!

- LAX Airport (@ flyLAXairport)2014, December 15
And at last Athena appeared at the airport. You can see how many people are surrounded.
"Athena" is checking in for her seat aboard@ LluthansaOn her way to Germany! [PIC]. Have you seen her yet?Pic.twitter.com/6pYHiQLC9a

- LAX Airport (@ flyLAXairport)2014, December 15
The figure that fits in the seat was also tweeted like this.
RT@ Kirkhawkins: Athena, the humanoid robot, found her seat on her@ LluthansaFlight at@ FlyLAXairportCC:@ KTLAPic.twitter.com/rnsIrLcUvW

- LAX Airport (@ flyLAXairport)2014, December 15
Herzog says, "It was cheaper to carry it as a passenger rather than carrying it by cargo than anything," to the television station's interview. Apparently, in fact, just like a professional musician paid money and brought instruments in the cabin, Herzog brought Athena into the cabin with cargo as a truth of things.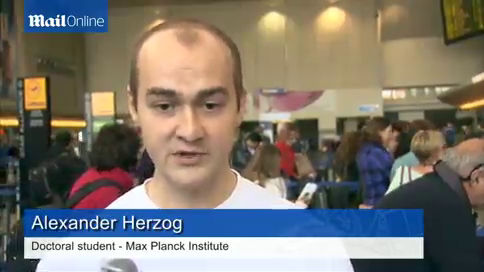 In an interview Herzog says, "She can not walk yet, but I will be able to go to Germany and start walking." When coming back to the USA next time, will you plan to board with your own feet?