I've heard digging the development secret story of "Hacka Doll" which caused a chemical reaction of miracles with beauty girl characters and news and heard leaves digging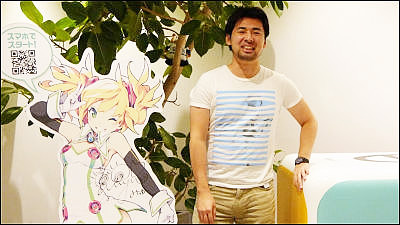 Without doing a big promotion it broke hundreds of thousands of downloads in one month after release,Hacka Doll"is. Unlike a general news application, Hacka Doll is a game where two-dimensional characters of beautiful girls deliver the news and when the delivered news is not interested, train the delivered two-dimensional character and train himself An application that can teach your favorite genre. I interviewed the product owner, Mr. Akihiko Iwaaki who worked on the planning and development of Hacka Doll, heard the secret story of development and future goals and digged leaves.

Hacka Doll: News application synching to you ~ Anime · Game · Manga ~
https://hackadoll.com/

GIGAZINE (hereinafter, G):
I would like to hear various things today and dig up leaves and I would like to ask you a favor.

Mr. Akihiko Iwaori (hereinafter, rock) product owner of Hacka Doll:
Thank you.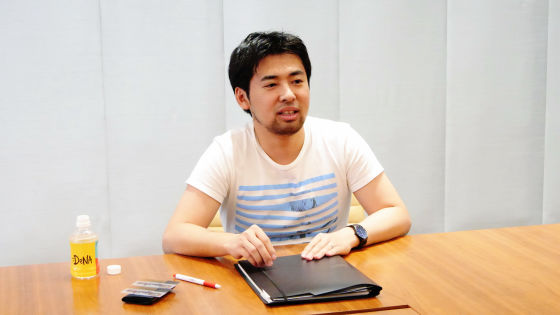 G:
First of all it is not necessarily that the reader knows Hacka Doll, so I would like to ask a story from the development background. What was the inspiration for Hacka Doll's development?

rock:
In the winter of 2013 I was the first DeNA to exhibit at the comic market and there was a big reaction from users of Mobage. I do not like the expression of geek market, such as comic market, but I took a valuable experience to feel the importance of the user rawly by doing business in those places. So, "I will do my best for the summer comic market next to be held". But, since there was a period of about six months until the summer comic, let's think of a means to offer users and collect users, that is, to start a new business within this period .

G:
I see.

rock:
I love manga, light novel, and animation, but there are parts that do not quite get information of such genres to users. For example, if you decide to buy a light novel at a bookstore, you only have to find it from the back cover. Otherwise, for example, we will tell you the information on your favorite axis such as animation, manga, games such as "If you read alle next it's recommended," or "I like kore if you like it" If there was a service like a very nice otaku friend, it would be a lot of fun. In that sense, I think comic market is a place where you can gather information on animation and manga you like. I wanted to create a digital service that would replace the comic market from there.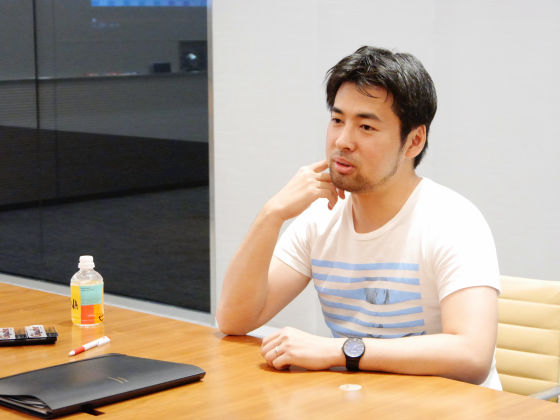 G:
Immediately after "Comic Market 85" is over, did such a story come out?

rock:
That's right. After the comic market 85 on December 31 was over, we launched it at the Oedo Onsen Monogatari and then on the first day of the new year on January 4, we made a presentation about the new service inside the company, saying "Let's do it became.

G:
At the time of the presentation, was the story of making a news distribution application consolidated?

rock:
Well, I guess that was almost decided. The project itself began specifically from the end of March 2014 about April, when collecting engineers from there and talking about "When to put out?", Everyone is "Comeke in the summer is not it?" Anyway. However, there are only five months to comic, and furthermore, considering the time it takes to apply for iOS, only four months have passed.

G:
Actually it was a development period of four months.

rock:
Well, it's about mid-April. "Now, where is the server located?" Actually it is about 4 months and a half.

G:
Is not it a fact that there was a consolidated project named Hacka Dor originally, is it that it has solidified on starting a new business?

rock:
There was a story saying that there is something that users like animation and manga can do something as a new business, but in April it has settled on concrete services such as Hacka Doll. Even then saying "I want to do something like this!", "It's a magic if you can, well, that's what it is like" above. However, when talking with several engineers, it says "This is impossible, but it may be possible if this is the case" some have come up.

G:
For example, what is it?

rock:
For example, Mobage is analyzing a tremendous amount of data. To analyze that data and recommend anime and manga that is suitable for each userHadoop"You might be able to use the technology called. I am also not sure of technical things. Well, the story continued to bring people who are familiar with Hadoop.

G:
Yes.

rock:
When asked to a person familiar with Hadoop, "Although it may take time to make, it is possible to analyze the data and recommend information suitable for the user" It became a story.

G:
Really. When talking about Hacka Doll's vision, how was the reaction of people inside the company including engineers?

rock:
Although there are people talking about new business within the company, it is hard to imagine people who say "I will do a new business!" In a geeky segments seems to be quite difficult as a character. In that sense, I mean there is a place where I can not read the air, or even though I'm an otaku, I feel a presentation, it is a kind of strange type of person. However, there are quite a few people saying "I actually thought that I also wanted to do" when I raised my voice. From there, volunteers in the company gathered.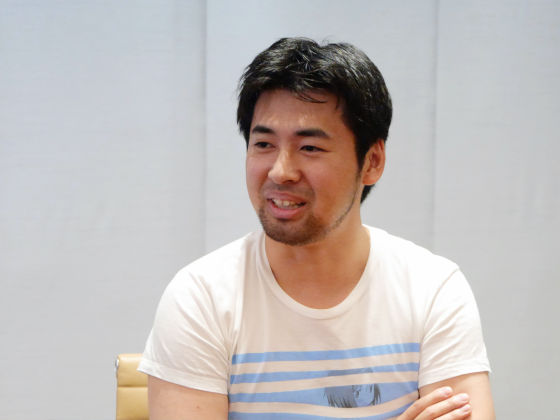 G:
I saw a story that inside of the company was opposed when I was decided to release Hacka Doll first in other interview articles, but did you mean that there were actually many people to agree?

rock:
There were many opinions as to whether there is risk rather than opposition. "Services that deal with animation and manga are easy to flame up, and further that DeNA does it is different from what you do at your company."

G:
I see. When the project started up, how many members gathered?

rock:
At first we have three people. I had a project manager and that person was originally making games, but if I call out, I organized my job and joined. When I was talking to Hacka doll to the project manager, "It's a server engineer at the server engineer to realize, I need one ace and I try to talk to you" so I brought a voice actor It is an engineer of sommelier. After that, there is a client engineer's specialist called "God of Eroge", which is Hirose Hiroki of iOS / Android development engineer. With this feeling the number of members increased.

G:
It is a very dense member.

rock:
Yes. After that, some people usually doing data analysis in the Mobage project also helped me "I'm doing something interesting". Recommendation seems to require very mathematical knowledge. I do not quite understand the details, but I feel like I've made it while teaching around here.

In April and afterwards, we proceeded with development while discussing with members gathered. It is not just one way to enjoy content. For example, "Morose course high school inferior studentThere is also a way to enjoy it as an animation, but there is another way of enjoying "a combination of voice actors is interesting". It's almost like to be interested in other people's impressions and reviews from such reviews. That's why it's better to take up a wide information source including personal blogs as well as news sites. I was talking about such a thing.

G:
Hackador delivers 25 articles at a time in three mornings, afternoon and evening. How did you decide this?

rock:
There was not any fine logic in 25 deliveries, as other services were like that, so it would be nice (laugh), but we released AB tests and interviews internally for over 100 people before the release . "How about 10 deliveries at a time?" Or "How about 25 cases?" Or "How about replacing?" When I actually touched the application and listened to various people's opinions, 25 resulted in the result that 25 was the best.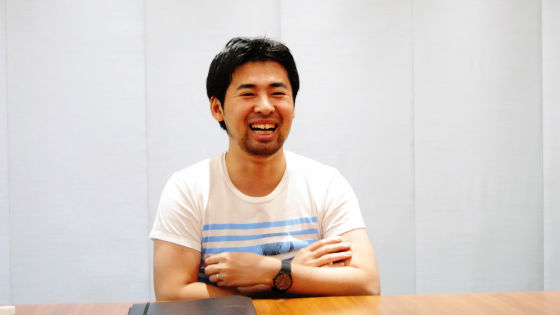 G:
I see. Hackador is one of the charms of having an end card, playing games and having entertainment elements besides "reading articles". Please tell me why you added elements that are not seen in other news applications called entertainment.

rock:
The end card is the idea that fits the very first project. The person who saw the proposal was "What is an end card?" But (laugh) When a story telling me to make a news application comes out, if the application itself is not fun, I thought. So, how do you make fun for news applications? If you think, "It would be better to have a reward after all." So, as I saw the animation to the end, the end cards saying "Please look again" came out, so it was "That's it!"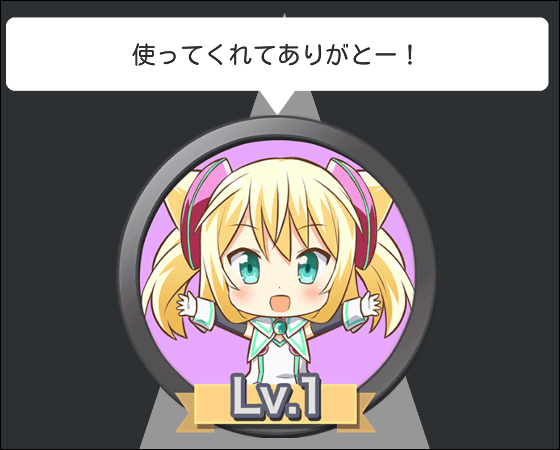 The game was decided quickly about one month before the release. Originally, I thought that when using an application points accumulated and I tried to be able to draw gacha at that point and it was a tremendous DeNA-like thing. I thought that Gacha's prize was going to be wallpaper or voice, but it was discussed as "Is it really interesting?" At that time, I got an opinion that "There is no game element in Hacka Doll is regrettable," I noticed that "Gamers, not gacha users can enjoy the user". So, I tried to make something like a full voice adventure game.

G:
Was it decided at that time to have the voice actor take charge of the voice?

rock:
It was a time before the game. Actually, the name Hacka Doll is decided after the project has settled. When I was talking on a train and saying "I want to make a raking service," the idea of ​​a name comes out like "Hakata, Hakkadoru, Hacka Doll!", "If it was Hacka Doll, I would like to have a girlish character Let's stand ". A story about animation came out that "I want to do what I thought seriously if I made a character." When I consulted a person from a acquaintance's production company, I was laughed at my nose, saying "I am going to spend about 2 years on normal animation." That time it was around the end of April. I was refused once, but I asked you several times and got acceptance.

G:
There are three people in Hacka Doll 1, 2 and 3, but have you decided to make 3 characters for animation planning stage?

rock:
When we first wrote a cartoon plan, if we decided to have five characters appearing in 1, 2, 3, 4, 5, "If there are only five minutes while the scale is 5, I will change "and changed to three people.

The original animation of Hacka Doll can be confirmed from the following.

Hacka Doll Original Animation - YouTube


The original animation is released to the 2nd bullet.

Hacka Doll Original Animation Part 2 - YouTube


G:
Did you think that it was going smoothly in development, but was there any part that was difficult to predict unexpectedly, or vice versa?

rock:
What kind of news to distribute was pretty smoothly going. I was able to implement it as expected by the meeting. What was unexpectedly difficult was the visible part of the application, that is, the part of UI. I am changing the UI so that I do not know how many times it has been rebuilt. At first it was easy to see it as a dedicated browser of 2channels with a white text on a black place, but it was easy to see, but afterwards the name of Hacka Doll was decided, it might be something different from the image. Next, I designed it more brightly, but it became too stylish UI. I made it a bit more familiar and functional, so I solidified my direction and reached the current UI. I thought that the UI of the news app should be simple, but why will it take so long?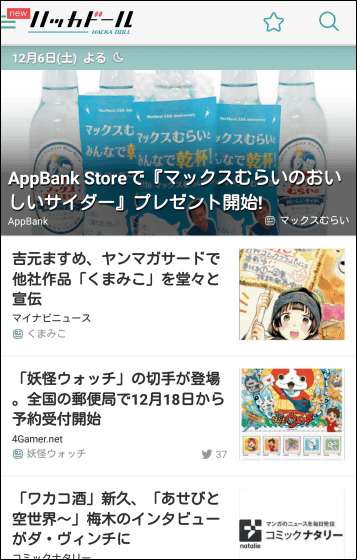 G:
How many times did the UI change?

rock:
Since now the version is 230, I am about to change it as far as the details are concerned. It may be changed again next week (lol) I am designing the UI so that users can use it without reading the explanation.

G:
The story will change a little, but was there a considerable confidence that Hacka Doll would succeed at the development stage?

rock:
No, I did not have much confidence. Regarding the part that resonates with the user, it is another story whether to succeed or not. After all the service for geeks seems to have a very narrow frontage, is not it? So, I thought that the popularity will not explode soon after release, but will gradually get popular over a long period of time. The person targeted by Hucker Doll is tremendously sticky. I think that the service which has contact points with the user who supports me with powder as a favorite once I think that it is worthworthy. So, "It may not be possible to say that success can be said as successful after the release, but I want you to see it in the long run" I said many times.

G:
Now it has grown to a scale where you can do Hacka Doll events and live performances too. Is that something you anticipated from the beginning?

rock:
If you were able to predict that, it is quite a great person. That was something you never imagined.

G:
I wonder if Mr. Iwao is currently in charge of such events?

rock:
I agree. I write scripts for events, and I am doing various things. Originally, I was a consultant at a foreign-affiliated company, so I am working completely differently.

G:
Is there anything to worry about doing a completely different job from my previous job?

rock:
Even if it says totally different, there are parts that are not much different in terms of communication. How do you draw out the power of voice actor and MC to make the event interesting? Later, my team has a lot of people close to the assumed users. That's why I do not have much trouble because I can work with my members while talking to them.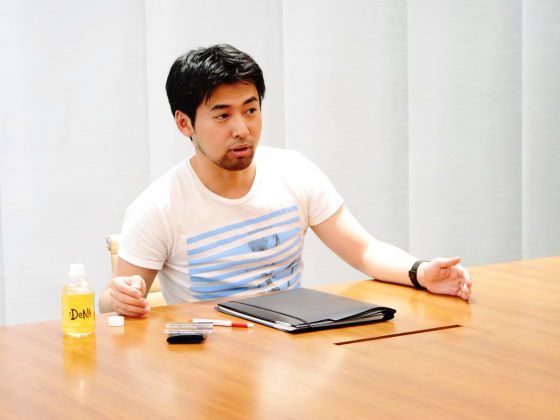 G:
Mr. Iwaori is said to be a team is about beautiful girl Mobage (also known as Bishojima). I saw it when I told you the office earlier, but the only beautiful girl island was awesome aura. When did you start Bishojima?

Poster was put everywhere on Bishojima and it was different from other places in the company.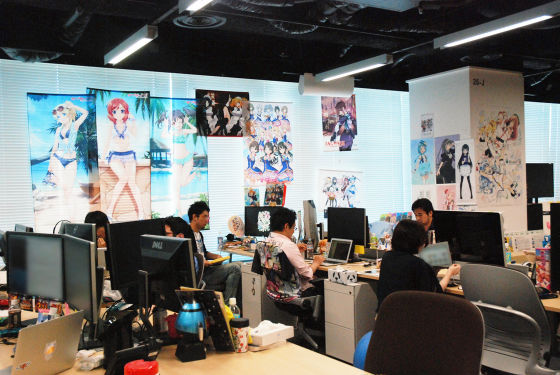 rock:
There are a lot of titles in animation series in Mobage, but among them it is a beautiful girl Mobage that started out by promoting offline and online including comic markets, collecting the titles of beautiful girls. . Now thanks to 20 titles available.

G:
There is a team of Hacka Doll in that beautiful girl Mobage. As I talked about a specialist of eroge and talked about members, I was worried, but are there other members of a specialist in a particular genre?

rock:
Well, they have the face of a specialist as an engineer, but also the voice actor sommelier who came out earlier, the person who is good at beautiful girl game or the specialist of BL. Such members are pushing up "There is no Kore, there is nothing". "I tried making it because I do not have that function."

G:
Rather than talking about the idea at a meeting, rather than solidifying the idea, do you feel that members will come up with ideas and adopt them?

rock:
Of course, there is a meeting on a proper development process. However, what should I say? The past 11 o'clock in the evening is a very interesting time. After 11 o'clock, there are some engineers left with me, but one of the engineers suddenly stood up and suddenly stood up "I came up with an interesting thing! Look at this! This is amazingly fun Is it OK to implement it!? " When I look closely it's really interesting and it's a story that "I'm really funny! Let's make implementation already". As a server engineer turns around the course, it suddenly started making something "a!", And if you look at what you are making, it is really interesting to actually adopt it. With such feeling, after 11 o'clock, "backRequirement definitionIt starts. Various functions are decided in that time zone, and functions which do not need are deleted.

Mr. Iwao who reproduces the state of members suddenly rising "backlash" during back side requirement definition.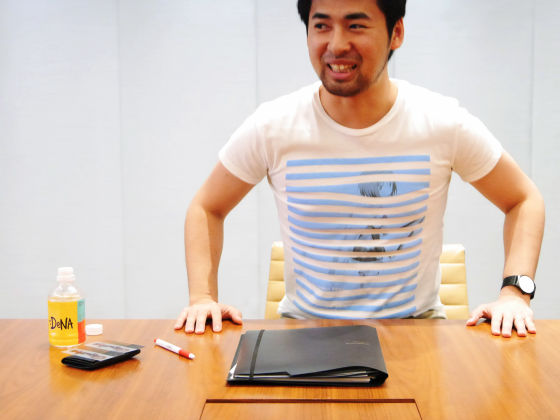 G:
Is it a back side requirement definition (lol) What kind of function was deleted?

rock:
"Friend invitation function" was rejected many times as deleted or not. Although it is implemented, it has been rejected seven times because it is "boring", is not it? It is the most terrible thing to be dismissed for "boring" reasons. There is a function that is postponed because it is still boring.

G:
What is the postponed function?

rock:
It is Mr. Hakka Dokkan game, it should be fun to say it is boring, but it will take time to make it interesting. Actually, it was scheduled to be released in October, but I am late as I want to make it interesting and then put out.

G:
Now I have only game No. 1, are you planning to increase it in the future?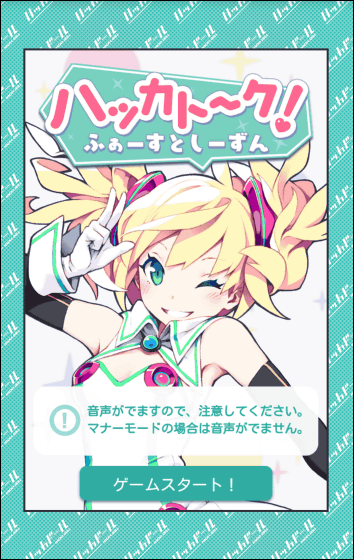 rock:
Although it is planned, since it is a company making a game, there is no dust. Regarding No. 2 and No. 3, I am planning to issue full Voice games like No. 1 respectively.

G:
I am looking forward to a new game. I will change the story with a little bit. I heard that Hacka Doll is not a curation app but a search engine. Could you tell me the mechanism around that?

rock:
I can not talk about technical details, but as a mechanism I crawled the information on the web, pasted the index, and put it in the application that puts out the search engine according to the search query from the user. To put it briefly, Hacka Doll looks like a crab, but it's like a crab, not a crab. The appearance is a curation application, but the configuration is a search engine. When explaining to the user, I emphasize easy-to-understand and use curation application, but it is correct to say that you are using search engine as IT system.

G:
I see. Next, I would like to ask about Mr. Iwaoki himself, but what kind of work does the "product owner" of the application do?

rock:
The general product owner in DeNA is the main job of the service direction and is a person in a position to tow the growth of earnings and the part that gains users. In short, it is about jobs around numbers, decision of the final product and release date, promotion and so on. Taking a product as one company, the product owner feels close to the position of president. However, in the case of Hacka Dole it is special, for example, Hackador has games and character elements. So there is work to think about service operation and strategy, and work on how to do character. In the character, consistency is necessary, so I do not do it with multiple members but I am doing the direction. It is quite tiresome, but I am enjoying it because I do not do a job that the general product owner does not do, such as game scripts and event contents, character illustrations and promotions.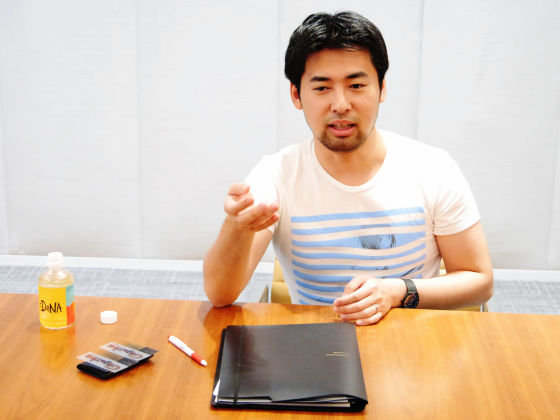 G:
Hackador broke through hundreds of thousands of downloads in less than a month from the release without doing a massive promotion like TV commercials, but is the number of downloads rising sharply after that?

rock:
Yes, thanks. It has become a scale that has been growing as a user base more than enough in the market we are targeting. Later, one more important thing is policy not to buy the user with money. In order to have users enjoy it, it is important to deliver the correct user benefits. As long as I keep it properly, results are working properly. In that sense I feel that the company really understands me about being able to continue marketing without shaking the axis.

G:
Do you have any plans to post ads on monetization?

rock:
Regarding advertisement, it is not for the moment. However, since DeNA is developing game business, I would like to use it as a medium that I recommend if there is a game suitable for the user. I do not want it to be too appealing and like the application that users say "This application is full of advertisements". However, how far this stance is permitted depends on yourself.

G:
What is the goal of Mr. Iwaoki at Hacka Doll?

rock:
It is the most important goal to have users of genres such as animation and manga know Hacka Doll. After having it known, I would like to aim for one million or two million downloads. If you reach enough of the core audience, you should be able to spread to users who do not usually read manga and animation. Because animation, light novel, BL market is so narrow, I think that I would be able to contribute to expanding the market.

G:
What kind of things will be needed to capture users who do not usually read manga or animation?

rock:
You should think about it too (lol) I think that there are a lot of things, but there are multiple kinds of logic of the recommendation you are using now, for example, you divide the logic between light users and core users. I think that it is necessary to say in core product to display a lot of popular articles to the light user and to make the logic so that core users can provide more maniac articles than ever before .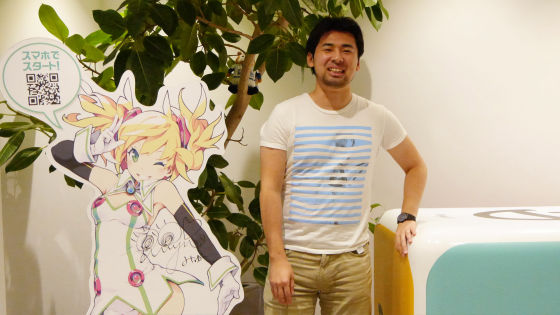 G:
Indeed, I look forward to more Hacka Doll in the future. Thank you for today.

rock:
Thank you very much.