When looking for the cheap hotel in Tokyo, it was possible to stay in a private room of 3 tatami matsato in Yamatani at 2000 yen level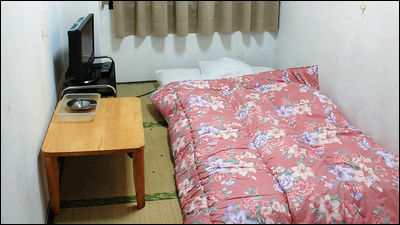 If the west is Nishinari in Osaka, the east is Yamatani in Tokyo. It is both districts that have developed as a day-to-day worker's living base, but recently it is aggressive to accept travelers, foreign tourists also draw suitcases and walking. About two years agoI made an article about when I stayed at NishinariHowever, as I thought it was comfortable, I decided to look for a cheap hotel in Yamanotani, Tokyo this time.

Hello,Takuya Sudo @ circle around the world bicycle @ Charridermanis. For me who has experienced cheap accommodation around the world, the quality of Sanya has been satisfactory. In France or the UK where I stayed this summer I was over 2,000 yen in the same room and I do not know developed countries that can secure a private room at that price. This time it was a flight from Narita since the departure after temporary return to Tokyo, so I went to Tokyo.

◆ Location of Sanya
It is about 10 minutes on foot from "Minami-senju station" of Joban Line when it is JR.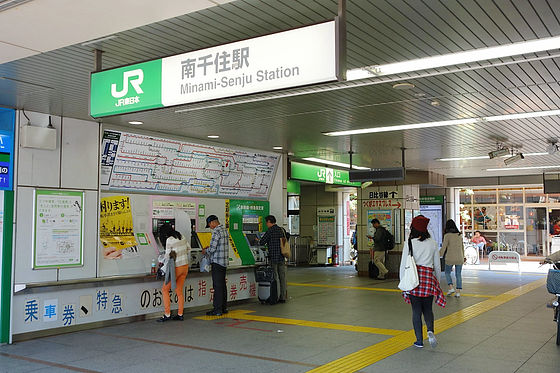 In the vicinity of the station there was a large commercial facility where supermarkets, UNIQLO, Temura, Daiso etc. entered, crowded with families and young people. There is a large-scale condominium complex in the vicinity, and the atmosphere is quite bright, unlike the Sanya district.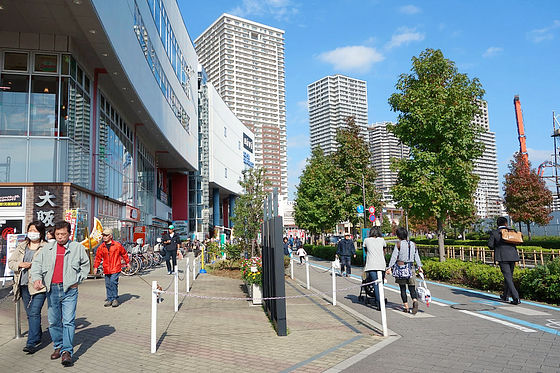 Subway, Hibiya line of Tokyo Metro "Minami-Senju Station" is also the nearest station.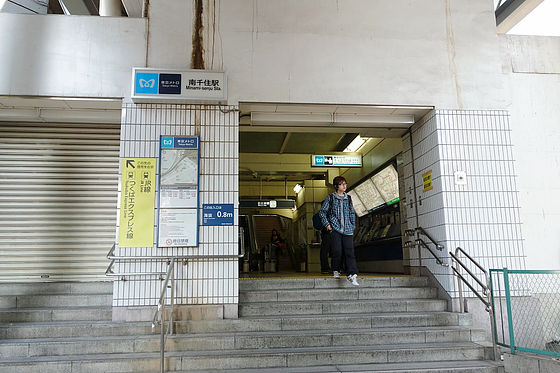 I left the station and walked to the south called "Yoshino Dori" on Route Route 464, but when crossing the JR railway at the elevated pedestrian bridge, it will change to the atmosphere of the downtown. When coming to the intersection of "Tsubasa", it rushes into a full-fledged inn. There were crowds crowded until the intersection of "East Asakusa 2-chome". When you get out of Yoshino street and go inside a little, it is only a sign of the cheap hotel.

Once there was "SanyaThere is no place now. Although it changed to a place name such as Kiyokawa, Nippon Shinbun, Higashi Asakusa, Minami-senju, customs that calls the former area called Yamaya remain, and there are many people who overlap images such as places where cheap accommodations are gathered in day laborers' streets Let's see.

Yumabashi crossing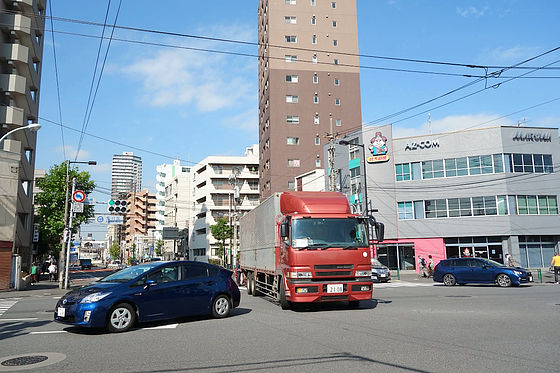 The location of the cheap hotel is also listed on the nearby guide board.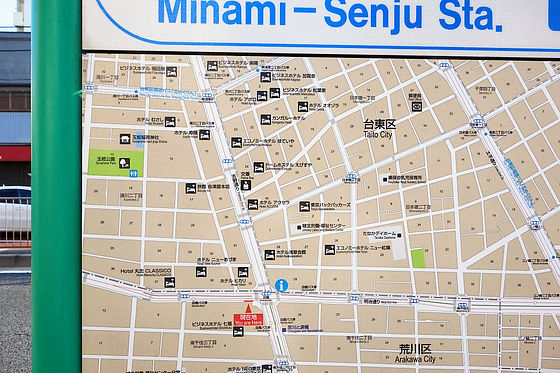 Nearby "Iroha meeting shopping street" was doing a town as a hometown of tomorrow's Joe.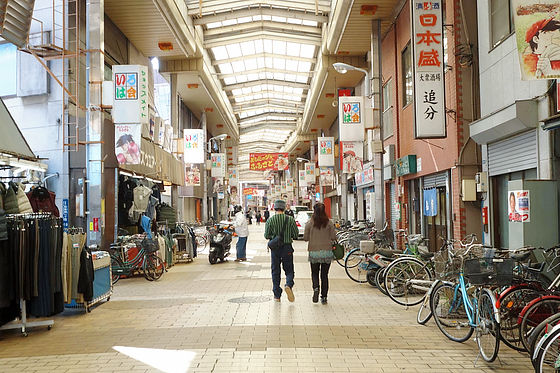 Joe stood as a monument of "Tomorrow's Joe".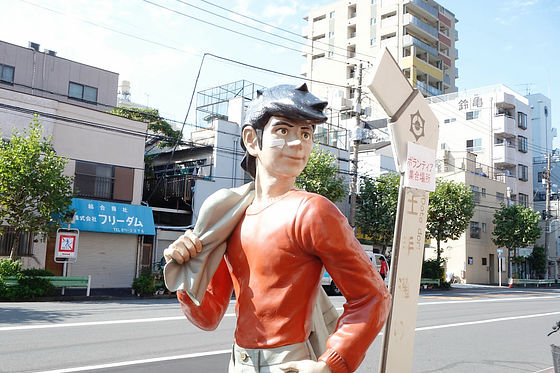 You can also see the Tokyo Sky Tree from the Sanya district.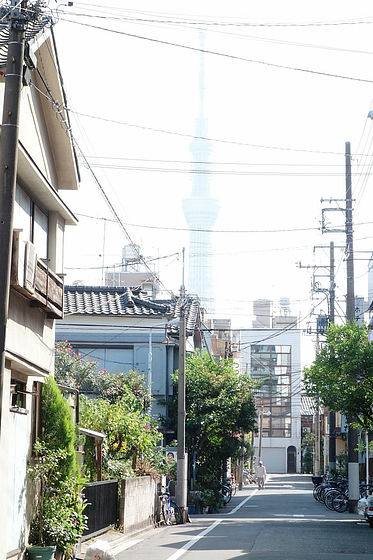 The neighborhood of the cheap hotel is a cheap hotel, the opposite building is also a cheap hotel, the corner of the street is a cheap hotel, and the area where the cheap accommodation is as concentrated as Yamuya is hard to meet even abroad. Because signboards of inns are listed here and there, so much trouble as to where to stay. However, the main target of the cheap hotel that operates in Sanya is a long-term stay. I was struggling with excitement and challenging reception despite being unable to grasp whether I could stay for a short-term traveler like me.

Many of the buildings behind the alley are accommodation.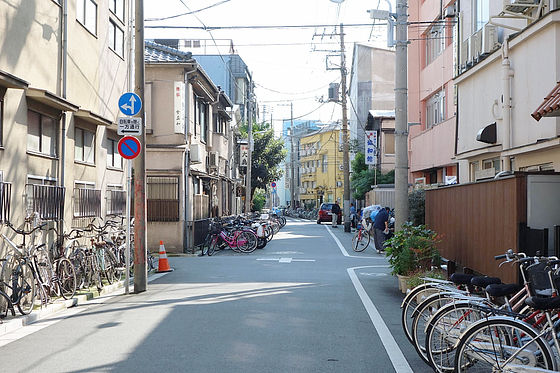 Along the trunk line here are four hotels in a row.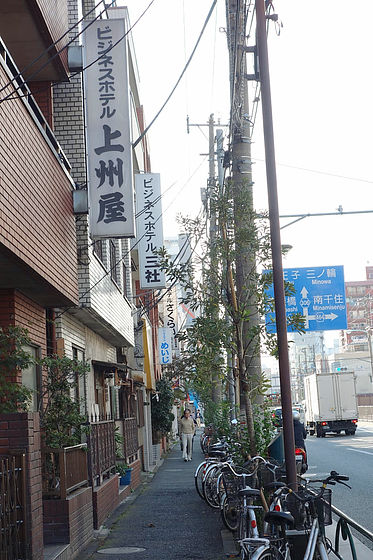 Hotel Sanguraku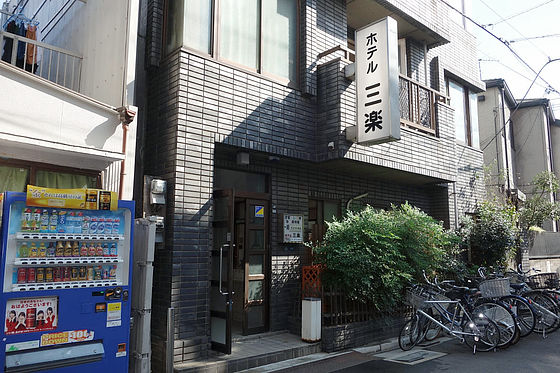 Ryokan Echigoya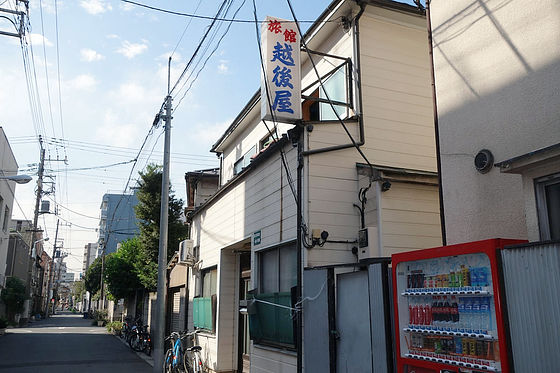 Business Hotel Tokyuso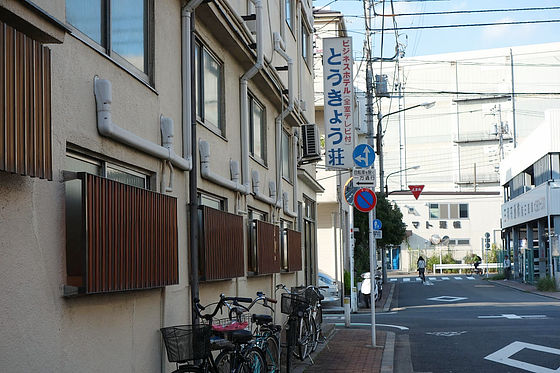 Ryokan Aizuya Main Store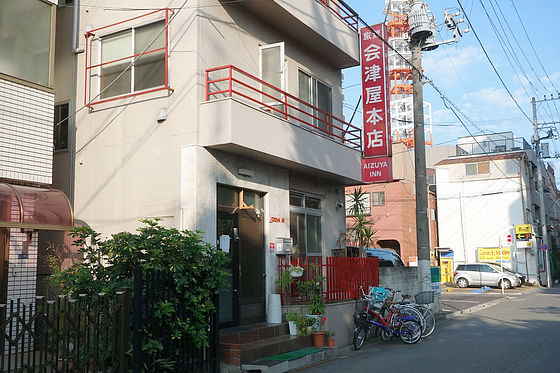 Accommodation facilities for young people called Tokyo Backpackers were also open.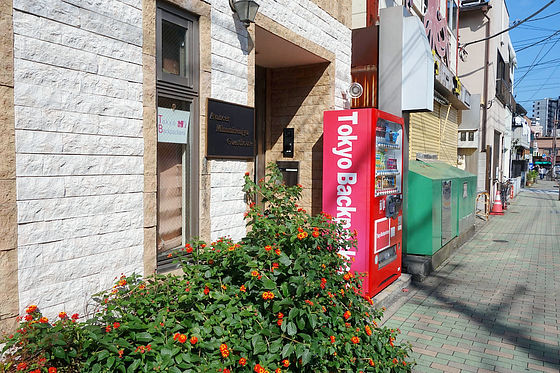 Although it is security of mountain valley which is worrisome, there are many single elderly men and the atmosphere is a bit dark. Ammonia smell was on the back side of the alley, "You did not come out" I was kicking out a vending machine as a drunkard. If you sit like a jaw that turned ash, you still saw a homeless lying down lying down. It is a place I want to pay attention to when there are few people late at night or early in the morning.

◆ Price of the first night
Rates and facilities are presented at the entrance of the cheap hotel in Yamaya, but it was conspicuous 2200 yen per night. Television and air-conditioning are usually complete, feeling that prices go up if you want a fridge or internet. If you raise the budget to the 3000 yen level, you will find a hotel with beautiful buildings and rooms. If you are a single male, you will not have to worry where you stay, but for a woman alone, you should choose the location.

Business Hotel Kanto 2200 yen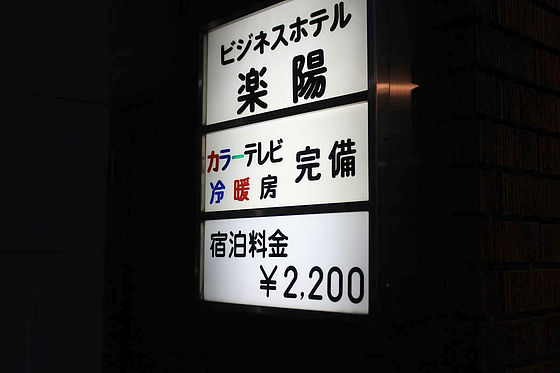 Business Hotel Nanfuku 2200 yen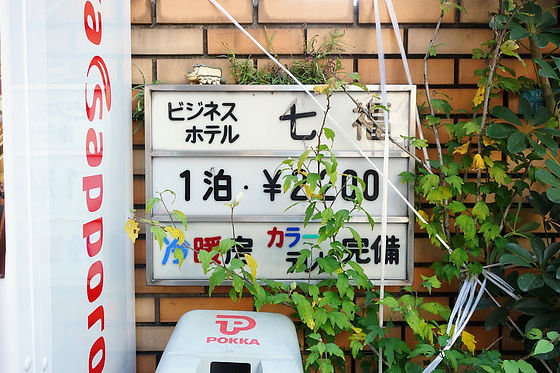 Hotel Azumino Area 2200 yen ~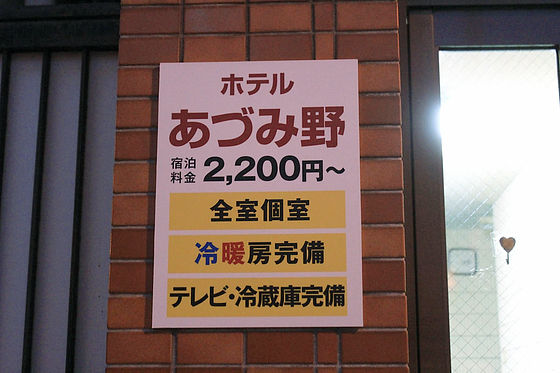 Again, it is 2200 yen per night.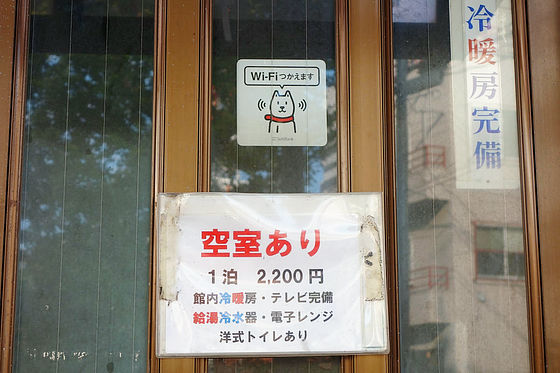 It is 1700 yen per night, although the number is small, I also saw some cheap accommodation less than 2000 yen.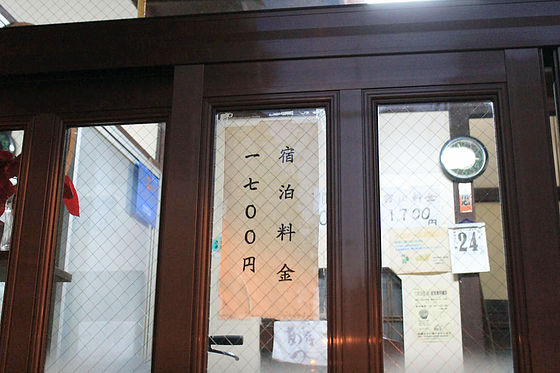 The hotel facing Yoshino Street of the trunk line, the building is also beautiful and the level is high. That is why the price will be slightly higher compared to back alleys. If it is a woman, this one seems to be more secure.

Single for 3450 yen per nightHotel Accelera. I secretly aimed, but when I visited I could not stay at full room.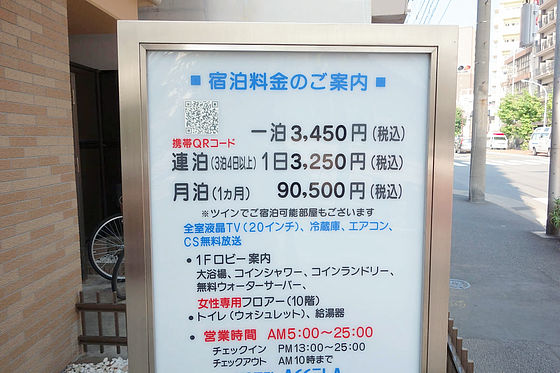 Hotel MarutzuIt is 4000 yen per night. Appearance like a condominium.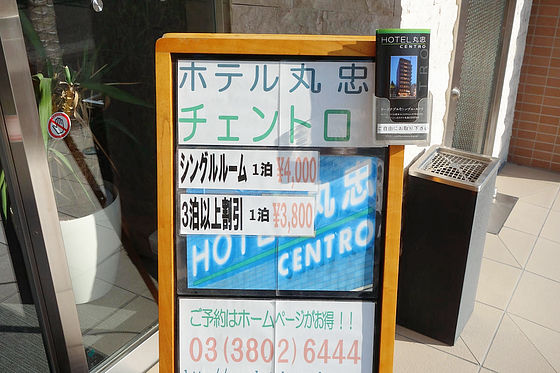 One night minimum of 3800 yenPalace Japan. I did the direction of a foreign lady backpacker that was holding a map near the station of Minami-senju, but this hotel was looking for her.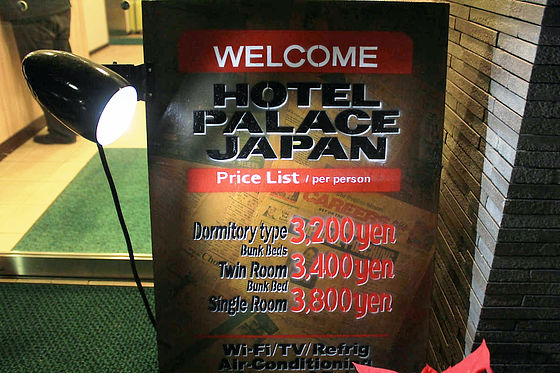 Economy Hotel HoteiyaAccommodation plan.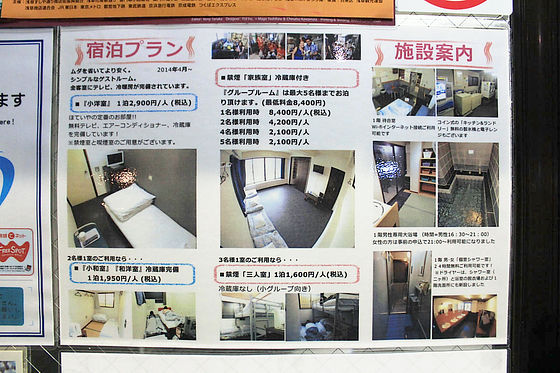 ◆ B · H Hirokazu
On the first day in searching for a hotel, I opened the door while I was nervous and asked the room, "I am sorry, it is full today" and honorable. I lose confidence to stay in Sanya. Still, it is troubled if you do not secure beds, and if you are looking at yourself next door you seemed to be easy to talk, that assault. There was room in there, too and was able to stay even from one night. In a Tatami room2200 yenAnd average price of Sanya. When you check the check-out time, "How long do you want to stay?" When I said, "If I can get out around noon," I took a breath of relaxation in the loose air, "Let's go slowly, if you do."

This is the exterior of the hotel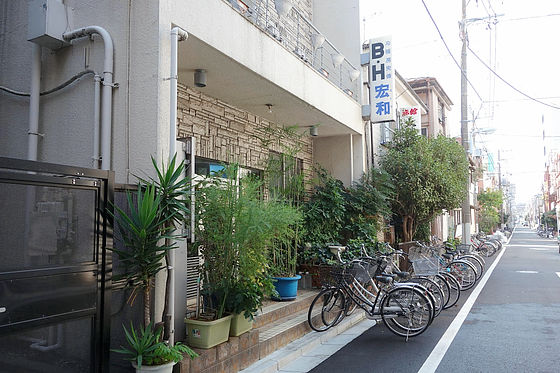 The room is between three tatami mats, and there is only space where futon and people can walk.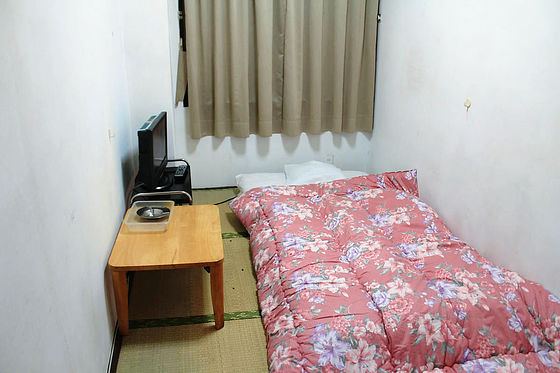 Luggage storage space provided separately from Tatami mat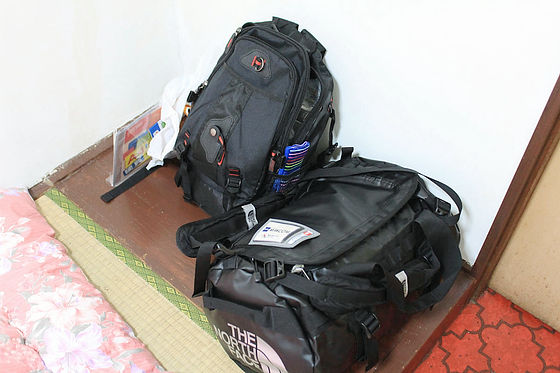 There is a shelf on the top of the entrance, so it is not inconvenient for storage.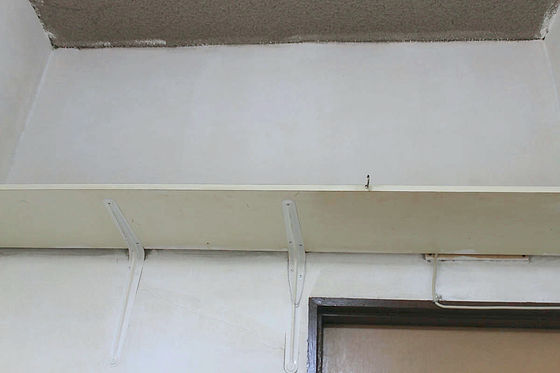 liquid crystal television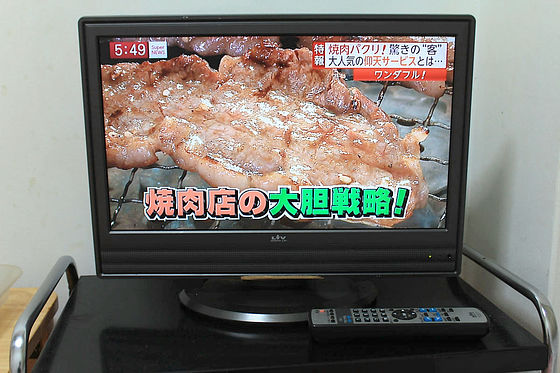 Shaburo which was convenient to work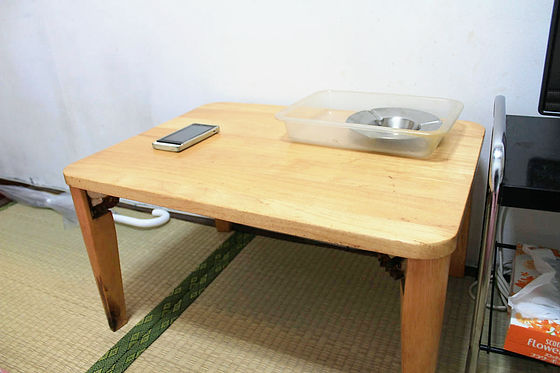 A heater that warmed the room while making sounds with old-fashioned googo. It was a central heating system, making the whole building warm.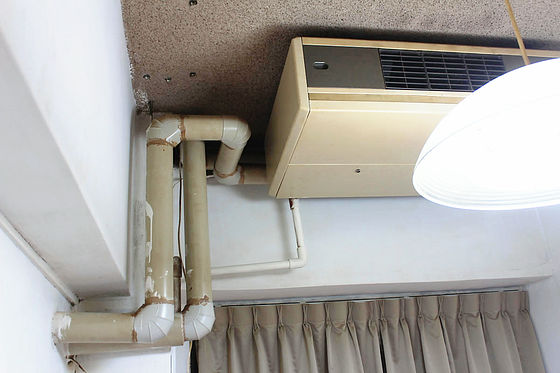 A little seasonal floor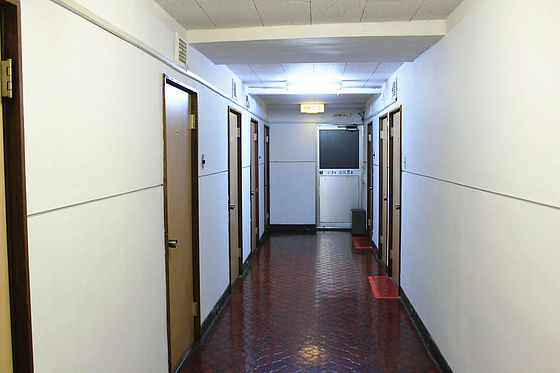 A washbasin separate from the toilet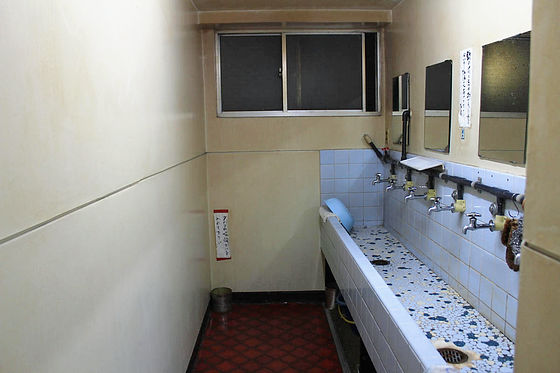 This is a toilet. There is a feeling of use, but it is kept clean.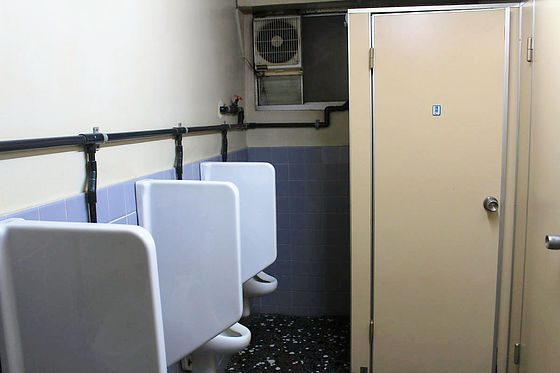 Let's separate the garbage and throw it away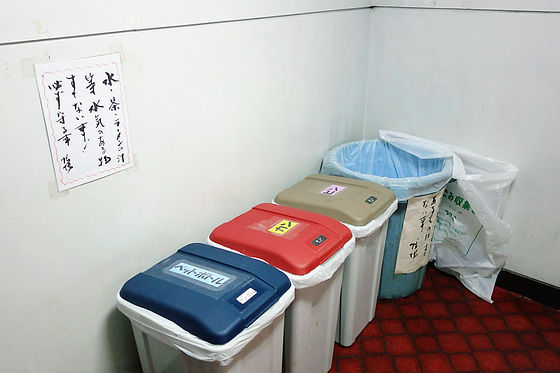 A notice of a poster advances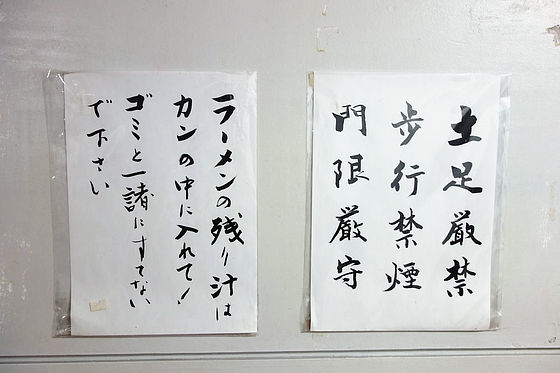 A shoe box secured one by one in each room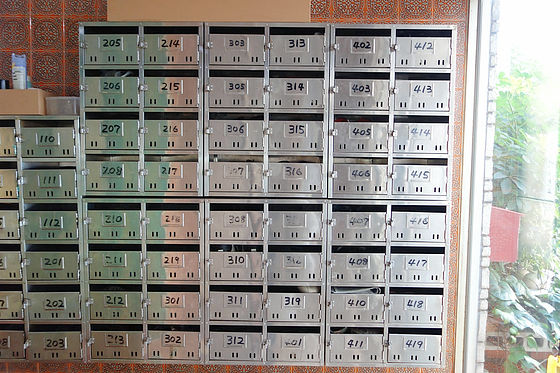 It was a price setting of 2 tatami 1900 yen, 3 tatami mat 2200 yen, 6 tatami mat 2500 yen.



◆ Ryokan Kinokuniya
The next day, I moved to another cheap hotel called "Ryokan Kinokuniya". One night stay2700 yenIt rises by 500 yen from yesterday, but Internet and refrigerator can be used accordingly. Check in was at 3 PM and check out by 10 AM the next morning. It was a room on the third floor, but the elevator was moving. As the sunlight faced the main street, the atmosphere of the floor was bright and it was nice. Although we stayed only one night here, we were able to stay properly.

A sign facing the main street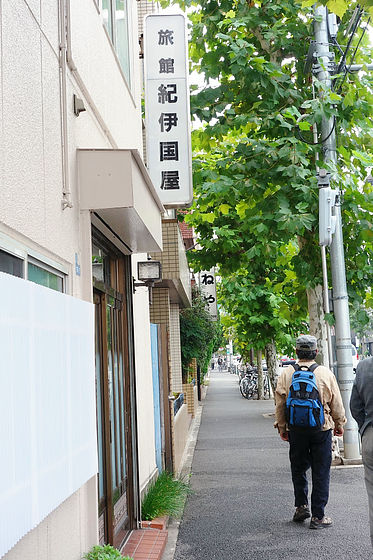 It is the same as last night, but the atmosphere of the room is not bad, as the walls are beautiful.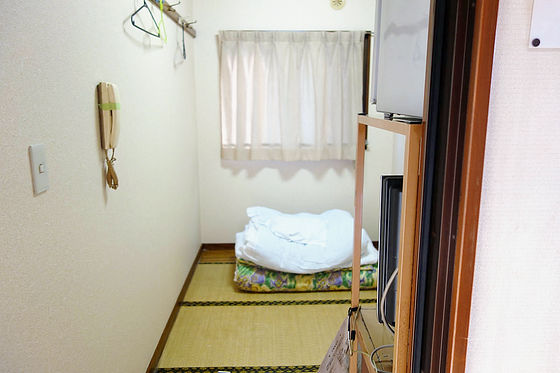 Built-in futon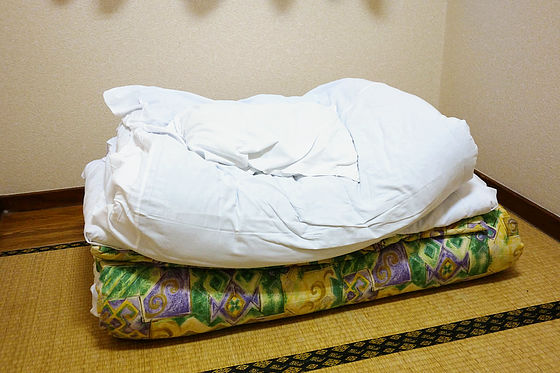 One corner where the appliance solidified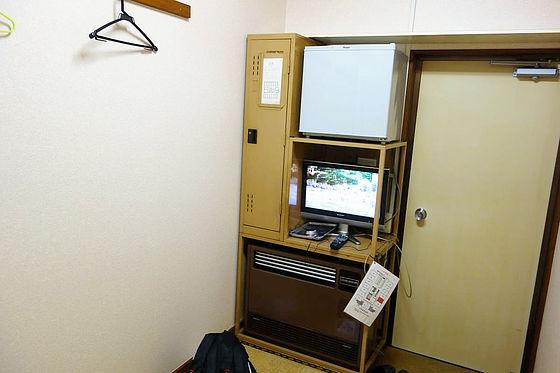 LCD TV made by Sharp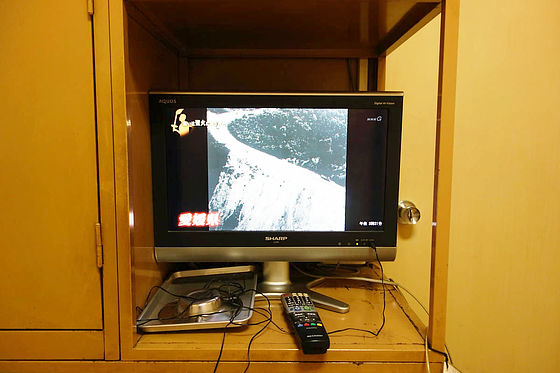 Haier refrigerator. It is likely to be useful because it is possible to cool cold drinks in the summer.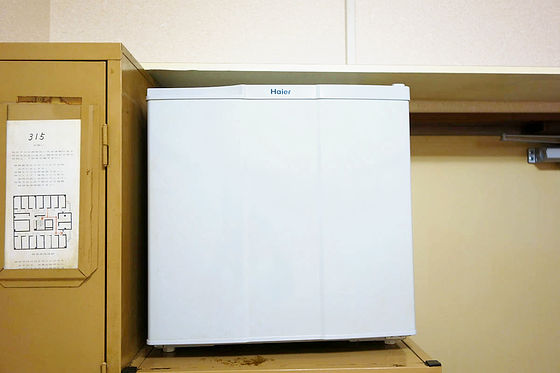 Although it was not Wi-Fi, Internet connection with wired LAN was possible, crispy and speed came out as well as an internet cafe.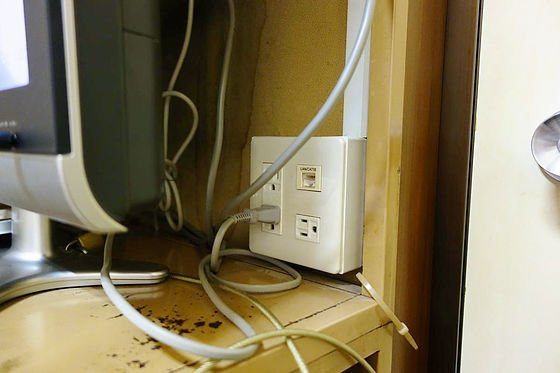 LAN cable will be lent by reception desk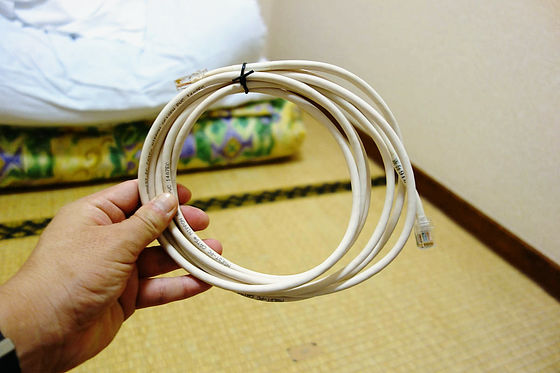 Discover coin-operated washing machine and dryer on the first floor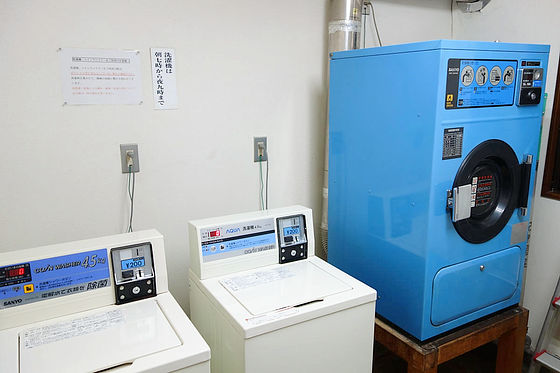 The microwave oven was also located on the first floor, and the convenience store's lunch box was also warmed up at my favorite time.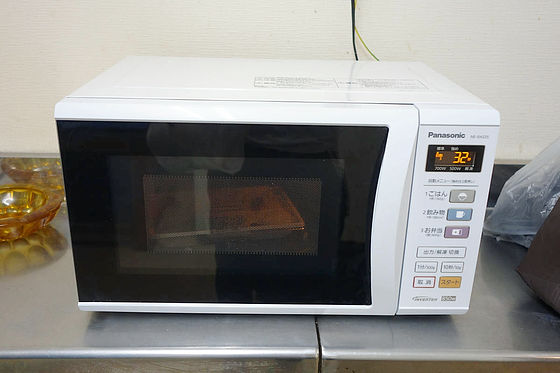 There is also a water heater on the floor, so you can also make cup noodles and cup soup.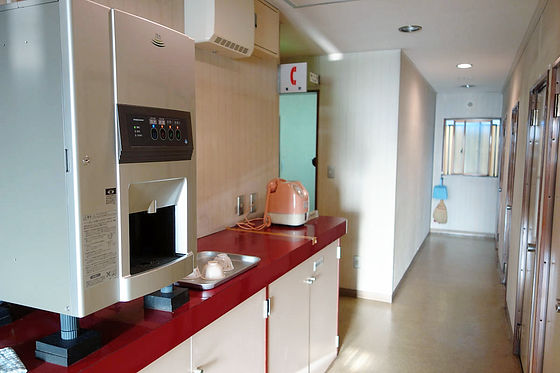 Because there is concern about the fire, cooking is prohibited indoors.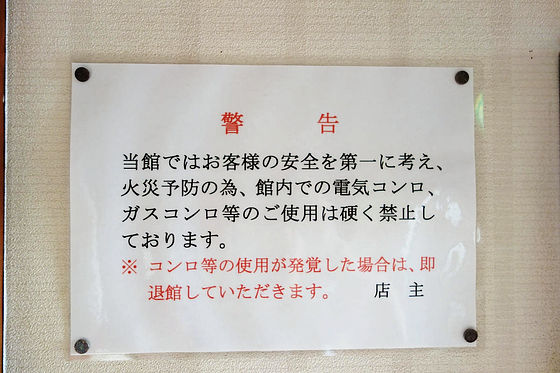 On the floor there is a common washroom and ...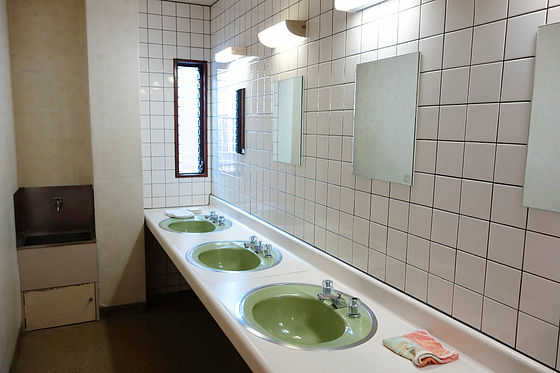 There is a shared toilet. There is no western style toilet, but if it is common, the Japanese style may settle down.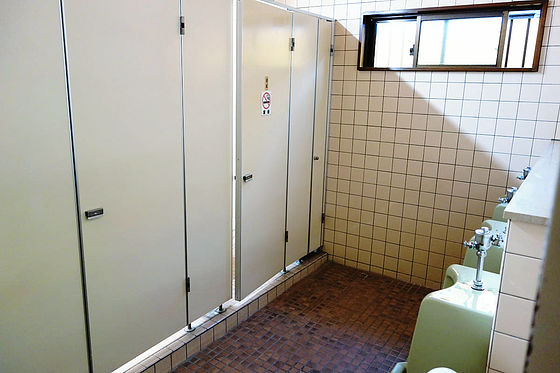 Both places where we stayed at Sanya have a common bath. I was not able to take a bath at any time, and the opening hours were decided. Because it is a large bathtub where many people can put in at once, if you do not have people, you can relax your feet and your body and relax. When washing your body, let's use some shower. Of course, hot water can be used.

◆ Explore Sanya
For laundromat in the city, washing was 200 yen and drying was 100 yen for 10 minutes.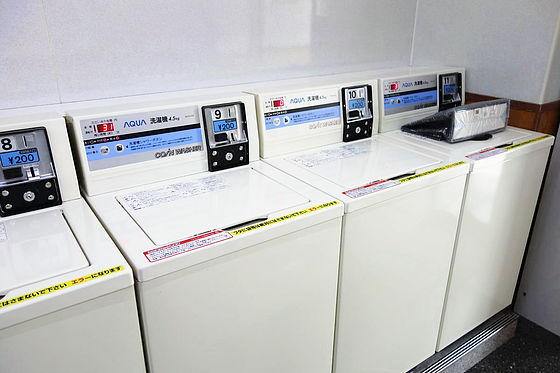 Separate laundry detergent is a vending machine for 20 yen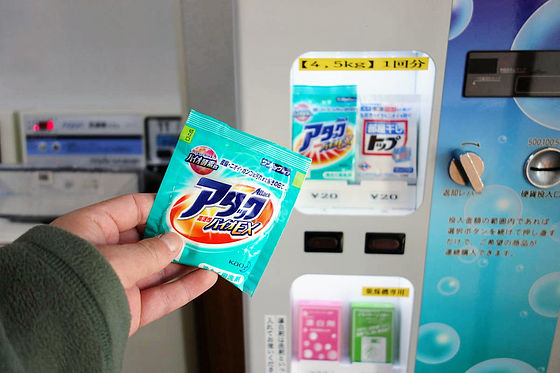 Coin lockers can deposit at 100 yen for 12 hours. As it is downtown area in Tokyo, 300 yen a day, 300 yen will be added when the date changes, so Sayama valuing fee system is advantageous. There is also a 1-month contract locker for long-term residents, and there is a possibility to open and close anything there.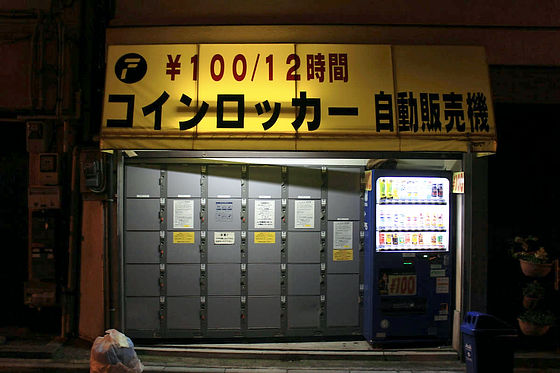 A signboard that recruits workers with a daily salary of 11,000 yen.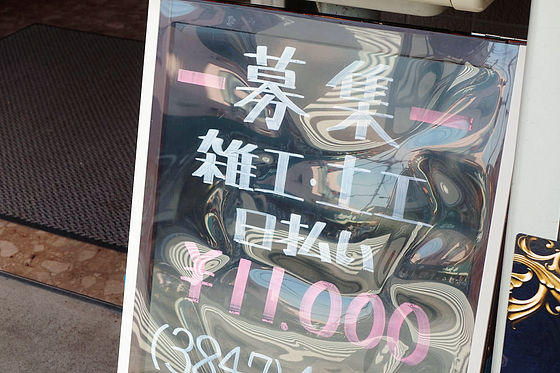 From that, work clothes were sold cheaply.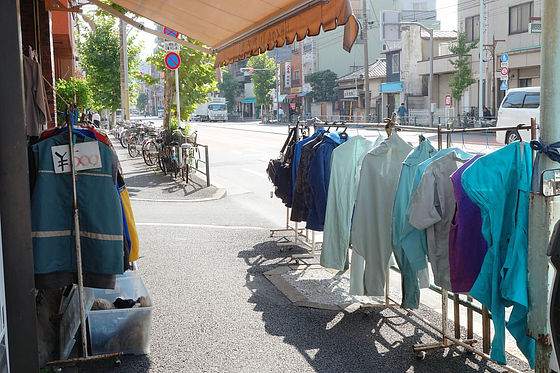 Vending machines are not that cheap compared to Nishinari in Osaka.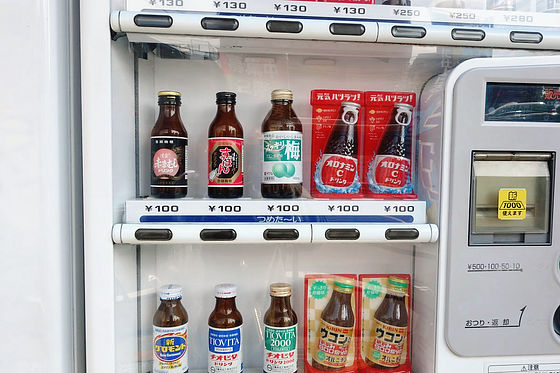 The only 70 yen vending machine I found was creepy.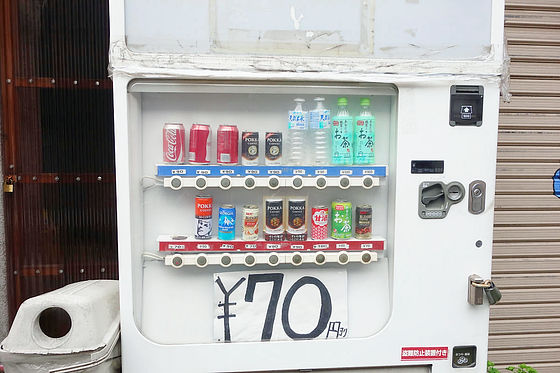 Try security deposit, key money 0 yen, see the guarantor's unnecessary rental guidance.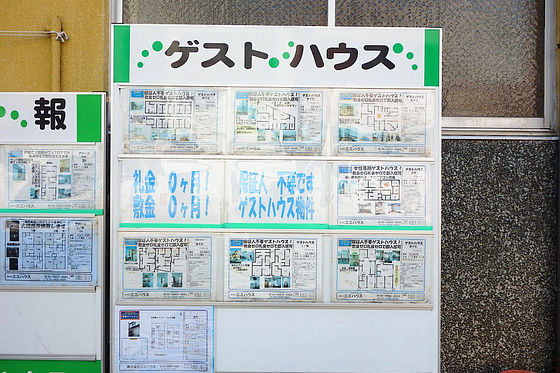 Information on cheap selling of telephone cards.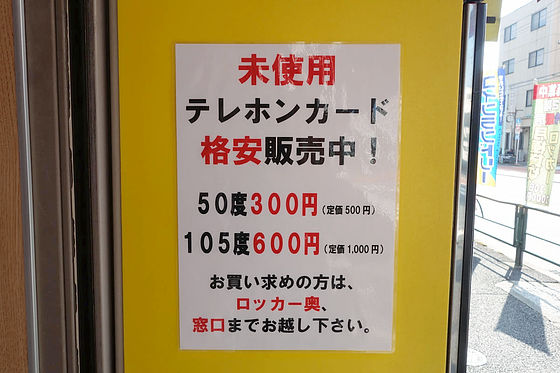 Grinning without thinking of retro play equipment.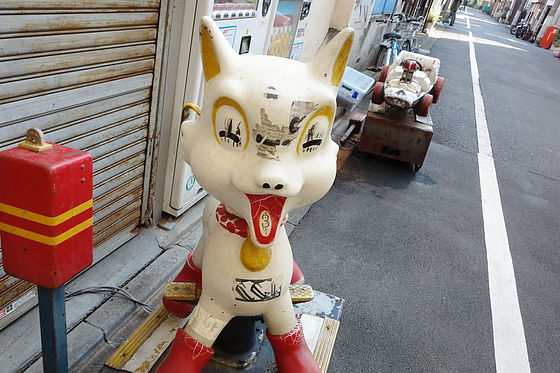 Unlike internet cafe, Yamanita 's cheap hotel can secure private but perfectly small, while lying down on tatami sleeping. There are also ryokan industry law, and it is nice to have windows in each room. The next building overlaps, it is far from comfort, but if you open the window the air will change. There was a toilet and sink in each floor and it was saved. The net cafe in Shinjuku, although a considerable number of people should be able to stay, there is only one toilet and it is confusing.

If you give out money you can stay at a comfortable hotel, but I will not be able to go so far. If there is a chance to come back to Tokyo again, I will choose a cheap hotel in the Yamaya district again.

(Sentence / photo: Takuya S. Narou Charriderman
Cycling around the world for a bicyclehttp://shuutak.com
Twitter@ Shuutak)