What is the history of a girl just ten years old becoming a success after starting a lemonade sale?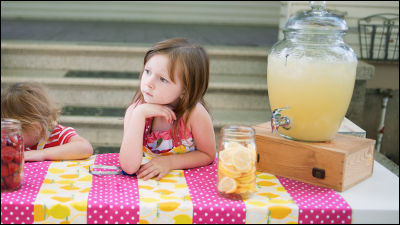 ByBethany Petrik

When Twitter listed on the stock, the bell-bell ceremony was held as part of the listing ceremony, and it should be memorialRinging the bell was a 9-year-old girl thenwas. The girl who rang the bell is not a stakeholder in Twitter, he started a lemonade stand in front of a house in Silicon Valley, campaigned on Twitter and eventually started a company with lemonade sales. The New York Times is closing the secret of how girls who are only 9 years of age gained success with lemonade sales.

A 10-Year-Old's Journey, From Lemonade Stand to Silicon Valley - NYTimes.com
http://mobile.nytimes.com/blogs/dealbook/2014/10/07/a-10-year-olds-journey-from-lemonade-stand-to-silicon-valley/

With Twitter's IPO, co-founderBiz StoneMr. or actor'sPatrick StewartAlongside Mr. Vivian Her, a nine-year-old girl. Her was shocked by photographs of children's slave laborers that my parents showed me, and started thinking about something I could not do to solve the slave labor problem of my child, but in the presence of lemonade in front of the house It is a lemonade stand to sell.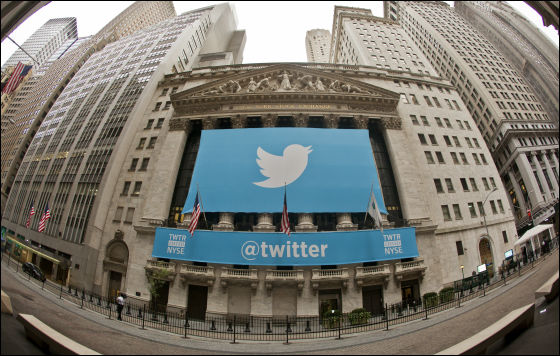 ByAnthony Quintano

Lemonade stand business is not easy,Social mediaMr. Her's father, who was engaged in the work, developed PR on lemonade stand on Twitter for her daughter. Her's lemonade stand gradually spreads on Twitter,The New York TimesIn response to reporters retweeting, we will achieve sales target of 100,000 dollars (about 10,800,000 yen) on the 14th day after we started lemonade stand.

If ordinary girls achieve sales of 100,000 dollars (about 10,800,000 yen), they may quit the lemonade stand. However, Mr. Her, along with his father,Fair TradeA company that sells organic lemonade "Make a StandI start a business.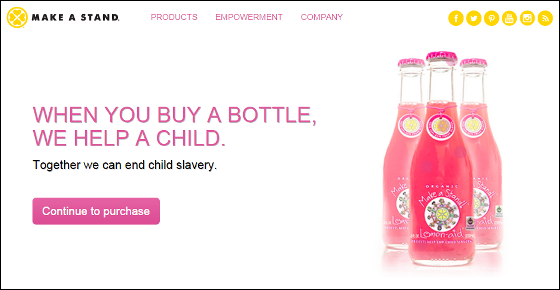 Make a Stand is to donate 5% of sales to the charity organization exercising for child slave labor. Her attracted about 1 million dollars (about 100 million yen) of funds with the help of his father, and entered Make a Stand. However, just lemonade sales do not go well well, Mr. Her's father also said, "The business of selling drinks is not easy."

Therefore, Make a Stand released a special application. Application with the same name as company nameMake a Stand"Can set up a crowd funding where users collect donations for charity in minutes. Users launch cloud funding for charity organizations and share them on Twitter and Facebook as other users donate money. Make a Stand has achieved sales of tens of millions of dollars (about billions of yen) by taking a transaction fee of 4.9% per donation.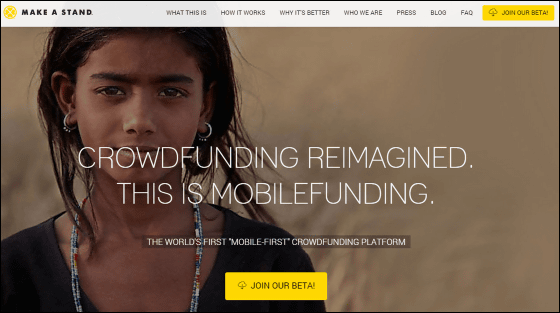 Naturally, Make a Stand's application sales also include transaction fees from fund raising from celebrities of Silicon Valley who were impressed with Mr. Her's story, which amount will be tremendous. As for what the lemonade sale business has become, it is said that now, aside from Her's hands, different people operate it.

Mr. Her's success can be said to be a rare example born of a successful interworking of various elements. One was that the application of Make a Stand was very well designed. Enabling people to share charity on charity with Twitter and Facebook attracted a lot of people. Also, it must have been indispensable for success that father had knowledge of social media. However, the fact that Mr. Her wanted to lose children's slave workers from the world when he started the lemonade stand has undoubtedly moved people's mind.
in Note, Posted by darkhorse_log