The nurse in the US who was in the treatment of Ebola hemorrhagic fever infection, the possibility that infected people may be infected, the history is unknown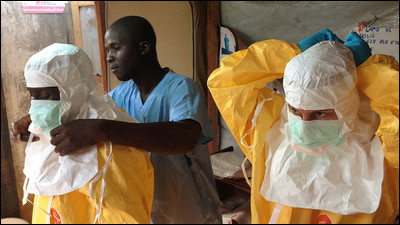 ByEuropean Commission DG ECHO

It is one of the spreading areas of Ebola hemorrhagic fever infectionThomas Duncan, who was visiting Liberia, is infected with Ebola, treated under isolated conditionsAlthough it was done, Duncan's nurse in charge was inspected, and it turned out that a positive reaction of Ebola outbreak fever occurred.

Ebola prevention: removing protective gear is not easy | The Verge
http://www.theverge.com/2014/10/13/6970529/ebola-prevention-removing-protective-gear-isnt-easy

The positive reaction came out of 26-year-old nurse Nina Fam and treatment is under way in isolated environments now. According to the announcement of the American Center for Disease Control and Prevention (CDC), it is not yet known what kind of circumstance Mr. Fam, who had been wearing protective clothing in the treatment, was infected, and other infected persons could exist We pointed out sex.

Attached and dismounted of protective clothing is thought as an infection history. Although it is not easy to take protective clothing safely safely but it may be infected even with a slight carelessness, some people said that on Twitter "We have not received correct training on detachment methods" I will.

.@ Simiotic_pirateI did it once as a training exercise and yeah, hopeless. Needs practice, and probably support / buddy / overseer at time?

- Maryn McKenna (@ marynmck)2014, October 12
It seems that CDC releases it separately in four processes, it seems that it is not difficult at first sight, but even if you mistake a little bit it will separate life and death.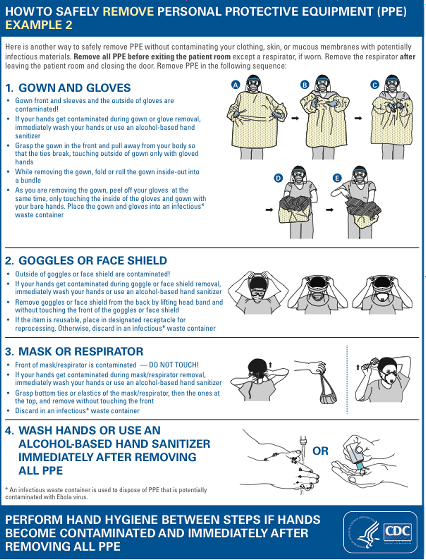 WHO exposes the same process as nine steps. Although it is written in detail, the contents are almost the same as those announced by CDC, and this momentary loosening of mind will separate life and death.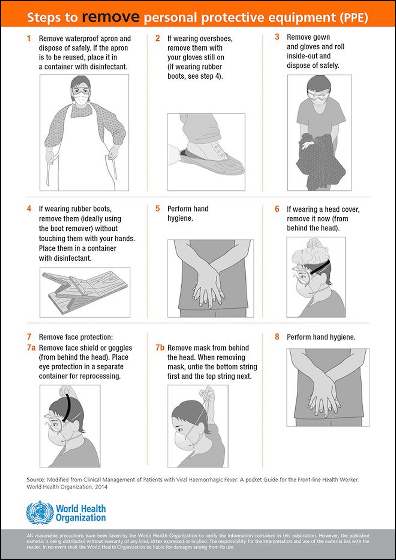 In order to ensure secure attachment and detachment, one person has now introduced "Buddy System" which monitors attachment / detachment of another person, and rooms inside the hospital are made easy for nurses and physicians to detachably It is said that there is. However, it is a fact that Mr. Fam was infected with Ebola even though proper treatment such as "spraying the glove with liquid for killing the virus" is a fact, CDC is considering expansion of training to medical staff It is said that.

In Mari, where Ebola hemorrhagic fever infection has not appeared, the vaccine under examination was introduced. The vaccine has been tested for safety a couple of weeks ago at Oxford University and the US, and so far it has not harmed people. It is considered that there is a possibility that healthcare workers with particularly high risk of infection can suppress the spread of infection by hitting a vaccine.

Ebola vaccine trials under way in Mali | World news | The Guardian
http://www.theguardian.com/world/2014/oct/10/ebola-vaccine-mali-trialled-health-workers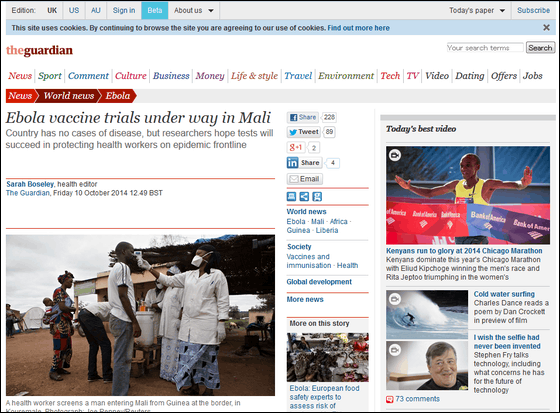 in Note, Posted by darkhorse_log