Mr. Junichi Suwabe and Dandy's role, Miau, Nise Dandy also came "Space ☆ Dandy" Special Screening & Talk Show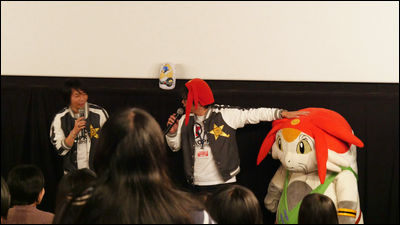 Space Dandy, Space ☆ Dandy brings up laughter with tears SF comedy action animation is "Space ☆ Dandy"is. "Space ☆ Dandy" which was broadcasted in January of 2014 and divided in 2 courses from July, and only 26 episodes finished in the last month, but with Junichi Suwabe who plays the leading role Dandy, QT & Miau "Machi ★ Asobi vol.13"And told me about the dandy episode associated with this work at" Space ☆ Dandy Special Screening & Talk Show ".

Machi ★ Asobi vol.13 2014.09.27 ~ 10.13 held
http://www.machiasobi.com/events/spacedandy.html

In "Space ☆ Dandy Special Screening & Talk Show", Suwabe, Mr. Suwabe who is the role of Dandy 20th episode "Favorite"Rock'n Roll ★ It's Dandy"Was screened. The 20th episode seems to have been the most popular story even by popular episode voting by fans.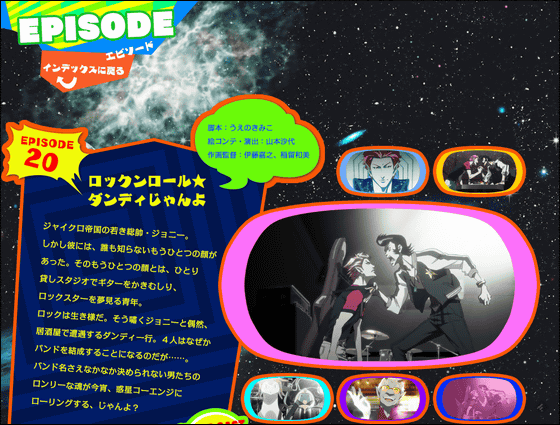 Mr. Minami Masahiko (right), who served as producer at Suwabe (left) who is Dandy and "Space ☆ Dandy" who finished the screening of episode 20 after the screening was over. Both of them are dancing with Dandy's trademark Dandy Skajan.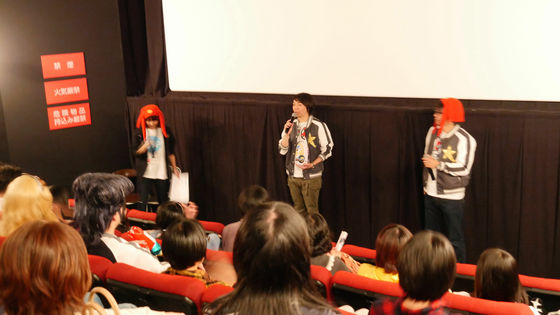 In front of the stage there is a fake dandy, and Suwabe and South producers laugh at it.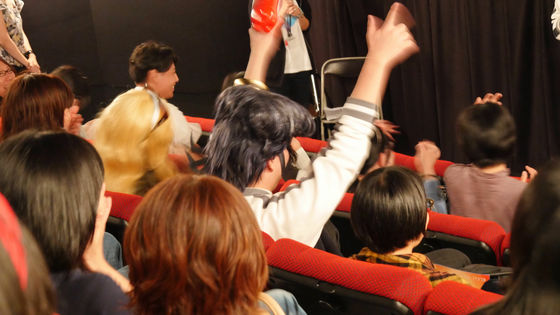 The 20th episode screened at "Space ☆ Dandy Special Screening & Talk Show" is a rock'n'roll episode that the hero Dandy will form a band with young Johnny who dreams of rock star. In the story a song called "Kanichigai Lonely Night" by Dandy's band "DROPKIX (Drop Kix)" flows. It seems that recording of this song has been going on for quite a while but it seems to have been quite hard for Mr. Suwabe who has sung numerous character songs. However, I was able to reproduce the rocky atmosphere under the work with tremendous hardship.

When the episode 20 was broadcast, it was finished as much different from ordinary character songs and so on as to be told that a lot of people said, "It was thought that other people were singing instead of Ms. Suwabe" And satisfied Suwabe. When recording, it seems that Watanabe Shinichiro, director of the Superintendent, was watching the situation, but he heard that he got a compliment of saying "It's pretty good!"

Watanabe director also praises "Kanicha Lonely Night" which can be watched from below.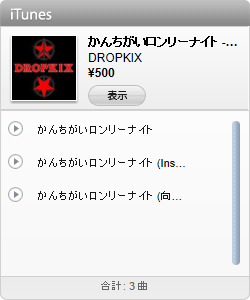 Next, I moved to the question corner, and a question was sent to the South producer "How did you arrange such luxurious menus?" One of those "luxurious ments" was in charge of Johnny's character design that formed a band with Dandy in episode 20Atsushi KamijoA teacher is also included, for example connection with Dr. Kamijo isEpisode 5I was in charge of the design of the alien character that appeared inMasayuki OgisuIt was revealed that it was a connection from. The story goes on with the ridiculous theory that "My friends 'friends are friends with each other", and it seems that Professor Kamijo was in charge of Johnny' s character design.

Johnny designed by Mr. Atsushi Kamijo is such a character. It looks like a rock, and the popularity of fans is also quite high.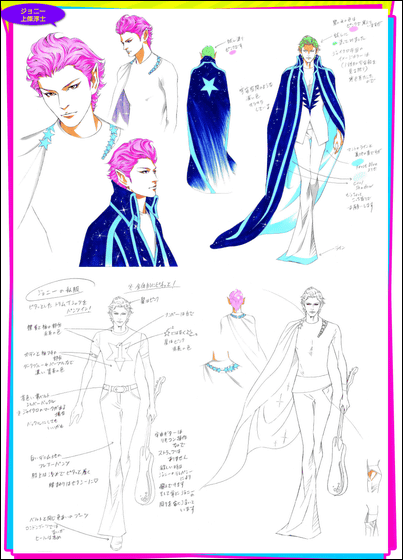 "Space ☆ Dandy" which collaborates with various illustrators and musicians, but as for this, Watanabe director and South producer freely created at the stage where almost nothing is decided "I would like cooperation People list "in order from the top in order to offer an offer," People of Cowboy Bebop! "Many people were willing to accept the offer, such as.

We assumed various episodes of various tastes with the feeling of "Let's lock it" and "Let's do it for a while" and set various episodes and guests like "let this person do this episode" It seems that the production work has progressed as if the production team and the guests are going to session together. In addition, "Space ☆ Dandy" seems to have had the cast not decided up to one week ago, so it seems that the situation on the production side was also quite disappointing as it was as good as the work.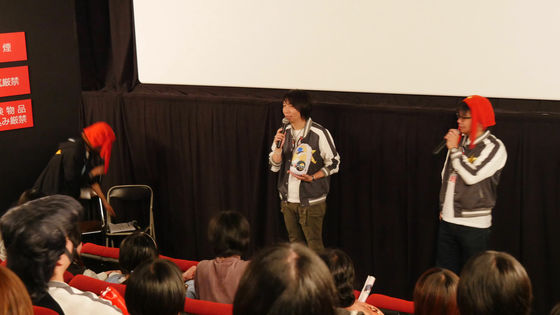 In addition, due to this influence, many musicians and illustrators came to the launch conducted after the end of the broadcast, so it seems that when all the members joined together, it became a large household of about 200 people. In this launch it seems that the people did not decrease at all at the 2nd meeting and the 3rd meeting, and it was said that the queue of about 30 meters moved in the middle of the night at the midnight and it was a horrible situation that moved the town, We also started a nice episode that they loved "Space ☆ Dandy".

From the edge of the venue where the talk is rising ......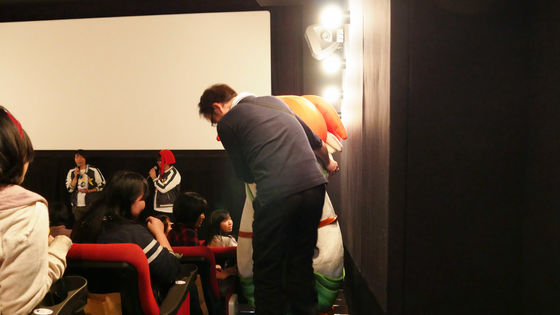 Miau appeared. From the hall, "cute!" Cheering cheers.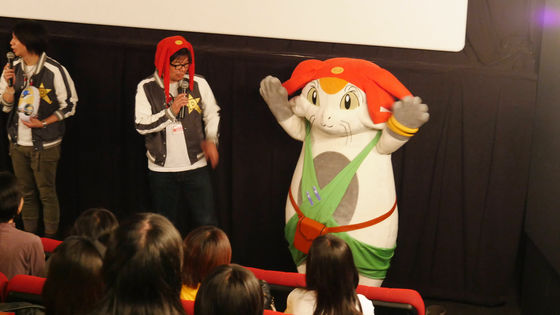 If you look closely well you have QT.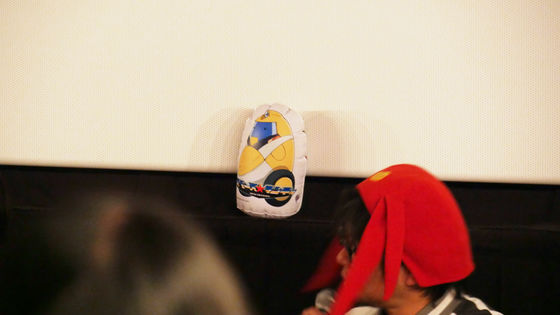 Dandy × 2 and QT & Miau meeting the venue.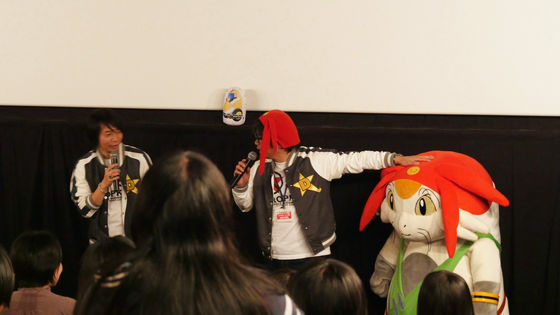 The question continues further and questions are asked "What would you do if you could be friends with Dandy?" South producers, in fact, answer "I do not want it" because Dandy surely makes it awkward, but Mr. Suwabe gave the venue a chic answer that "I'm going to go to boobies together!"

In response to the word "boobies", the South producer interviewed "Space ☆ Dandy" four or five timesHootersExposing what you went to. Suwabe also seems to have gone to Hooters with the staff and the main cast person once, and seems to have become able to understand why Honey suddenly danced suddenly due to its experience.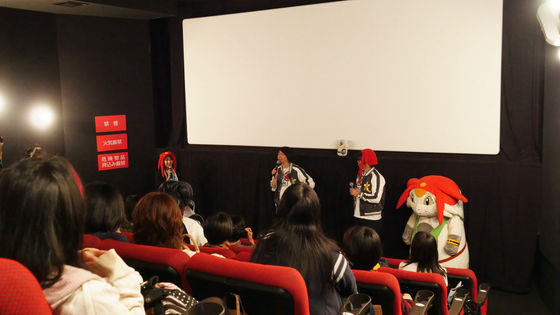 Also, as Suwabe-san feels that it is difficult to playEpisode 21Is cited. Speaking of episode 21, Dandy gets stranded into a strange world and wanders a fantastic world while being taken to a mysterious clown. It was a world view with a unique and mysterious atmosphere, but it is revealed that it was difficult to play Dundee 's voice in a stage where the picture was not finished yet and in a complicated world view. In addition, when I looked at what the painting was made, I thought that my image was different from the situation I intended and the image of Dandy's facial expression, he said that he re-recorded his voice.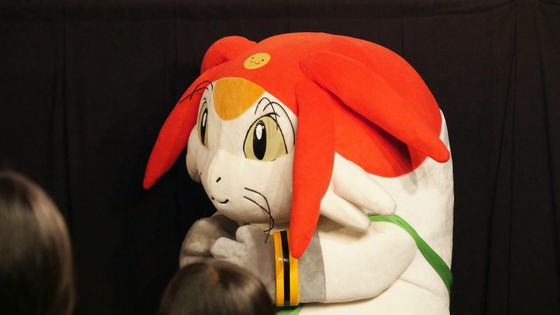 And at the end, everyone who took part in the talk show held the tournament competition. Gifts will be distributed only to the three winners.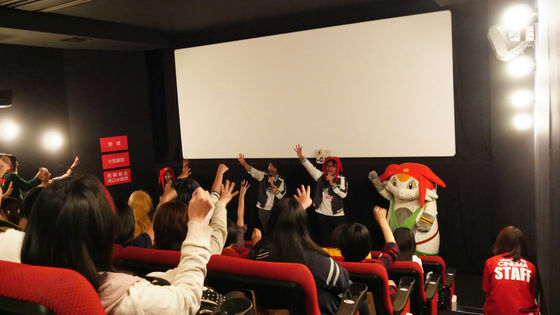 The number of people gradually decreased, and it was only four people who won the prize for the Janken.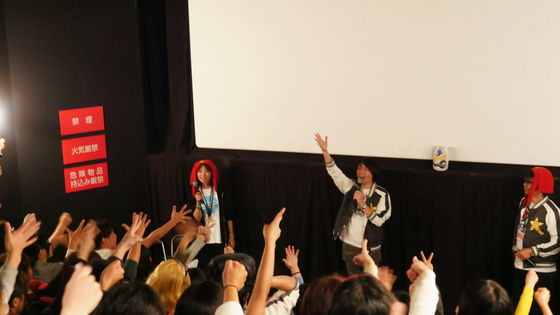 Never confrontation Nise dandy.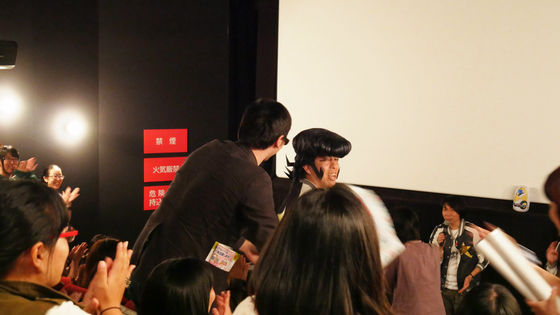 However, Nise Dandy lost to the Janken in the last minute, and only one gift can not be gotten while winning. The feeling that I lose with a scissors at the end at the last minute was mostly like Dandy, and I was followed from around.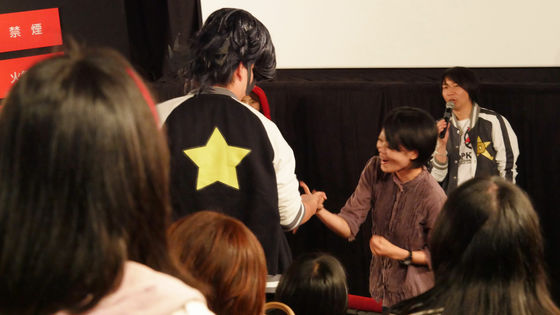 ◆ Bandai Visual presents Junichi Suwabe talk show
Even at "Bandai Visual presents Suwabe Junichi Talk Show" held before "Space ☆ Dandy Special Screening & Talk Show", a talk show was held by Shuichi Suwabe and producer Mr. Minami Masahiko who plays Dandy. Among them, the voting results of "favorite number of stories best 5" and "favorite guest character ranking" that were secretly taken over were announced and made the venue excitement.

Machi ★ Asobi vol.13 2014.09.27 ~ 10.13 held
http://www.machiasobi.com/events/banvi.html

Mr. Junichi Suwabe, Mr. Minami Masahiko Producer, and Miu, who plays Dandy from the left, are on the stage.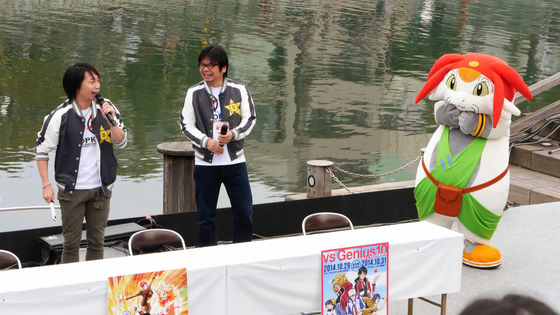 A fan filled up to the other side of Shinchochabashi East Park in the venue.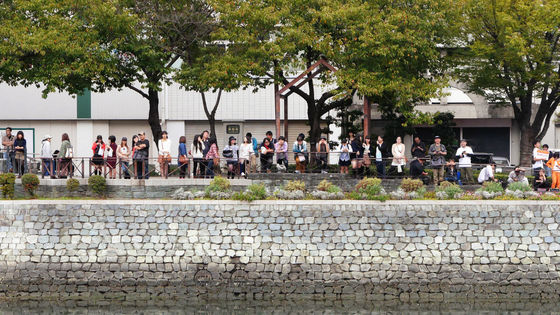 The time the South producer likes is "Return to Miu's parents homeIt seems so, Suwabe predicted that the popularity of musical times and band times is high by its own Twitter survey.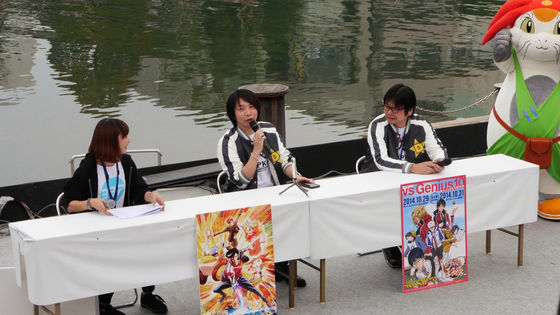 So I announced the result of ranking immediately. Popularity episode 5th by voting, the first episode "I will live by flowing down"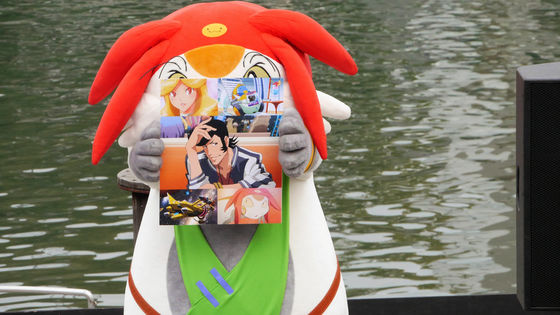 Myahow will help you announce the rankings.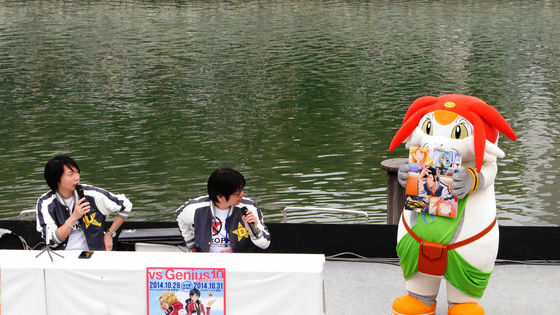 The fourth place is the fifth episode "Travel is companion The universe is merciless". It was a touching story by cute "Adelie" and dandy full of humanity.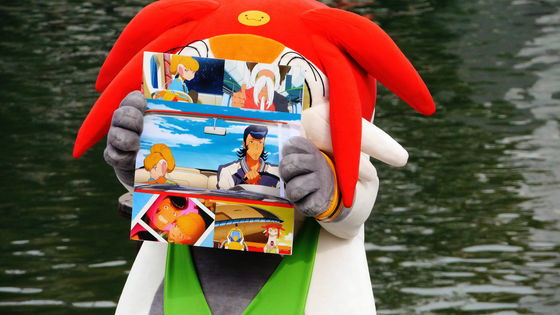 The third place is the "You can not be the only one.". Three people who played Dandy · QT · Miau in 9 times various dandy from various worlds also played nine roles alone, Mr. Satake of QT role is a strong "Oya QTIt is also the time I played. In addition, various Dandy & QT & Miao that appeared at this time seems to have been diverted to those that became violent in the character design plan in the past.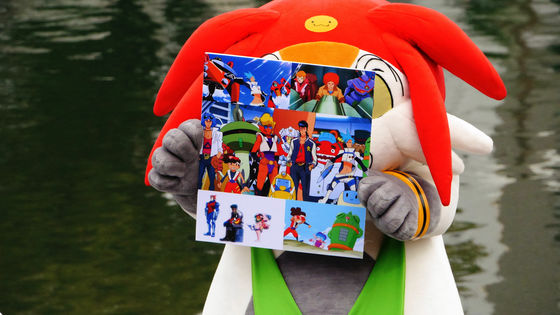 The second place is "Lovers are trendy.". Space ☆ In unusual Love-come times in Dandy, directing and small stuff that causes the 80's to be daunting are also frequently interspersed.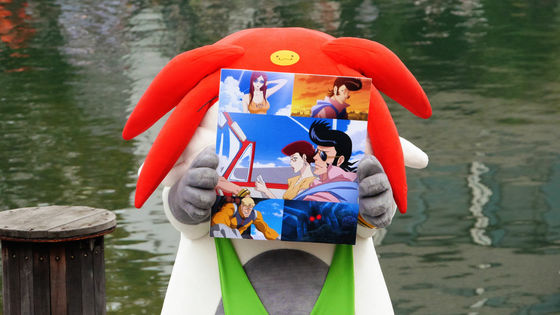 And the first place is the 20th episode of "Rock 'n' roll ★ Dandy." This is also Suwabe's favorite times.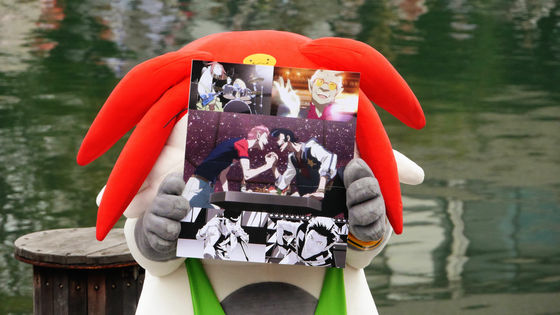 Next, ranking announcement of popular guest characters. The fifth place is "Ferdinan" appearing in episode 21 "No world without sorrow"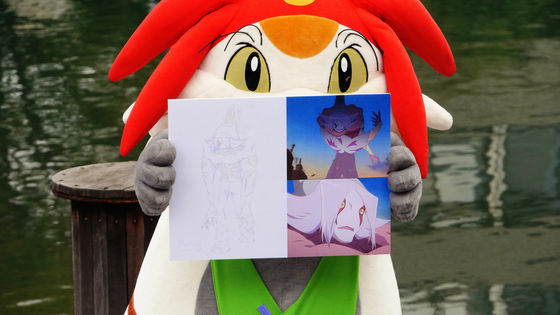 A man like a mysterious clown "Ferdinan"Yasuhiro NaguraWas in charge of character design.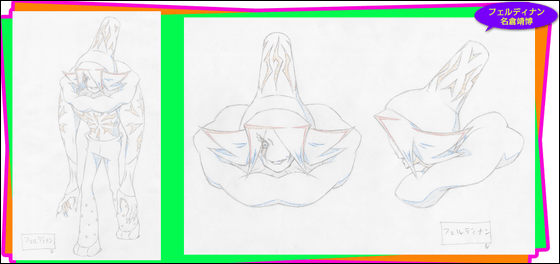 The fourth place is "store manager of phantom ramen shop."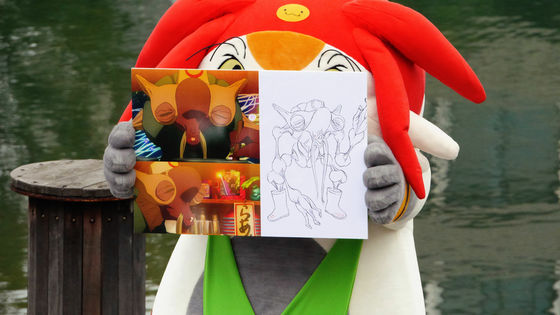 The third place is "Carpaccio" played by Namikawa Daisuke.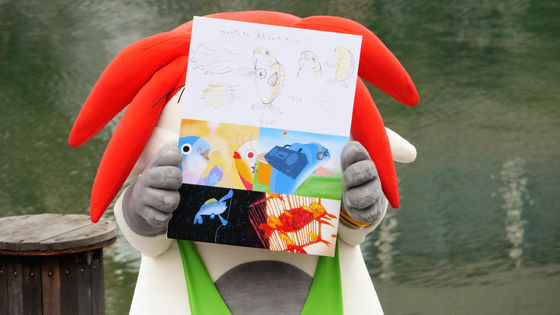 "Carpaccio" is the 16th episode "It will not turn around if you hurry up.Guest guest alike appeared in the album, this time the art setting and alien designMasaaki YuasaI am in charge.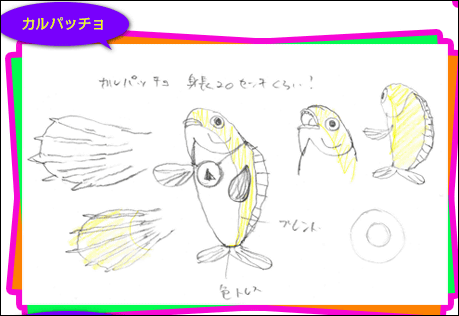 The second place is "Adelie" of a child alien who appears at the fourth place of the popular episode, "Traveling companion universe is merciless".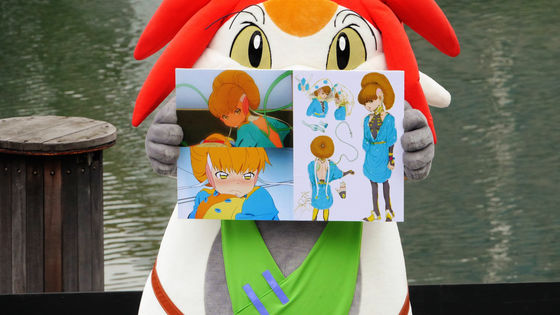 Adria of guest alien played by Mr. Kana Hanazawa.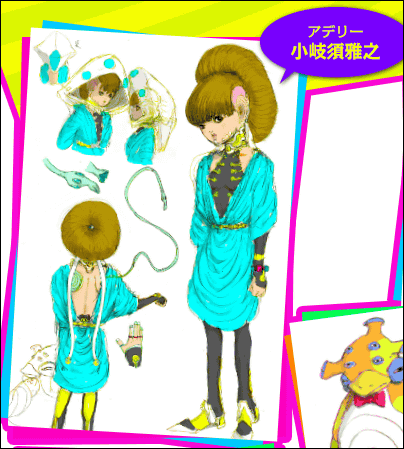 The most prosperous popular guest character is "Johnny" the first place.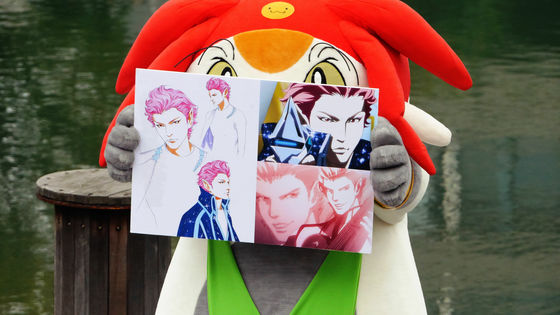 That's why it was a ranking that makes it easy to understand that the 20th episode and "Johnny" boasted outstanding popularity anyway.