"Blue Steel Arpeggio - Ars Nova" directed by Seiji Kishi Mai Fuchigami Talk show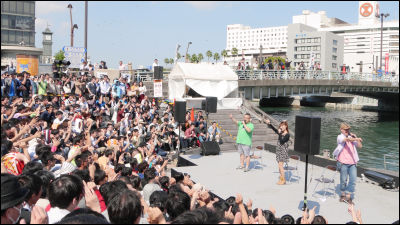 It has been held for 3 days from October 12, 2013Machi ★ Asobi vol.11Shinmachi-bashi East Park stage on October 2013 has been broadcast from "Arpeggio of Blue Steel - Ars Nova-"ofSeiji KishiDirector, is a voice actor of IonaMai FuchigamiMr.,Minami KenThe producer did a talk show.

TV anime "Aoi Steel's Arpeggio - Ars Nova" Official HP
http://www.aokihagane.com/

First of all it appeared in Minami Ken Producer and will serve as the moderator of the day.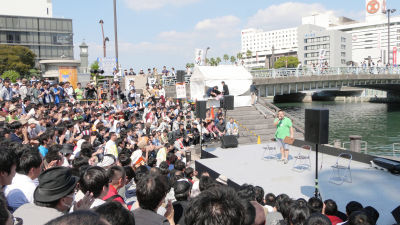 Next, Kishi Seiji enters.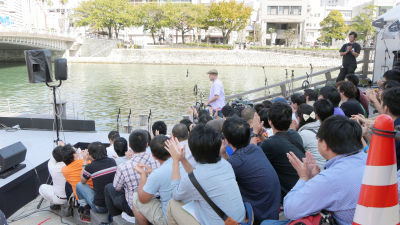 Finally with big clap, Mai Fuchigami who plays Iona enters.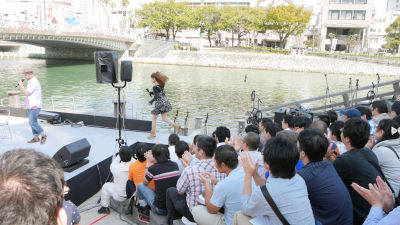 The talk show begins when three people have gathered.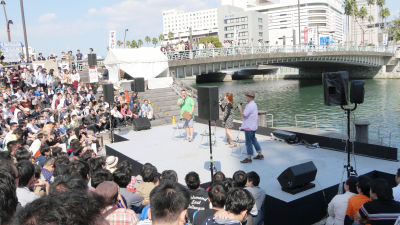 In the beginning I asked someone watching "Arpeggio of Aozora - Ars Nova -" for a rapping, and almost everyone in the audience raises their hands like a matter of course. South producer recently searched on the Internet with the "arpeggio", it seems that the official website of the blue steel arpeggio - Ars Nova was displayed at the top of the search result and I was very happy.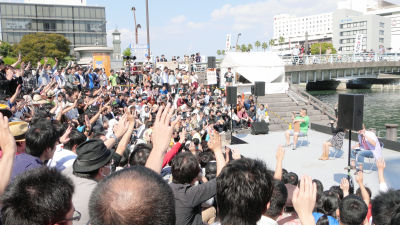 Talk is the protagonist when Mr. Fuchigami got excited. The audition is a form for sending tapes, and Mr. Fuchigami seems to have done the voice of most characters appearing in the work, but he said that he was chosen as the role of Iona from among them.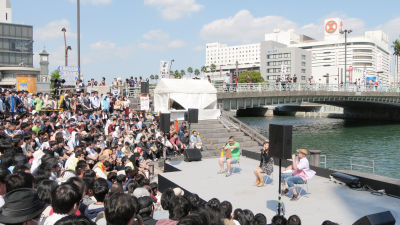 Work on dubbing is progressing smoothly. "Girls & amp; Panzer"Mr. Fuchigami who was in charge of West living Ho's voice was in a position to give instructions by riding a tank until before, in the Arpeggio it was in a position to give instructions and be instructed, but at the beginning it was very confusing but very fresh It was an experience. The technical term is hard to read aloud with a slurra, and it sometimes chews.

Regarding the atmosphere inside the dubbing booth, Kishi is also curious. According to Mr. Fuchigami, because there are many people who are shy people, they seemed to be silent at the beginning of recording, but as they repeatedly got along, they got to get along and now they are going out to eat dinner together and chatting even in the booth It is said that recordings are proceeding with singing or singing, in a moody manner.

As an interesting episode, I will be in charge of the voice of HarunaYamamura HikoEven if the recording is in the morning, every time he brings "karaoke" to the scene, he worries that something happened on the day he did not bring it.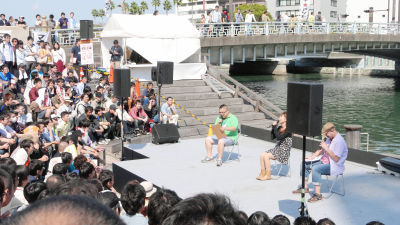 Also, act as a voice of the congregationYukanaMr. Fuchigami is a senior who is very kind to me, who seems cool at first sight but brings sweets and other items to the scene every time. It seems that there are many stylish souvenirs such as popcorn selling sweets at Omotesando.

As a memorable episode in the recording of Mr. Fuchigami, Kishi raised a dubbing when Iona first said the word "rapid submission!" There is an image that Iona has a little cool, but Mr. Fuchigami said it was a cute way of speaking, so it seems that all of the staff seemed to be cranky.

According to Kishi, at the time of dubbing, the voice actor sometimes puts a voice in a state without a picture, but when you do a dubbing at the arpeggio, the picture is already finished, so the voice actor just adjusts to the movement of the picture . Although Mr. Fuchigami was easy to do, he seems to lose sight of what timing he should speak once in a while, so he says that he wrote a note in the script saying "this line is from a second".

When the talk show approaches the end, a group of three people to whom Mr. Fuchigami belongs "Trident"We decided everyone's pose. The event was enveloped in a sense of unity, and it ended with great excitement.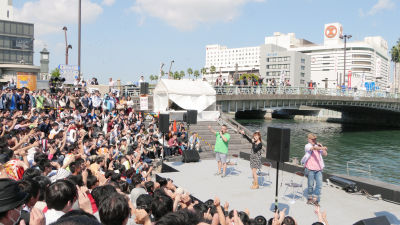 In addition, "Blue Steel Arpeggio - Ars Nova" is ongoing broadcasting from October 2013.