BISTRO, an automated food aid machine combining cat face recognition cameras and scale, is a high-tech cat management tool that can see dietary scenery and weight change of love cats from smartphone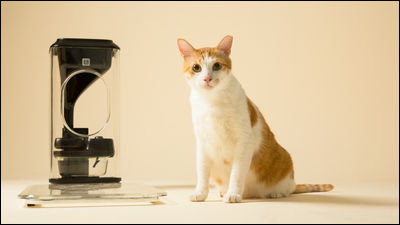 For automated feeders, weighing food and weighing water so that cats can measure how much food they are eating, food weighing to measure the weight of cats eating food, and even By combining multiple tools such as a camera equipped with a face recognition function of the cat, it is recorded that "how much love cats eat" and what is the change in weight so far High-tech cat management tool that can be browsed is "BISTRO"is.

BISTRO
http://42ark.com/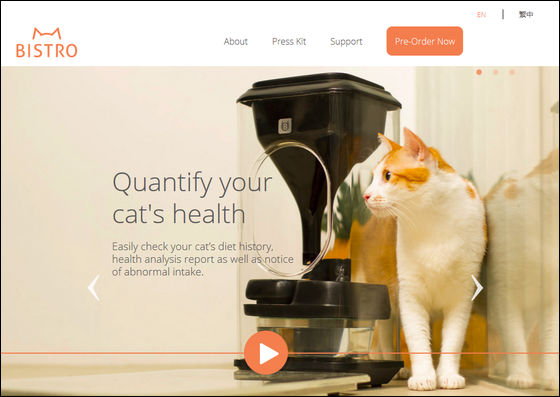 Bore that is next to the cat is BISTRO. Weighing from 5.9 kilometers to 7.7 kilometers, making it rather sturdy.



Details of each part are as follows. The upper part of the vertically extending part (food hopper) keeps the cat food in, and it will automatically add the food by looking at "how much love cat eats". Below that there is a tray with feeding tray (feeding tray with digital scale), which can measure the weight so you can let the owner know how much the cat has eaten. There is a drinking water tank (water tank with digital scale) beside the food tray tray, it also has a weighing scale, it can measure how much water you are drinking, and with a filter attached, clean water is always available It is supposed to be able to drink.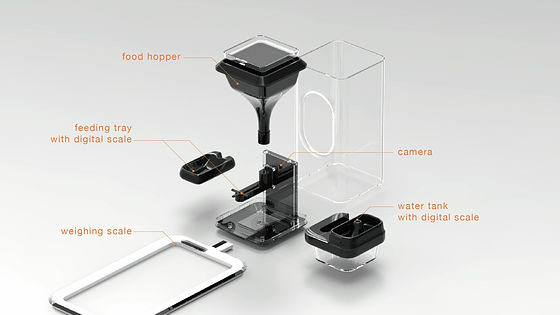 The food tray part is like this. You will eat food as a cat rushes your head into BISTRO. In addition, it is possible to store the cat food at 3.6 liters at a time, and it is possible to store up to 1.2 liters of water.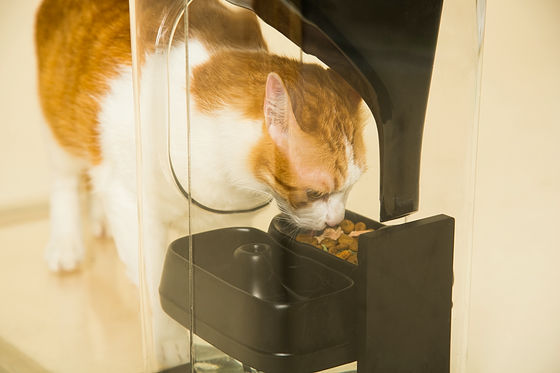 Looking from behind like this. And since the cat is on the platform where the cat is eating while eating, this is a scale, so we can measure the weight of the cat firmly.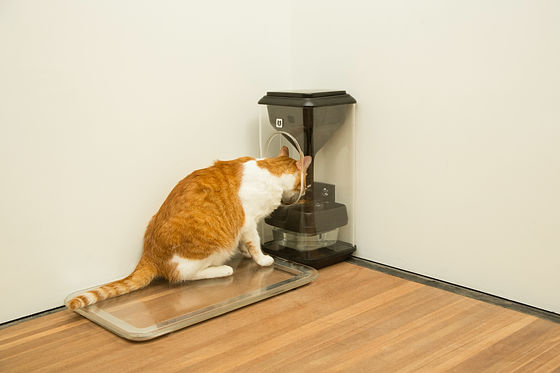 All data measured by BISTRO can be viewed from the smartphone. The application screen looks like this, the icon of the cat and the amount of cat food you ate with the water you drunk on that day are displayed.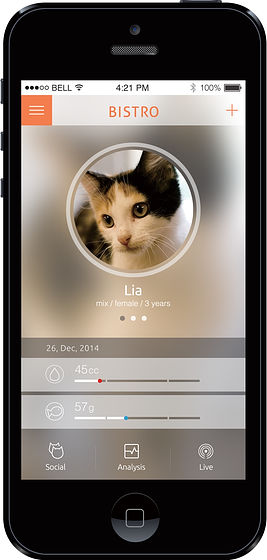 In addition, it is also possible to display changes in meal volume and body weight collectively on a weekly or monthly graph.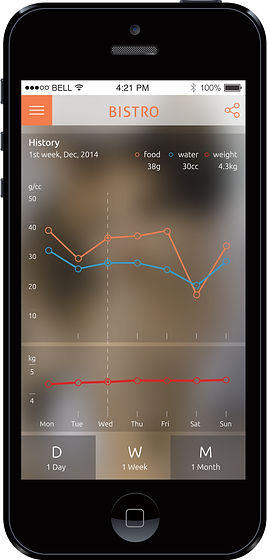 Also tell me about the cat food recommended by the cat lover ... ...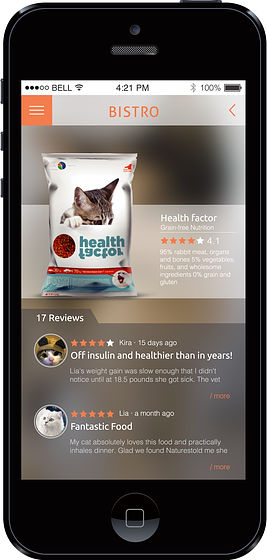 You can share pictures of your cats.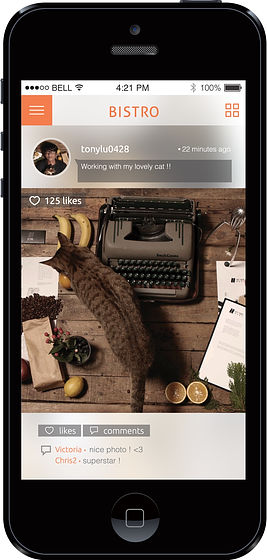 Also, since the camera is installed just beside the food tray tray, you can see the love cat's meal scenery in real time even on the road.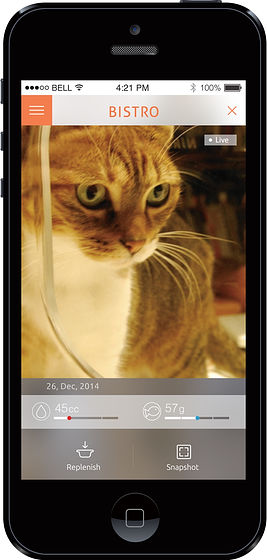 In addition, you can see the features of BISTRO in more detail by watching a movie.

Bistro: The Smartest Cat Feeder. Ever. - YouTube


Although it is BISTRO which seems to be just plain food ... ...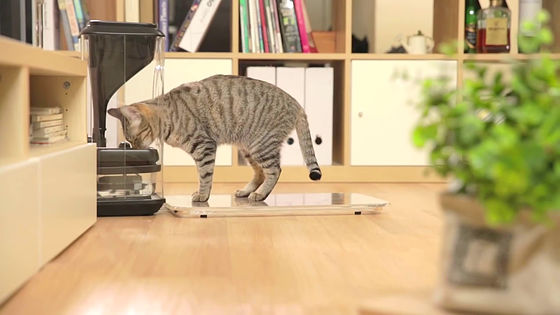 If you connect to Wi - Fi, you can store the collected data in the cloud and you can check this data at any time with your own smartphone etc.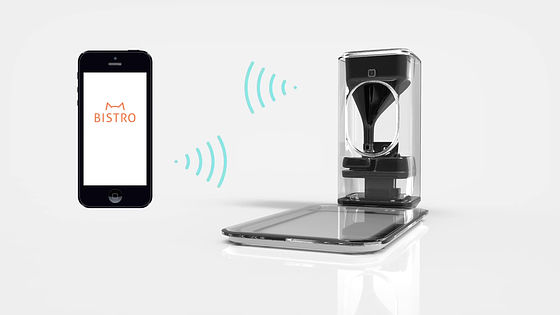 Even if you keep multiple cats, BISTRO can track their weight and food intake.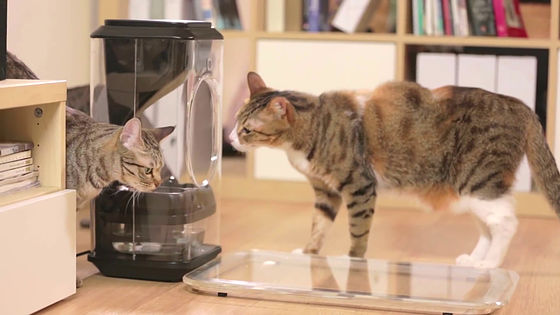 This is because it has a cat face recognition function and a camera, so the camera grasps the cat's face that came to eat food ......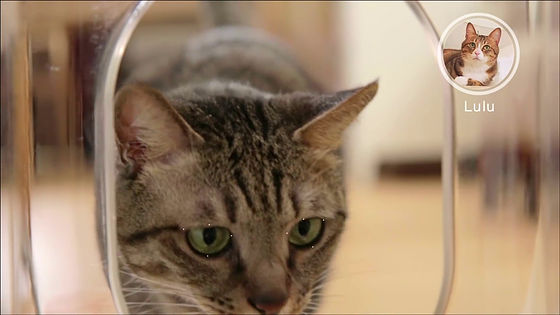 From the characteristics of the face ......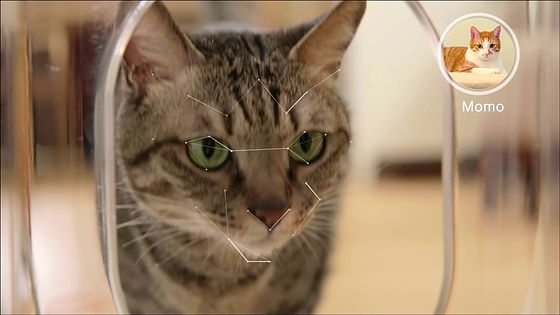 This cat is "Oreo", for example, which cats are eating food right now, and how much weight you can accurately measure. Furthermore, it seems that there is nothing to stop feeding or water immediately if there are 3 cats per BISTRO. In addition, BISTRO is equipped with built-in LED light compensation system, cat face recognition function works firmly even at night.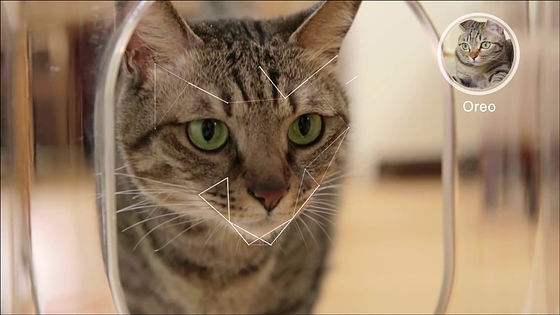 In addition, BISTRO automatically adjusts the amount of feed so that it is not overweight or too thin while measuring the diet and weight of each cat. In addition, it seems that general developers are also hoping that general developers will bring excellent ideas by publishing all the APIs so that they are trying to avoid fattening gluttonous cats even at houses that have multiple cats. is.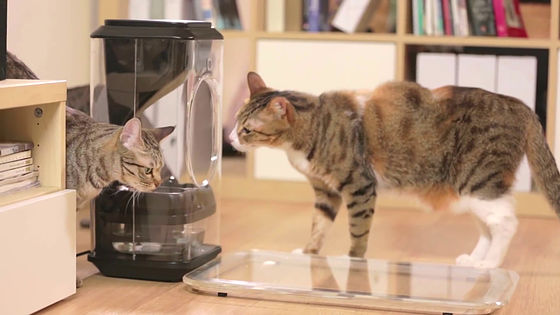 The data can be viewed at any time and can see the state of the cat loving cats eating the food through the camera with the cat face recognition function so it will be somewhat relieved even if it will go out crying with a loving cat putting it down .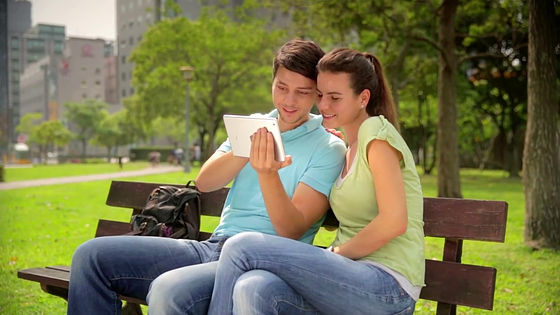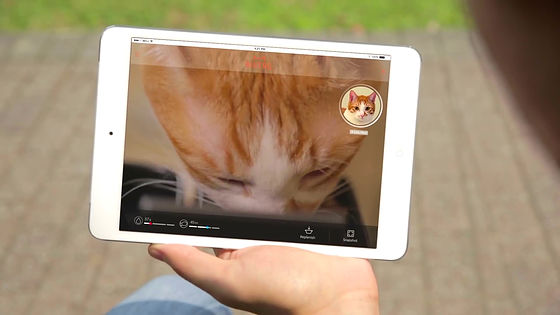 I do not feel like overprotecting, but I am busy with work everyday and I can not get too much to love cats, or they feed me too much and give cats fattening, so the perfect item for the owner maybe. However, it seems that sometimes it becomes as follows if you rely too much on an automatic feeder, so it seems that you need to be careful enough if you want to keep receiving cat love.

If you depend too much on automatic feeding machine,Cats care about this machine, so be careful.Pic.twitter.com/hJNv76kYTY

- Kuramochi Kyorieu @ (Sun) Toto 53b (@ kyoryu_kuramo)2014, June 20
This BISTRO is currently seeking investment in Indiegogo and has raised over $ 190,000 (about 19 million yen) far beyond the target amount of 100,000 dollars (about 10 million yen). You can get 1 BISTRO (father's only BISTRO who owns only 1 cat) without a cat face recognition function with a capital of 159 dollars (about 16,000 yen), if you want to get the regular version of BISTRO 199 We need to invest the dollar (about 20,000 yen). Since a large amount of investment is gathered, the shipping fee to the United States, Canada, Japan, Hong Kong, Taiwan is free.

The deadline for investing in the project is local time at 11:59 pm on August 14, 2014.

Bistro: The Smart Feeder That Recognizes Your Cat's Face | Indiegogo