I went to "Baiduen" where you can enjoy high quality fresh fruits of high-end restaurants at affordable prices


It is Taiwan, which competes for one or two in summer's overseas travel popularity ranking in the summer of 2014, but in Taiwan it is famous for enjoying not only banana and mango but also many fresh fruits. Even in Taiwan, an established long-established store that is strongly popular as a store where you can enjoy high-quality fresh fruit is "Buddhist priest(Big Ouyen) "is.

【Chen Jian Garden】 Jason's Fruits
http://www.jfstore.com/jp/



Taiwan's MRT (subway) "Chungyeong Dunhua Station" exit 7 is the nearest exit to Baibikkoen. It is also a 15-minute walk from Chadaka Revival Station.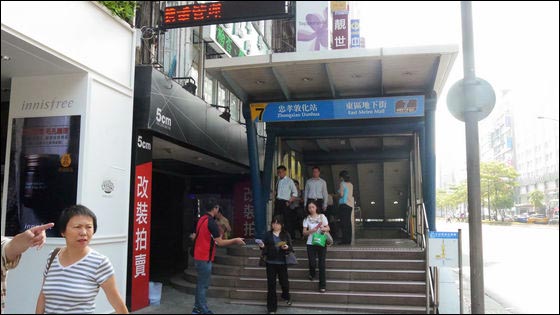 First go west of Zhongxiao East Road west and cross the intersection with Dunhua North Road ......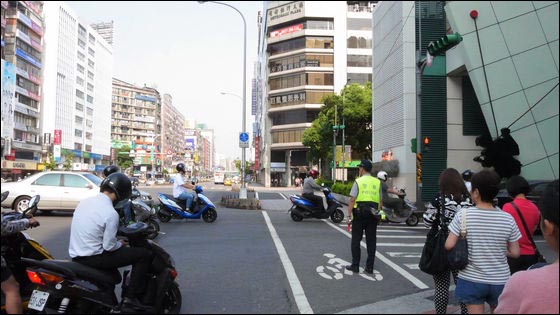 Turn right in front of the capital city bank.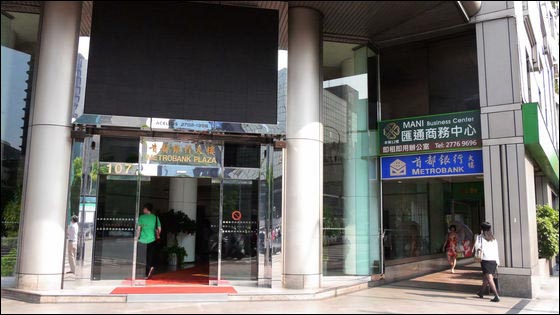 Go north on Dunhua South Road and cross the pedestrian crossing under the highway with 4 citizen highways ......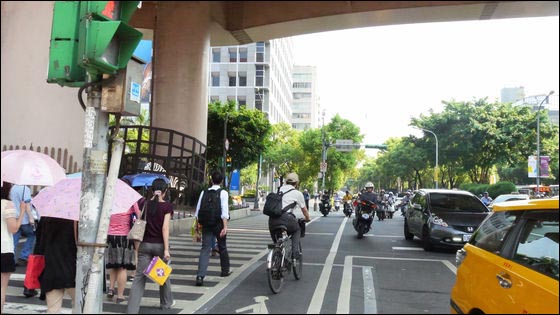 As you can see the 7-Eleven on your left, turn right on the road in front.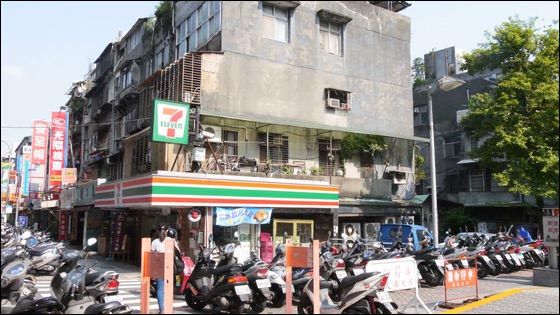 I arrived at Baekje Park (a hundred sweets).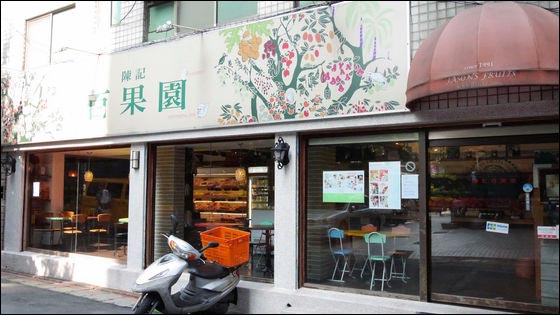 A sign of "Can use JCB card". Various credit cards of JCB · VISA · Mastar Card can be used at Baekje Park.



When entering the shop, the jams were lined up.



All the jams are made by hand, with 250 NT dollars (about 850 yen)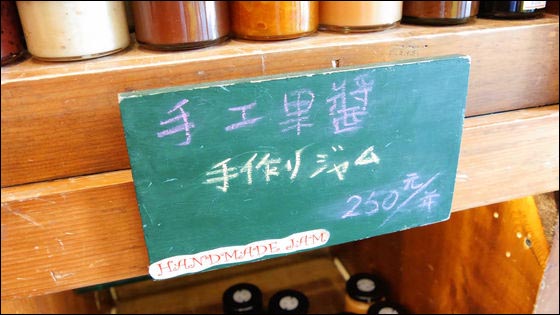 How pop is Japanese. As jams can not be brought into the cabin as baggage, glass bottles are very heavy, so international mail is very convenient when purchasing as a souvenir a lot.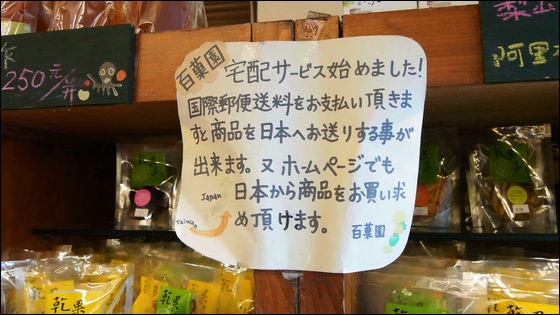 Apple from the leftCherimoya· Grape · Kinkan · Fruit Mix. In addition, there are plentiful kinds of lemon, papaya, cherries, and more so that they can change. I do not use sugar.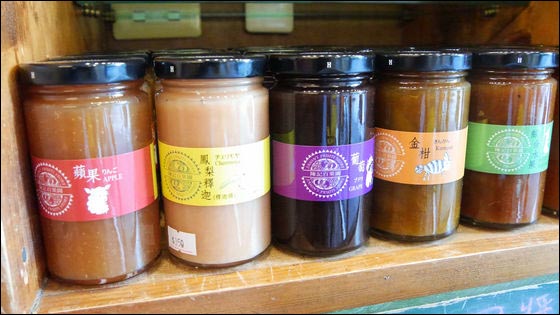 The overwhelming most popular mango is that there are a lot of people who bother buy not only from tourists but from other than Taipei.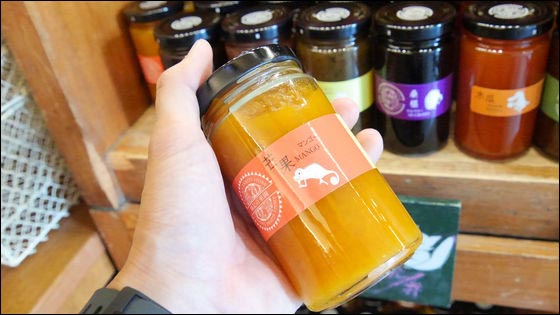 The size of the small bottle is 100 Taiwan dollars (about 340 yen) and 3 sets for gifts in a wooden box cost 400 NT dollars (about 1400 yen)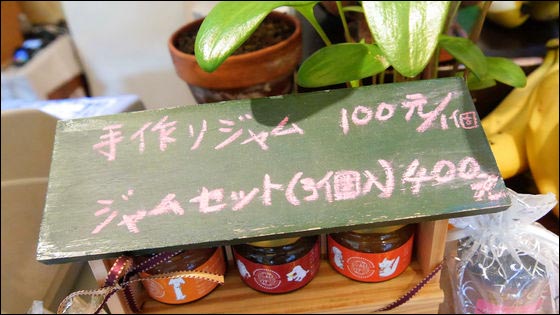 There is also dried fruit.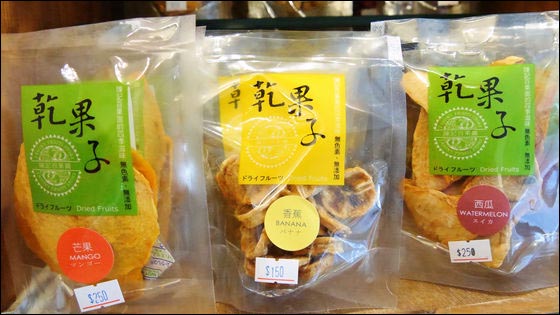 Raw fruits such as banana and dragon fruit were on sale next to the cash register.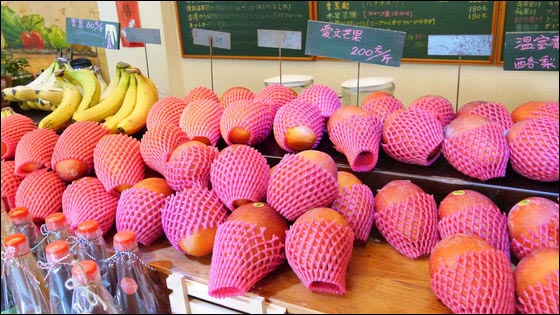 In fact, Baekje Park is a shop that wholesale selected fruits to luxury hotels and restaurants, and fruit shaved ice that can be eaten in the jam or in the store also uses the finest fruits, so you can enjoy the best fruit in Taiwan It is a store.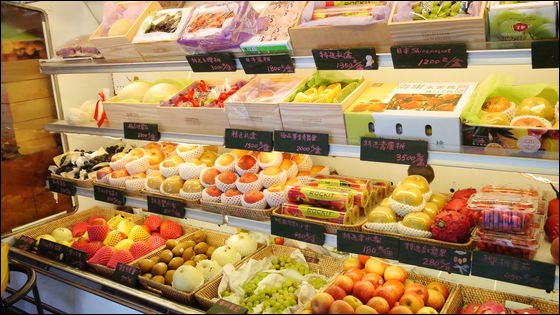 The 2 best melons are Taiwanese dollars at 2200 Taiwan dollars (about 7500 yen)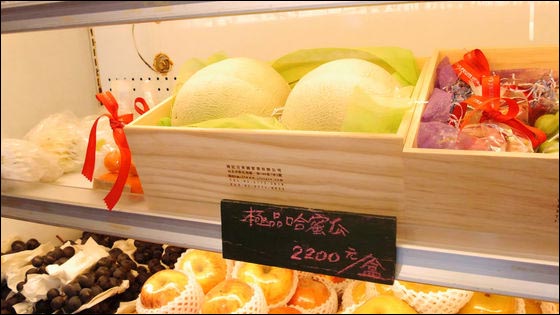 Besides that, there is fruit ice cream.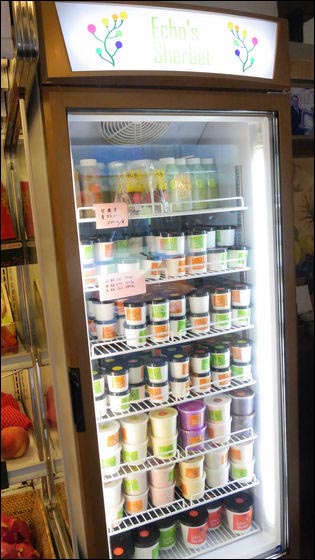 I ordered a fresh fruit sweet at once. There are plenty of sweets in the menu as you can see.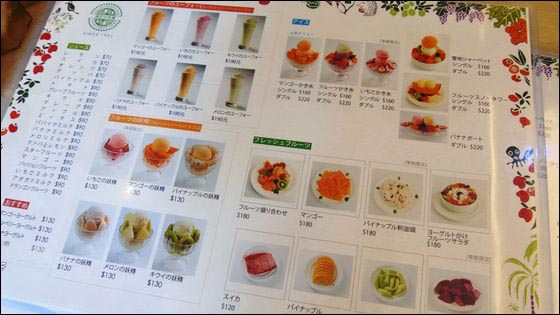 We ordered 220 TWD (about 750 yen) at "snowy field sherbet (double)"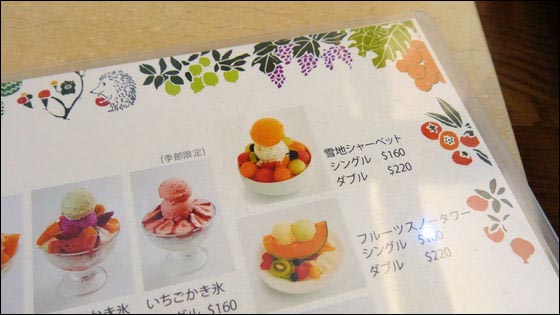 Although the owner and the couple are saying that they can not speak Japanese, not only the menu on the table, but also the blackboard behind the cash register correspond to Japanese, so the Japanese seems to be able to use with confidence. If you look closely at the blackboard, it is said that "we are the purveyor of the former president."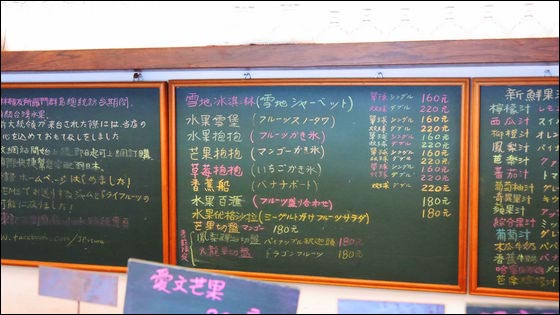 I chose two kinds of ice cream ......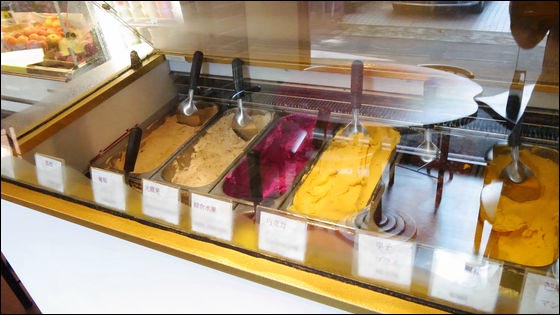 I will wait for a while. In addition, I visited around 8 o'clock in the morning, but I saw some people buying jams.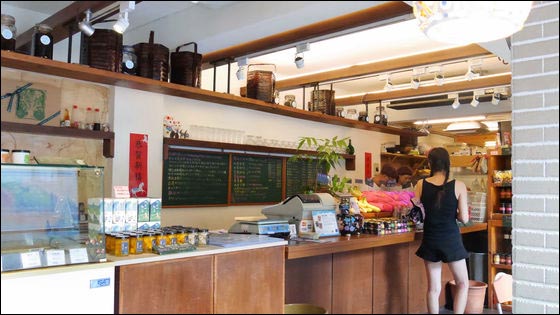 For beautiful glass lighting ......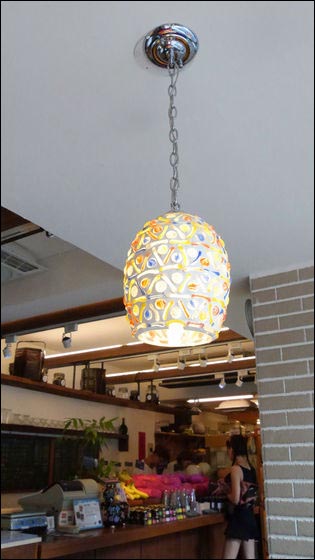 A cute table with eyes.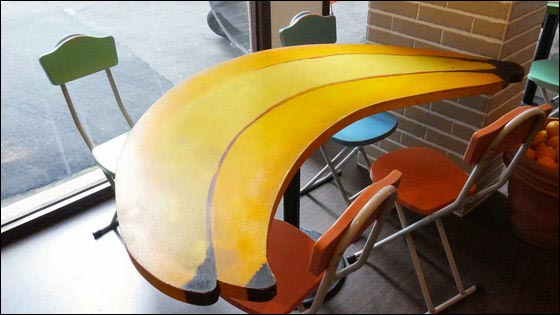 There is a watermelon table, too.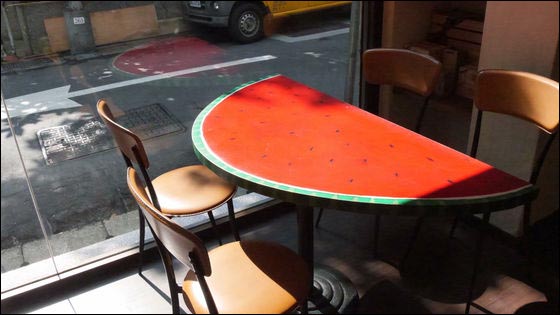 Snowy field sherbet (double) arrived in the sitting apple table in about 5 minutes.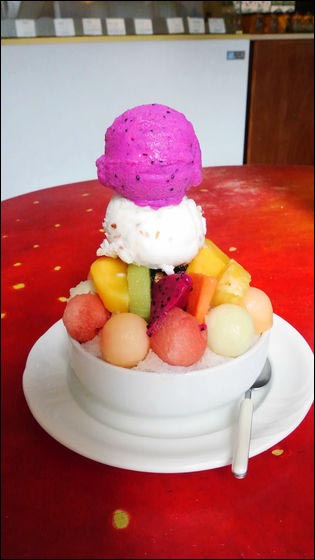 Ice cream is dragon fruit and litchi.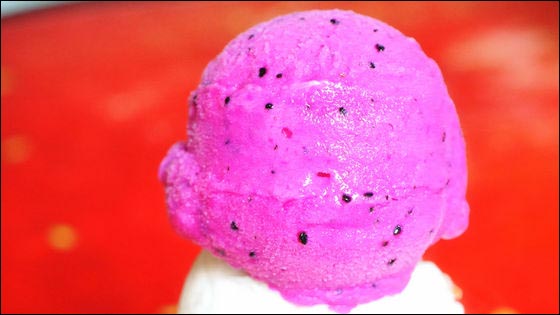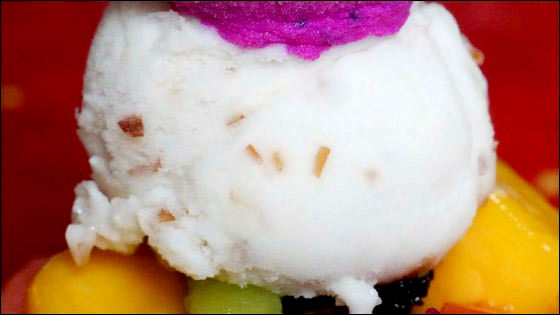 There are plenty of fruits under ice cream.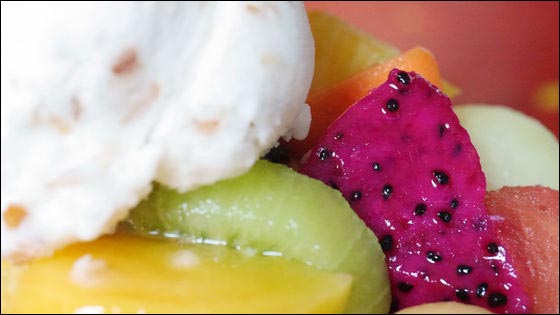 Dragon fruits in kiwi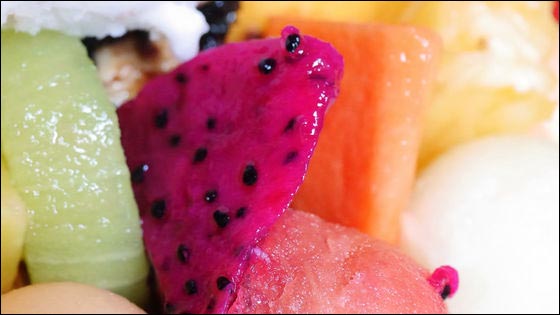 watermelon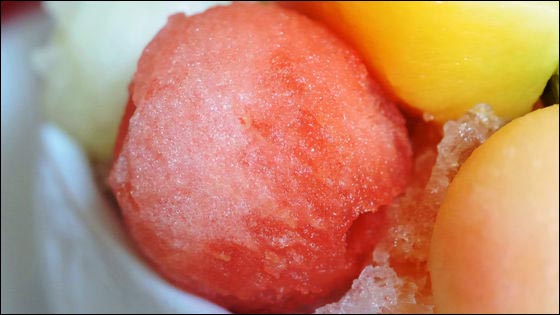 melon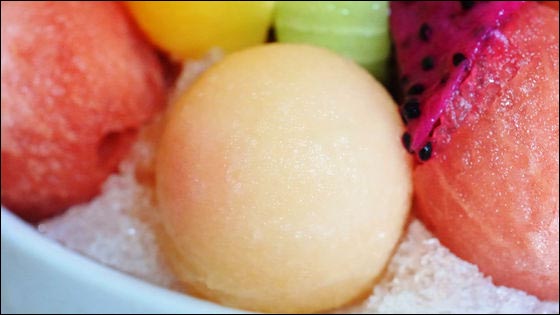 Pineapple and mango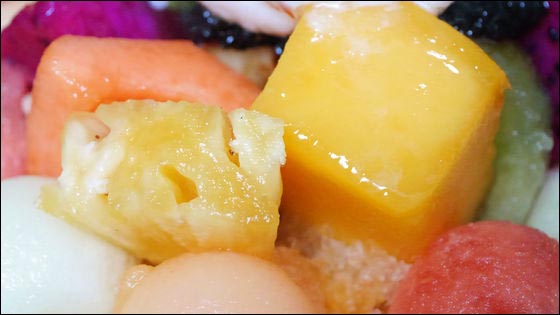 I could see the shaved ice, buried from the clearance of the fruit.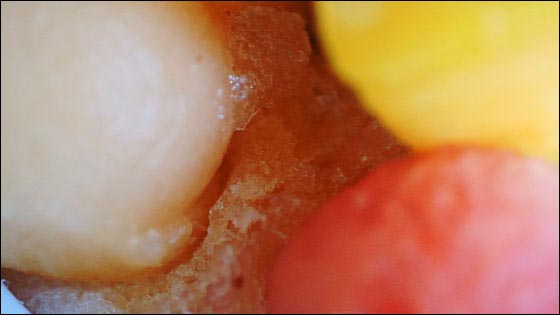 First off from dragon fruit ice cream. The color is very vivid, beautiful in appearance, plenty of acidity.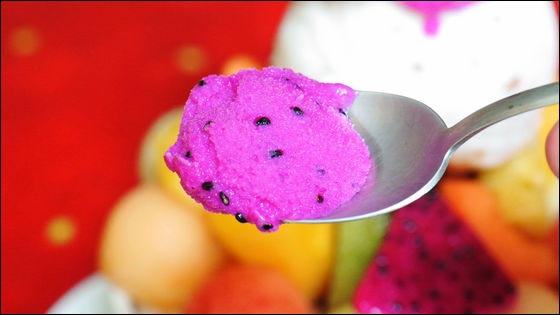 I melted quickly so I had to flatten it at once.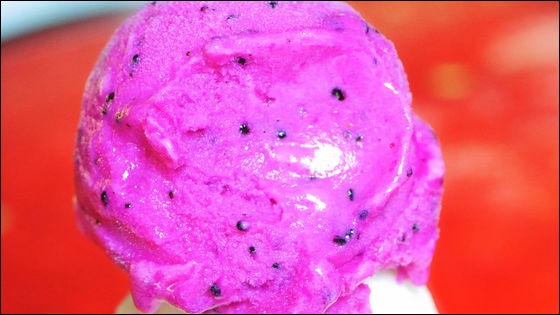 The best texture of the seeds of the class that fits in smooth sherbet ice cream.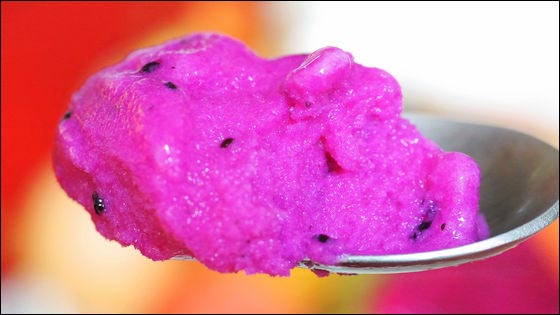 When I finish the ice cream of dragon fruit, ice of lyche which somehow looks like a face appeared.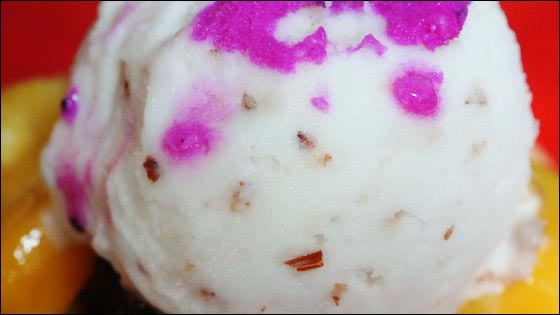 Lychee ice like snow is fragrant rich and slightly elegant sweetness. Feel crunchy in the mouth.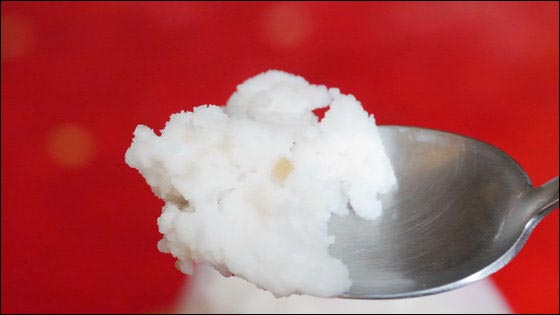 Under the ice cream is a sour tasteful citrus jam. The bitterness and sourness of the seed taste of adults.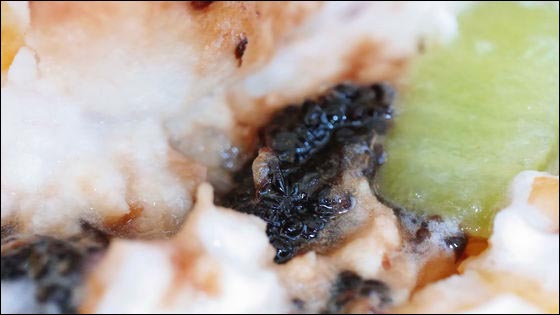 After flattening the ice cream, it is fruit salon. Watermelon is very fresh and sweetness is modest.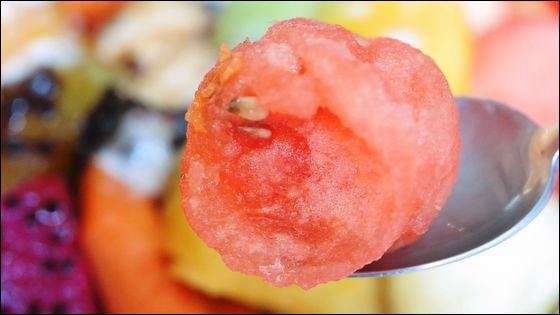 On the other hand, pineapple is still rich and sweet enough.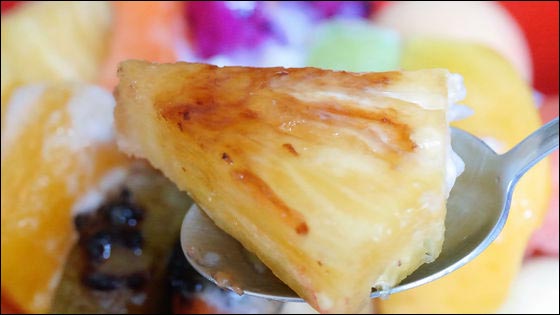 Dragon fruit feels tasteless just after pineapple.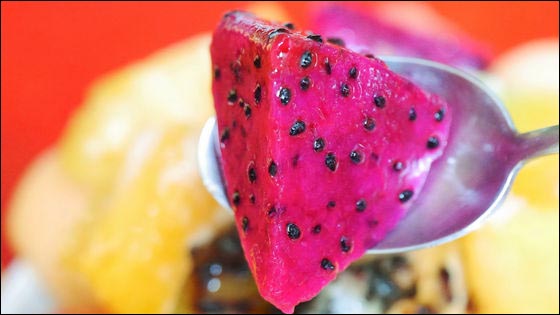 Mango is a sweetness modest and refreshing taste.



Light green melon is intense sweetness.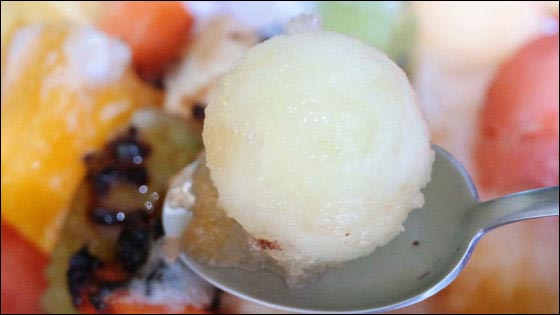 Pakuri shaved ice while enjoying fruits.



Shaved ice is sour and has good compatibility with sweet fruits.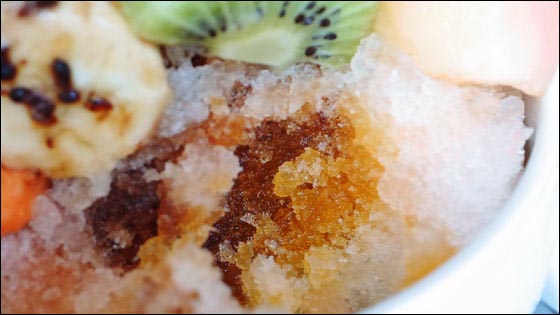 Fruits that are still going on. After all, the special banana of Taiwan is a fresh scent.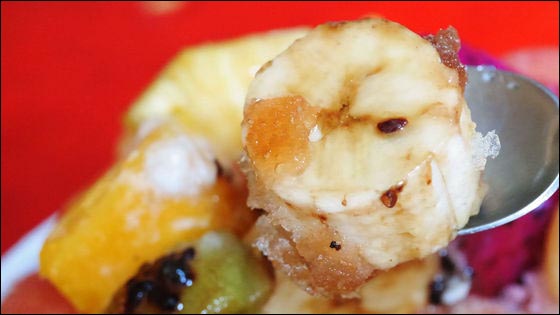 Kiwi is an unexpected sweetness.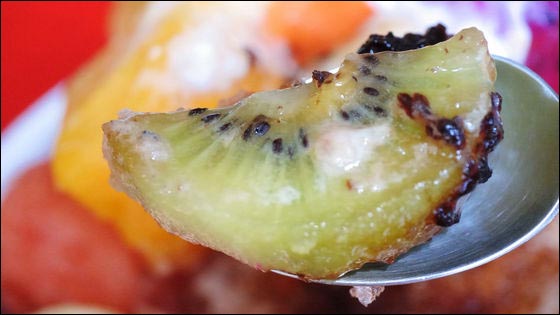 Papaya is thin.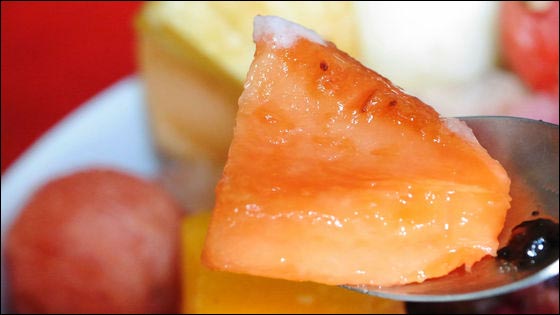 Although red melon is very sweet, it is crisp.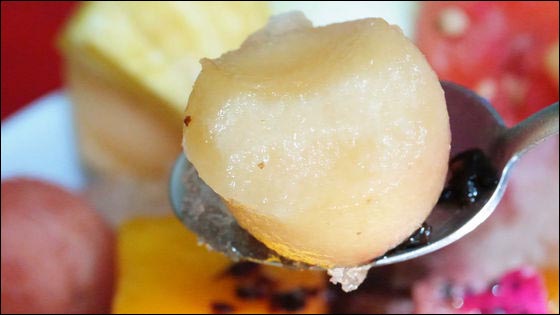 You can go back with a combination of exquisite combinations of fruit sweetness and refreshing acidity shaved ice.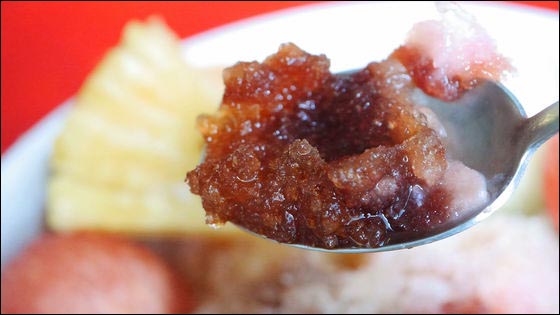 Fasting quickly.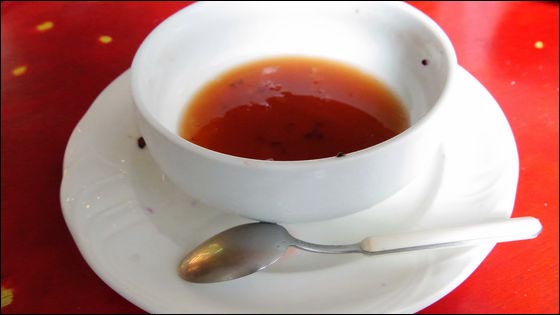 A bakufuen where affordable and fresh fruit-filled sweets can be enjoyed is open from 7 o'clock to 7 o'clock on weekdays, from 7 o'clock to 17 o'clock on Saturdays and closed on Sundays. As it is 7 o'clock in the morning, relatively early, since it is open early, it is recommended to avoid avoiding afternoon when a queue is available. Depending on the flight time, it seems that you can enjoy the Taiwanese sweets before returning to Japan.