I went to "Hiro · Coffee · Farm" to grow domestic coffee beans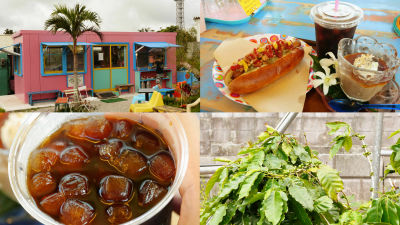 Coffee beans can be raised in the vicinity of 25 degrees north latitude and 25 degrees south latitude with the equator called a coffee belt, and cultivation is done in Okinawa Prefecture and Ogasawara Islands in Okinawa Prefecture and Ogasawara Islands even in Japan. In Okinawa "Hiro · Coffee · Farm'Is a spot where you can see the coffee trees up close and have meals. Unfortunately because of the typhoon of 2012, we can not drink domestic coffee because we are playing coffee tree, but we wanted to see coffee bean tree so we went to Hiro coffee farm.

The place is "Okinawa prefecture Kunigami gun Higashimura character Takae 85-25" and it is along the prefectural road No. 70 national head east line, and nearOkinawa Yanbaru Seawater Pumped Water Power Stationthere is.


When running along the prefectural road No. 70 Kunitaki Higashi Line, I found a sign written "HIRO COFFEE FARM".



Characters are written quite flashy.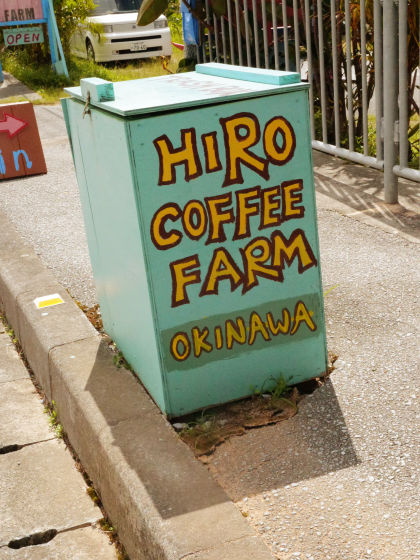 When I enter the premises with a car, I found a pink gaudy building.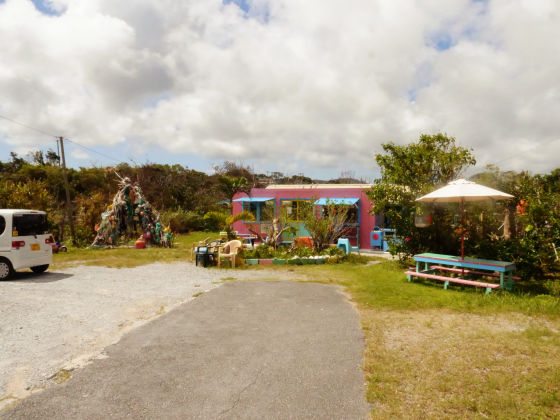 It is a sense of color usage that I do not see in Japan for a moment.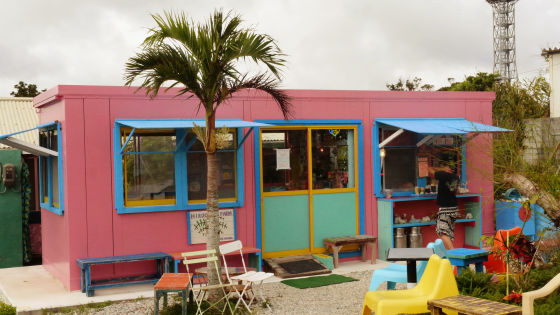 In the tree shade of the shop next to the building ... ...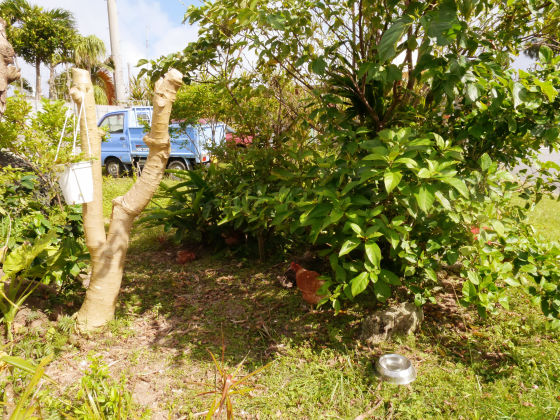 The chicken was cool.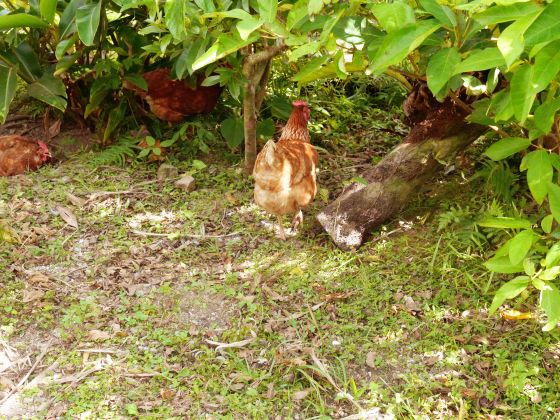 It seems there are white birds and brown chickens.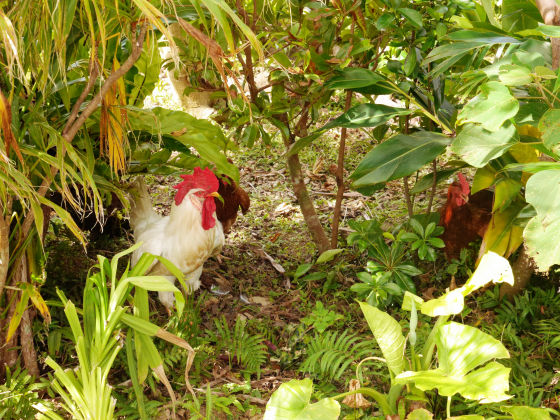 Hiro · coffee · farm can take out not only food and drink in the store but also take out.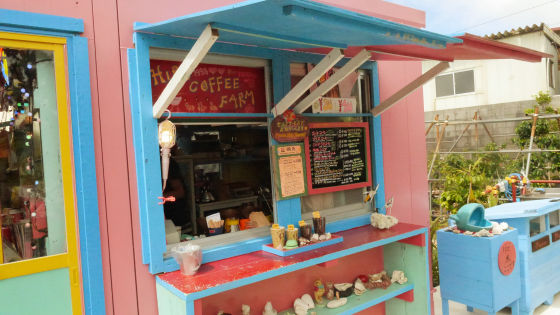 Menu is drawn on the board.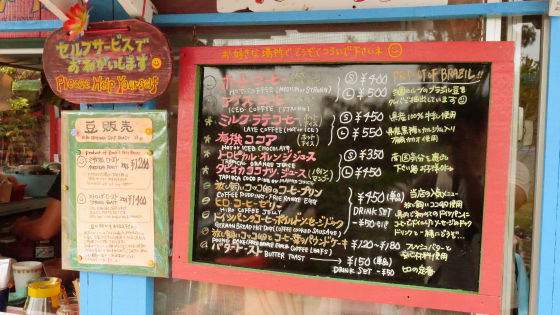 Under the influence of typhoon of 2012, we are regenerating coffee bean trees of the farm and currently we can not provide domestic coffee beans, but they are using coffee beans close to domestic ones.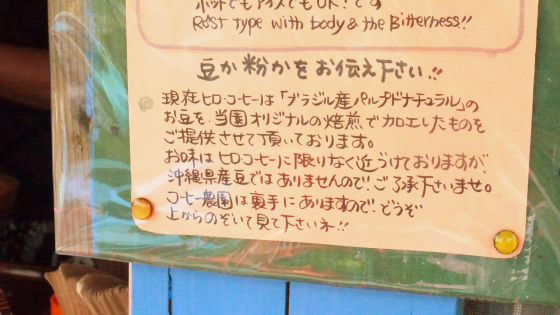 The inside of the shop is based on yellow, interior decoration of Colombian flag with blue and red used.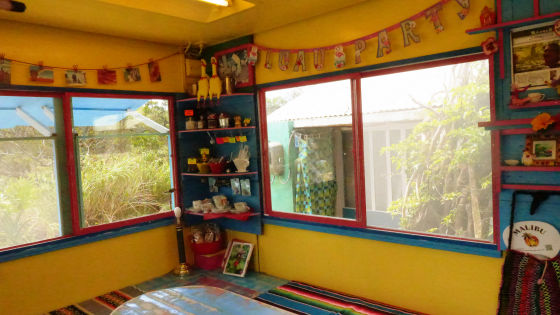 Coffee cups etc are also decorated.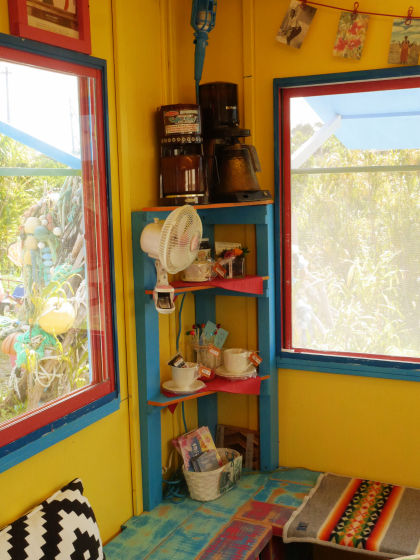 There are also interior decorations like America.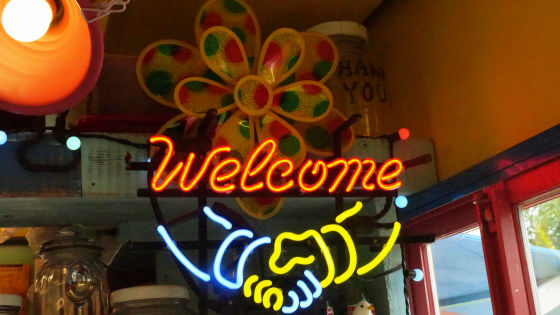 I will order a menu at the cash register.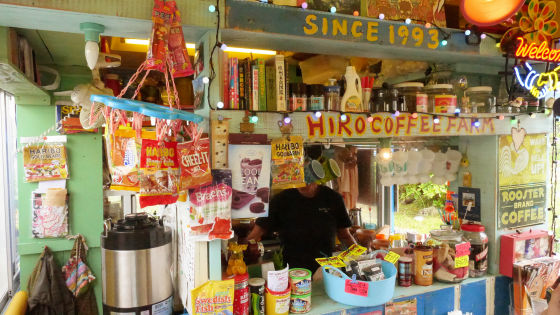 This time"Ice coffee S(400 yen including tax) "·"German bread coffee boiled sausage dog(450 yen single item tax) "·"Coffee pudding of free-range Kokko(450 yen single item tax) "ordered. If you order meals and dessert with a drink, it will be 50 yen discount. Even if you eat in the shop, even if you order by takeout, prices and menus seem to be basically the same.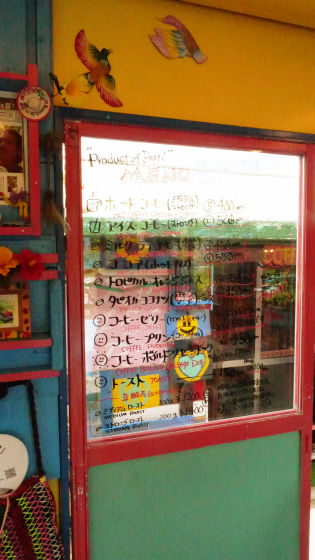 Sweets that are not readily available in Japan can also be purchased.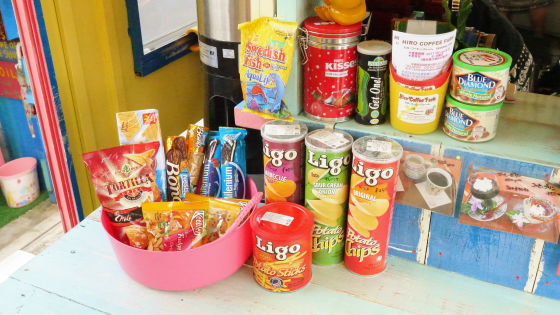 Until you have coffee and meals, I will have a cup of coffee tea leaves and wait.



The color is somewhat yellow and you can feel the smell of lemon grass. The taste of coffee was hardly felt.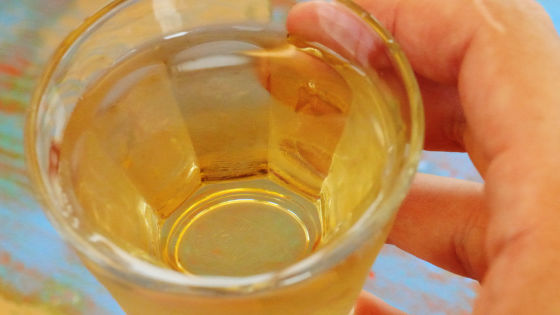 Three items ordered arrive after a while.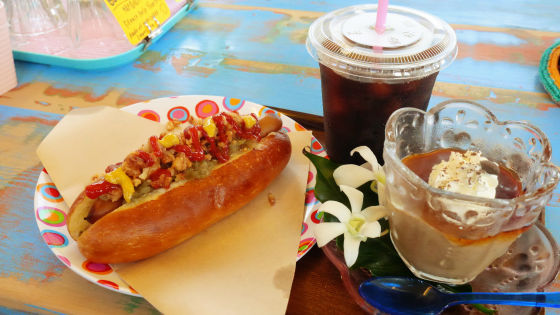 Ice coffee uses beans that have been roasted quite deeply, and beans are processed by pulp de natural processing of Brazilian beans and roasted on their own.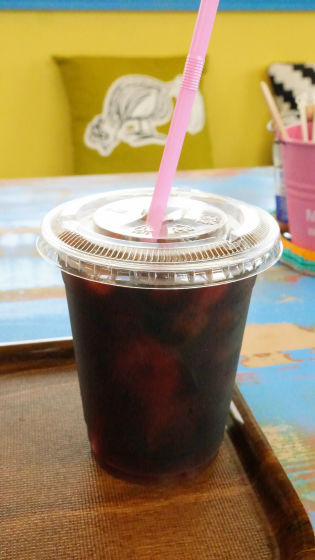 The beans are roasted deeper than the roast of Starbucks, the concentration is also deep and bitter, and it is like ice coffee like a summer drink.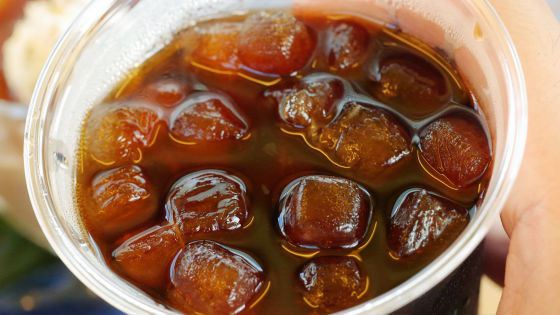 German bread's coffee boiled sausage dog is an item of commitment using German bread made by a German who emigrated to Okinawa.



Sausage is boiled with coffee, so a little skin is dark.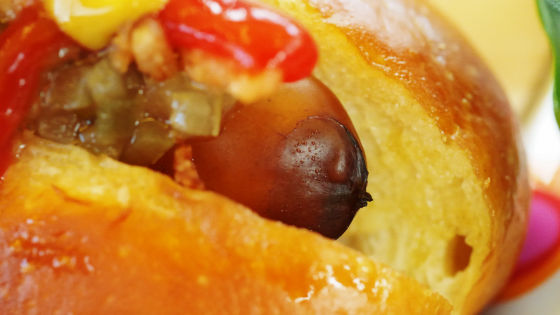 The taste of coffee is felt slightly from sausage, and compatibility with bread of texture like pretzel is also good. Not only acid pickles of pickles, mustard pungent and ketchup taste, but also the taste and sweetness of the fried onion were in good agreement.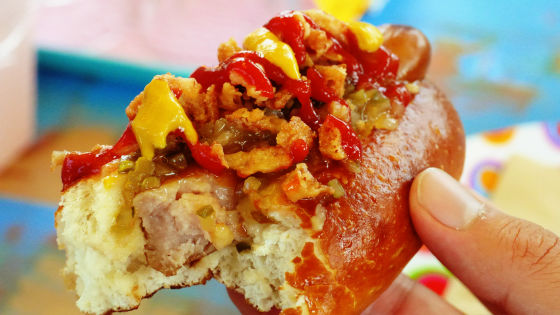 Coffee pudding of free-range Kokko is a coffee pudding using chicken eggs in front of the shop.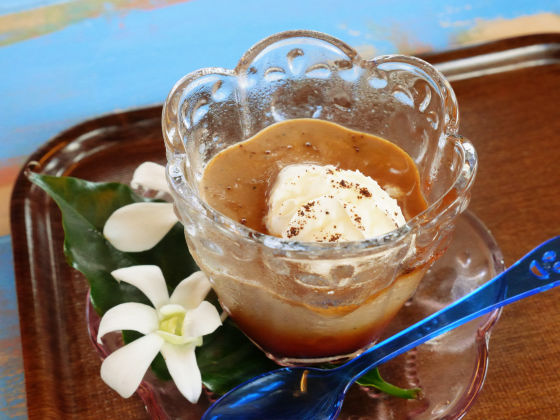 The flowers decorated are Renfare and coffee leaves are also placed.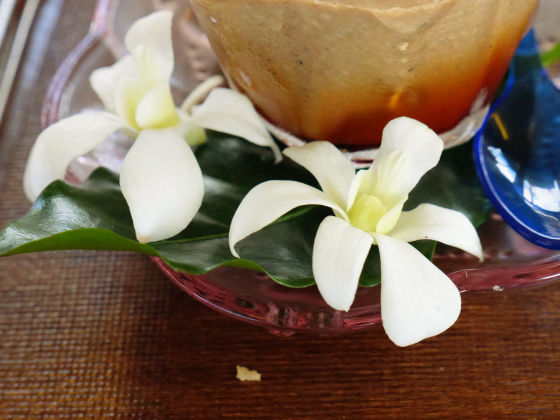 As it meets meals, the taste of coffee is not that strong, but the sweetness is modest. I used eggs, so it was a dusty texture.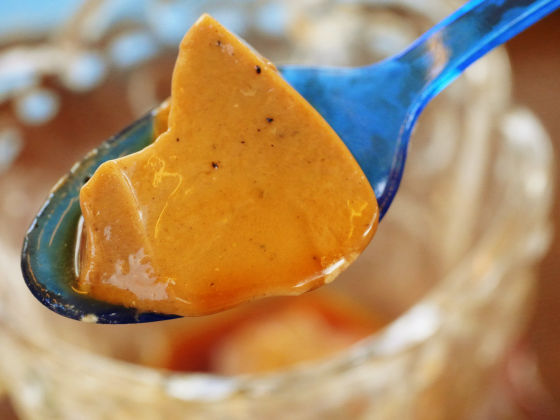 After having finished the meal, have people in the store guide you to the farm.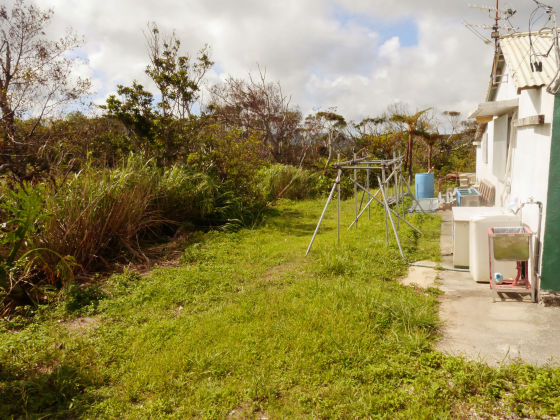 On the back of the shop, the iron pipes of the farms destroyed by the typhoon of 2012 were summarized.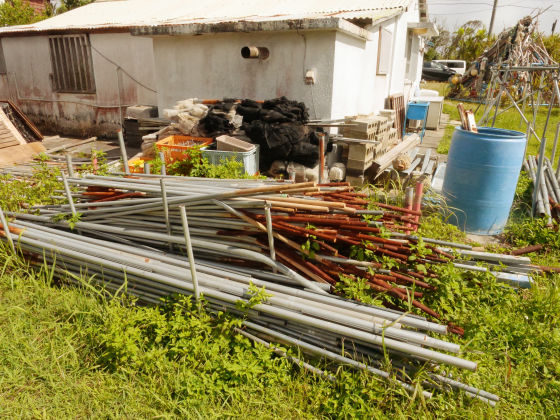 There is also an iron pipe that has been bent so hard that you can see a glimpse of how strong the typhoon was at that time.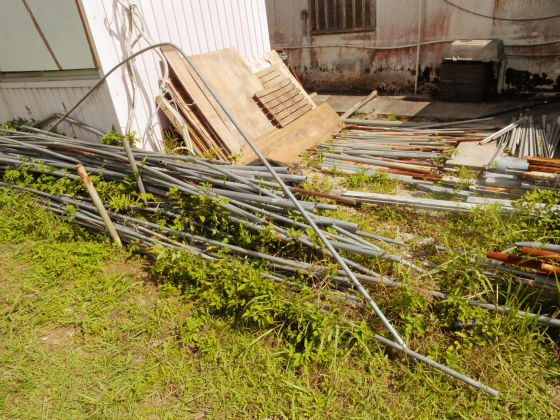 The coffee plantation is under the cliff, but since it affects the soil etc. it can not be seen nearby. A black net was stretched so that the sun would not hit directly.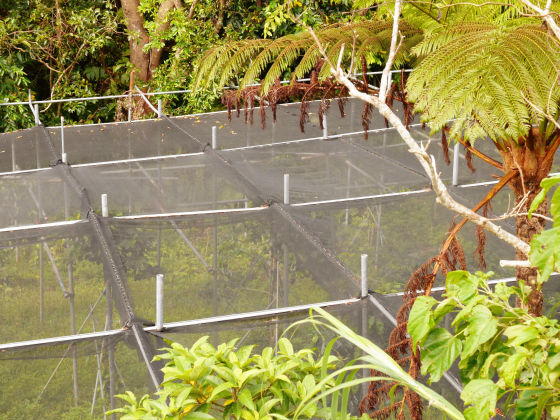 It is this area next to the shop where you can see it at hand. On the day we visited there was a work of planting iron pipes to protect coffee trees from typhoons and sunshine.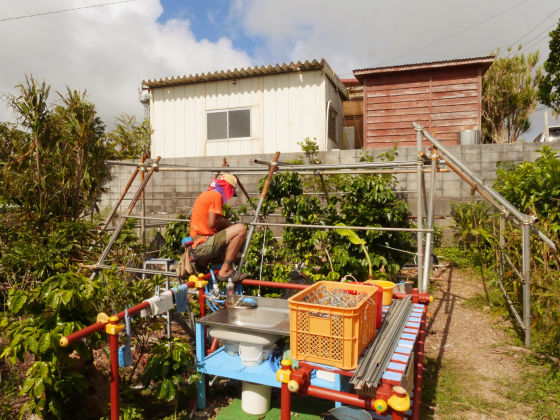 When approaching an area where there is a coffee tree, a small tree just planted ......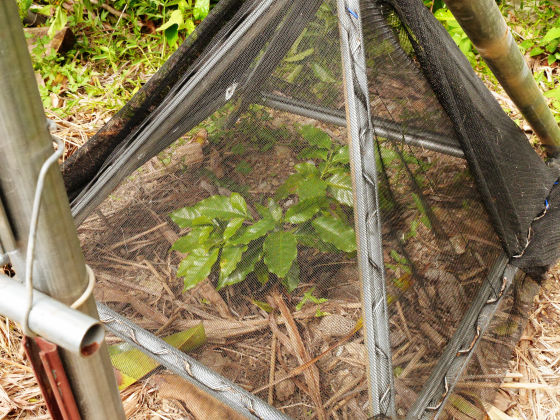 Two to three years after planting trees.



There was a tree that was only five to six years old.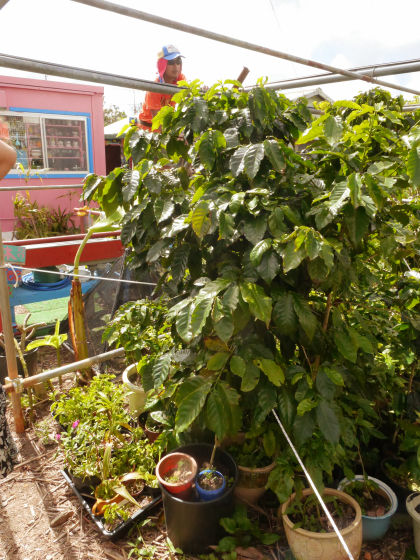 The coffee tree was weak against direct sunlight, so young trees were placed under a big tree.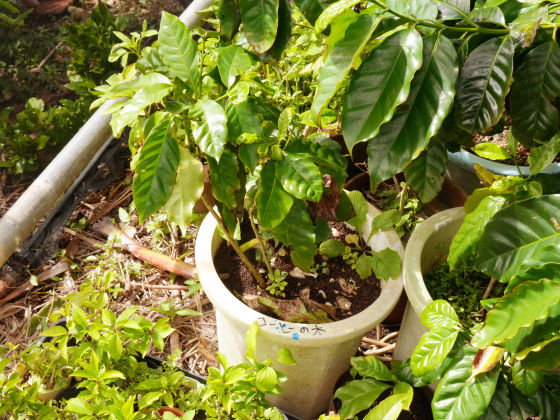 Looking at the coffee tree after five to six years ... ...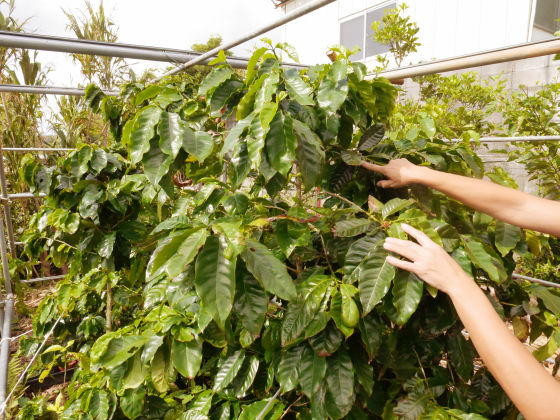 White coffee flowers that are scattering ... ...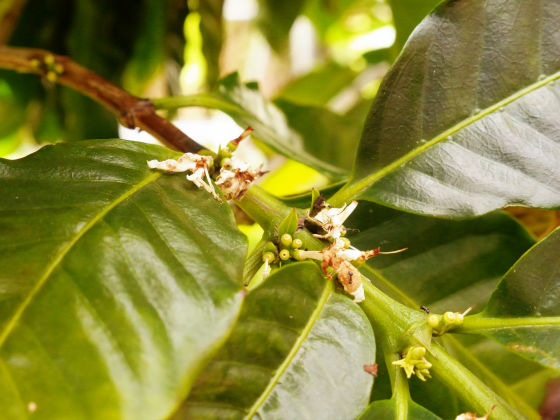 I found a green coffee cherry. Summer is not a harvest season, it is the harvest season around the winter when the beans become red.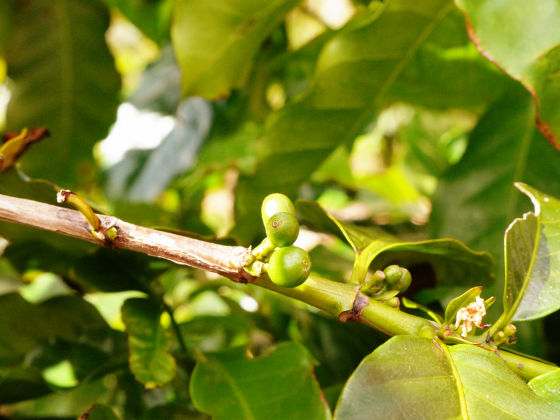 There were trees with plenty of coffee cherries.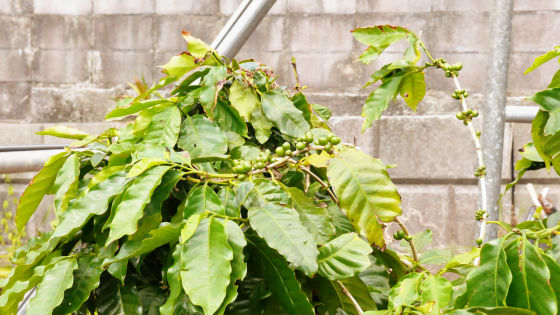 Hiro coffee farm is open from April to September from 10 to 19, from October to March from 10 o'clock to 18 o'clock, closed on Tuesday and Wednesday. Domestic coffee beans can be drunk for several years, so it seems that they will be provided with blends with overseas beans.