I tried blasting in the center of Tokyo with a mini car "X-Kart" which is "Manama public road Mario Kart"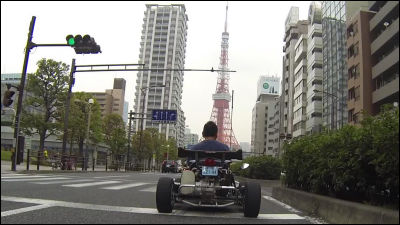 Kart (Racing cart)Is positioned as an exceptional motor sports as a gateway to F - 1 and others, and is also very popular in the game world such as the Nintendo game software "Mario Kart Series". Such racing carts are generally permitted to run only on the circuit, racing carts that can run on public roads "X-KartI heard that there is "and I was asked to run the test ride actually what kind of ride it was.

X-Kart 50 - public road cart Co., Ltd. Mechanica
http://www.x-kart.com/

◆Asking X-Kart to Tokyo
Arrived at JR Tamachi station to experience X-Kart.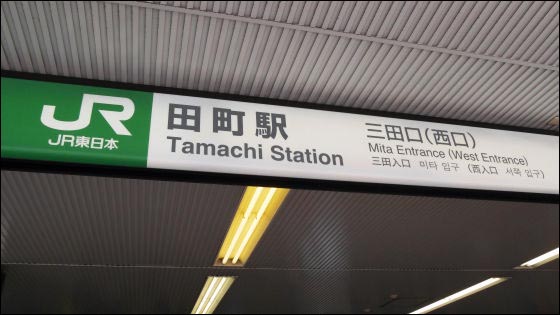 Arrived at Sanfeng Building Co., Ltd. with Mechanica Co., Ltd. with a red signboard of the Hanko shop as a landmark. However, in the middle of such a city, I feel uneasy as to whether public road carts are being sold ......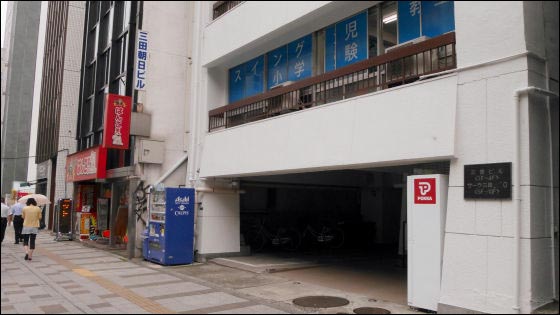 I saw X - Kart in the back of the building 's parking lot.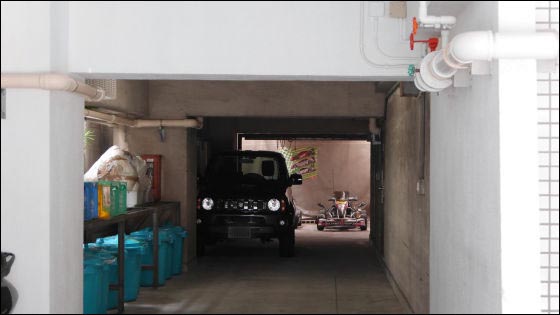 When approaching it definitely a racing cart.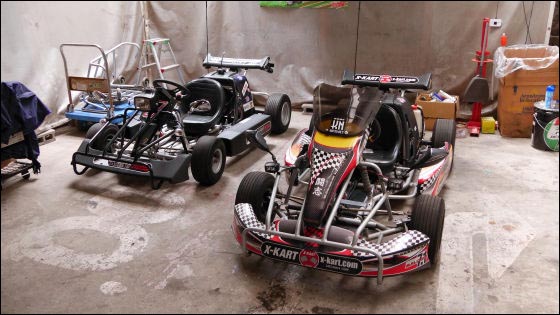 "Do you really drive on public roads ...?", When you are looking at midnight snapshot, the door on the back of your right opens ... ....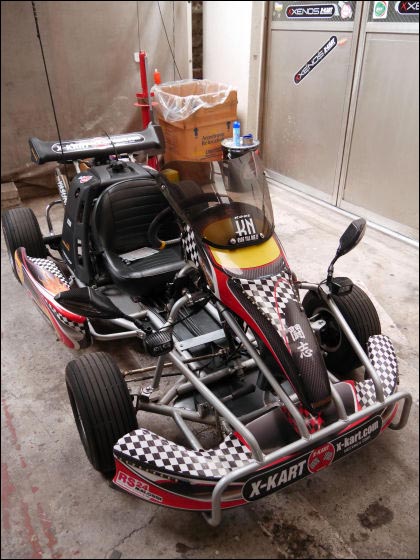 Mechanika's internal castle appears. It was decided that you could see the X-Kart over time.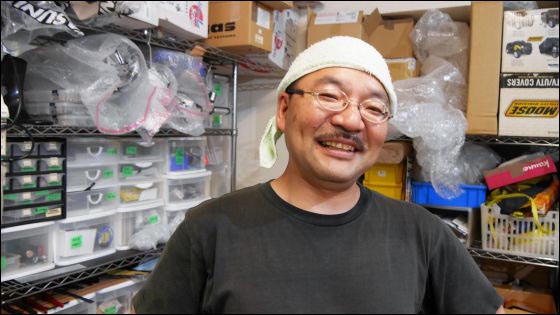 Behind the door is a "pit space" like a "secret base".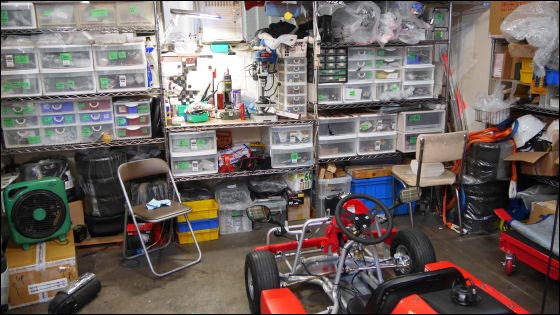 Inside, red X-Kart waiting for delivery to customers just because they were assembled. After being assembled, X-Kart is said to be delivered after careful checks have been carried out after various running tests have been carried out one by one.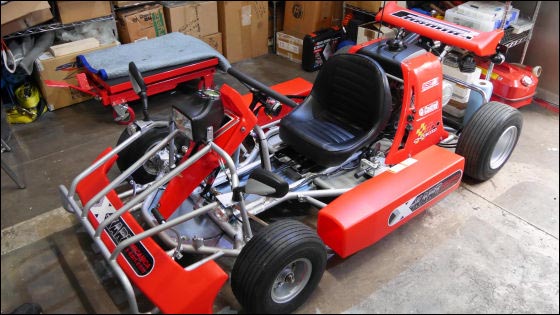 The secret base is like this.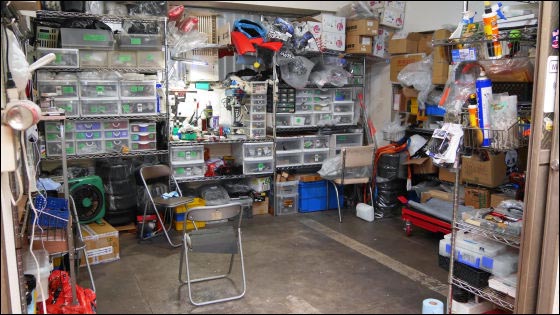 Machine tools and ...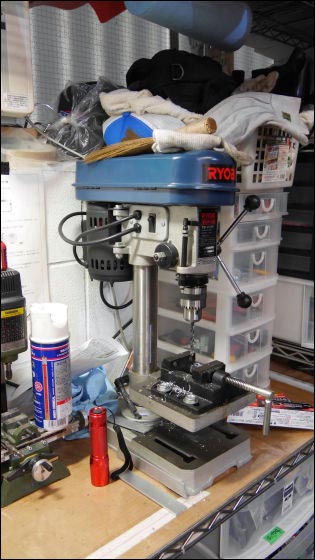 A number of parts (parts) that are arranged so that one X - Kart can be assembled.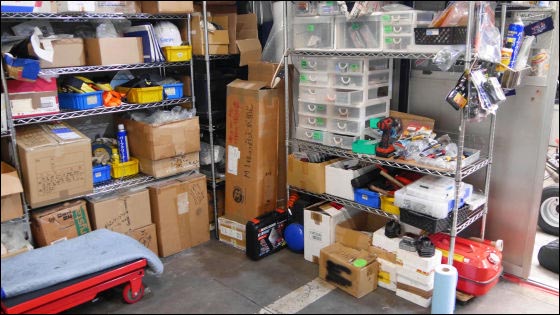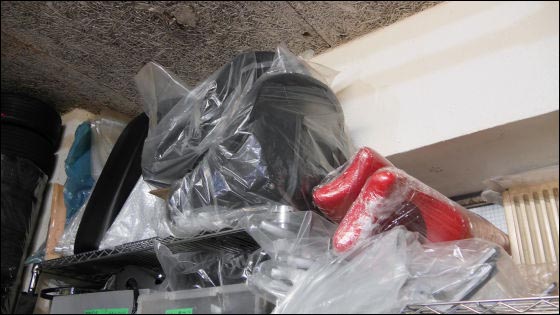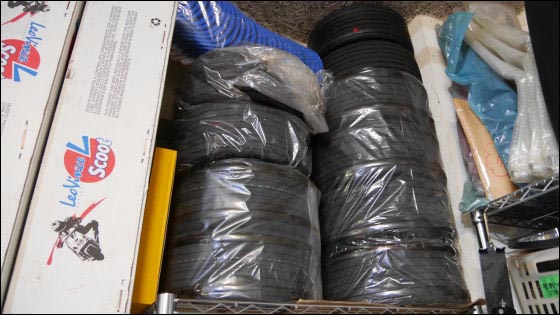 X-Kart is a Yamaha 50cc scooter "JOG"The two-stroke engine is carried and abundant after parts including the parts for motorcycles. Therefore, you can do your own everyday simple maintenance yourself, even if you break down, you can repair the bike shop in town enough.

And X - Kart is a so - called "MinicarCan be registered as "You can drive on a public roadIt is a big feature. On the Road Trucking Vehicle Law and the tax system, it is treated as a 50cc class motorized bike, but there are no restrictions specific to moped bikes such as 30km / h · two-step right turn. In other words, it is possible to blow up at 60 km / h if the speed limit is 60 km / h. In addition there is no need for a car inspection, garage proof is unnecessary.



Mechanika has accumulated information such as fragile parts from the experience that has sold hundreds of X-Kart so far, and strongly backed up the driver including the tune-up. In addition, we have a warranty for six months and a simple lecture at the time of delivery and distribute mechanic special maintenance manuals to the owner.

Mr. Uchijo who is quite odious. "I will not inform you because I keep selling, I am doing after-sales work including supply of parts."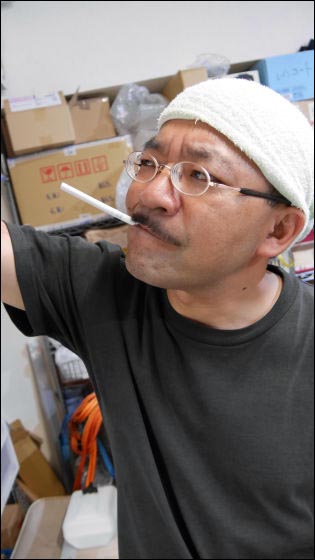 What is stacked on the shelf ... ...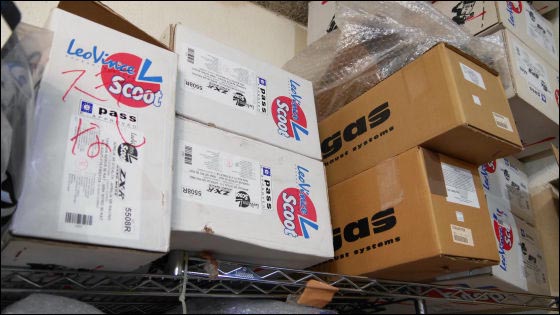 Chamber made by foreign manufacturer. It is possible to get higher power by replacing the chamber. Since production of 2-stroke engines has already been completed in Japan, mechanics are stocking a large amount of chambers and parts related to engines that are getting worse day by day.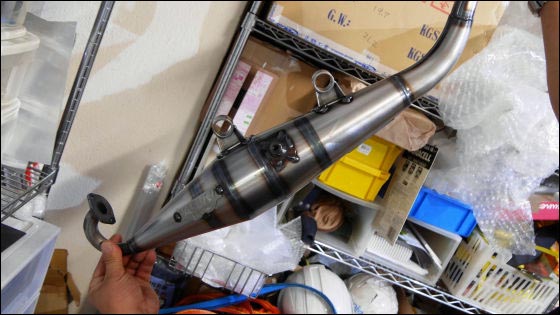 ◆Appearance check
Check X - Kart at once. As you can see, it is a one-seater. Total length 2.08 meters x full width 1.12 meters x total height 0.7 meters with a vehicle weight of 95 kg.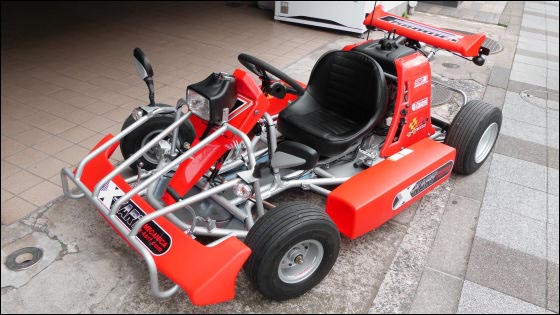 Head light at the front center. Winker lamp and other safety parts are also provided.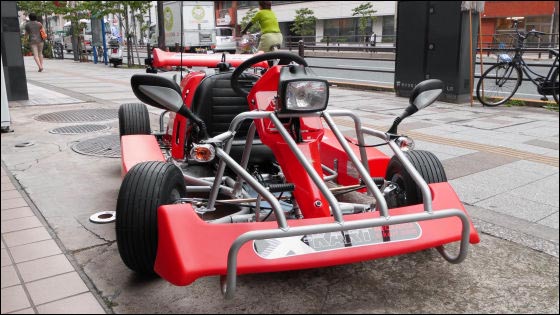 The engine is mounted in the exposed state at the back.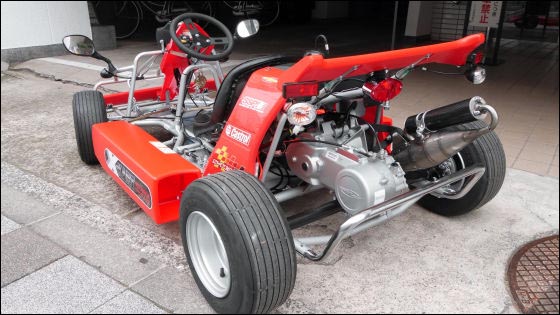 In addition, this X - Kart was customized for the optional external chamber.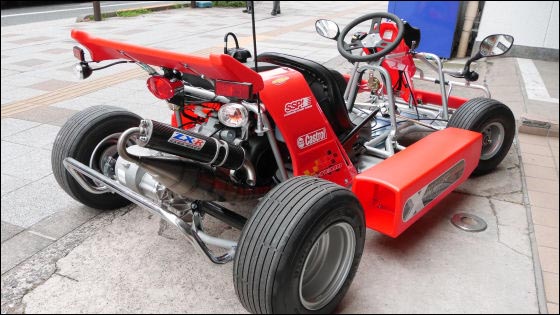 Looking from the side like this. The seat height is 24 centimeters and it moves on the ground so the sensible speed is not the ratio of passenger cars.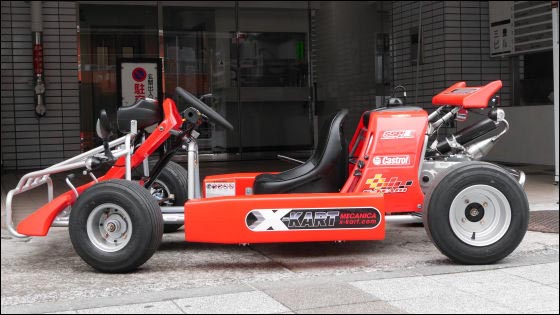 A pipe frame is exposed and a chassis full of powerful power.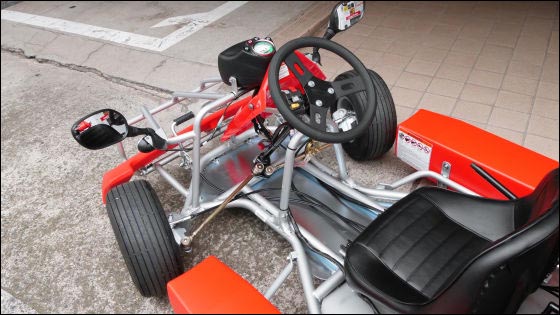 Sporty small diameter steering wheel (steering wheel).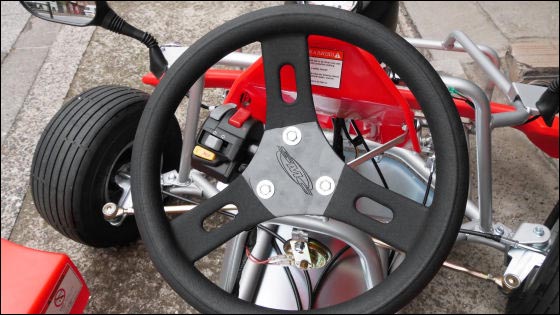 Side brake on the side of the seat (hand brake).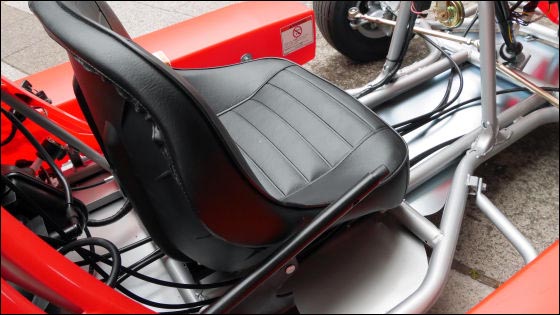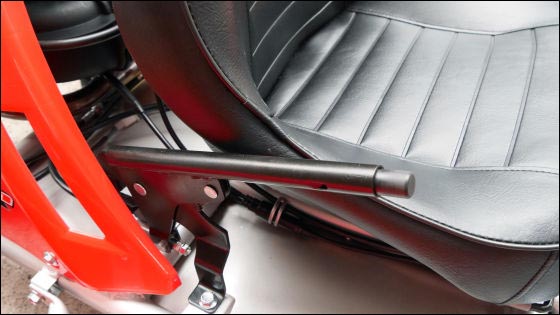 The seat position can be adjusted back and forth ... ....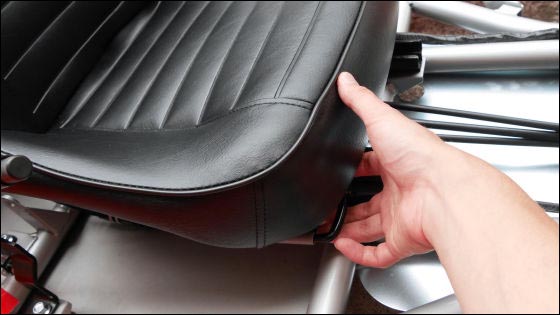 Even petite women reach the pedals.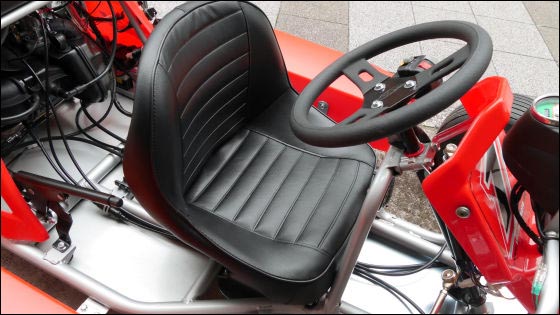 Impression that the blinker is sporty with clear lens specifications.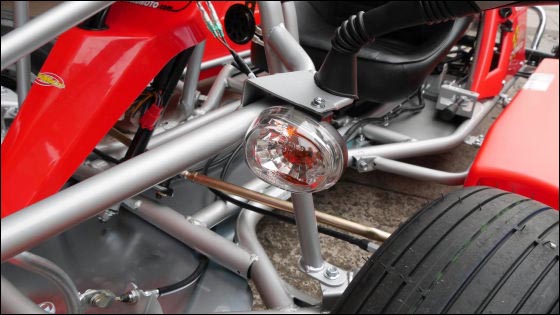 Speedometer is 100 km / h full scale. Depending on the tuning it will be 100 km / h or so .... Gokuri.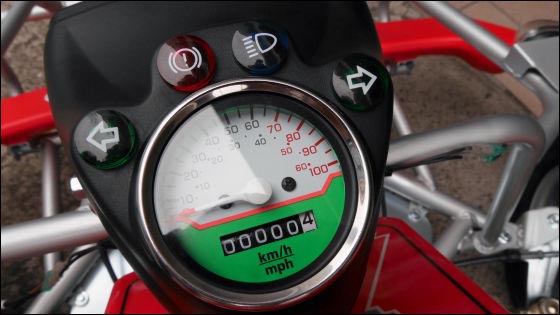 The side mirror is large and visibility is enough.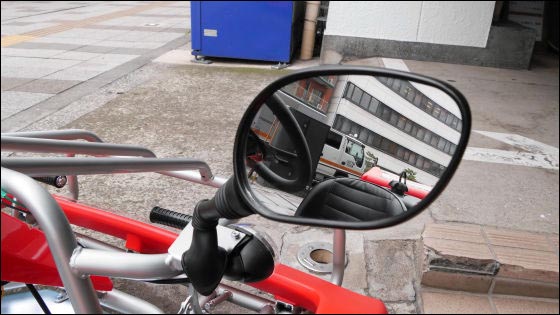 Light switch · hazard lamp switch · turn signal switch · horn button on the left side of the handle. It seems to divert motorcycle parts.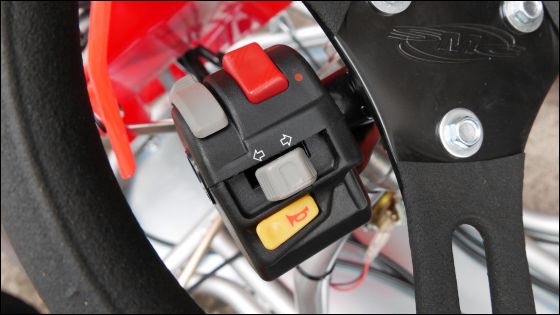 The switch for the yellow passing light at the back has been changed to an ignition switch that activates the cell motor.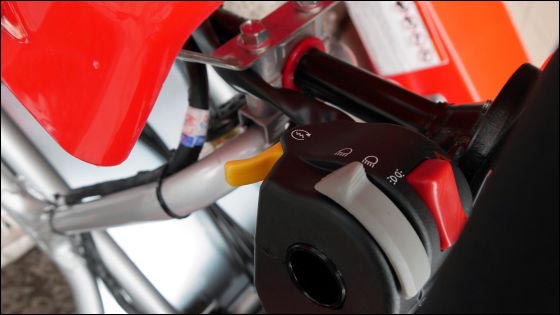 With this feeling, all the switches can be operated with the left hand.



Gear has back (retreat). Go forward with F on the right and back on R on the left.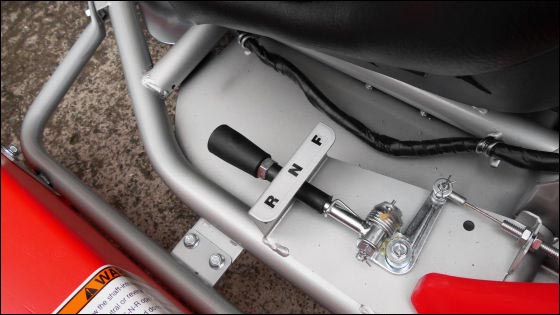 The left is the brake pedal and the right is the accelerator pedal.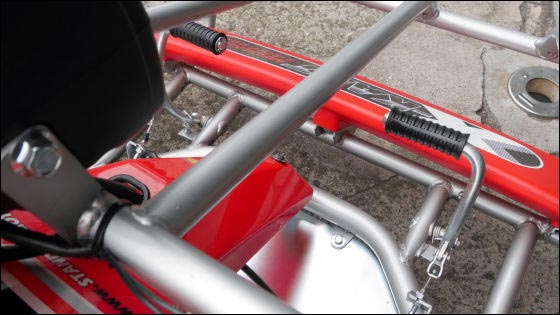 It is not as heavy as I thought to step on. It is necessary to get used to a little bit because the brake is operated with the left foot, but "The braking force of the brake is so large that it can be stopped by stepping on both, if it gets lost."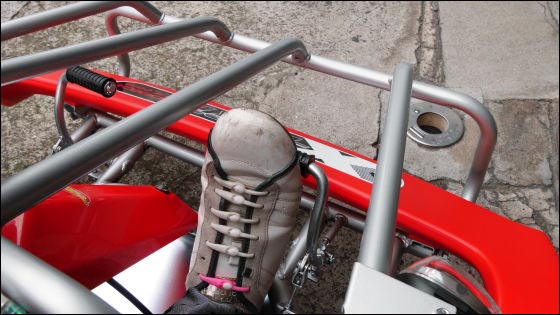 The tire has a front wheel of 5 inches. Since there is no suspension, vibration is transmitted directly.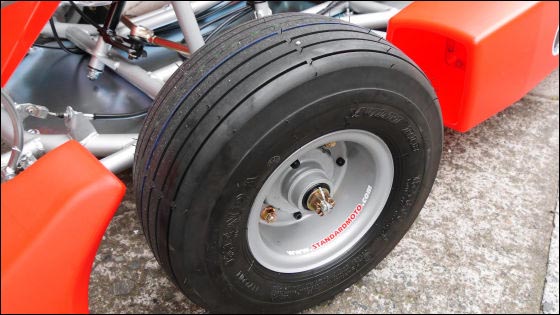 A black box behind the seat is a gasoline tank.



Gasoline is regular and OK.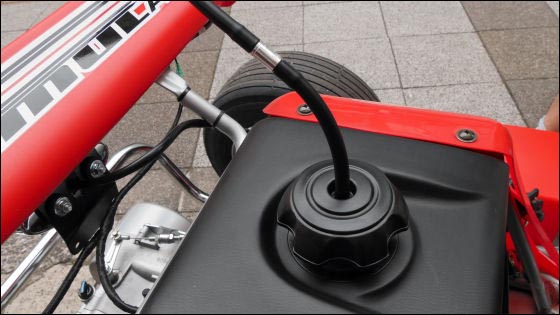 In addition, it is said that fuel mileage to run runs 25 kilometers per liter of gasoline.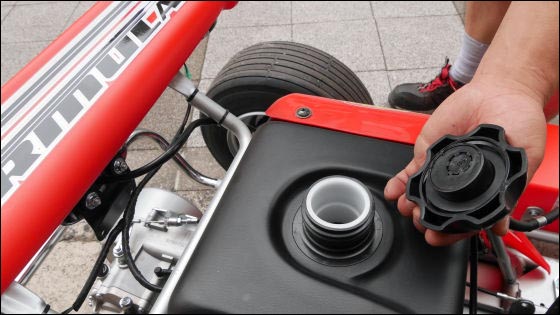 An oil tank next to the gasoline tank. Since the X-Kart is equipped with a two-stroke engine, it is necessary to mix engine oil with gasoline.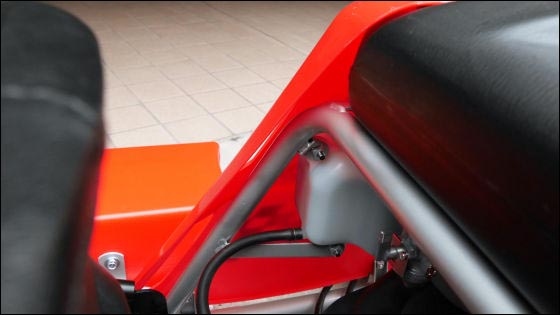 If the fuel cock is reserved, it can run for about 1 liter up to the gas deficiency.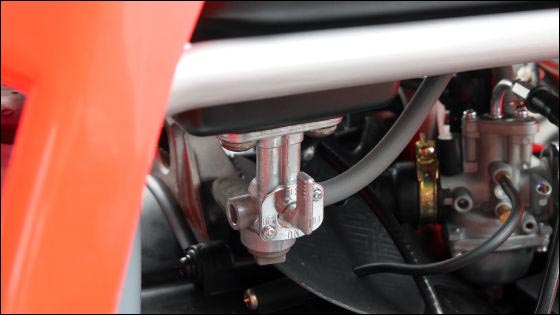 Below the seat, brake wires and electrical system main harness are sliding. Maintenance is likely to be very high because it can access cables directly.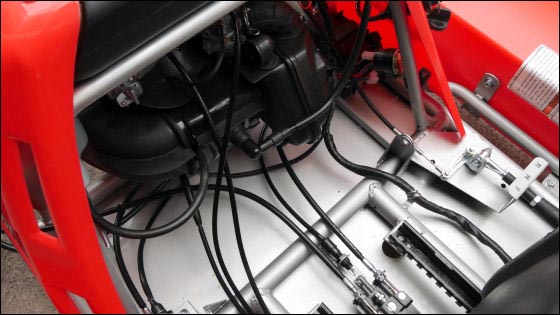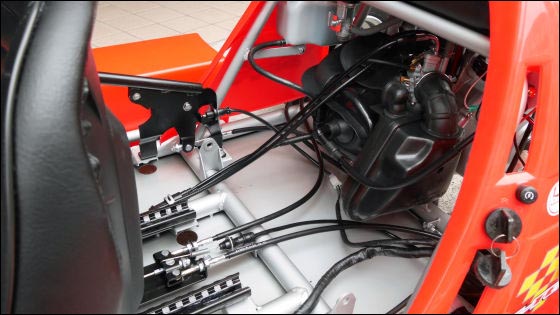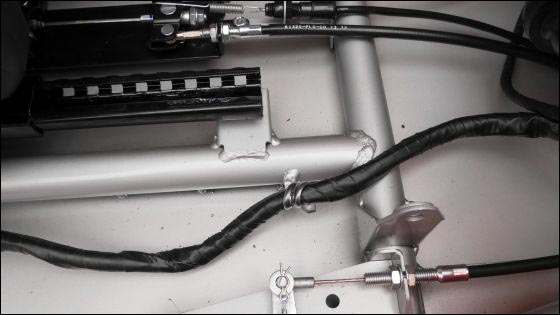 Brake wire controls four wheels simultaneously.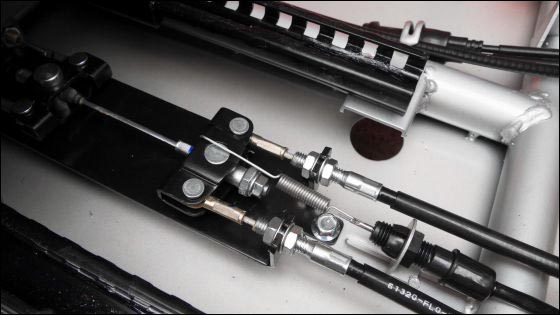 The side brake also has a switch for turning on the tail lamp.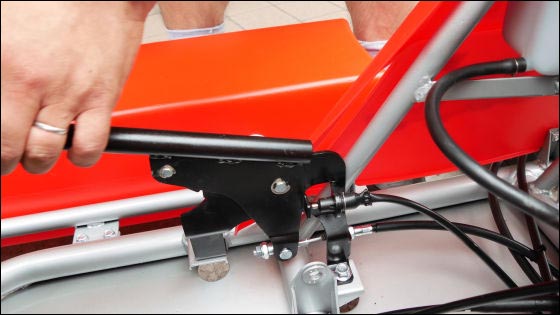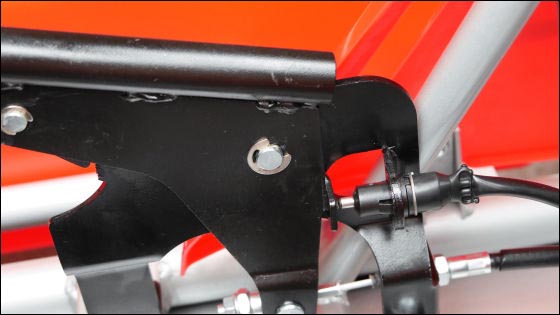 Insert the key on the left side of the car body.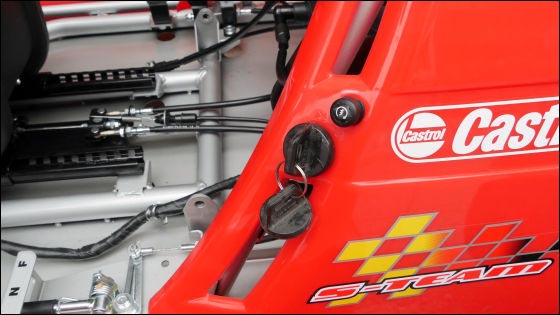 Engine is JOG type, 4.15 horsepower in normal condition. Diff is also installed.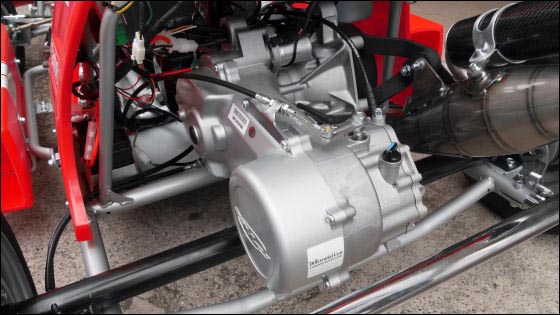 Oval tail lamp.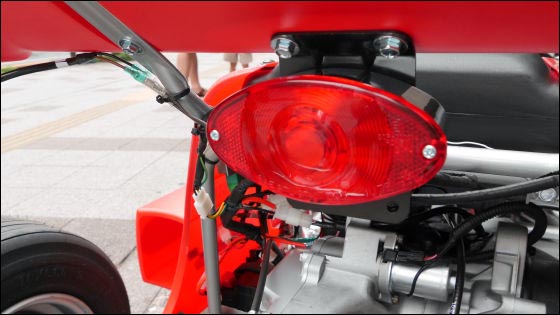 The beautiful chambers of grilled eyes are imparting a sporty impression to the carbon silencer.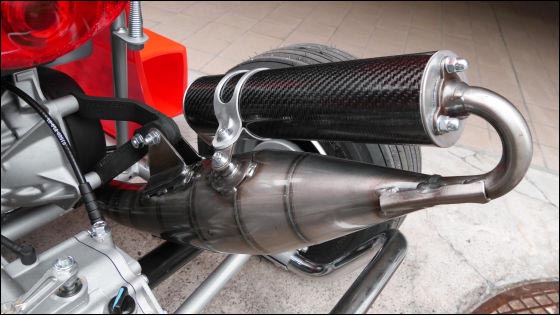 Reflector on rear turn indicator.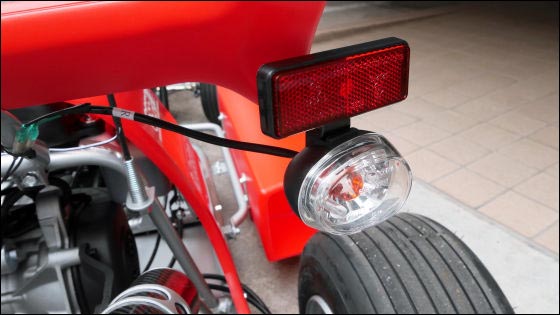 The LED on the pole on the right of the car lights up, making the presence appeal to the following vehicle greatly.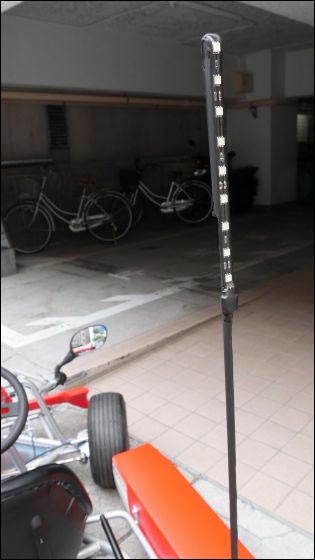 A big rear wing.



A cart that seems to be a cart.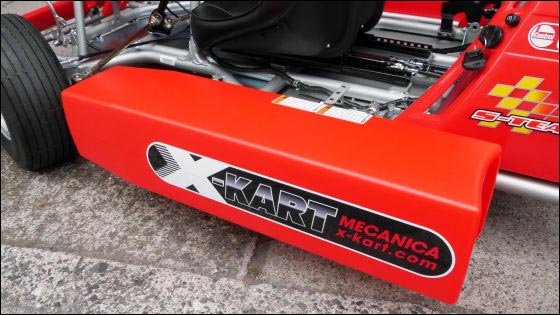 The rear wheel is larger than the front wheels and 6 inches.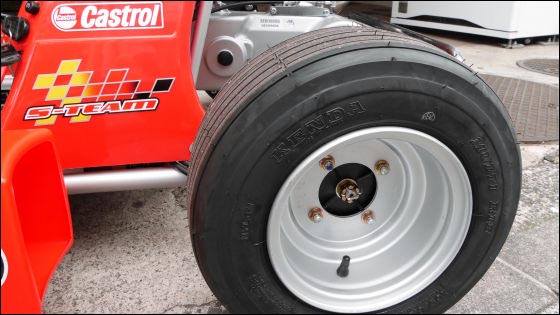 In order to compare with the standard X-Kart, we also showed me a mechanic's demo car.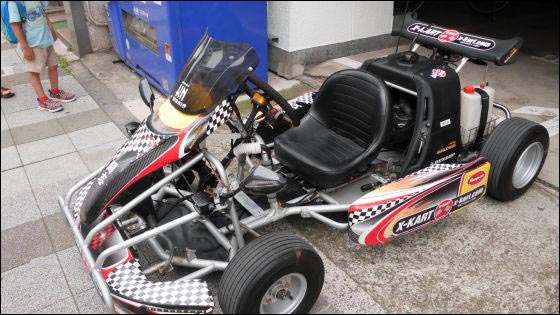 Front screen for high speed driving. It greatly reduces the wind pressure that attacks the exposed body.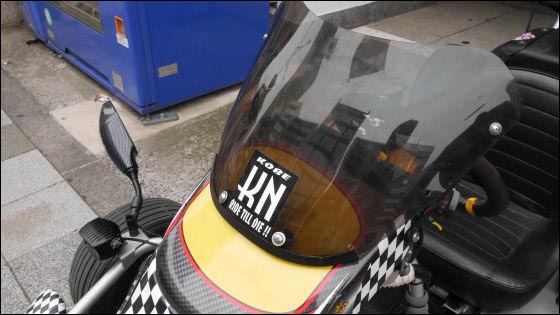 Carbon front fender is a decal of "fighting spirit".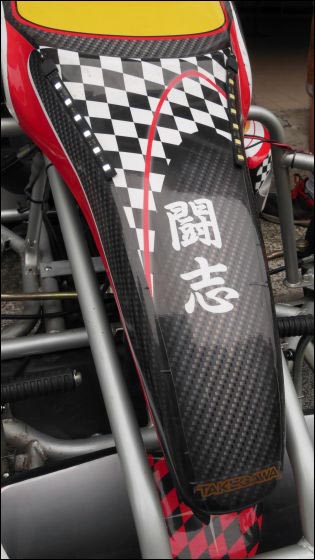 A checker flag flag is a lacy image.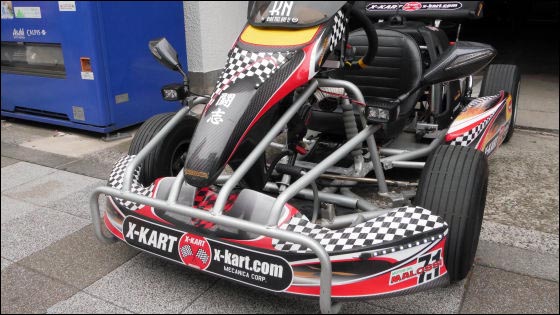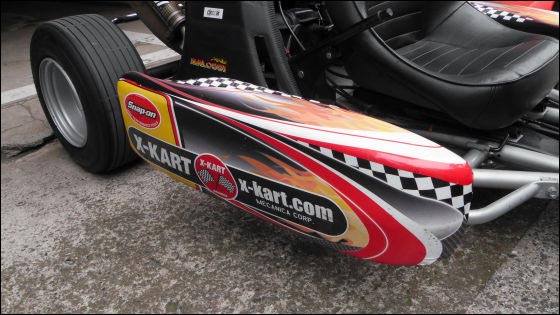 The side mirror has also been changed to carbon parts.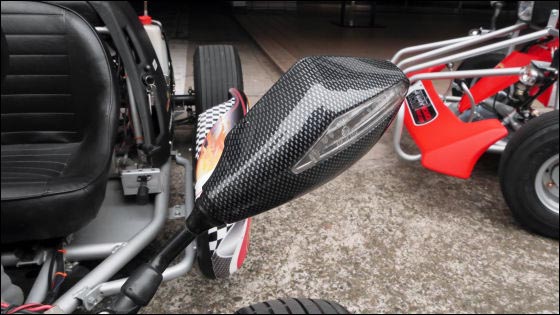 Also headlights to the left and right 2 eyes.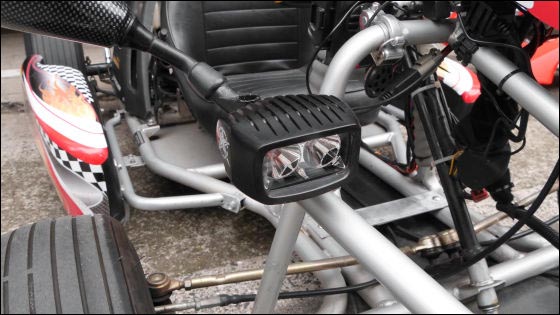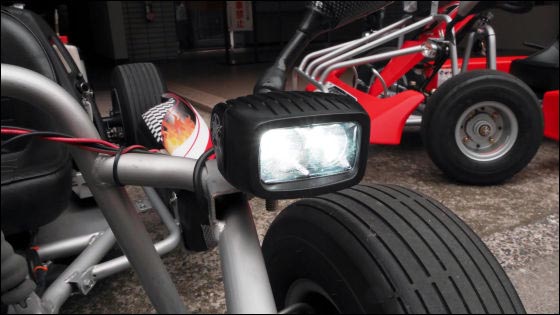 A smartphone holder was installed.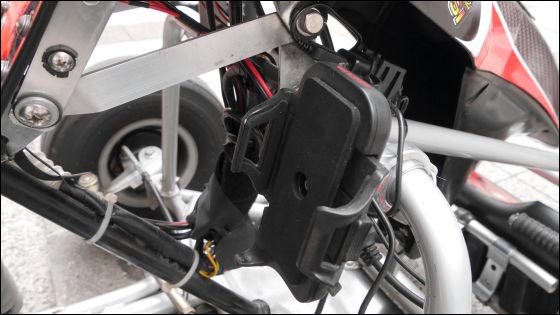 D type steering like a racing car. X - Kart with small angle of cut is sufficiently steerable with this.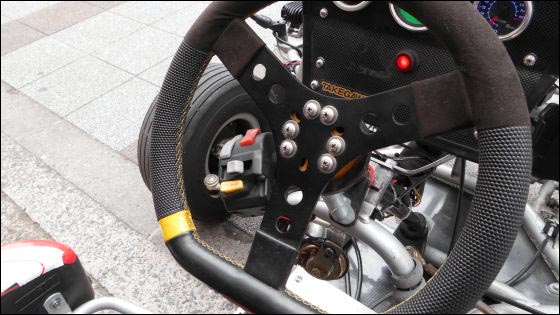 Custom-made instrument panel.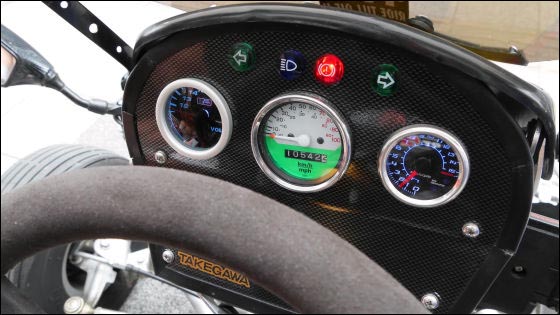 Mileage is over 10,000 km. It seems that he is running quite a bit.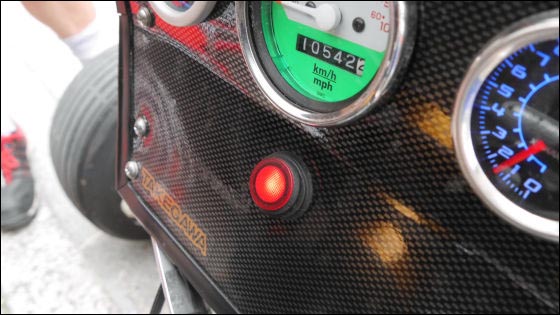 The chamber is discolored with heat, the power is up.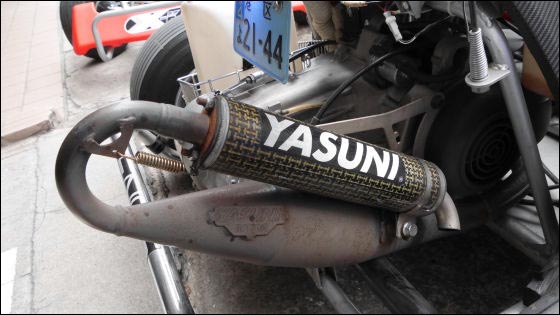 The license plate is in this position.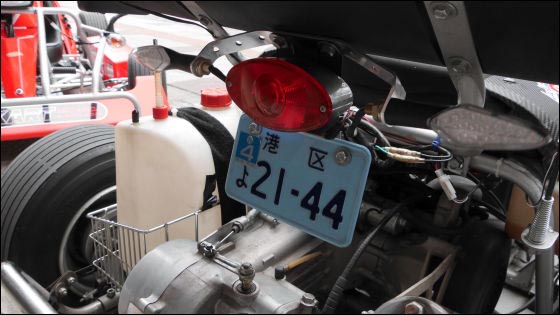 The reserve gasoline tank (3 liters) was mounted next to the left rear tire.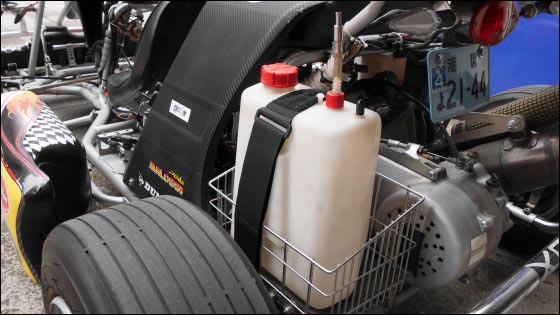 ◆I tried riding X-Kart
I decided to let the X-Kart take a test ride.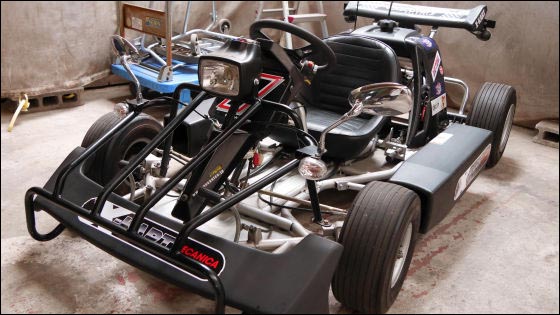 I will take a driving lecture before test drive. You can understand the maneuver method of X-Kart in one shot by watching the following movie.

Testdo lecture on 'X-KART' Minika 'Manama Highway Mario Kart' mini car - YouTube


I tried installing the action camera GoPro HERO 3 on the front part to shoot the running scenery.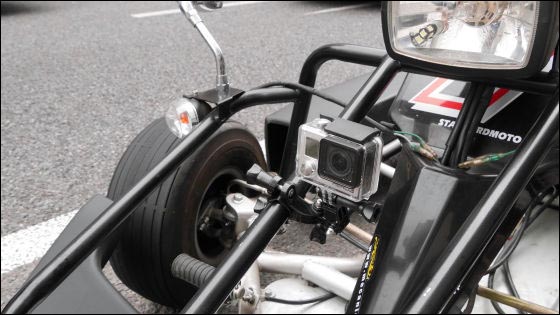 The powerful running scene captured by GoPro comes from the following movie.

I tried to blow up Tokyo central city with "X-Kart" minicar "Manama public road Mario Kart" - YouTube


X - Kart waiting for a signal at the beginning is like this. It is inevitable that the eyes of the driver running behind will be nailed.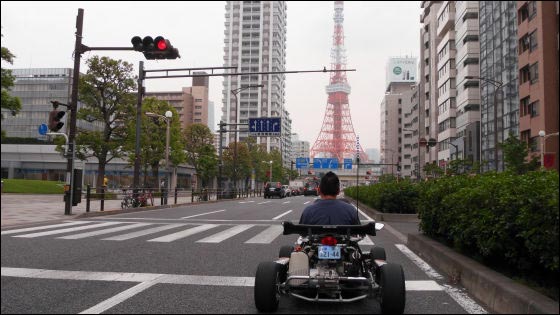 If you are congested, you will get hot attention from both left and right drivers. In addition, it is often unlikely that you will be surprised if the motorcycle slips sideways.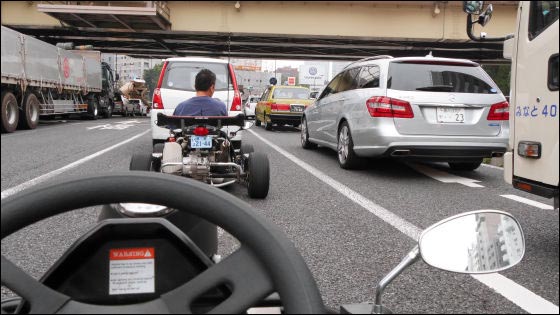 As a matter of course, I will keep on my eyes from the pedestrians of the pedestrian crossing.



If you stretch out your hands and stroke the ground ...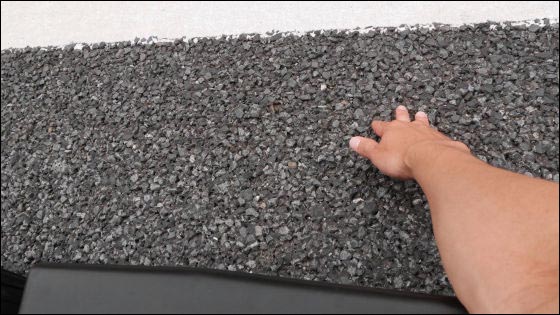 You can touch the tires. The tires were hotter than I thought.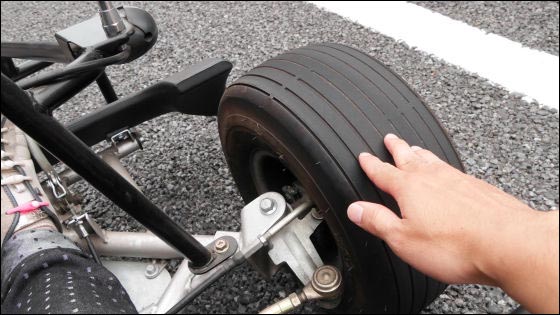 There is no windshield, and driving with the body exposed X-Kart is impressive full mark. There is no need to wear a helmet, so the speed of the exercise is quite a bit because it runs on the ground. It was a forbidden ride that was hidden in its charmless "magical powers" that I wanted to run even though I accepted being exposed to the intense gaze that took in every part of the town.

In addition, X-Kart is sold in a kit state that you can make yourself at a suggested retail price of 384,000 yen (tax excluded), and Mechanika is assembled (27,500 yen · tax included), various kinds of tune up such as limiter release · chamber change It also responds flexibly.

X-Kart - Micro-Sports Co., Ltd. Mechanica "X-Kart"