80% of popular apps on Google Play proved to have fake apps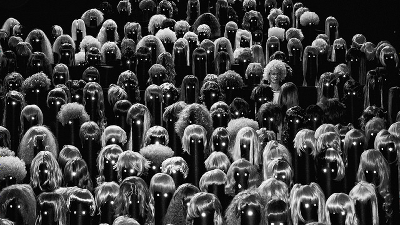 ByHans-Jörg Aleff

According to Trend Micro's survey, about 80% of the top 50 popular applications distributed on Google Play are illegally rewritten and duplicatedRepackaged application, And it became clear that half of them are malicious malware.

A Look into Repackaged Apps and its Role in the Mobile Threat Landscape
http://blog.trendmicro.com/trendlabs-security-intelligence/a-look-into-repackaged-apps-and-its-role-in-the-mobile-threat-landscape/

(PDF) Fake Apps: Feigning Legitimacy - wp - fake - apps.pdf
http://www.trendmicro.com/cloud-content/us/pdfs/security-intelligence/white-papers/wp-fake-apps.pdf

"Repackaged application" is a thing that has been falsified by adding malicious code such as malware to an authorized application. There are things aimed at profit from advertisement revenue by deceiving users by using genuine exactly like icons, UI, application name, etc. In addition to changing the mobile ads SDK of regular application There is also a type that illegally gets rid of the revenue that the developer should have earned. Many of them are distributed on sites other than Google Play, so-calledWild applicationIt is what is called, in that it sucks up personal data from the installed terminalTrojan horseAlso included are those that work as.

When Trend Micro looked at the top 50 free apps distributed on Google Play, it was revealed that there was actually a repackaged version of 77% of the applications.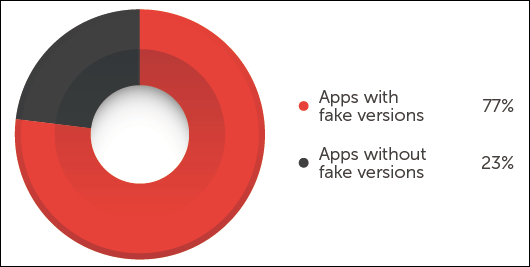 Probability of existence of repackaged version in application by genre is as follows. For widgets, media / video, lifestyle, finance, travel, tool related applications it has been found that repackaged version exists with 100% probability. Sports, education, medical systems, etc. are applications with low probability, but it is awfully felt that repackaged version exists at 30% of the library / demo series application at some rate.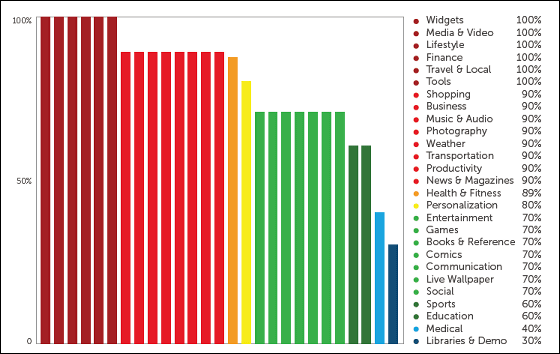 Trend Micro also calls attention to users as these repackaged applications are hotbeds of malware. When the company surveyed in April 2014, it is clear that there were more than 890,000 fake apps (fake applications) in every source on the net, and 51%, more than half of them, was malware It is being done.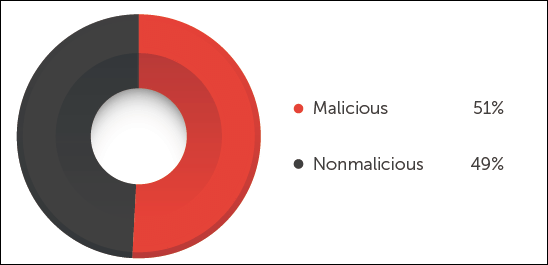 Many third-party app stores seem to have advantages such as getting applications that are originally a paid version for free, and being able to obtain applications that have finished being published, and in reality, it contains a lot of such risks It is actually that we are. Since Android is responsible for the risk of installing the application, it seems to be said that it is better to avoid handling the bad app with a little light feeling.