If it was not delicious I ate a refundable lottery "exquisite hamburger & BLT burger"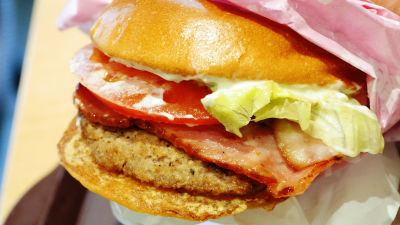 Now it is a superb cheeseburger feels like Lotteria's signboard menu, but from 3 July (Thursday) the size is somewhat small sticking to the quality "Exquisite hamburgers"When"Exquisite BLT Burger"Was released as a regular menu. From July 3 (Thursday) to July 23 (Wednesday) on sale it was confirmed that it was finished in confidence that "If it is not tasty it is also refundable", I went to a shop and ate and ate .

~ From Lotteria, popular series resurrected! ~ "Exquisite Hamburger", "Exquisite BLT Burger" released nationwide from Thursday, July 3, 2014!
https://www.lotteria.jp/news_release/2014/news06240001.html

Arrived at Lotteria.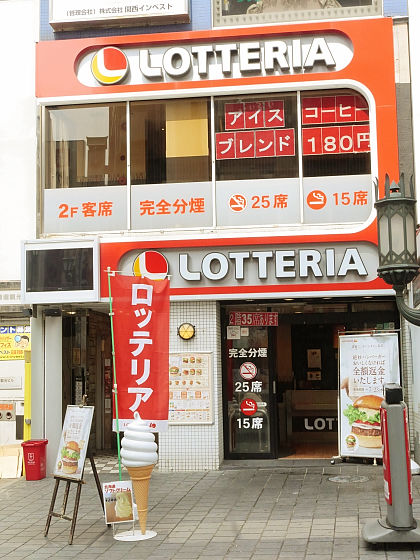 Appeal new items even in front of shops.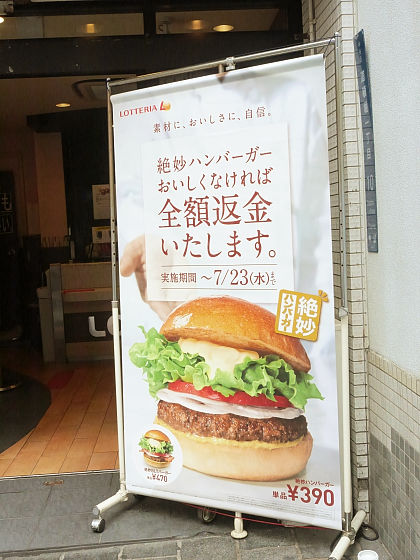 Looking at the cash register ......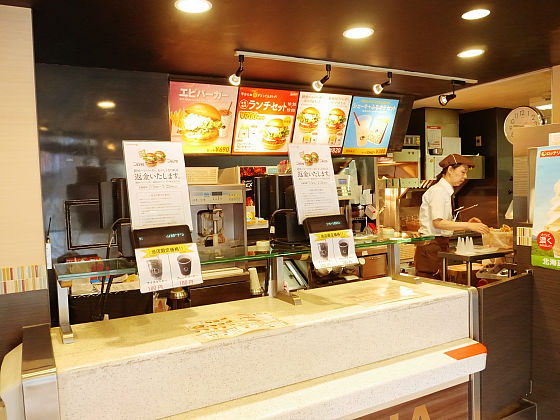 "Exquisite hamburgers, we will refund if not delicious" is posted and the notes on refunding are enumerated all together. Order immediately.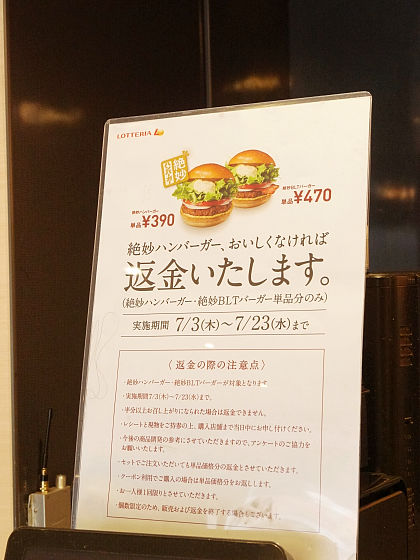 Waiting Two items arrived in about 5 minutes. "Exquisite hamburger" is a white wrapping paper, "Exquisite BLT Burger" is a wrapping paper of pink color.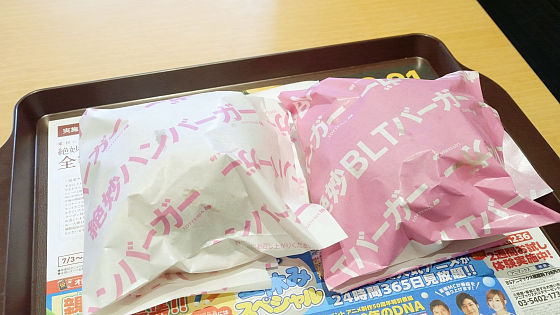 It is like this when put out from a wrapping paper. Exquisite BLT Burger has a bacon in there, so it was slightly higher than exquisite hamburger.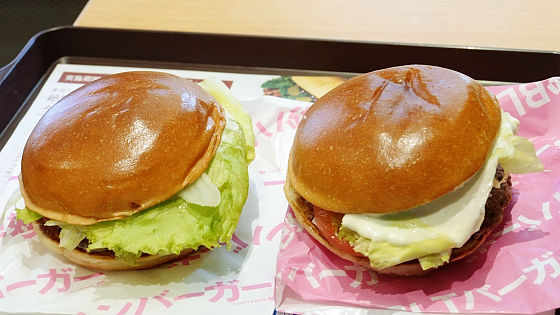 The exquisite hamburger (390 yen including tax) is about the size of a small pedal on the palm. It seems that they are using the same buns as a superb cheeseburger.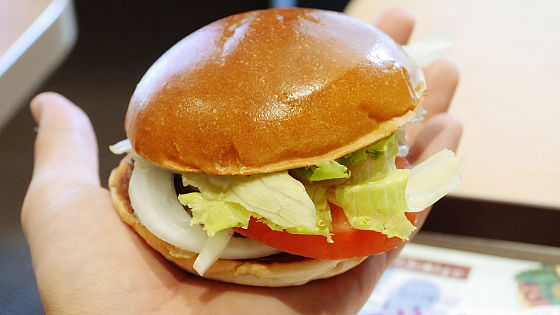 The buns are rounded and have unique gloss.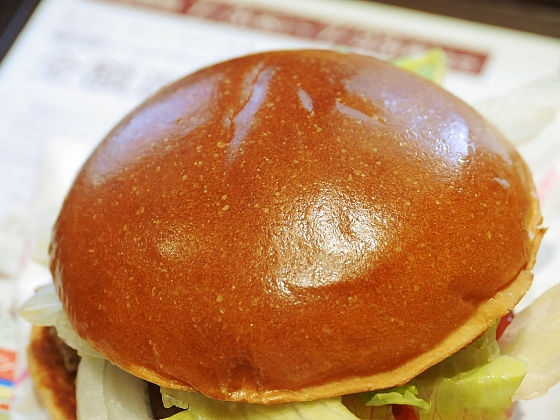 Take the upper buns and you can check lettuce, tomato, onions and so on.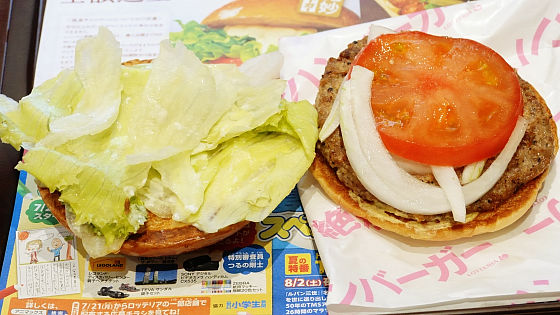 Lettuce was full of mayonnaise.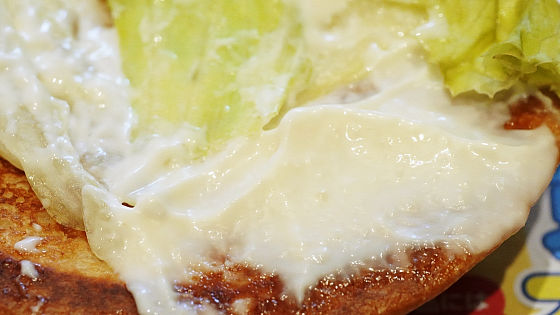 Patty is imagining the French Tartaru de Buff with the groundbreaking black pepper. It feels like a pretty exquisite cheeseburger patty.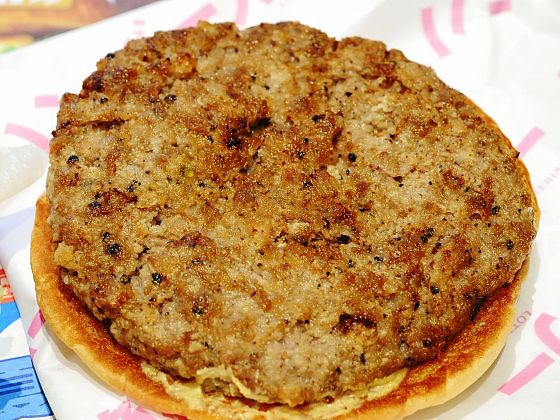 Beneath Patty is a special sauce blended with horseradish and Dijon mustard.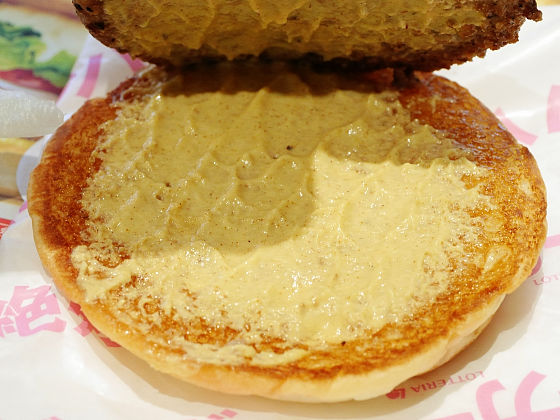 I will bring it in my hand and eat it.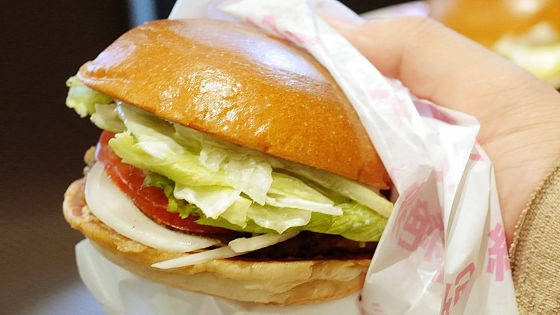 Good combination of vegetable taste and mayonnaise · patty · spicy · spicy sauce. Because the vegetables are contained a lot, although the taste of the meat is somewhat thin, vegetables and meat keep the balance feeling exactly as the product name, convincing quality. Patty had a solid meat texture with coarse ground and pepper was also a good accent.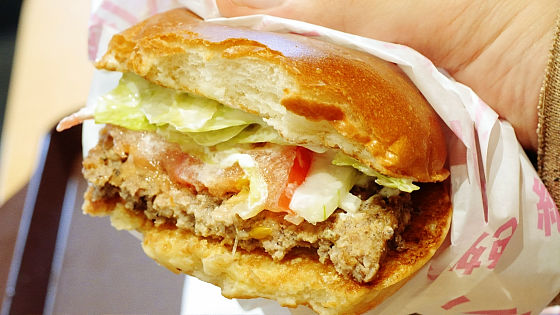 The buns are soft and have a slightly sweet taste, and we take the taste of vegetables and patty securely. Slightly small but satisfactory was enough.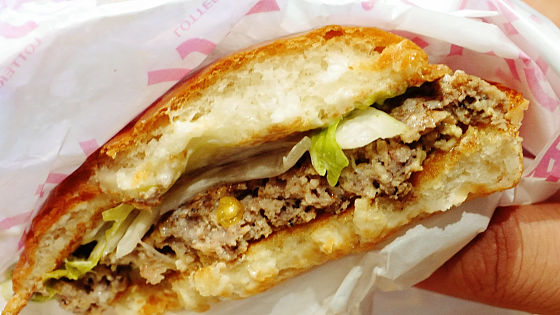 Exquisite BLT Burger (470 yen including tax), Bacon enters into exquisite hamburgers, the price is up 80 yen.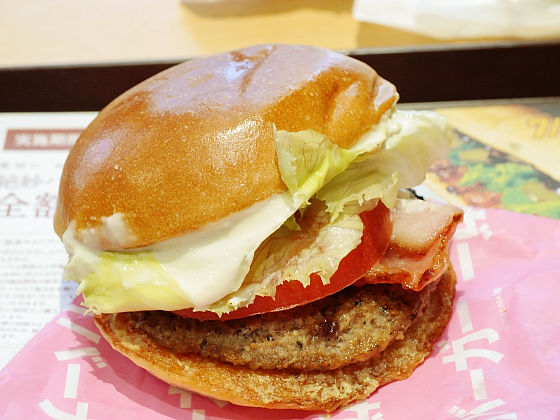 Remove the upper buns, you can see the bacon of the same length as the buns.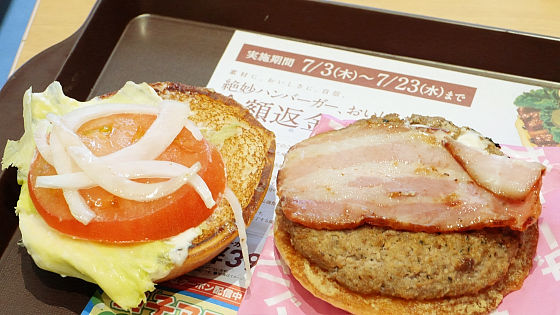 The thickness of bacon is not there.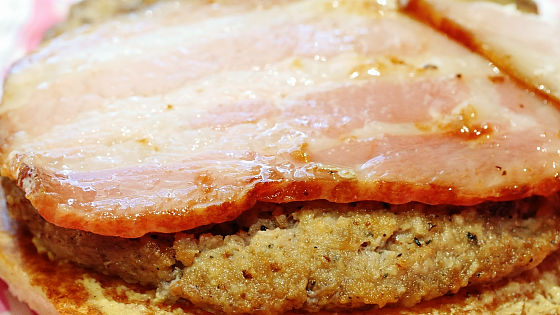 I will bring it in my hand and eat it.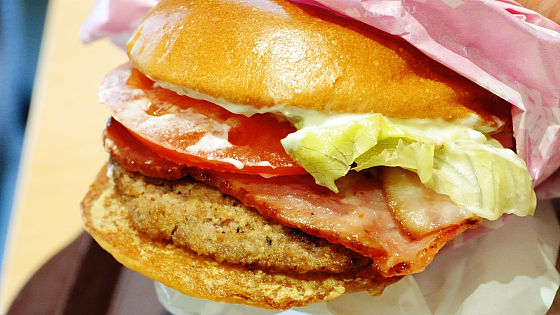 By entering bacon, the taste of meat will be stronger, but the balance does not collapse and it feels nice. The scent of smoky bacon arouses appetite and excellent compatibility with mustard. Although it is a hamburger with 470 yen including tax, it seems worth the price as it is a taste that one head broke in the hamburger chain.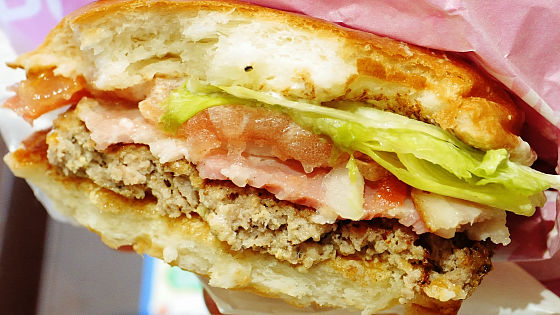 "Exquisite hamburgers" and "Exquisite BLT Burger" are sold as regular menus. Even if it is not delicious by any chance, it is possible to return until July 23 (Wednesday), so it seems to be worth trying once.

In case of refund
· "Exquisite Hamburger" and "Exquisite BLT Burger" for
· Until July 23 (Wednesday)
· If you eat more than half it is not refundable
· When replying, we need to answer the questionnaire
· In case you ordered by set, refund for single item price
· For purchase by using coupon, refund for single item price
· One time refund per person
· There are possibilities to end sale and refund because of limited number
Conditions are attached.