New features of iOS 8 that Apple declares as "the biggest version upgrade so far" Summary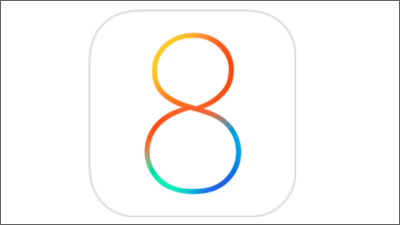 New OS for iPhone / iPad / iPod touch announced in WWDC 14 held on June 4, 2014 is "IOS 8"is. On the official page of iOS 8 "The biggest iOS version up to dateIt is written as "Beta version released for application developers"Action movieEven if you look at it, you can see that the direction has changed a lot from the previous iOS. The functions of such iOS 8 are summarized on the official page.

Apple - iOS 8 - Overview
http://www.apple.com/jp/ios/ios8/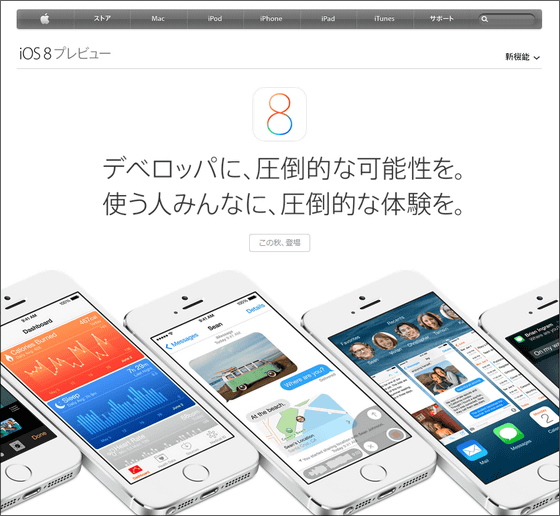 A photo




A new "iCloud Photo Library" appears in the photo app. As I can now bring my camera with me thanks to the iPhone, I will be able to carry all my photos with thanks to the iCloud Photo Library. Photos and videos taken with iPhone or iPad can all be placed on iCloud and you can freely access your library on any device you like at any time.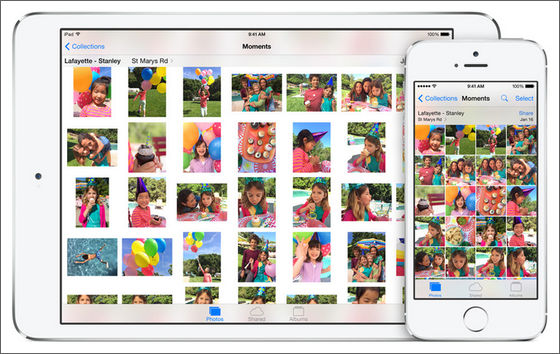 Also, a search bar appeared in the photo app.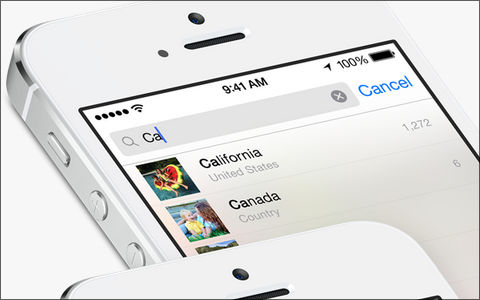 When you shoot, the composition is even now, the photo application automatically corrects the tilt after shooting and performs ideal trimming.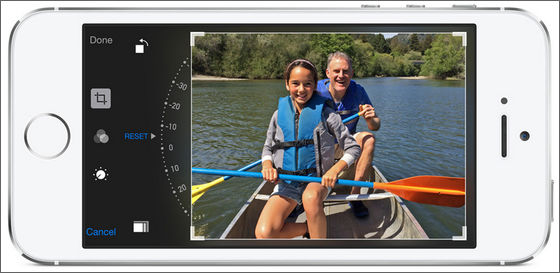 You can also control the brightness and color of the entire photo, and finely adjust fine values.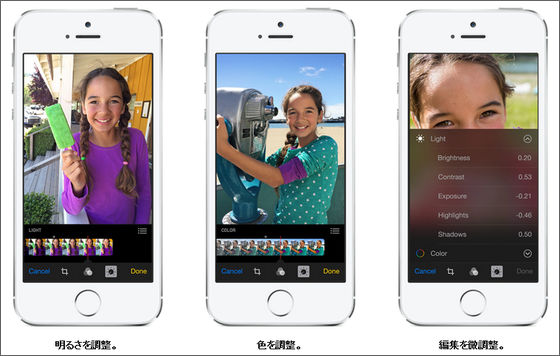 Furthermore, in addition to filters and editing tools currently included in photo applications, filters and editing tools created by application developers can also be used in photo applications.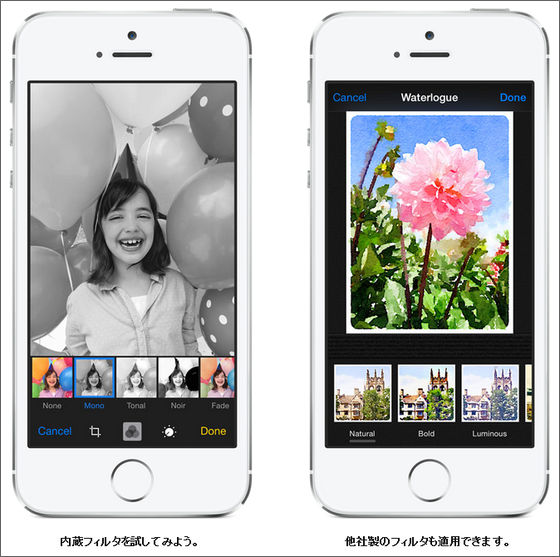 And time lapse mode is added to camera application.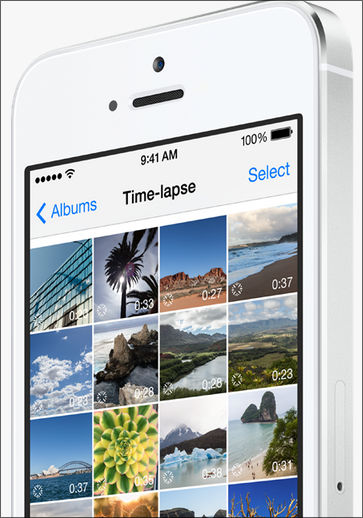 ◆ Message




If you are an iOS 8 messaging application, you can capture every sound and easily capture it in the conversation. If you want to record a message, press and hold the new microphone button with your fingertip for OK, then you can just send it by swiping.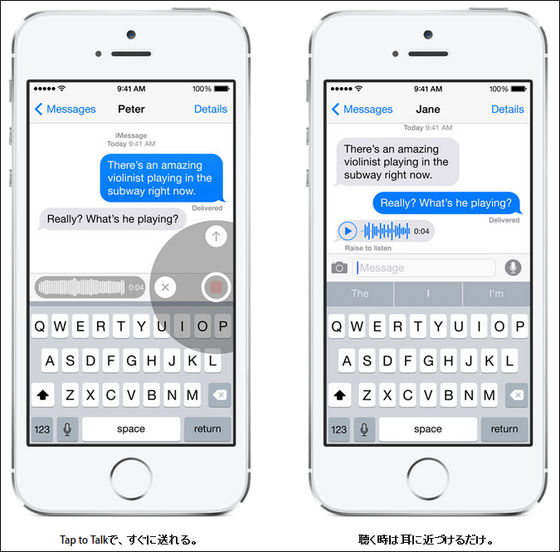 Also, it is easier to shoot movies and send them with the new message application.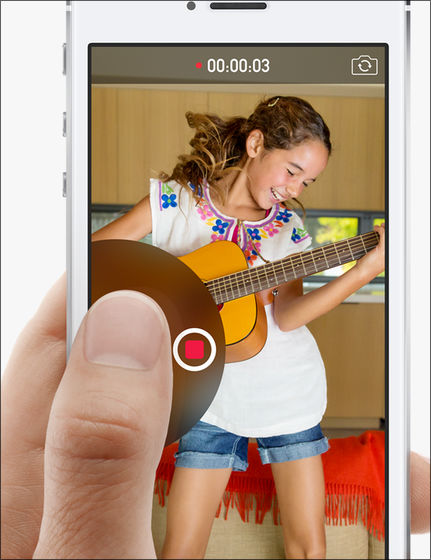 In addition, we will be able to name the conversation that we started in group, such as "Soccer Club" or "Drive". You can add people you want to join to the group, remove someone, or get out of the conversation at any time. It seems that you can also use it like turning on sleep mode and looking at messages collectively when there is time.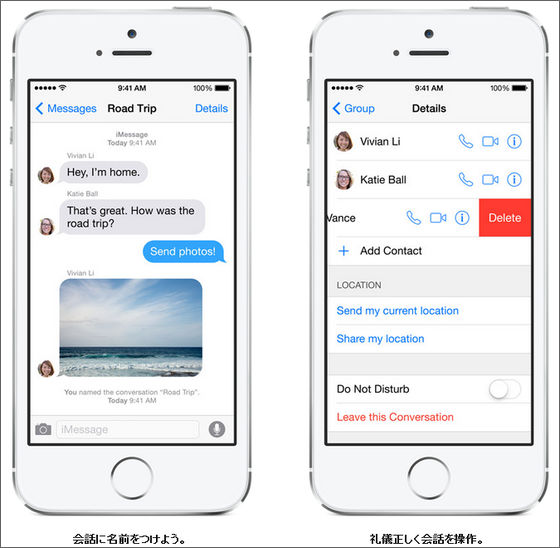 It is also possible to tell where you are now in the middle of a conversation, and you can show your current location on a map. In addition, it is also possible to publish this location information only for selected people for a selected period, and you can choose from 1 hour, 1 day, and indefinite period. Furthermore, when a participant in a message thread publishes location information, it is also possible to see their location on the map.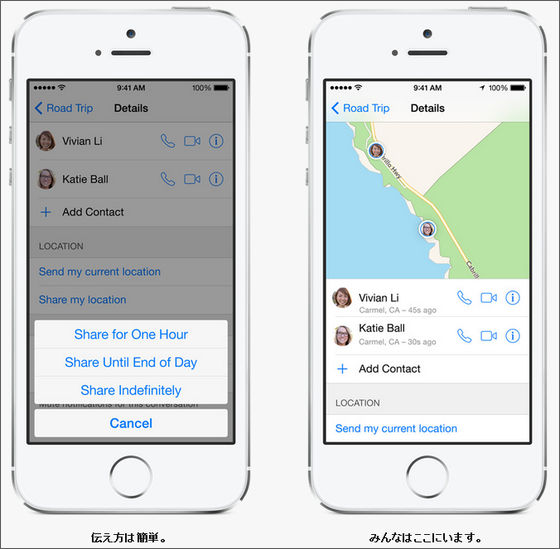 And you can check photos and movies attached inside message exchanges at any time by tapping the screen.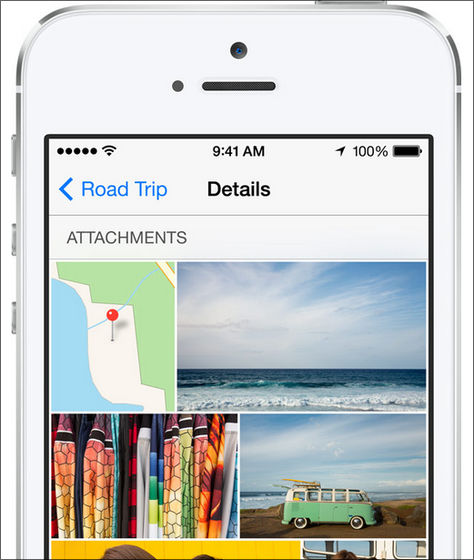 It is plain to say that it is now possible to send multiple images and movies simultaneously but thanks for improvement.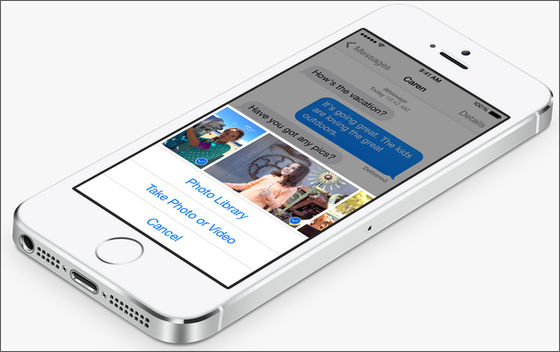 ◆ Design




You can complete everything on the notification banner, from text messages · email · calendar invitations · reminders · from Facebook to easy operation with third-party apps. It is not necessary to close the application in use, it will be possible to reply quickly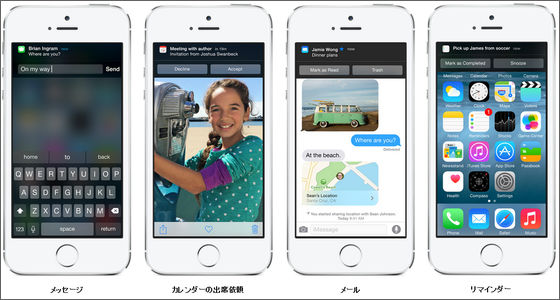 Regardless of the screen, pressing the Home button twice will cause the multitasking interface to appear. At the top of this screen is the face of the people the user recently touched and swiping the screen to the right will bring out the faces of those who are in "frequently used items". From here you can send phone calls and text messages at any time, you can make FaceTime calls.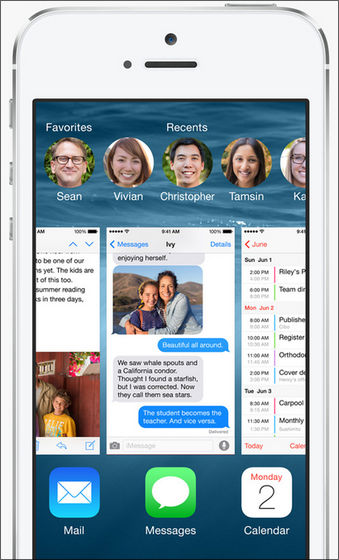 In the mail application, just by swiping in the inbox, you can make the mail already opened, or you can attach a "flag" to make it easier to find later. In addition, it will be easy to move between the mails in the draft and the mails in the inbox so it is convenient when you want to assemble messages by gathering necessary information.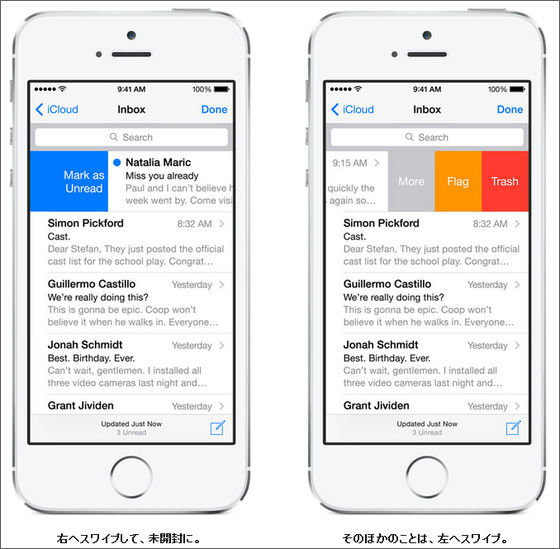 Also, if there is a reservation · flight confirmation · phone number in the e-mail, the mail application recognizes this and notifies you of this. You can add a trip schedule to the calendar and register the phone number in the contact just by tapping that notice.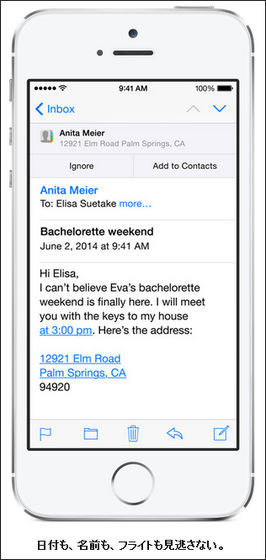 The familiar tab display on iPhone's Safari will also come to iPad. Furthermore, on the iPad, tabs of the same site are grouped and all open pages can be listed.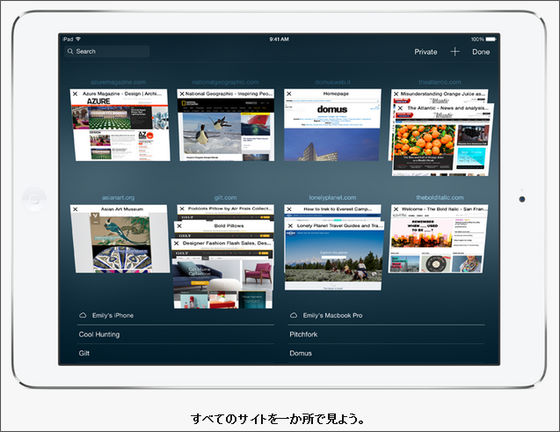 A new sidebar will also be added so bookmarks, reading lists, and shared links will slide from there.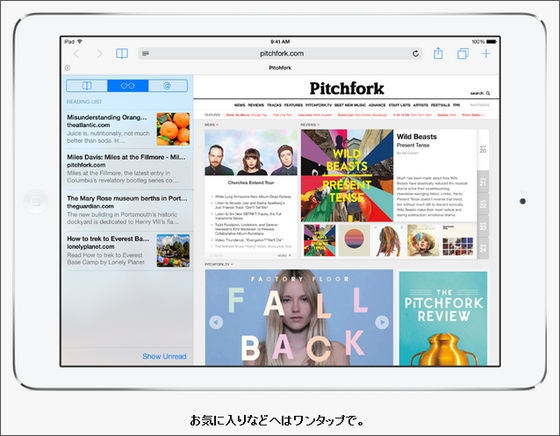 ◆ Keyboard




At the same time that the user enters a character, candidates for words or phrases that are likely to be entered next are displayed based on past style textual conversations and sentence styles. IOS 8 also takes into account the casual usage that the user is likely to use in the message application and the use of formal expressions that are likely to be used in the mail application. Also, he said, "I tend to feel more relaxed than my boss's words for my husband and wife," he said, thinking about who the user is communicating with and predictive conversion. Since these data are stored only on the device, privacy is always observed to be observed.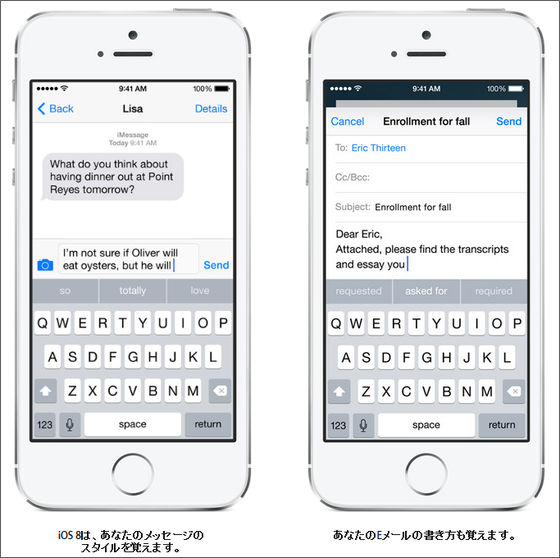 Forecast input is available in 14 countries.




Furthermore, in order to use the keyboard according to the preference of each user's keyboard such as "like swiping more than typing" or "like favorite key arrangement", iOS 8 releases the keyboard to developers You will be able to use the keyboard.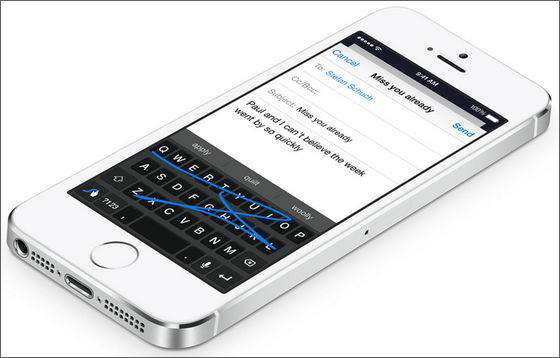 ◆ Family sharing




Up to six families will be able to share purchased content from the iTunes Store · iBooks Store · App Store without sharing accounts.

Once you set up a family sharing, your family will be able to access everyone's music, movies, books, and apps at once. If you have anything you want, you can download it anytime you want with one tap. Sharing Apple ID and password is absolutely unnecessary, for an excellent point.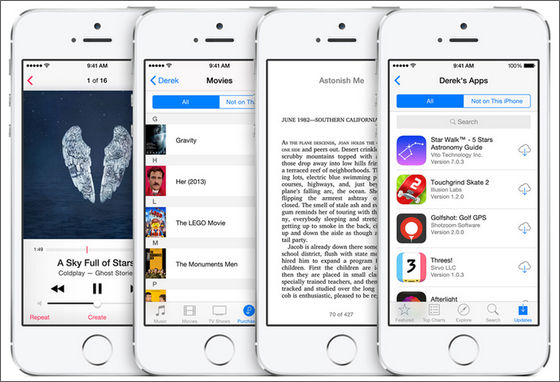 Family sharing automatically sets family-specific photo streams, so you can share photos, videos and comments there. Of course all content is kept up to date on all family members' devices.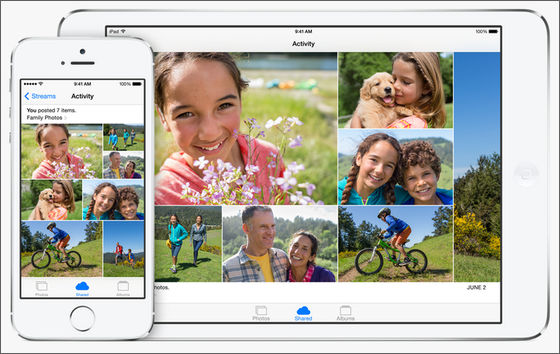 You can share one calendar with your family, everyone in the family can add events to the family calendar and set reminders for family. So, when there are events such as school meetings, dinner meetings with relatives, and travel, that notification will be displayed on all family members' devices.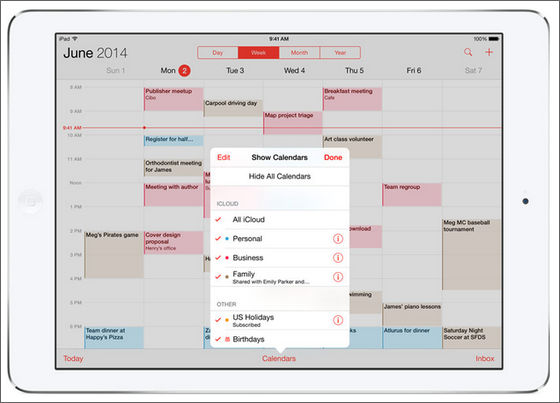 Furthermore, since family sharing automatically shares your current location with family, it makes it easy to meet in front of the station, check if father left the company, and grasp the current location of children. Of course it is also possible to hide the current location with one tap.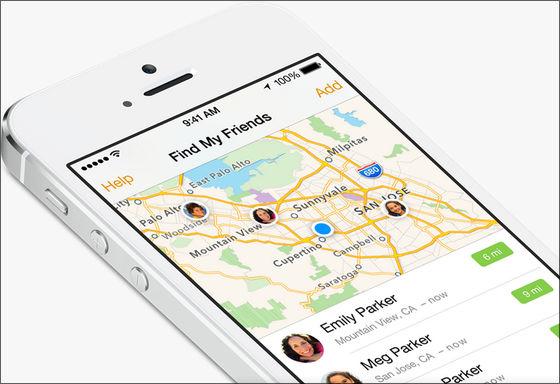 If someone's family member is gone, someone else can use the "Find iPhone" app to locate the missing device and sound it, which means that the ringtone will be turned off It is said that even if it is ringing. If you do not want to know the location of the device, you can turn off the sharing function.



Also, with family sharing, it is also possible to ask parents to ask permission before purchasing content on iTunes Store, iBooks Store, App Store.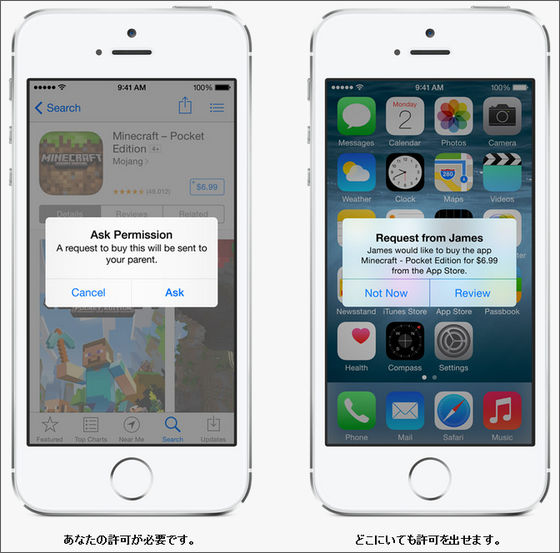 ◆ iCloud Drive




With iCloud Drive, you can safely store all types of files such as presentations, spreadsheets, PDFs and images in iCloud, and you can access them anytime from iPhone / iPad / iPod touch / Mac / Windows PC etc. To upload files to iCloud, you need Mac with OS X Yosemite, or Windows PC with Windows 7 or later installed.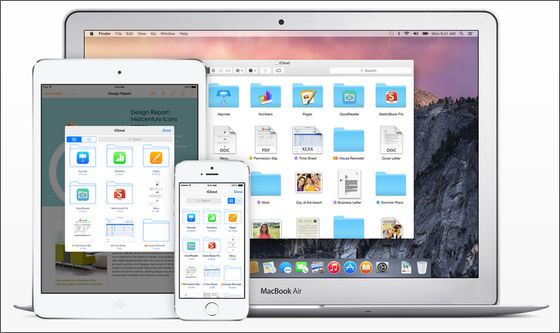 ◆ Health




The new health app displays data on the user's health and fitness for easy reading on the dashboard. It is ideal for gathering data such as heart rate, calorie consumption, blood glucose level, cholesterol level, etc. These data are collected in one place and displayed for easy viewing. Furthermore, it is possible to create emergency cards that summarize important health-related information, and you will be able to see your blood type and allergy information directly from the lock screen.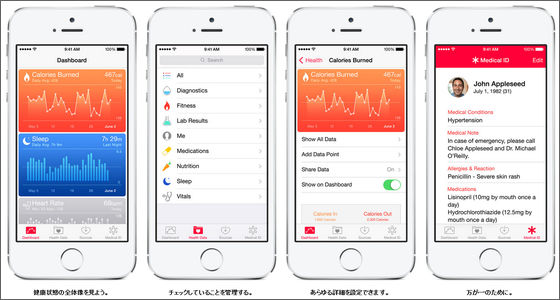 By using HealthKit, users can access health data of users from applications created by application developers. For example, it is also possible to automatically set up the data of blood pressure management application to be shared with your doctor.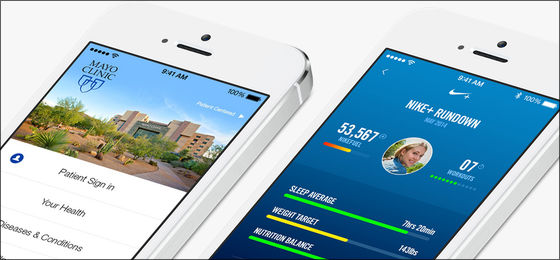 ◆ iPhone · iPad · Mac leads more than ever




If all the devices are signed in to the same iCloud account, such as exporting the continuation of the mail that started writing on the iPhone on the Mac or opening the link found on the iPad while surfing the web on the Mac, Automatic synchronization is possible. In addition, this Handoff function can be embedded in your own application by developers.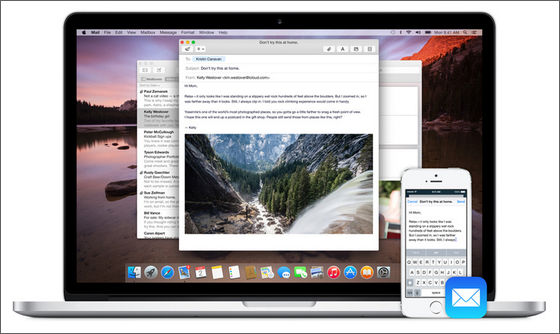 Furthermore, if the iPhone is equipped with iOS 8 and it is connected to the same Wi - Fi network as Mac and iPad, it is also possible to receive the phone call to iPhone on Mac or iPad. When a call comes in, the caller's name, phone number, profile picture is displayed on the screen like this. You can respond and reject by simply clicking or swiping notifications, and you can respond quickly with messages. In addition, you can do the same from your iPad or Mac. Of course, it corresponds to the phone number of the iPhone that the user is using, so there is no need to set anything.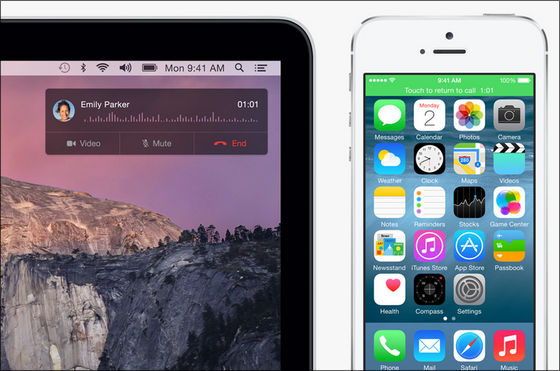 Like a phone, you can send messages from any device.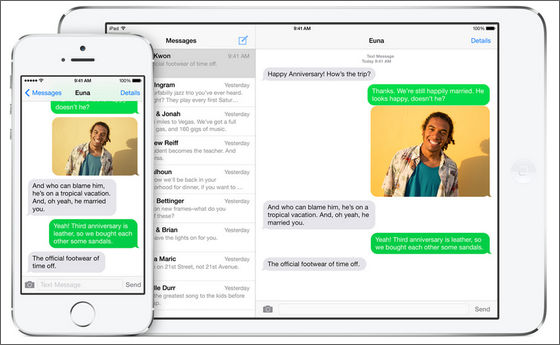 And when you are in a place out of reach of Wi-Fi, you can use "Internet sharing" if the iPhone is nearby. If the new function "Instant Hotspot" is displayed on the iPad in the Wi-Fi network list of "Settings", the name of the user's iPhone is displayed on the Wi-Fi menu on Mac, just connecting it is completed. When you are not using iPhone's network, the device wisely releases the connection and saves the battery.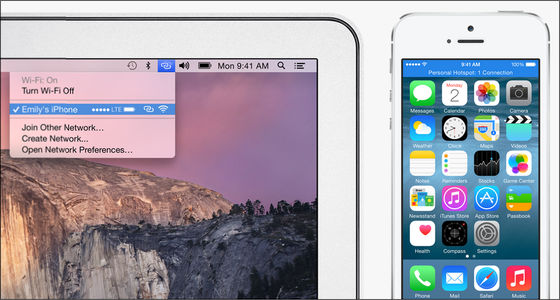 ◆ Spotlight




In addition to the content in the device, the new Spotlight can also search for Wikipedia, hot news, nearby spots, iTunes Store, App Store, iBooks Store, recommended websites, movie showtimes etc, and display search results in Safari It is also possible.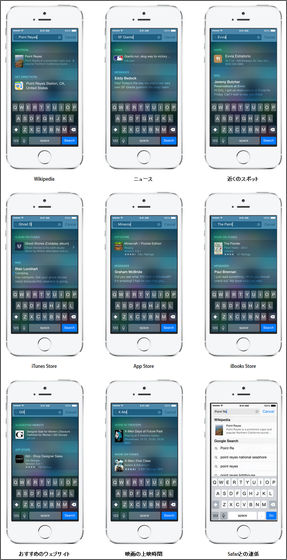 ◆ SDK




In iOS 8, more than 4000 new APIs are released. A part of the newly disclosed API looks like this. It is possible to use Touch ID other than Apple's genuine app, and developers will be able to more precisely adjust the exposure, focus, and white balance with the camera application.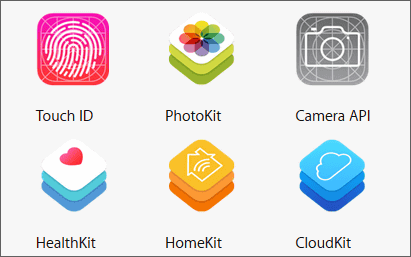 ◆ Business




The advanced security technology of the enterprise level of iOS 8 widens the object of data protection to mail · third-party application · calendar · contact · reminder · memo · message · user authentication information and the device is unlocked after reboot All data is protected with a passcode. further,S / MIMEUsers can sign and encrypt each message individually.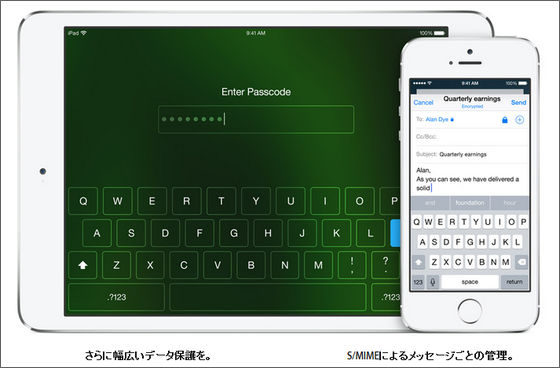 In addition to improving productivity, you can swipe your finger to the left or right in the mail inbox to make the message read or flag to make it easier to find later. If you specify a specific e-mail thread as a VIP, it is also easy to follow the flow of exchange, and you can combine multiple VIP threads into custom mailboxes and display them in the inbox.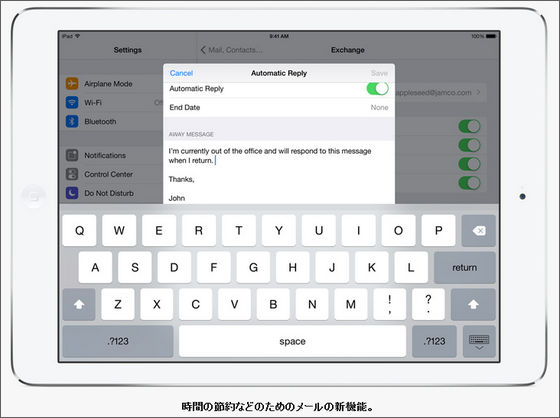 In the calendar application, you can also create a group and check the members' schedule, so you can quickly see the time zone when all members can gather. In addition, it is also possible to classify events by private and official, making it easier to create repeat events.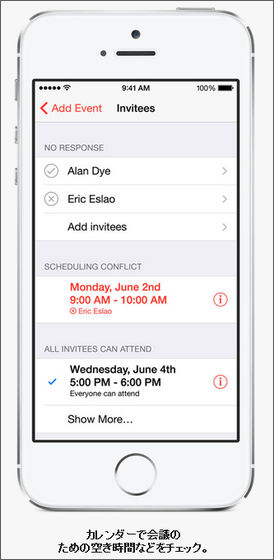 You can easily make documents that can be used by other applications using other company's document application. Also, since AirDrop can be used between iOS and OS X, even if there is no Internet connection, you can exchange files between Mac and iPhone or iPad.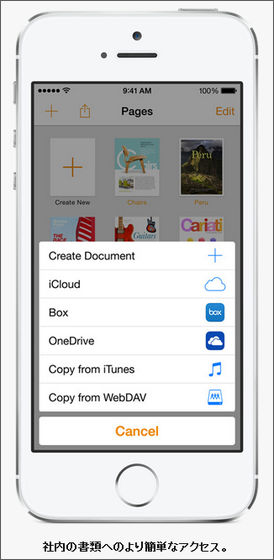 In addition, you can manage which applications you can open with Safari from the corporate domain, manage what applications you can open in iCloud Drive. For third-party network developers, iOS 8's new network connectivity framework enables the development of powerful content filtering tools.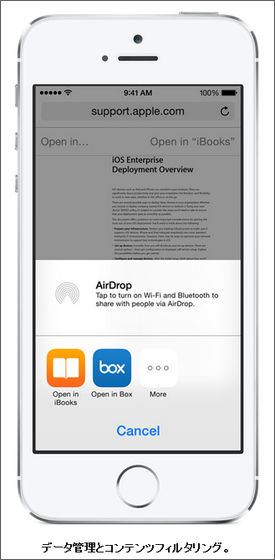 newMDMWith the tool, it is also possible to set the device name remotely, prevent the user from applying its own restrictions, or erase the device. With the new queries, IT administrators can also check the last time the device was backed up to iCloud to see if it can safely perform certain tasks. With the new Remote Administration UI, it makes the understanding of the MDM registration and MDM impact much easier and more transparent to users, and by using certificate-based single sign-on, IT staff can use the user's enterprise Enable support for authentication to applications.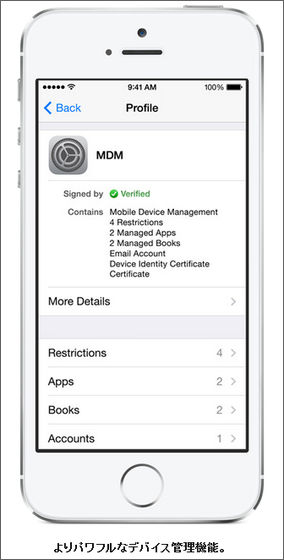 With iOS 8, you can wirelessly connect iPad, iPhone, iPod touch to Apple TV without connecting to the network, so you can make presentations and share work even when you are offline or in a complex network situation I will.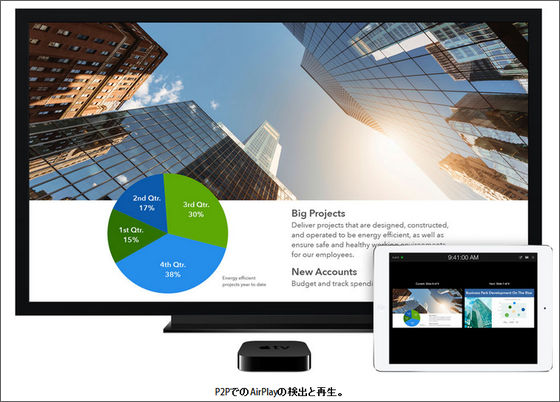 In addition, iOS 8 may have a function to display the position of the car parked with the map application on the mapDiscovereddoing.