Initial dental teeth countermeasure gum "POs-Ca" to promote recrystallization of calcium recommended by the Japanese Dental Association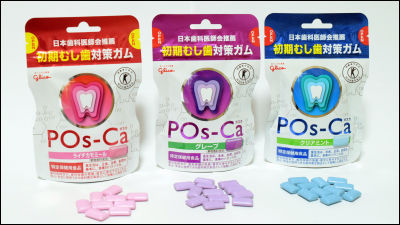 Once a human tooth has become a dental tooth, there is no other choice than to have it treated with dentistry, and it is quite unpleasant to taste that painA shark where teeth are always growing sharksI think that some people envy animals like. As the acidification in the mouth by meal is continued, it becomes "the initial dental teeth", but it is recommendation of the Japanese dentist's association that promotes the recrystallization of calcium by returning the mouth environment from acidity to neutrality just by eating Initial anti-dental measures gum "POs-Ca (POSCA)"Is sold by Glyco.

Product introduction POs-Ca [POSCA] | Glyco
http://www.glico.co.jp/posca/product.html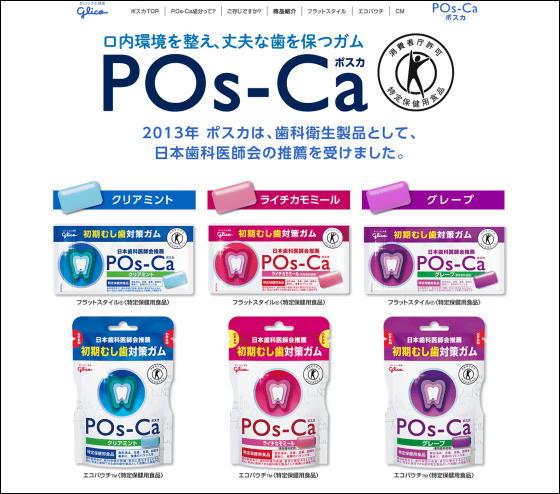 Calcium is lost when the mouth is acidified by meal, and if it persists it will be in the "initial dentition" state. POs-Ca prevents calcium which is the main component of the tooth's surface from dissolving out by returning to the neutral in the acidifying mouth after eating the food.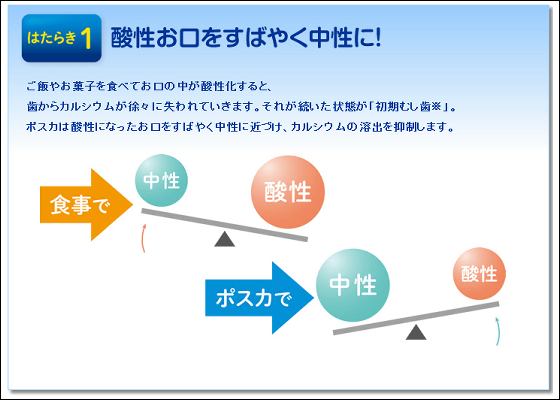 Calcium that has dissolved into saliva and lost from the teeth can only be returned to the tooth from the melted state. For POs - Ca, Ezaki Glico researches and develops high - water - soluble calcium materialPhosphorylated oligosaccharide calcium), Which means that calcium can be efficiently delivered to teeth.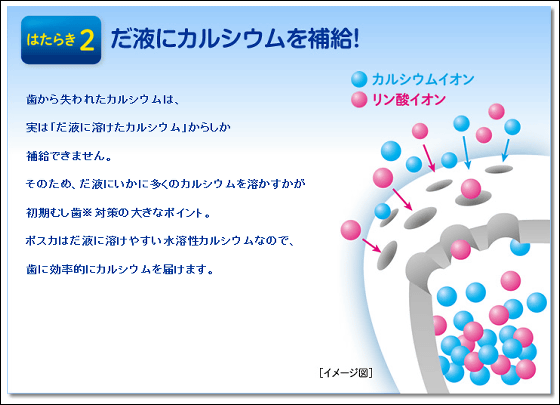 POs - Ca is the first product in the world that has been proven to recrystallize the initial dental teeth. It crystallizes lost crystals from tooth enamel (dentin), so it has the effect of bringing the teeth closer to their original state.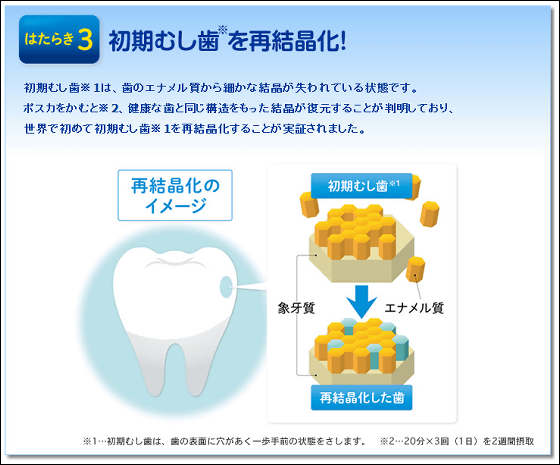 POs-Ca is one of health function foods as a tough and healthy foodFood for specified health use(Tokuho) has become a food that is permitted to display efficacy.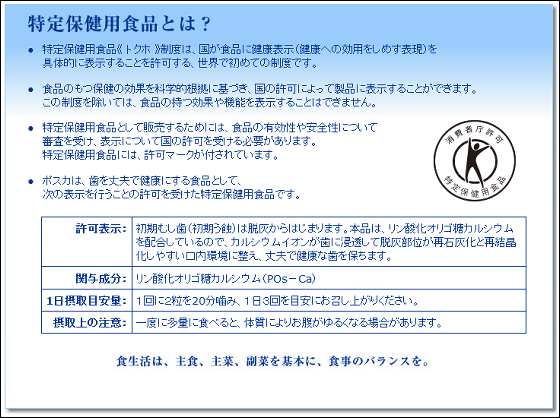 That's why I tried aligning three taste POs-Ca. "Lychee chamomile" "grape" "clear mint" three different tastes are available.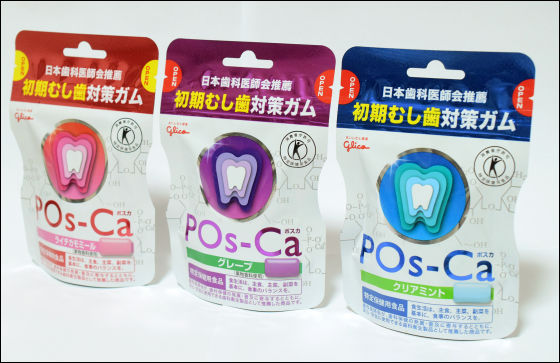 First of all, the package of "clear mint" taste. It is a design based on mint-like blue.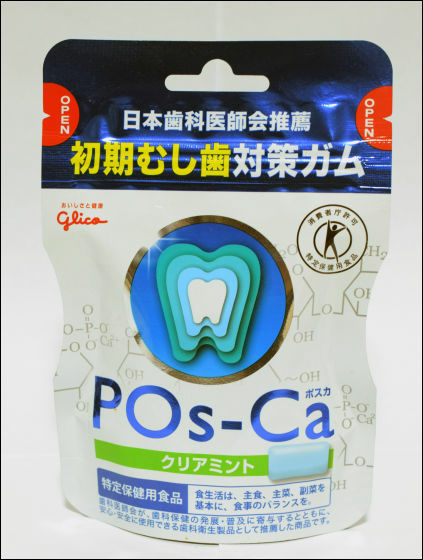 It is stated that it is a recommendation from the Japanese Dental Association, "Initial Dental Teeth Countermeasure Gum".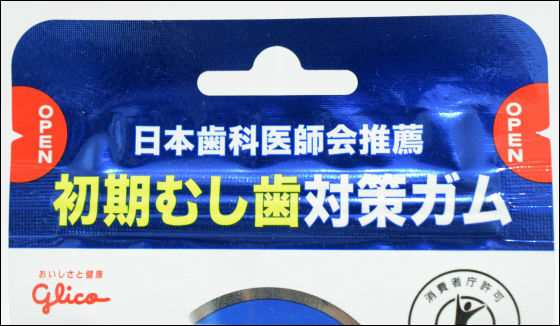 The mark of Tokuho is described properly.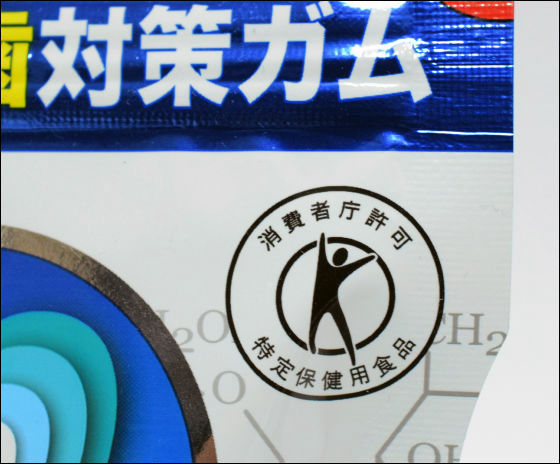 POs - Ca is a calcium food material derived from potatoes from HokkaidoPoska component(Official name: phosphorylated oligosaccharide calcium) is contained.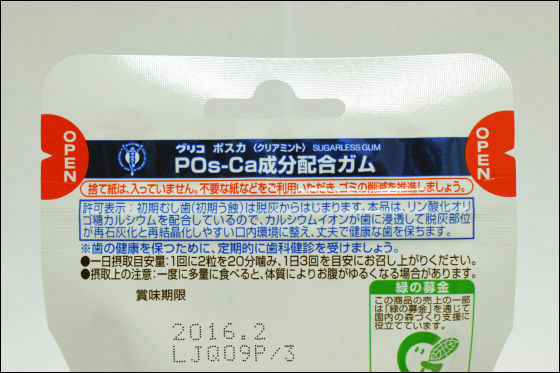 Estimated to eat POs - Ca a day is 2 grains × 3 times once, the calorie equivalent to one day is 14 kilocalories. It contains 1.9 grams of xylitol as a sweetener.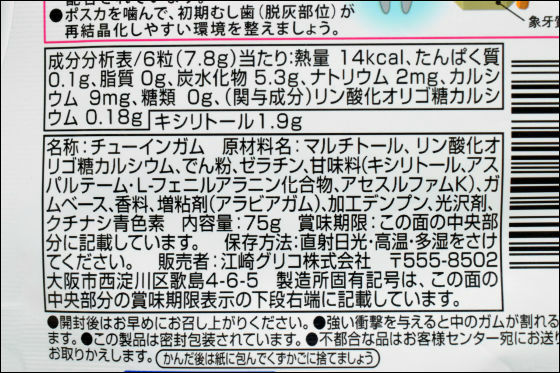 And this is grape taste. Of course the design based on purple is given.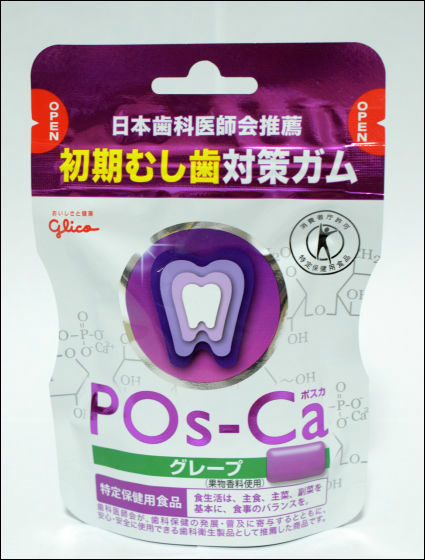 Heat quantity, ingredients, raw materials are almost the same.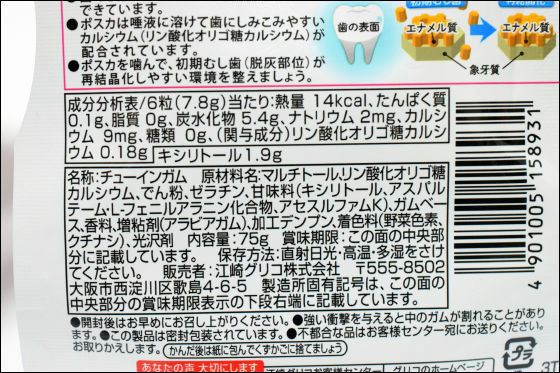 The red package has a bright lychee chamomile taste.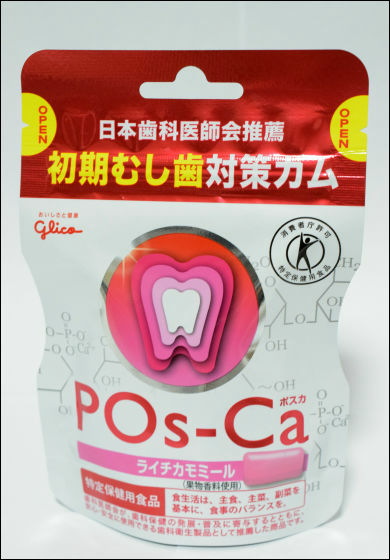 Here too the contents are almost the same.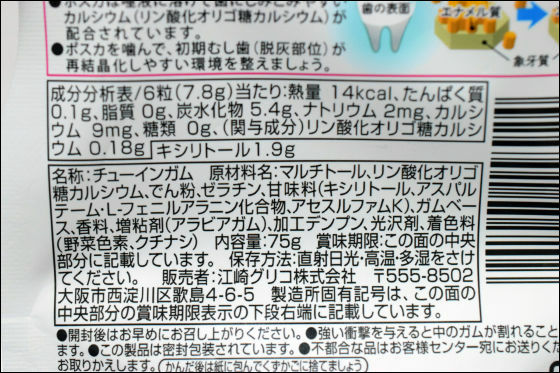 The content of thin pouch with a chuck called "eco pouch" was 75 grams and contained 45 gums of gum.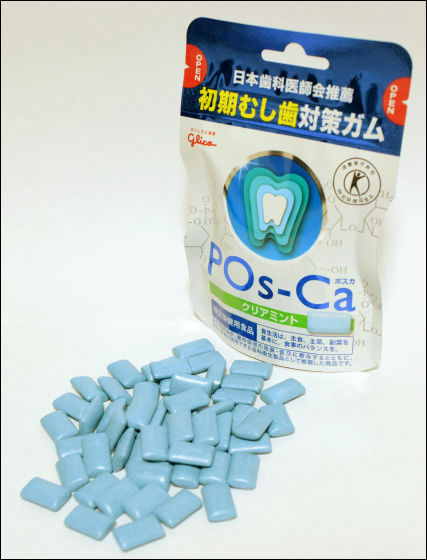 When I took it in my hand, I can not distinguish it from normal grain gum.



Pacri mint taste. Speaking of "mint gum", it has become a mint taste that anyone imagines and it is difficult to distinguish it from ordinary gums as it looks. Speaking of Tokuho's food, there are things that make you feel distinctive flavor and sweetness, but in the case of POs-Ca you will not feel the difference.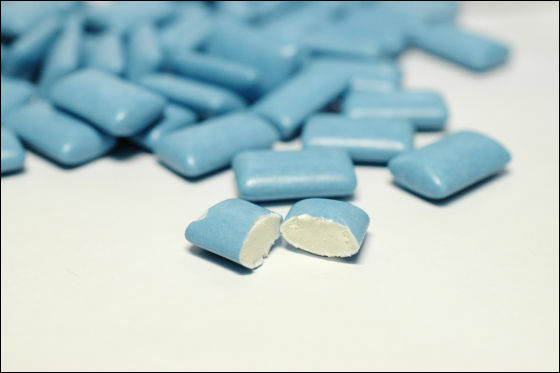 Then grape is also pakuri. Somewhat somewhat sweetness seems to be modest, but there is no sense that the food of "Tokuho" is mouth.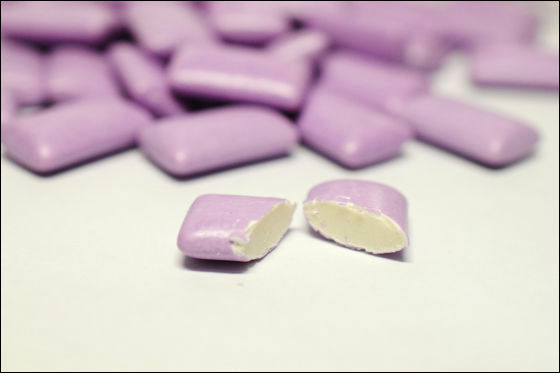 And lychee chamomile with mogmog. The flavor of refreshing litchi and the flavor of chamomile are felt to be flavor. Both of them seem to be able to eat as usual with the feeling of chewing gum.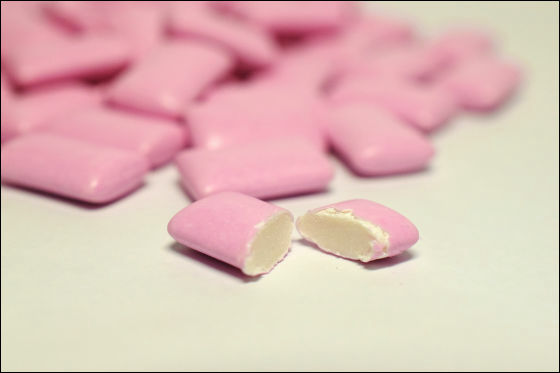 Since the package of eco-pouch is designed to be able to stand on a desk or the like, it became a one-stone two-tiered gum with one stone that one can change the mood and prevent dental caring at the same time if it gathers moggog in between work.

In addition, a special dental gum "other than ordinary POs-Ca"POs - Ca F(POSCA · F) has also joined the lineup.

Congratulations, calcium and fluoride ions spread to your mouth dedicated gum
http://www.glico.co.jp/posca_f/posca_f.html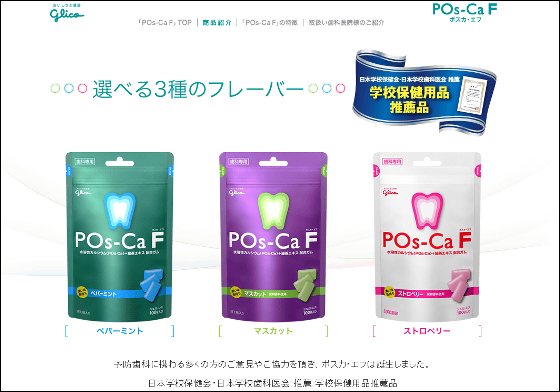 In addition to being able to purchase three taste POs - Ca at retail stores throughout the country, Amazon plans to pay 498 yen including "taxes including clear mint", "grape"When"Lychee chamomile"It is also possible to purchase with 515 yen including tax.

Amazon.co.jp: Ezaki Guriko Poska Clear Mint Eco Pouch 75 g: Food & amp; Beverages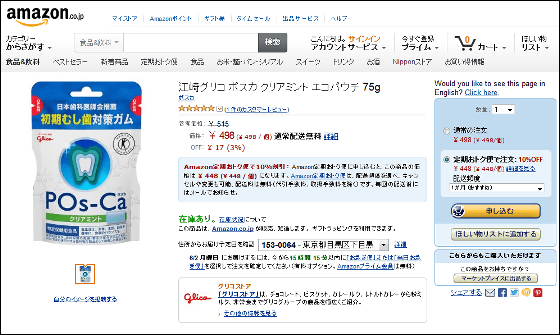 Also, "POs-Ca F" for dentist gum can also be purchased at Amazon's Esaki Guriko official shop. "Peppermint" and "Muscat"Includes 940 yen including tax,"strawberry"Can be purchased with tax included 708 yen.

Amazon.co.jp: POSCA F (POs - Ca F) Pouch Type 100 g Peppermint: Health & amp; Beauty