I tried eating "Shiro milky" in which a slightly salty taste exquisitely blended into milky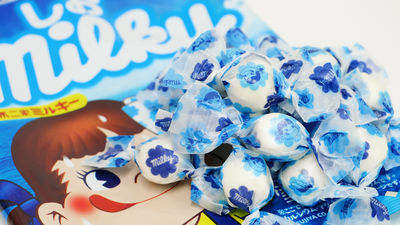 As it gets a lot of sweat in the hot summer, it is recommended to frequent hydration, but at this time sports drinks and cheese etcSalt ingestionThen it is effective in preventing heat stroke. In recent years there are an increasing number of sweets like salt-containing candies and caramel, but salty taste is added to that milky which is characteristic of sweetness of condensed milkShizo milky"Has appeared from Fujiya.

85 g Shimo Milky Bag | Sweets / Drink | Fujiya
https://www.fujiya-peko.co.jp/sweets/item/11651.html

That's why I bought "Shiho Milky" immediately.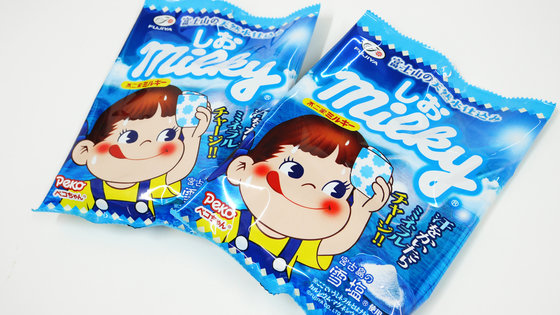 "Mineral charge when you sweat!" By saying that, minerals such as sodium, calcium, magnesium and potassium flowing out of the body with sweat, Okinawa MiyakojimaSnow saltIt is supposed to be supplemented with milky.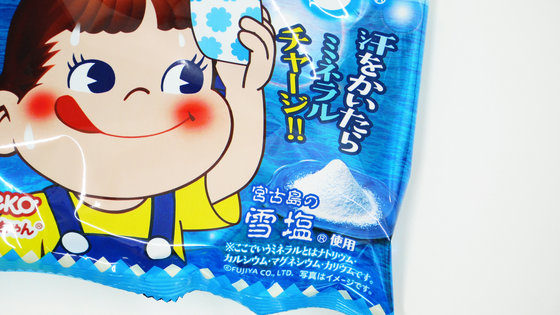 On the back of the package there is a commentary on the snow salt of Miyakojima, "It is made from clean groundwater that was filtered naturally by coral". In addition, the snow salt is compatible with milk, it seems to be perfect for salty charge in hot summer.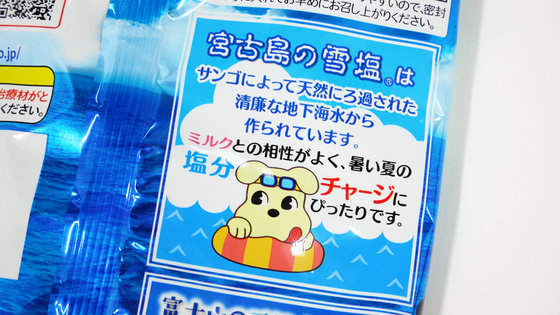 In addition, natural water of Mt. Fuji is used when making milky.



Raw materials include syrup, sweetened condensed milk, white sugar, vegetable oil, salt, emulsifier. Contents amount is 85 g with individual packaging paper.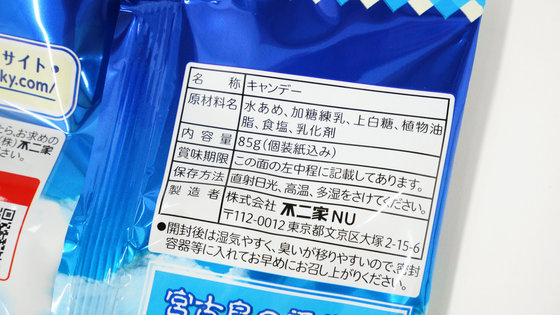 Open the bag with pakari and ......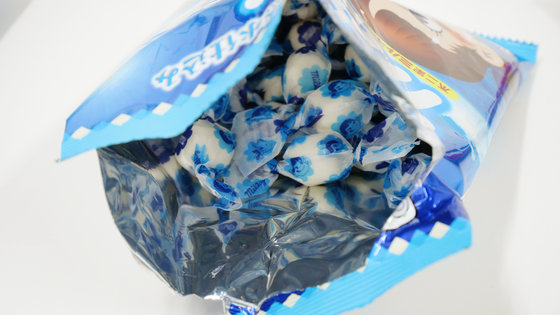 I took out the milky from the inside. Shiro Milky's wrapping paper has been designed based on blue, and it contains 23 grains in all.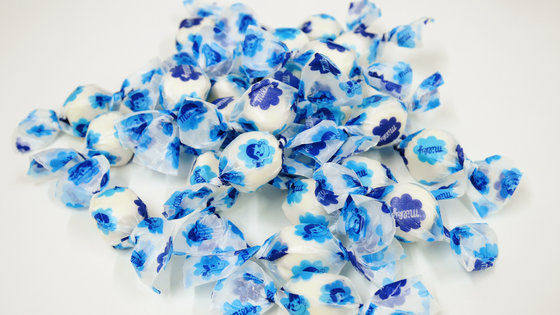 Take the wrapping paper and it looks like this. It seems that it looks like an ordinary milky. When eating it actually, the taste is very close to the normal version of milky, but slightly more salt. This salty taste matches the creamy milk taste of Milky as expected, and it has no discomfort at all. Also, because the salt really melts into the taste of milky without any discomfort, there are a lot of people who do not notice salty if you eat without knowing anything.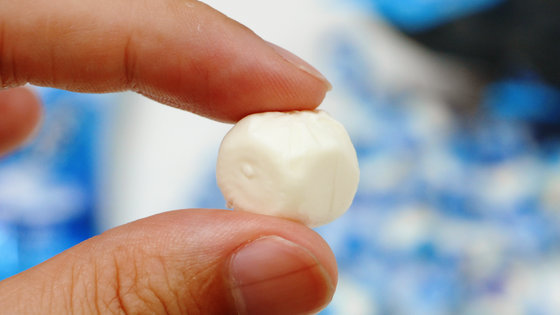 When I tried to eat it actually, I tried comparing Shiops milky (left) with the regular version of milky (right). While the package is based on red in the normal version, while the milky white is designed based on the blue color.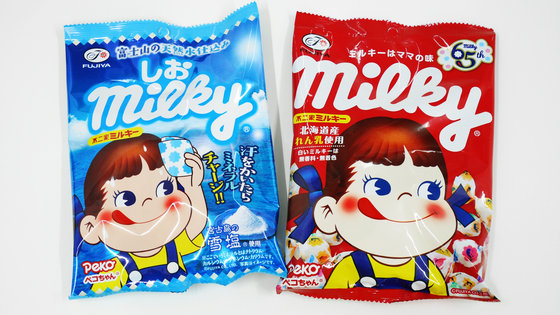 The raw materials are exactly the same, but there is a considerable difference between the content quantity and 85 kg of milky and 120 g of milky.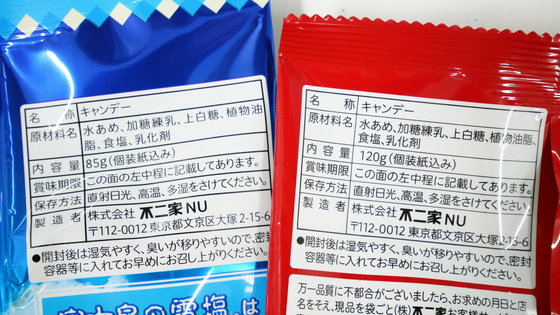 A wrapping paper of a normal version of milky looks like this. Since normal milky contained 31 grains in the bag, if you want to eat as much as you want, normal is recommended.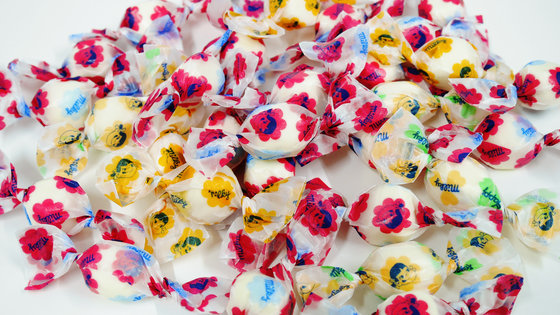 I tried aligning milky and milky which are wrapped in wrapping paper. The wrapping paper of the normal version of Milky is often classified into red, blue, blue, red, yellow, red, yellow, green, yellow there is. On the contrary, Shiroi milky's wrapping paper is light blue and dark blue in design, and even if it is kept all at once, it is made to understand which milky if you look at the wrapping paper.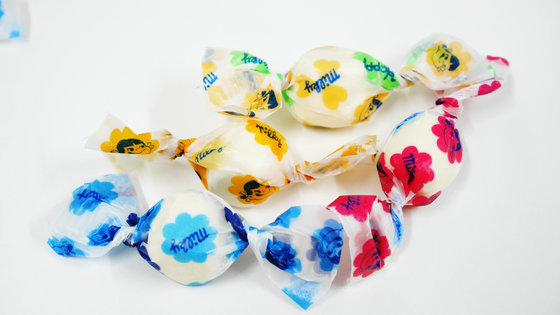 Comparison of grains of Shihoro milky (left) and milky (right). There is no difference in appearance and size.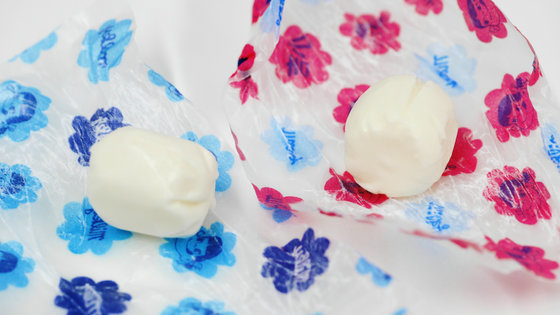 The biggest difference came out is nutritional ingredients. In the case of Shi'o Milky, 313 kcal per bag, 64.3 g carbohydrate, 263 mg sodium, 104 mg calcium, 36 mg magnesium, 136 mg potassium. When converted into one grain, calories are 13.6 kcal, carbohydrates are 2.8 g, sodium is 11.4 mg, calcium is 4.5 mg, magnesium is 1.6 mg, and potassium is 5.9 mg.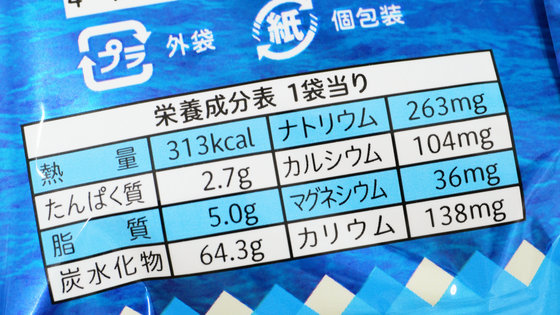 On the other hand, the calorie per bag of normal milky is 434 kcal, carbohydrate is 90.5 g, sodium 205 mg, calcium 136 mg. Calorie is 14 kcal, carbohydrate is 2.9 g, sodium is 6.6 mg, and calcium is 4.4 mg in terms of 1 grain. Compared to each grain, Shiho Milky contains 5 mg more sodium than normal.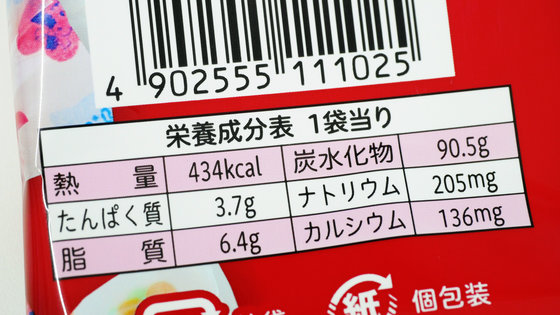 In addition, Shiho Milky's wrapping paper looks like this ... ...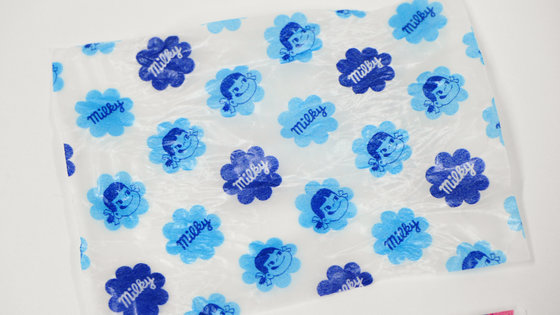 Compared with the wrapping paper of the normal version of milky this way.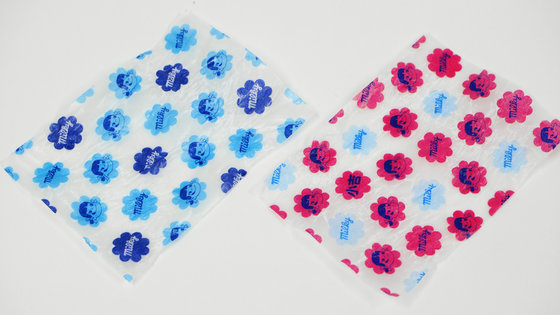 It looks almost the same, but on the wrapper paper of the normal version was Omikuji "Koshichi" printed.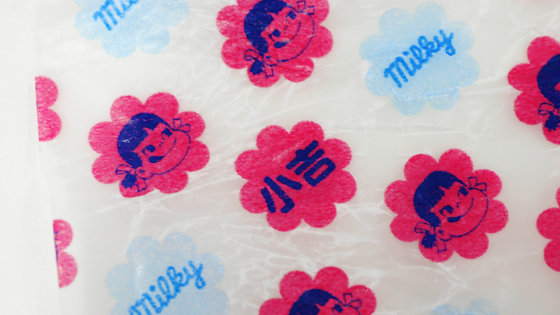 The suggested retail price of "Shiho Milky" is 216 yen including tax. Because it is a limited-time product, I recommend you to check early in convenience stores and supermarkets.