"TransferJet" standard that can send contents such as movies at the second speed by super high-speed wireless communication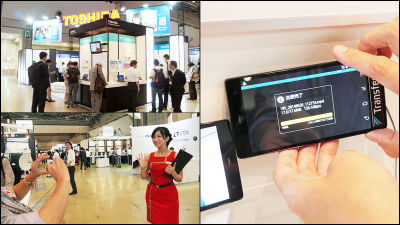 The performance of cameras and smartphones has improved, now "Xperia Z2"Or"Galaxy S5Even smartphones like "Can shoot 4K quality movies." However, it becomes serious as it is handling huge data. At present it is a data exchange that only has to exchange with USB cable and miniSD card, but it is being held at Tokyo Big SightWireless Japan 2014In the venue of the birthplace of Japan that will eliminate such troublesome standard "TransferJet"Is introduced.

Proximity wireless transfer technology TransferJet ™ compatible IC | Special IC | TOSHIBA Semiconductor & Storage Company
http://www.semicon.toshiba.co.jp/product/assp/transferJet/

TransferJet
https://www.transferjet.org/ja/

Toshiba's booth where the TransferJet exhibition is held. In addition to promoting the spread of this standardThe TransferJet ConsortiumSome demonstrations are also being held at the booth.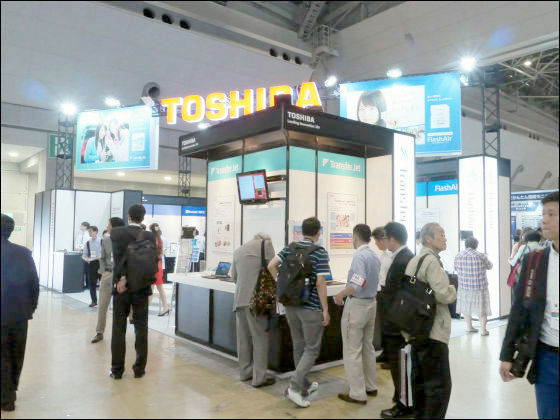 The movie that can catch a glimpse of its high speed is from the following. Transferring movie data (capacity 17.6 MB) shot in HD image quality between two demonstration machines equipped with TransferJet chip, transfer starts at the moment the terminal is brought close, and data is transferred in about 1 second The copying of it has been completed.

High-speed data communication between smartphones using TransferJet - YouTube


The maximum transfer rate of TransferJet corresponds to 560 Mbps, and it is standard with high speed of 375 Mbps even at the maximum effective rate.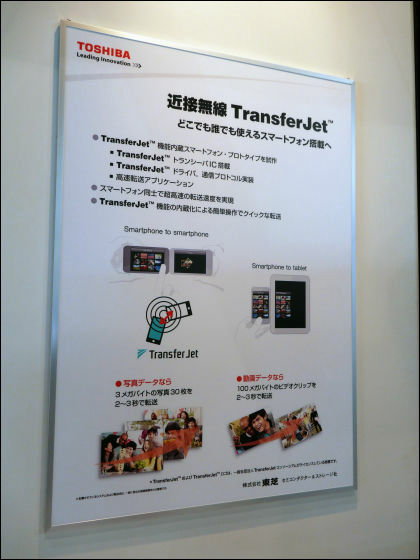 Shoot the companion's older sister who was in the booth in the movie ......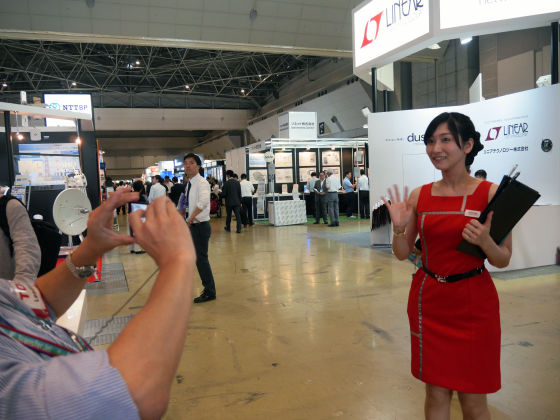 Just by bringing the terminal closer to another terminal waiting for connection, the transfer was completed in a blink of an eye.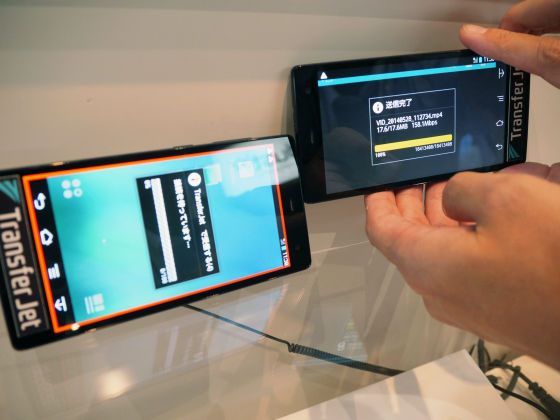 TransferJet is one of the communication standards using radio waves of the center frequency 4.48 GHz band, and the radio transmission distance corresponds to the short distance of 0 to 3 cm. Comparison with other communication standards is as shown below, with the horizontal axis representing the transmission distance and the vertical axis representing the communication speed. You can see that it has much faster speed than NFC (FeliCa) and Bluetooth which are currently popular. Compared with Wi-Fi, the speed is nearly equal, the distance does not change at all, because TransferJet is a standard developed for the purpose of communication at short distance. On the contrary, as the output of radio waves is suppressed, there is a characteristic that interference hardly occurs, and the quick connection setting and connection response speed than Wi-Fi was introduced as a merit of TransferJet .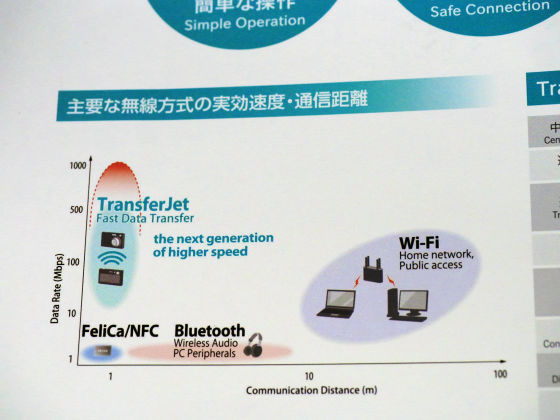 This demonstration machine is based on the standards formulated around 2007 and has high speed performance of "560 Mbps · Touch 1 second 47 Mbytes", but in the road map that is currently established, in 2015 it is "2 Gbps · Touch 1 second 250 Mbytes", And in 2017"10 Gbps · Touch 1 second 1.25 G bytes"It is supposed to be enhanced to a very high-speed communication standard called.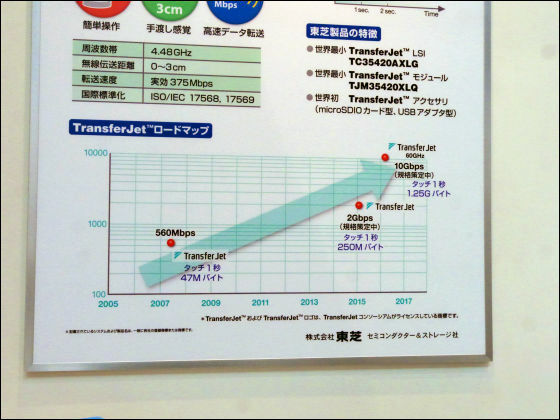 By being able to deliver large amounts of data pinpoint in a short period of time, it is said to be suitable for use in sending and receiving information and contents in public places as well as communication between smartphones and PCs.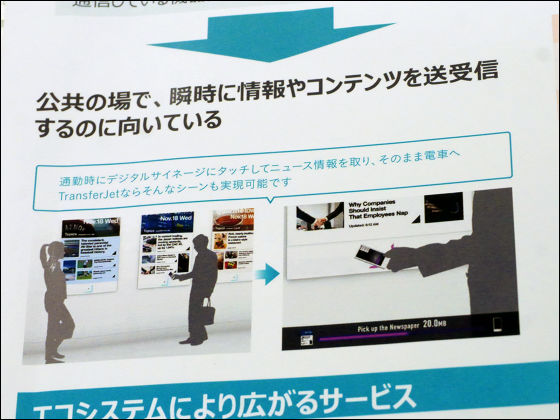 One of the concepts considered there is "content KIOSK" content provision system.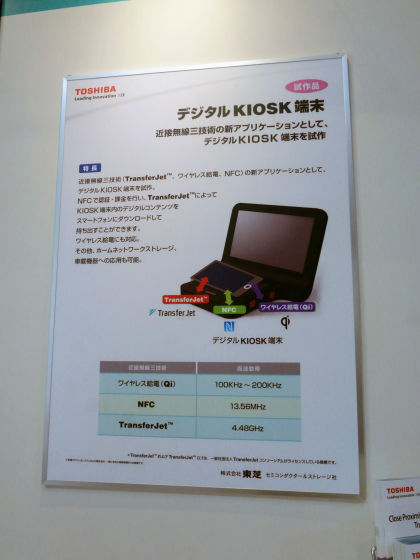 Digital KIOSK contains movie software for sale and various contents, and users can purchase data by putting smartphones on top.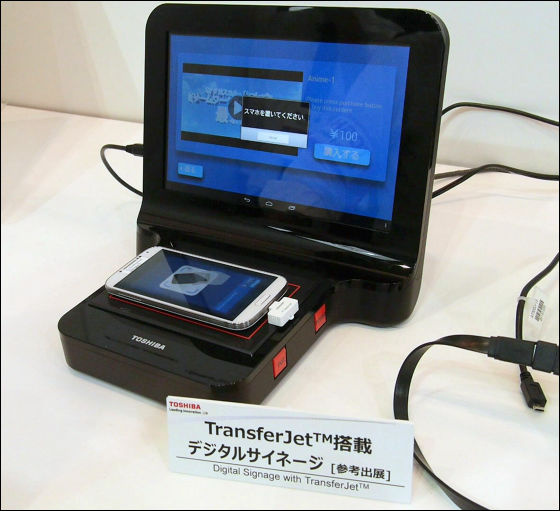 Settlement on the screen of the smartphone is completed, data download completed in about 5 seconds. Press "OK" to pick up the smartphone ......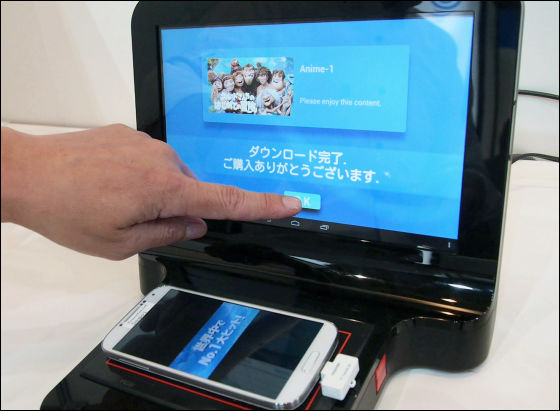 You can now watch the purchased movie on your smartphone. In the future, it seems that we are considering a mechanism to introduce such a terminal to the airport and so on, so that we can easily enjoy movies in the cabin before purchasing a flight.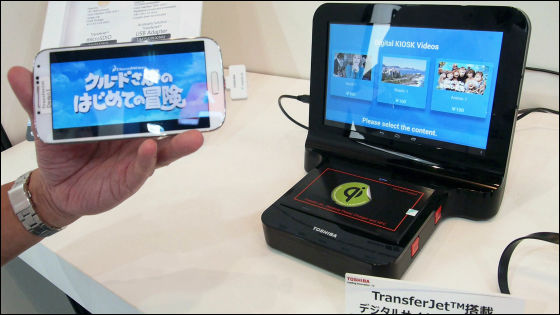 TransferJet compatible devices are already on the market, and you can use TransferJet's USB adapter that can send and receive data via a USB terminal etc.,Camera with built-in chipIt is possible to purchase such as home electronics mass retailers and online. In the case of a USB adapter, it is said that the transfer speed of the bus becomes a bottleneck and it is said that it has not reached the original performance, but those who care about the convenience that you can easily exchange data can try maybe.