When DL 5 free apps, Amazon will carry out about 1,000 yen campaign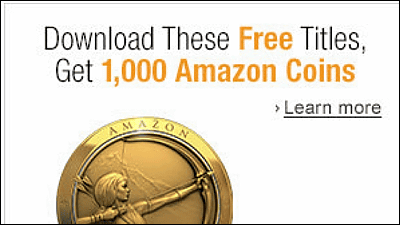 Amazon.com app store special "Amazon Android App StoreWhen you download 5 free apps, Amazon's virtual currency of 100 coins equals $ 1 (about 100 yen)Amazon Coins (Amazon Coin)Campaign to 1000 coins is underway.

Download 5 apps and get 1000 Coins
http://www.amazon.com/s/hidden-keywords=B00C25OI36|B00J99WN9Y|B0091QS88K|B005ZFOOE8|B00I0WCIMI

The target of the campaign is "Food Network In the Kitchen"IHeartRadio"Strawberry Shortcake Bake Shop"Do not step the white tile"Dr. Panda's RestaurantTo download 1000 coins and get 1000 coins with five free Android applications called "Amazon Android App StoreIt is necessary to download it through an application named "

Amazon Android App Store Download
http://www.amazon.co.jp/gp/mas/get/android/

Since Amazon Android App Store is also deployed in Japan, I downloaded it from the above URL and tried to get 1000 coins, but unfortunately the target application is registered in the Amazon Amazon Android App Store in Japan There are things that are not, it was practically impossible to get 1000 coins.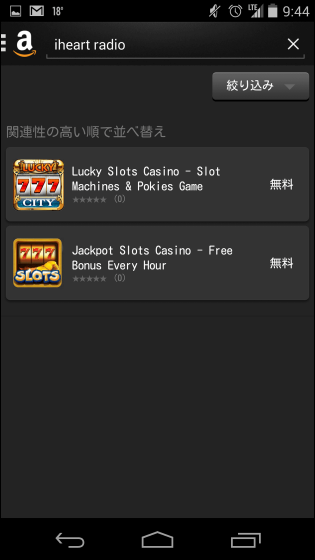 Android professional mediaAndroid PoliceAccording to browsing the target application page of the Amazon Android App store in the United States, "Earn 200 coins" is written under the download button labeled "FREE", it seems that 200 coins will be obtained when downloading.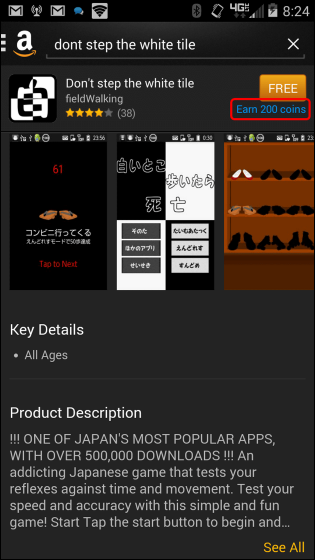 On Amazon.com, there are other $ 6.99 (about 700 yen) "Grand Theft Auto: San AndreasYou can get 2000 coins when you purchasecampaignOngoing. Article writing Currently, I can not confirm the existence of a campaign that can get Amazon coins for free at the Amazon Android App store in Japan, but if it gets popular in the USA it may be carried out someday even in Japan.