Movie & Actual Photo Review Summary of Surface Pro 3's Hardware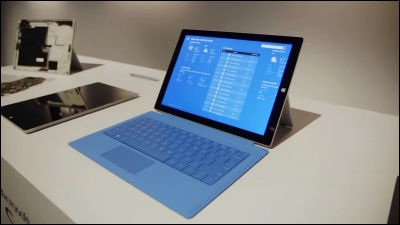 Up to Surface Pro 2 of the conventional model was positioned between the tablet terminal and the PC, but "Surface Pro 3"Has become a form closer to a laptop PC (notebook PC), and has evolved into the hardware which should be called" the ultimate laptop PC ".

Announcing Surface Pro 3 | Surface Blog
http://blog.surface.com/2014/05/announcing-surface-pro-3/

How does Microsoft's Surface Pro 3 stack up to Apple and the rest of the competition? | The Verge
http://www.theverge.com/2014/5/20/5735824/surface-pro-3-comparison-macbook-ipad-yoga

You can see how the Surface Pro 3 looks like by seeing the following movie.

Surface Pro 3 - The Tablet That Can Replace Your Laptop - YouTube


Surface Pro 3 The biggest feature is a 12 inch display with an aspect ratio of 3: 2.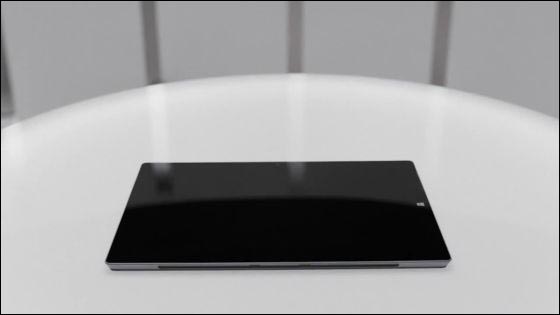 The resolution is 2160 × 1440 and the pixel density is 216 ppi. It is 1.5 times the number of pixels compared to Surface Pro 2 (1920 × 1080). In addition, it is said that shipping will be done after performing color calibration for each one.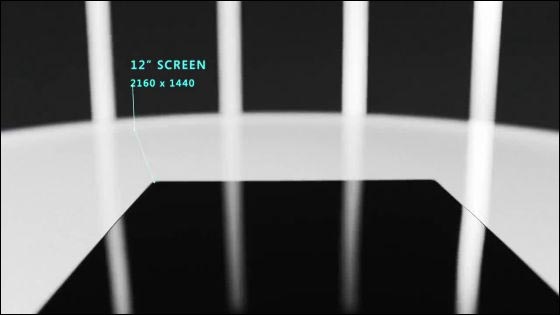 Kickstand (kickstand) peculiar to the Surface series has also been improved significantly, such as being able to change the angle steplessly.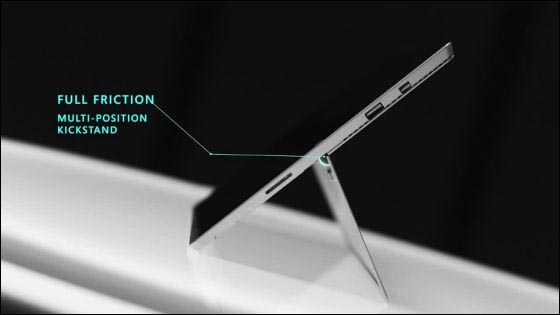 Considering the pen operation, the kickstand evolved to open up to 150 degrees.



Speaker up by 45% volume.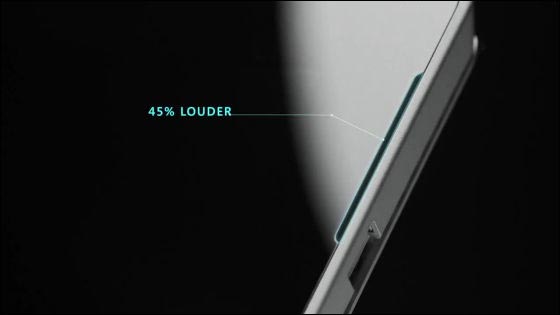 For Surface Pro 2 907 grams Surface Pro 3 is 798 grams more light weight. The thickness is only 0.91 cm, which is the thinnest among any PC with Intel CPU.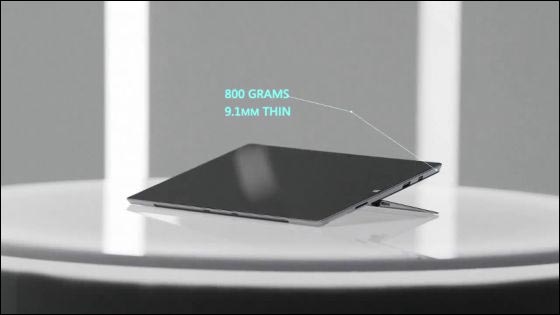 Surface Pen also evolved further. You can easily shoot screenshots with knock buttons.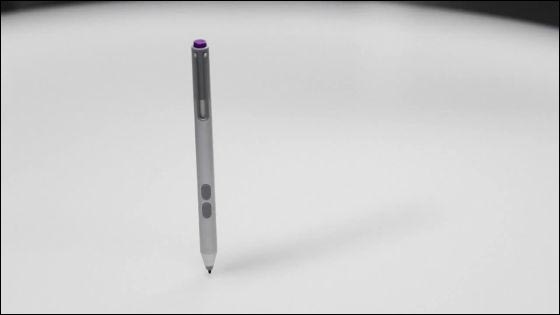 Pen touch has been further improved, and it was renewed free of chargeOneNoteIt is said that Surface Pro 3 has been focused on development to make it a hardware that can be used instead of notebook by linking with it.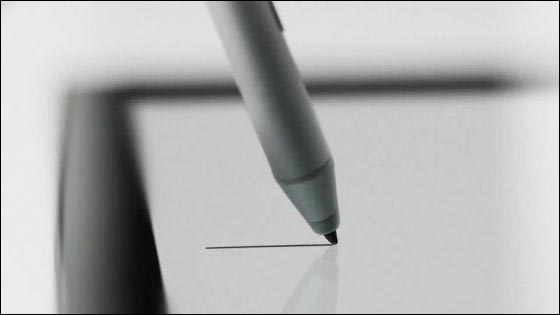 The USB port is compatible with USB 3.0, enabling high-speed data transfer.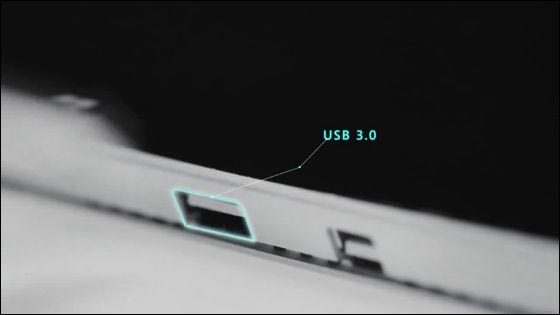 By improving the fan system by 30% while improving the heat dissipation by giving the slit fin structure to the side portion, the CPU successfully adopted Core i7.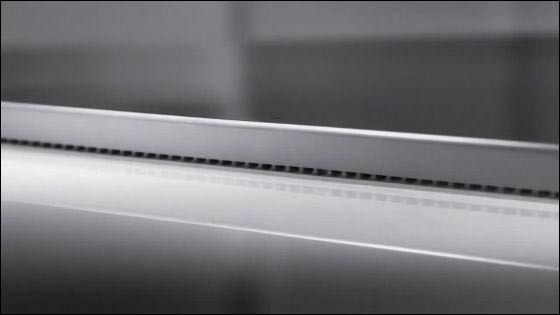 The removable keyboard Type Cover also gets thinner, the trackpad is also 68% bigger and the operability is even smoother.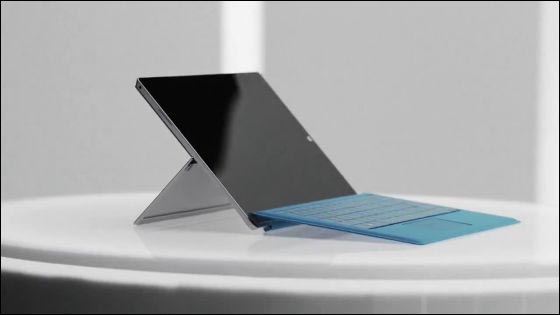 Type Cover color is 5 colors. In addition, announcement of pressure sensitive type keyboard "Touch Cover" which was conventionally lineup is not done.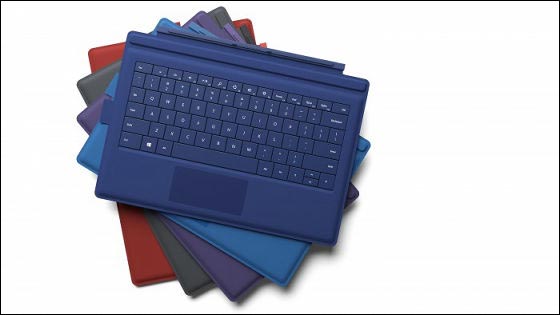 ◆spec
OS:Windows 8.1 Pro
CPU:Fourth Generation Intel Core i7 / i5 / i3
SSD:64/128/256/512 GB
memory:8 GB (256/512 GB model), 4 GB (64/128 GB model)
graphic:Intel HD Graphics 4400
display:12 inch IPS liquid crystal (2160 × 1440)
Front camera:5 million pixels (1080p movie shoot possible)
Rear camera:5 million pixels (1080p movie shoot possible)
size:Width 29.2 cm × length 20.13 cm × thickness 0.91 cm
weight:798 grams
Continuous drive time:9 hours
wireless:Wi-Fi IEEE 802.11 a / b / g / n / ac, Bluetooth 4.0 LE
Others:USB 3.0 terminal · microSD card slot · Mini DisplayPort installed

On the official blog, Microsoft announced that "Surface Pro 3 is lighter than the 11-inch MacBook Air and its thickness is about half of the MacBook Pro."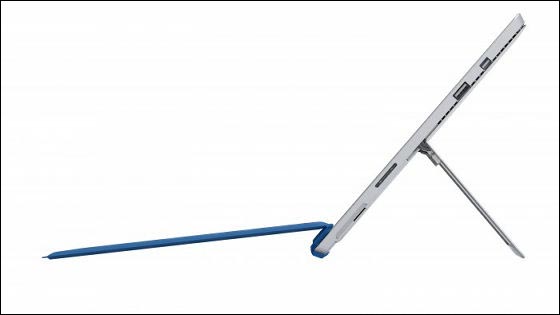 This demonstrates that it is lighter than the MacBook Air. Even with Touch Cover attached, Surface Pro 3 is lighter.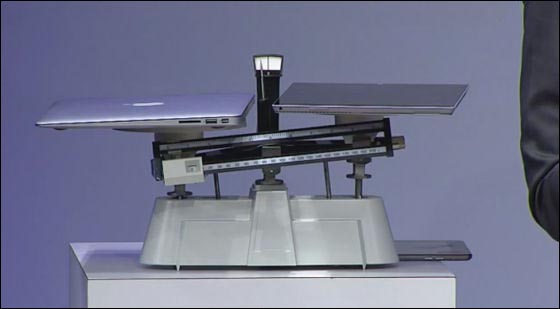 It seems that Surface Pro 3 is regarded as hardware to compete against high performance laptop PC (notebook PC) such as MacBook Air instead of iPad and other tablet terminals.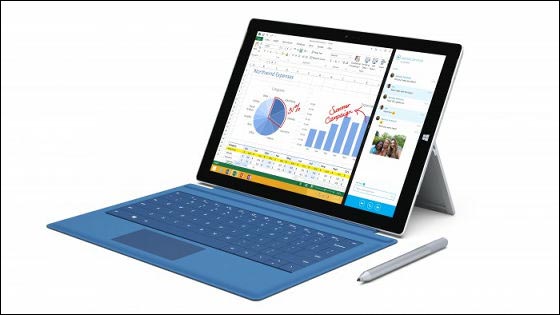 Nonetheless, since Surface Pro 3 has a touch panel and can be used as a tablet terminal, compatibility with OneNote etc. is outstanding.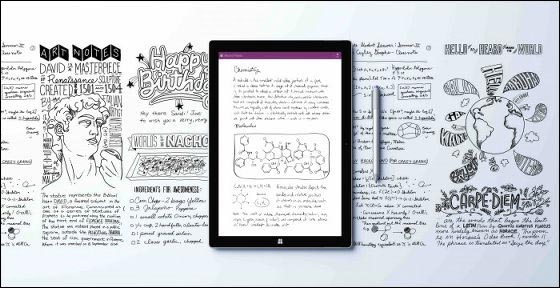 In addition, Microsoft partnered with Adobe,Surface optimized version of Photoshop CC will be releasedIt's a schedule.



This movie is actually trying Surface Pro 3 at the press event.

This is the Surface Pro 3 (hands-on) - YouTube


Light blue TypeCover's Surface Pro 3.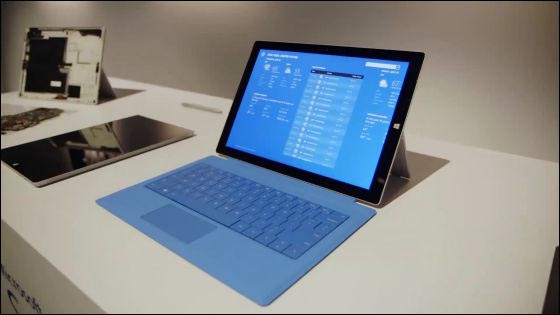 Even with TypeCover installed this thickness.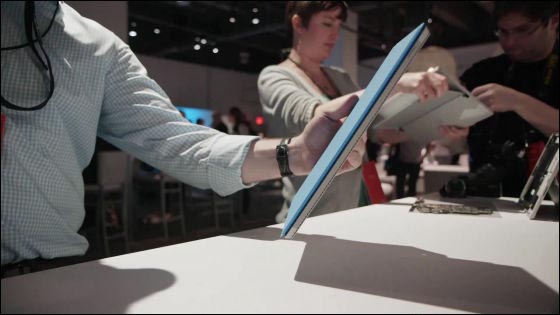 OS is Windows 8.1 Pro.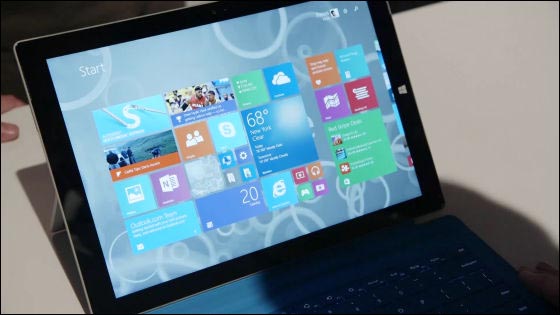 The angle can be changed smoothly for the kickstand.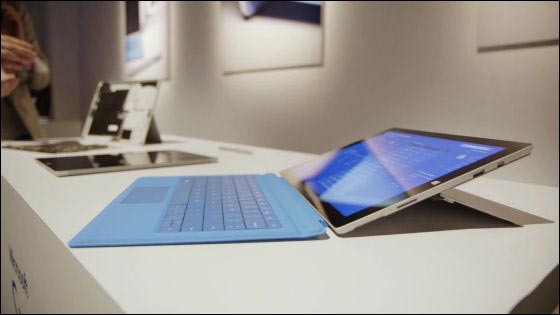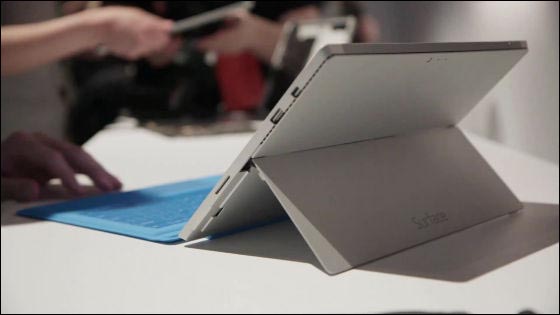 The angle adjustment of the hinge changes steplessly.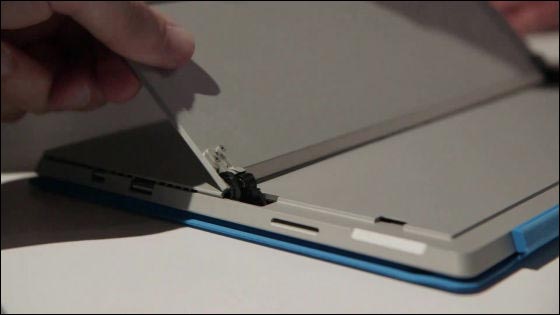 The end of the keyboard can be fixed in this bent state.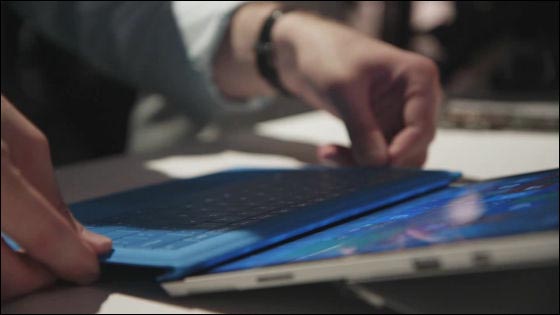 Since it can be used on the knee if it is set to the optimum angle, just "laptop"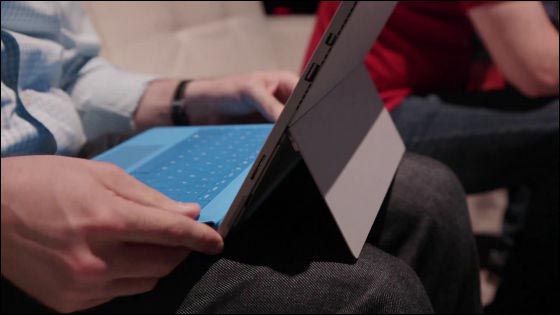 The smaller and unpopular trackpad also got bigger and improved in operability.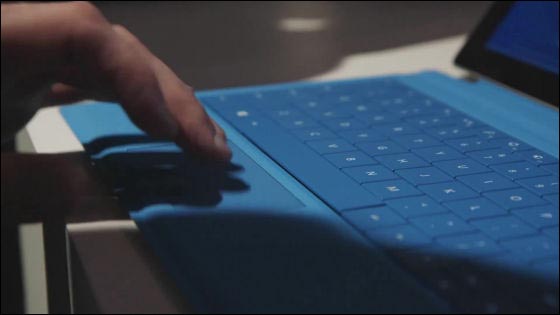 The operability of pen input ......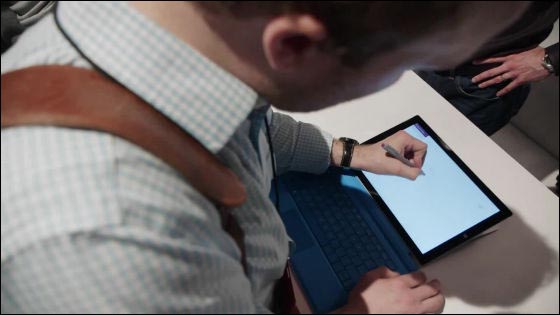 Because it can draw fine lines, it is quite comfortable.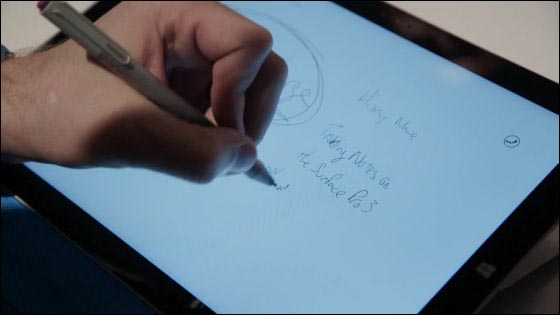 It is probably herd.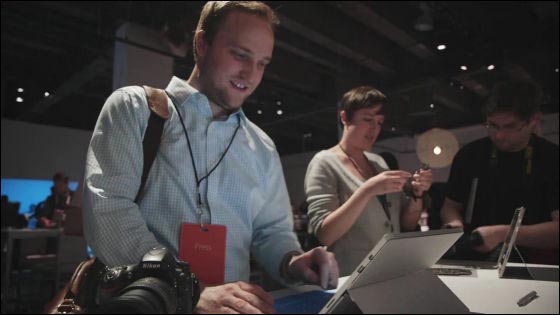 The operability on the sofa is also good.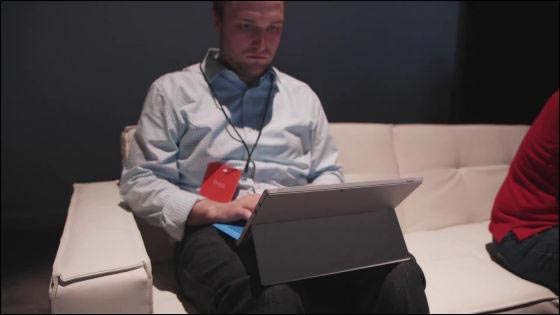 Surface Pro 3 has a 12-inch display with resolution 2160 × 1440, has a 4th generation Core processor and up to 512 GB of SSD, Windows 8.1 Pro moves, it weighs only 798 g and cuts less than 1 cm thick,UltrabookIt boasts a high spec that can be seen hazy, it seems to be said that it can be said that "Microsoft's" serious "looks like hardware.

For Surface Pro 3, Core i 3 · 4 GB memory · 64 GB SSD model is $ 799 (about 81,000 yen), Core i 5 · 4 GB memory · 128 GB SSD model is $ 999 (about 100 thousand yen), Core I5 · 8 GB memory · 256 GB SSD model is 1299 dollars (about 13,200 yen), Core i 7 · 8 GB memory · 512 GB SSD model is $ 1949 (about 197 000 yen), in the US · Canada in June 2014 It will be on sale on 20th and will be on sale by the end of August 2014 even in Japan.

·Continuation
Microsoft announces the domestic release date and price of the new terminal "Surface Pro 3" seriously - GIGAZINE