Mozilla's CEO who was repulsed from homosexuals resigned in about 10 days after inauguration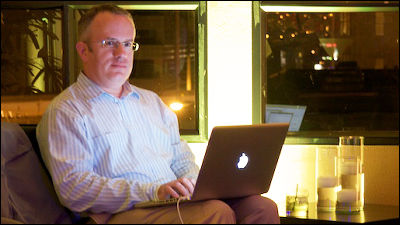 ByBadubadu

Known in Firefox on 24th March 2014The Mozilla FoundationHe assumed the new CEO ofBrendan IkeHe is announcing that he will resign from the CEO about ten days after his inauguration.

Brendan Eich Steps Down as Mozilla CEO | The Mozilla Blog
https://blog.mozilla.org/blog/2014/04/03/brendan-eich-steps-down-as-mozilla-ceo/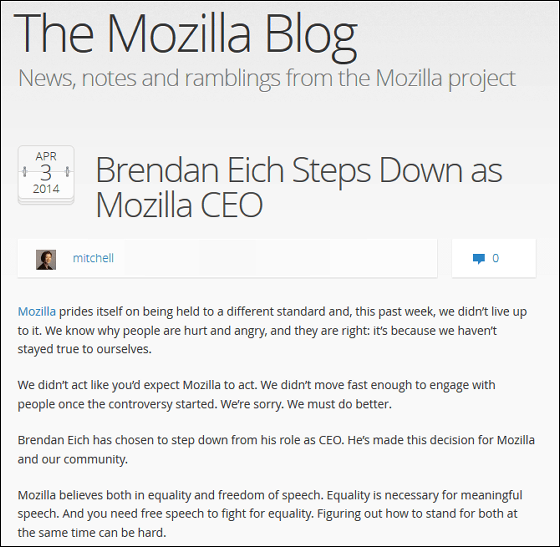 Since Mr. Ike served as Chief Technology Officer of The Mozilla Foundation before assuming CEO, he was expected to develop the company from not only management but also technology. However, in response to Mr. Ike 's assumption of being CEO of anti - homosexual group in the past,Homosexual Firefox application developers delete apps that are open, The Mozilla Foundation employees submitted a document against CEO inauguration, and the upheaval that three executive members resigned broke out.

And, on April 2, 2014, I discover the fact that Iku is driven further. According to The Guardian, Mr. Aik said to Mr. Pat Buchanan, who was running for the presidential election of the United States from the Republican from 1992, about $ 100 (about 100,000 yen), to Republican lawmaker Ron Paul in 1996 to $ 2,500 About 260,000 yen) ofI had transferred the donationAnd that.


By401 (K) 2012

The Guardian said Mr. Ike's first ever since CEO took officeinterviewConducted. Mr. Aik said in an interview, "I do not want to talk about personal beliefs, which I have separated from The Mozilla Foundation for 15 years, I do not think there is anything to do with the company, He announced that there is no idea "I get off the CEO's seat due to the current riot".

At the end of the interview, Mr. Ike said that "I believe it is the best person for the CEO of The Mozilla Foundation and I will do my job," but the next day the The Mozilla Foundation was Mr. Ike Announced resignation. Mr. Ike's successor is currently selected.