I ate "Misdovitz Spring" of Mr. Donut packing six kinds of donuts in a cup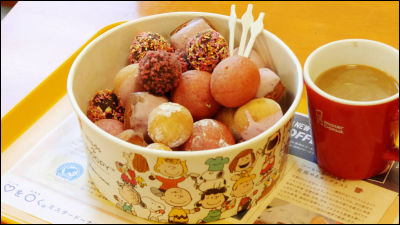 In Mr. Donut, as a new menu from February 26 (Wednesday) 2014, a strawberry-flavored donut of a size "Misdovitz Spring"We released the new. I was worried about the donut colored with strawberry pink, so I went to eat at once.

Misdovitz Spring | New Items | Mister Donuts
http://www.misterdonut.jp/m_menu/new/140226_001/index.html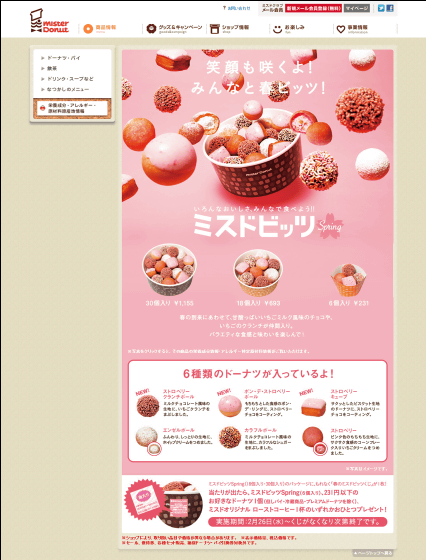 Arrived at Mr. Donut.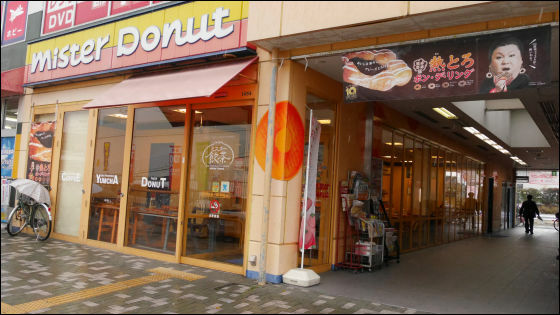 Signs etc. of Misdovitz Spring were not posted at the shop front, but also started on February 26Pon de lion lunch boxThe present campaign was announced.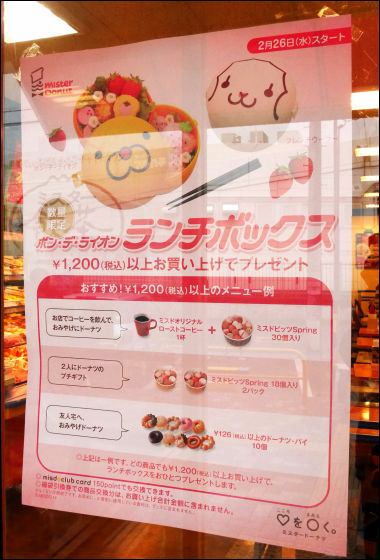 When entering the shop, 30 pieces, 18 pieces, 6 pieces of "Misudobitsu Spring" entries were listed in the most prominent part of the counter.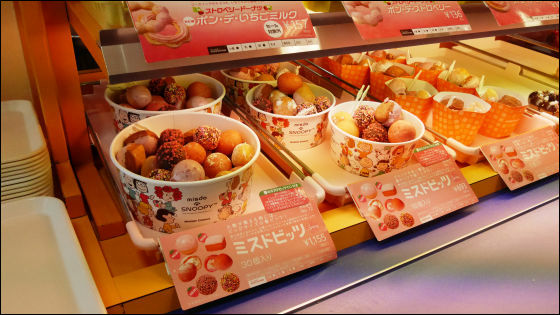 This time 30 pieces and choice hot coffee. It is 1155 yen for 30 pieces, 693 yen for 18 pieces, and 231 yen for 6 pieces (tax included). For 30 pcs, it is just 5 to 6 people in size and it is just right size.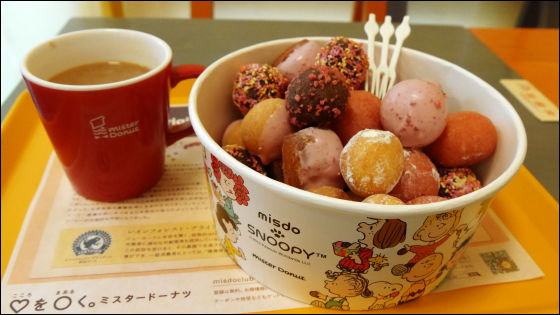 Five boxes of six kinds of donuts "Strawberry Crunch Ball" "Pon de Strawberry Ball" "Strawberry Cube" "Angel Ball" "Colorful Ball" "Strawberry" are contained in the box.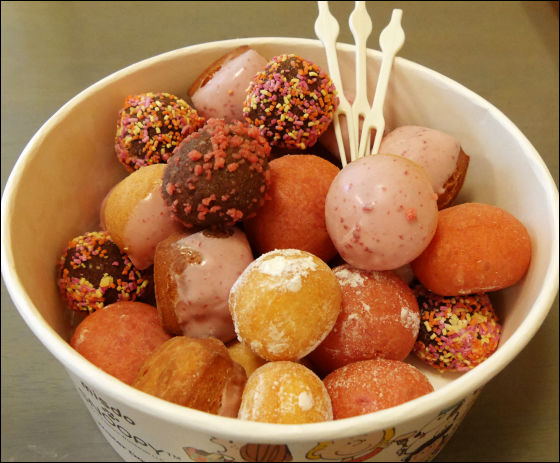 I tried to put a donut on a plate. I can understand each difference.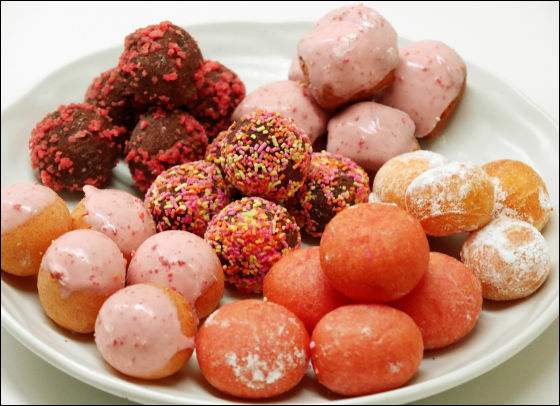 First of all, from "Strawberry Crunch Ball". Strawberry crunch dressed around the milk chocolate flavored fabric, rather strawberry flavor with sweetness emphasized. You can enjoy a crispy texture.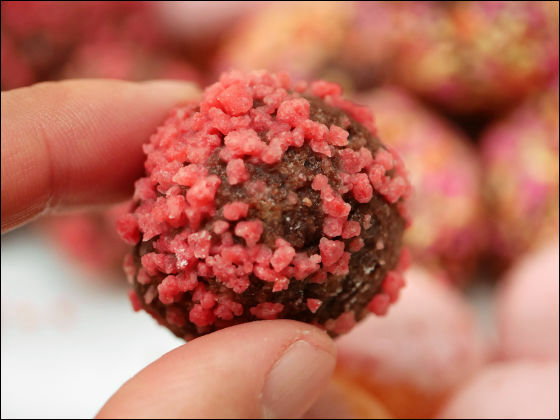 Milk chocolate fabric was refreshing sweetness, it was moist and mouthfeel.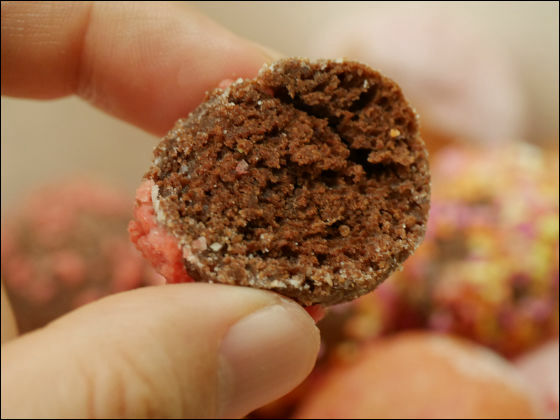 Then "Pon de Strawberry Ball". Strawberry chocolate is coated on the familiar pon de Ring fabric.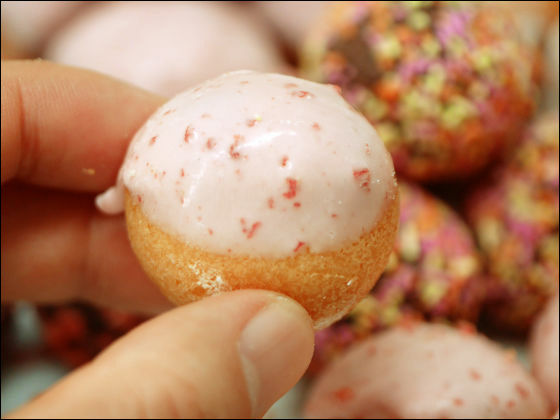 Paculi daily. The chewy texture unique to Pon de Ring and the strawberry flavored chocolate drifts swiftly. Basically, the regular menuPon de StrawberryIt seemed like the same taste.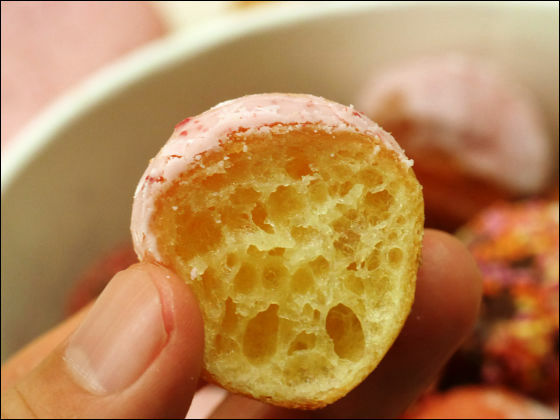 Ichigo connection, next is "Strawberry Cube". It is said that crispy biscuit dough is used here.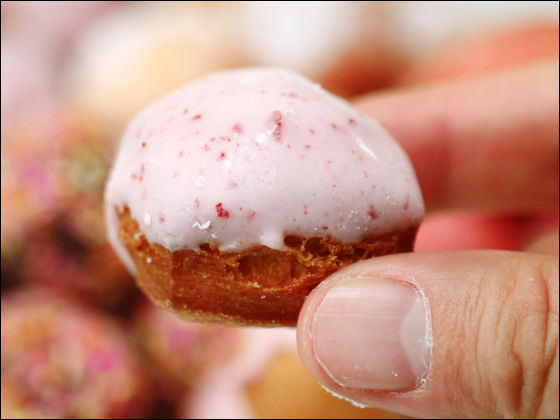 It was somewhat moist texture than the feeling "crispy", but you can enjoy a solid heavy donut a little heavier.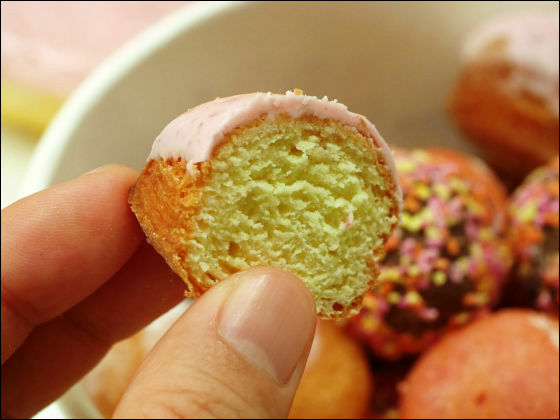 Next is "Angel ball". On the donut is white and finely powdered sugar dusted.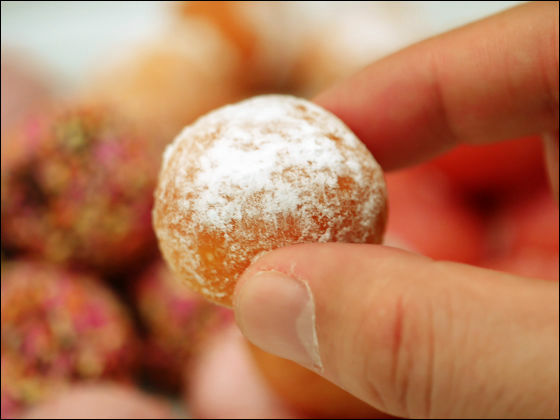 Biting a little bit of sweet cloth, a light whipped cream spreads in your mouth makes you feel happy. A copy of Mr. Donut's "Fluffy, I put whipped cream in moist dough" is a donut telling everything.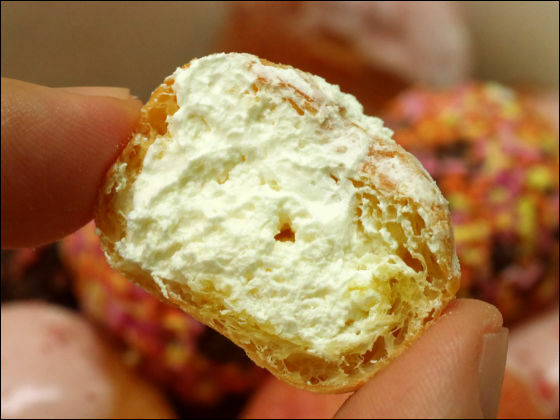 The fifth one is "colorful ball". Colorful sugar is topped.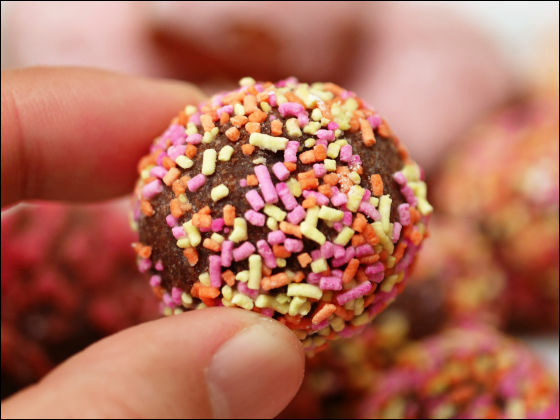 The dough is the same milk chocolate flavor as "Strawberry crunch ball". The sugar on the top had become a sweetened one, and it was the sweetest finish among the 6 kinds of this time.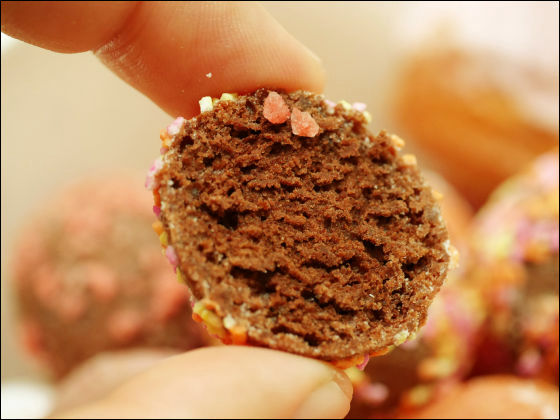 And at the end is "Strawberry". It is strawberry that the fabric is slightly reddish ... ...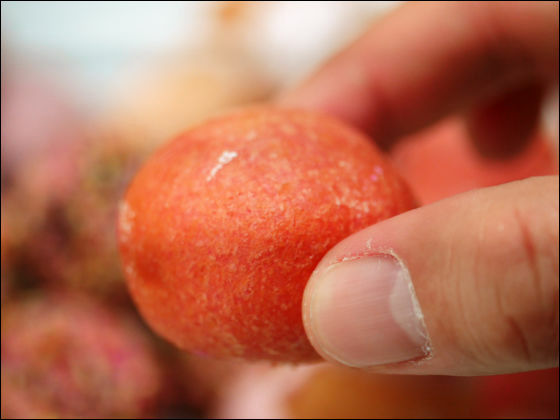 The real value is the strawberry cream put in it. The dough is also flavored with a little sourness, compatibility with strawberry cream is outstanding. Cornflakes were mixed in the strawberry cream, and the crispy texture was a fresh donut.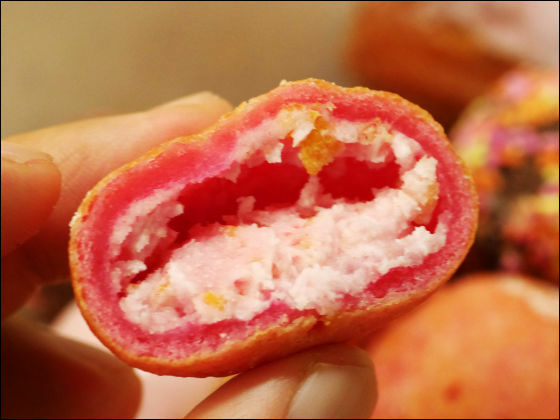 As with "Missed Butts Spring", from February 26 (Wednesday), a campaign to present one lunch box of "Pon de Lion" or "French Wooler" with purchase of 1200 yen or more is being implemented . As it is about to end as soon as possible, who wants it"Strawberry donut"It seems better to buy it and get it.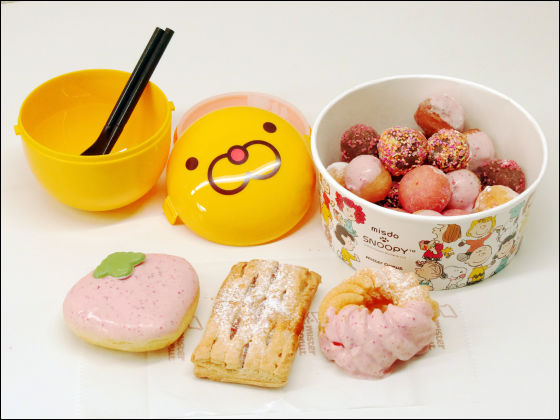 Pon de Lion Lunch Box | Goods & amp; Campaign | Mister Donut
http://www.misterdonut.jp/goods/lunchbox/