Is Mt. Gox of the world's biggest Bitcoin exchange annihilated?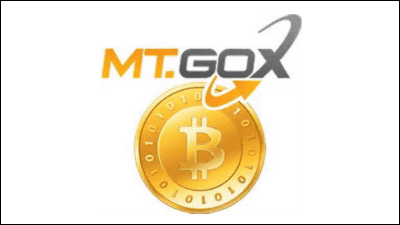 The world's largest base based in TokyoBit coinExchangeMt.Gox (Mount GOX)"Closed the site, and it turned out that the management team may have run away.

MoGox Co. Ltd.
https://www.mtgox.com/

MtGox Situation Crisis Strategy Draft With No black Bars
http://ja.scribd.com/doc/209098983/MtGox-Situation-Crisis-Strategy-Draft-With-No-black-Bars

Bitcoin Exchange Mt. Gox Goes Offline Amid Allegations of $ 350 Million Hack | Wired Enterprise | Wired.com
http://www.wired.com/wiredenterprise/2014/02/bitcoins-mt-gox-implodes/

Mt. Gox is the largest bit coin exchange which entered the bit coin business in 2010, was transferred to Mr. Carqueres in 2011 in 2011, currently has a base in Shibuya-ku, Tokyo.

Mr. Carpres, the representative of Mt. Gox.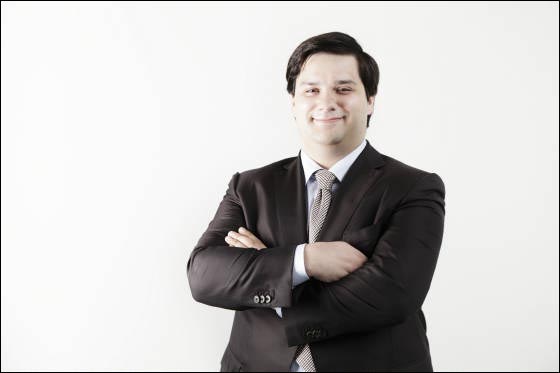 Although Mt. Gox of a long-established store as a bit coin exchange, it is seized a US $ 5 million (about 500 million) assets in the US as having been operating without permission in the United States in 2013, a yellow signal is acquired in management It was.

further,"MtGox Situation: Crisis Strategy Draft"The leak of the report revealed that the cumulative total of 744408 BTC (about 35 billion yen as a market price) was hacked, and in February 2014 the customer pulls out bit coins (including currency exchange) We announced measures to stop temporarily, into a state of great confusion.

Due to the confusion of Mt. Gox, the bit coin trading market also roughed globally and roughly the transaction price of the bit coin plummeted, so six bit coin related companies such as BTC China · BitStamp and the like, a bit coin community due to Mt. Gox problem "To relieve the concern of Mt. Gox, it is a management problem by Mt. Gox about the fact that trust of Mt. Gox is greatly impaired, it is completely irrelevant to the value of bit coin and the real value of the entire virtual currency "We issued a joint statement to the effect that we tried to break the situation.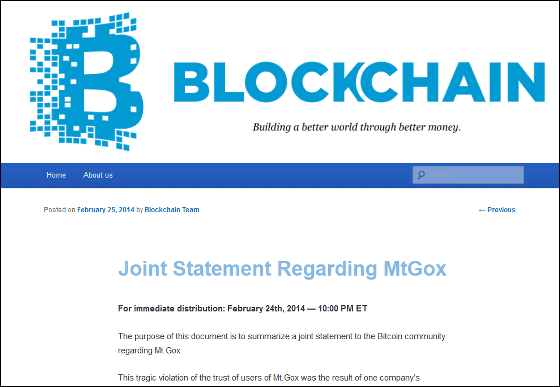 However, the upsurge of the market did not fit, and investors who pushed all the way from Australia to Shibuya in Shibuya where Mt.Gox's head office is located areAppeared in redditTo do.CoinSearcherInvestor named "reddit", who confirmed that he met with the CEO of Calpress superbly, sitting in the office, arguing that "get on the management team!" On February 5, 2014 by getting on Mt. Gox head office Posted on. According to it, Mr. CoinSearcher received explanation of the content that "Bit coin of Mt. Gox user is distributed and stored in" Cold Storage "separated from the net and security is also thorough, so please be relieved."

This CoinSearcher's post posted that the management team has not escaped, the expectation that "Mt. Gox is OK" spreads out, but users who still can not draw out bit coins from Mt.Gox are in front of Mt. Gox headquarters There are also scenes to protest.

Protest at Mt Gox, Tokyo, 14th February 2014 - YouTube


In such circumstances, Calpres CEO on February 23 was a bit coin industry organization 'Bitcoin Foundation'Suddenly resigning from the director. Then,Mt.Gox official websiteTo reach the current state that you can not access.

Since Mt. Gox announced that "the exchange stops trading due to technical problems such as a huge attack by hackers from a hacker," there is a possibility that the site is temporarily down Perhaps it is already the Mt.Gox Twitter has been deleted and it seems not to be a technical problem.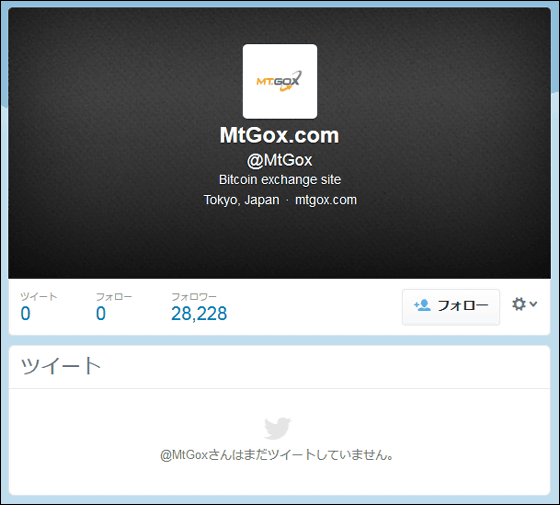 Where have Mt. Gox management team gone while holding "Cold Storage" which stores customer's most important bit coins? The big turbulence over the world's largest bit coin exchanges can greatly shake the bit coin market and the situation is unpredictable.

◆2014/02/26 8:45 Addendum
The official website of Mt.Gox has been updated and the following statement was issued to customers for "Dear MtGox Customers".

"To all customers of Mt.Gox
Given the potential impact of Mt. Gox's business and recent coverage on the bit coin market, we will stop all trading activities for the time being to protect users and Mt.Gox sites Decided. We will carefully monitor the situation and act accordingly accordingly.
Mt. Gox team "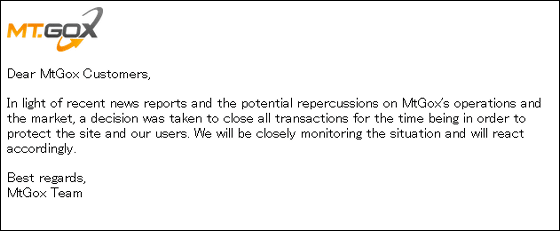 ◆Continuation
Bitcoin's Mt. Gox applies for civil rehabilitation proceedings - GIGAZINE