Sumaho appli "BitTorrent Live" that streaming is more stabilized as more viewers coming soon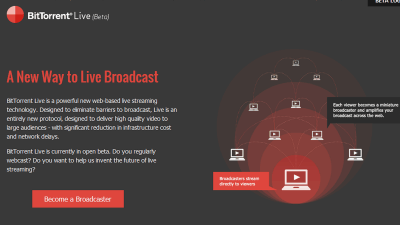 P2PLive streaming service using "BitTorrent Live'S smartphone application will be released soon. Streaming is usually a thing that can not be played smoothly if too many viewers, but as BitTorrent Live gets more viewers there is a mechanism that streaming is stabilized, and if the application is released, smartphone It is thought that the possibilities will spread.

Coming Soon: Smartphone Streaming, Powered by BitTorrent Live | The Official BitTorrent Blog
http://blog.bittorrent.com/2014/02/14/coming-soon-smartphone-streaming-powered-by-bittorrent-live/

BitTorrentHas been doing closed beta test of the live P2P streaming service for PC for "BitTorrent Live" from November 2012, but in March of 2013 the bandwidth, cost and infrastructure development in large-scale streaming We are launching public beta tests to solve problems like.

You can actually use beta version of BitTorrent Live from below.

BitTorrent Live
http://live.bittorrent.com/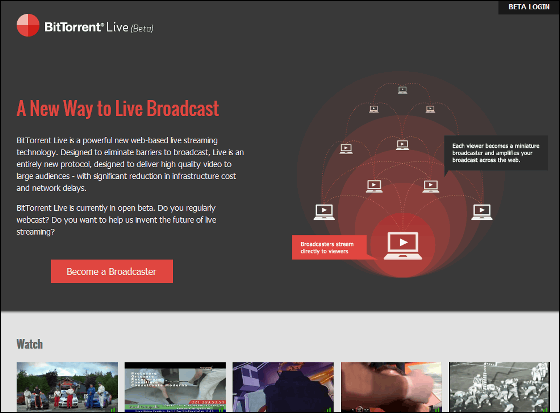 BitTorrent has released the file sharing software (P2P software) of the same name, but this is a mechanism that when you download the file, it uploads the file to others at the same time Contrary to the downloading method, "It is possible to download as fast as the popular file is available". BitTorrent Live also uses an algorithm that adopts this P2P mechanism, and it is characterized by a direct connection between the distributor and the viewer rather than having a third party in between. By adopting P2P, "Streaming becomes more stable as the number of viewers increasesIt is possible to say that.

Graphs of the number of viewers and the required bandwidth are as follows. The vertical axis of the graph represents the required bandwidth and the horizontal axis represents the number of viewers, while P2P type BitTorrent Live requires more bandwidth as streaming than P2P is proportional to the number of users You can see that the required bandwidth will peak.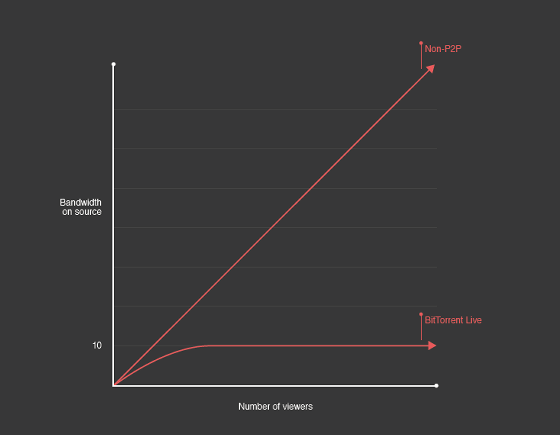 TechCrunchAccording to the interview, Bit Coor, founder of BitTorrent, said he spent three years ahead of the beta release. Currently BitTorrent Live is still in beta, but if you install a plugin in your browser you can watch the video and if you create a beta account you can also live streaming broadcast. A movie about the feeling of use of the beta version has already been released. However, it seems that there are also cases where stable viewing can not be performed because the number of users is still small.

And now BitTorrent Live's smartphone application is under development.

BitTorrent Labs
http://labs.bittorrent.com/experiments/bittorrent-live.html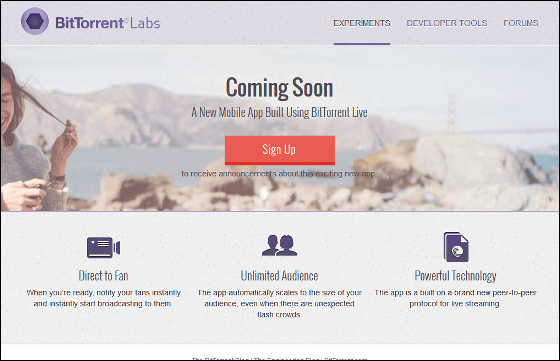 BitTorrent's Official BlogAccording to BitTorrent Live's smartphone application, BitTorrent Live's algorithm has been improved over more than a year, and in the latter half of 2014 it will release an alpha version.

BitTorrent is a software that can synchronize PCs directly and transfer huge files at high speedBitTorrent Sync"Was released in 2013, and cumulative transfer volume has reached 30 petabytes (30 million GB) in about 10 months since service began in January. If you still hit BitTorrent Live still under development,A photographer became unnecessary at a newspaper companyThere is a possibility to change the form of the report greatly.