User inflows to illegal pirate sites are rapidly expanding at the world level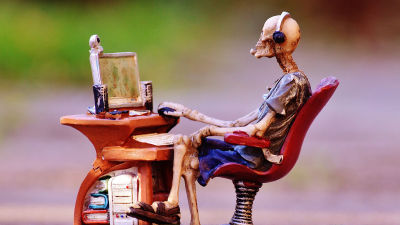 In Japan I upload comics illegallyManga villageCopyright infringement caused by the problem became a problem, and whether or not compulsory site blocking by ISP was discussed was debated, similar illegal pirate sites are raging worldwide. According to the Danish survey, access to pirate sites has increased sharply by 67% in a year, and countermeasures such as blocking by DNS are being carried out, but the response to the situation is highlighting the current circumstances It is.

Status og temperatur på det ulovlige marked
(PDF file)http://rettighedsalliancen.dk/wp-content/uploads/2018/04/RettighedsAlliancens-datarapport-2017.pdf

Danish Traffic to Pirate Sites Increases 67% in Just a Year
https://torrentfreak.com/danish-traffic-to-pirate-sites-increases-67-in-just-a-year-180501/

"Impersonating pirated copyright infringement"Rights AlliancePublished a report on the actual situation of copyright infringement site (pirated site) targeting Denmark in the report "Rights Alliance Data Report 2017".

According to the data by SimilarWeb and MarkMonitor, there are 2000 main types of pirated sites that have been accessed from Denmark only, with total accesses of 596 million, 67% higher than the previous year's 2016 Thing. Since it is possible to download multiple contents with a single access to a pirated site, copyright infringement is expected to be done on a scale far exceeding the number of accesses.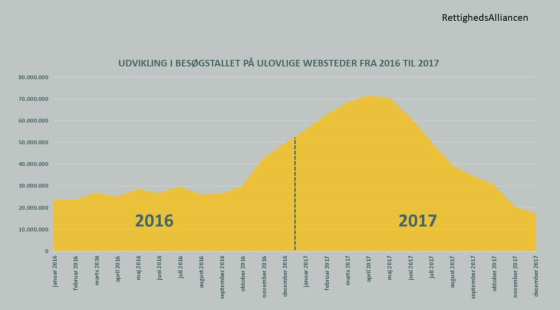 "123 Movies" (also known as "GoMovies" "GoStream") of the popular piracy site exploded more than the number of access which was 40 million times in 2016 to 175 million times in 2017 to about 4.4 times. Most of the access was from mobile terminals.

123Movies has already closed, but in Denmark site blocking measures are taken against malicious sites. The graph below shows the trend of the number of accesses of 123 Movies. When the site is blocked, the number of accesses decreases sharply. However, it can be confirmed that the Itachi gesture that another site is created when the site is blocked continues.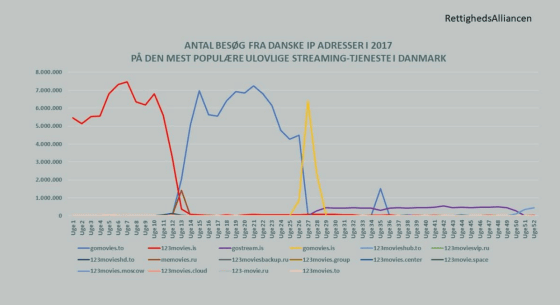 According to the Rights Alliance, blocking can suppress about 76% of access to pirate sites. However, traffic to the pirate site is enormous, blocking of a major partial site is done first, and it is practically impossible to block access to all illegal sites.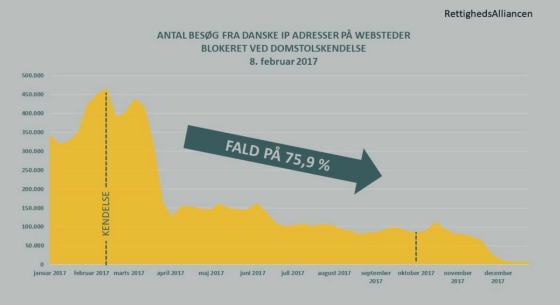 In addition, attention is drawn to VPN used to conceal the line, VPN is used for browsing pirated sites, and there are circumstances that it makes access restriction difficult. In addition, in addition to the closed network such as BitTorrent, in recent years the exchange of illegal contents infringing copyright via the private community on SNS platform such as Facebook has been rapidly expanding. It is difficult to accurately grasp exchanges being done within the content of such a platform externally and it is difficult to deal with it.

In addition, using a dedicated app, use of illegal content ripped the sport live streaming has also been increasing, tennis, soccer, tends to increase access during major events period of time, such as the Tour de France has been confirmed.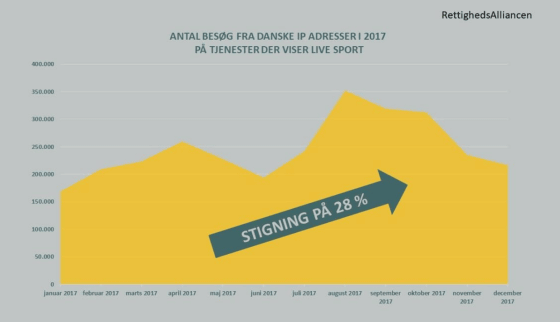 According to the Rights Alliance, the way users access pirated sites is not via search engines like Google but direct access to illegal sites is the majority. "In order to prevent access to pirated sites, it is no longer possible for private companies holding ISPs and content to deal with them," said Maria Fredenslan, Rights Alliance's CEO.