Detailed content that Jobs was intimidating the president of Palm is obvious from court record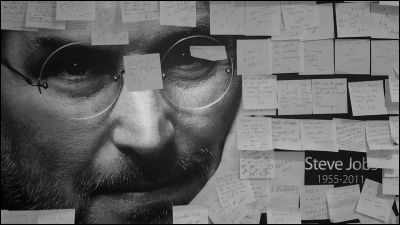 BySrinath H Shankar

Apple's Steve Jobs urged Mr. Edward Corrigan, then CEO of Palm, to conclude "an agreement prohibiting employees from drawing out", but Mr. Corigan reluctantly stated that in Silicon ValleyWell-known rumorsHowever, the content of the negotiations between them was finally revealed in court records.

October 24, 2013 Class Cert Order
http://ja.scribd.com/doc/201651711/October-24-2013-Class-Cert-Order

Steve Jobs threatened Palm's CEO, plainly and directly, court documents reveal | PandoDaily
http://pando.com/2014/02/19/court-documents-reveal-steve-jobs-blistering-threat-to-ceo-who-wouldnt-join-wage-fixing-cartel/

The contents of the negotiations between Mr. Jobs and Corrigan were clarified because it was confirmed that several large IT companies in Silicon Valley secretly had an agreement that "they will not pull out each other's talent" Because a lawsuit was filed seeking damages against several companies such as Google. Material records submitted as evidence of the case included mail records on negotiations between them.

In August 2007, Jobs, Apple CEO, complained Corrigan CEO, Palm was outraged by pulling Apple's technician. But Corrigan CEO says, "It is true that Palm hired former Apple employees, but this is nothing new and Apple would have pulled out at least 2% of Palm's technicians for iPhone development It is said that it turned it back.

In response to this reply, Jobs will inform Corrigan's conclusion of "an agreement that promises not to pull out each other's technicians from Apple and Palm in the future". This proposal also suggested that "If you do not agree, Apple appeals Palm with patent infringement", it was close to "threatening".




Jobs told Corrigan CEO that it would not refuse this proposal, but Corrigan refused hard. "The cartel's proposal not to hire employees of each other is not only quite wrong but also illegal.I have a passionate employee working at Palm" get the chance to work at Apple " I can not deny the legitimate right of saying "You can not deny the rightful right."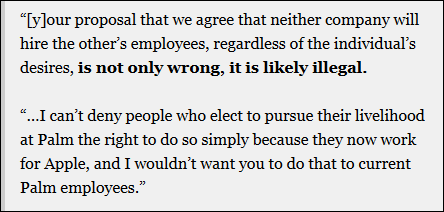 Also, regarding Jobs threats to raise a lawsuit requiring substantial expenses, "I would like to make it clear that Palm is not afraid of your threats.When you choose the way of litigation, I will fight back with the property, but I do not think that the trial is correct, "Corigan said.




Although it was Jobs who got an unexpected answer, Mr. Known as Apple's "world's most powerful executive" that got huge due to the success of iPod and iPhone, he told Corrigan CEO "to conclude the anti-extraction agreement It is whether to choose or ruin, "unilaterally notifying the final notice.

Responding to Jobs 'Corigan CEO, "The decision of (Corrigan' s) is not satisfactory to Apple.I am prepared to do everything that you can do.When you are in lawsuit, both will need a large amount of trial fee "But I think that you understand well the asymmetry of the financial situation of Apple and Palm (that there is huge asset for Apple compared to Palm)." The final Watching Apple's intellectual property portfolio before making a decision "is my advice."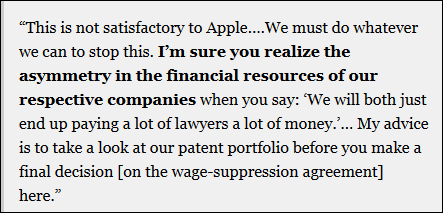 After all, Korrigan CEO did not yield to the end to Jobs threat, but in 2009, Corrigan CEO resigned and left the Palm. And while Apple threatening the Palm continued to huge the mobile terminal market and giant, in April 2010 Palm was bought by HP and disappeared from the front stage.

It was chosen as 100 most influential attorneys in AmericaTim WuBest selling by Mr.America seeking master switch "right dictator""In the past, movie theater owner failed trying to monopolize the distribution of the movie by tying the cartel, and said his status was robbed by an emerging Hollywood movie company like ParamountFree marketVictory ", but in view of the future of Apple and Palm, it seems that Silicon Valley could not say that the victory of the free market did not happen.
in Note, Posted by darkhorse_log