Twitter monthly number of users is 241 million, 30% increase over the previous year & advertising revenue is 76% higher than the previous year, but more than 50 billion yen in deficit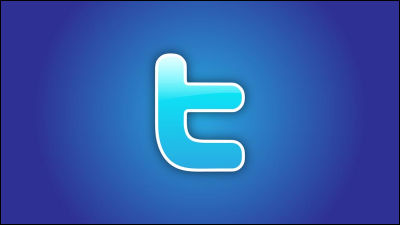 ByJosh Semans

Twitter announced the first quarterly financial results after listing on February 5, 2014, but only in the fourth quarter of 2013 (October to December)$ 511 million (about 51.7 billion yen)It turned out that we recorded a huge amount of deficit.

Twitter Reports Fourth Quarter and Fiscal Year 2013 Results (NYSE: TWTR)
https://investor.twitterinc.com/releasedetail.cfm?ReleaseID=823321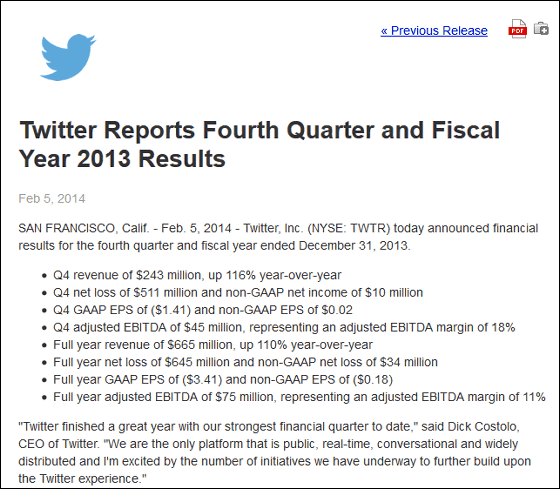 BBC News - Twitter reports $ 645 m loss for 2013
http://www.bbc.co.uk/news/business-26059710

An outline of Twitter's accounts settlement is the fourth quarter of 2013 (Q4)GAAPBased onA deficit of 511.47 million dollars (about 51.7 billion yen),A deficit of US $ 664.89 million (about 67.5 billion yen), The net loss per share is non-GAAP, Q4 is $ 0.18 (about 18 yen), and the full year is $ 0.3 (about 30 yen). In addition, the stock price plummeted by about 11% on February 5, when Twitter settled its accounts, and the stock price seems to be spreading among investors due to the poor results of the settlement that is significantly lower than the market expectation .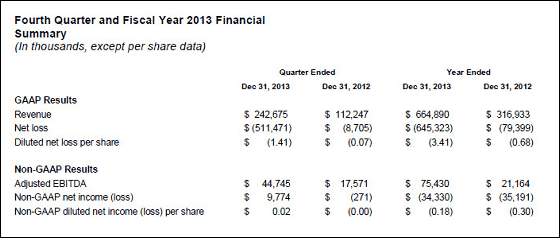 Given that the Q4 in 2012 was a loss of 8.7 million dollars (about 880 million yen) and that it was 79.4 million dollars (about 8 billion yen) for the full year of 2012, from the results report released this time , You can see that the deficit is rapidly expanding. However, looking at the breakdown of Q4's accounts in 2013,Revenue increased more than doubled to US $ 242.67 million (approximately 24.6 billion yen) year on year, So it can be said that it is difficult to forecast the future performance of Twitter just by announcing this settlement of accounts.

Regarding Twitter 's settlement of accounts this time, analyst at Forrester, a research firm Forrester said, "Services that do not have users who are enthusiastic about services are as good as not doing business.Twitter should deal better with users "It is pointed out that measures should be taken to increase advertising revenue.

The number of monthly active users of Twitter as of December 31, 2013241 million people, A 30% increase over the previous year, of which the number of monthly active users who use Twitter on mobile terminals is 184 million, an increase of 37% compared to the previous year, and it is also disclosed that the number of users is surely increased It is being done. In addition, the advertisement revenue per 1000PV is 1.49 dollars (about 150 yen), a 76% increase from the previous year, more than 75% of the advertisement revenue is from the mobile terminal.

This is a graph showing the number of monthly active users since March 2012. You can see that the number of users is steadily increasing.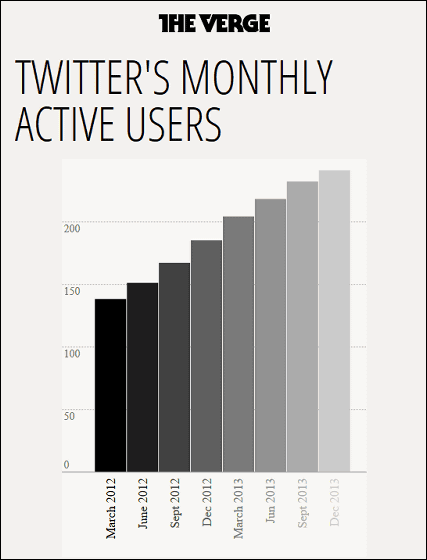 It is urgent to tackle further increases in advertising revenue for Twitter to rely on advertisements for major revenue, and already in collaboration with TV stationsMeasures to measure reactions of TV programsWe are doing. Also,Planning to advance into e-commerce businessIt is rumored that it is clear that trial and error is taking place by taking measures against this for increasing advertising revenue.

Twitter is about $ 230 million (about 23.4 billion) to $ 240 million (about 24.4 billion yen) in revenue for the first quarter of 2014, about 1.11 billion dollars (about 117 billion dollars It is planning to make $ 1.2 billion (about 122 billion yen) from the yen) to reduce the rapidly expanded deficit somehow, further increase income to make it profitable, or to make it profitable on its own Whether you're planning to explore the direction of giving up and selling it somewhere, it's important for Twitter's trend in 2014.