What is "100 yen morning set meal" that you can eat hot rice, miso soup and side dishes at 100 yen?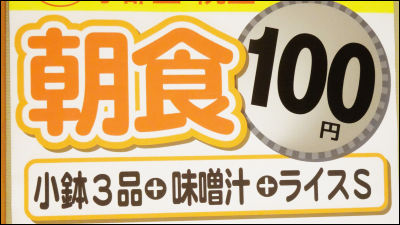 Breakfast is an important nutrition source for getting the vitality of the dayHowever, some college students may not be able to take breakfast by shifting to night life. Therefore, Ritsumeikan University has been introducing from December last year as a trigger to lead health management and reviewing lifestyle habits as "one coin eat"100 yen set meal". Speaking of 100 yen, it is the price whether one bread can be bought at convenience stores, but what kind of system is it all in? So I actually went to Ritsumeikan University cafeteria.

Effective for improving life rhythm and health promotion of college students! "100 yen morning set menu meal" will be introduced from December ahead of schedule with full popularity! - HEADLINE NEWS - Ritsumeikan University
http://www.ritsumei.jp/news/detail_j/topics/12413/year/2013/publish/1

Arrived at Ritsumeikan University's Kinugasa campus.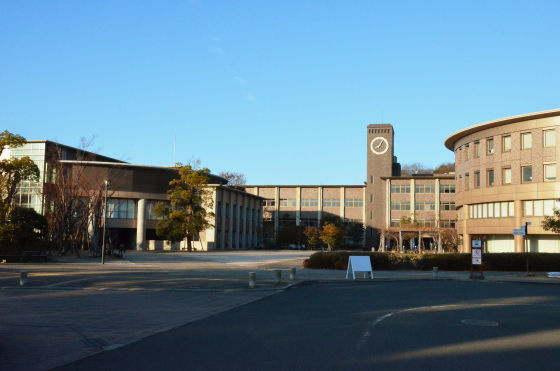 100 yen set morning set meal is offered because it is a lodging cafeteria in Kinugasa campus, so it goes while following the display.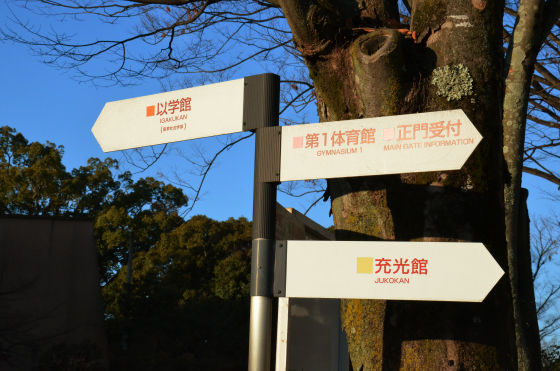 Arrived at the secondary school. The time is 8 o'clock in the morning, there is one more hour until the lesson begins, so people are hardly found.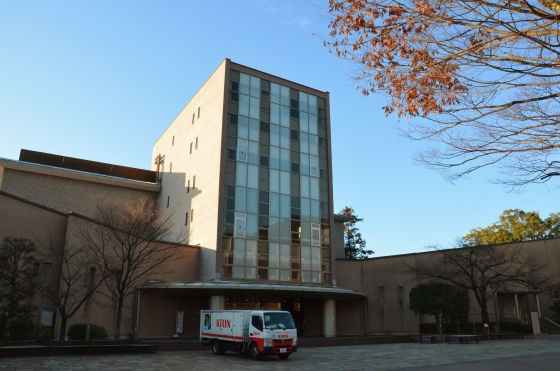 The cafeteria is located on the basement floor.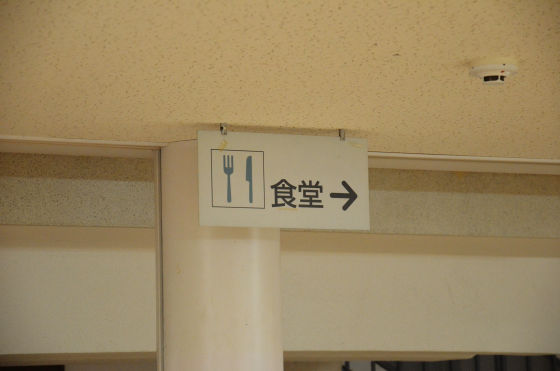 There is a menu at the entrance of the dining room.



People were already in the morning at 8 o'clock.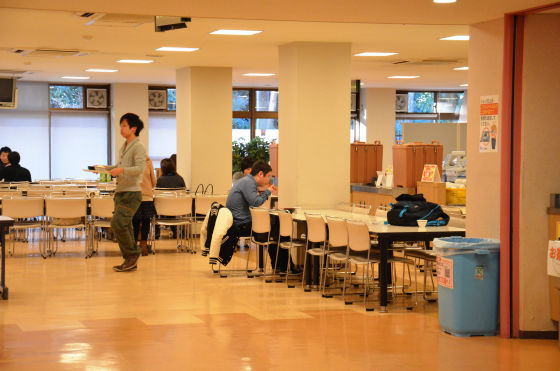 100 yen set morning set meal is a system that has been implemented since December 2, 2013, until then it was provided at 260 yen, whereas for undergraduate students and graduate students the time from 8:00 to 8:40 in the morning Rice S, miso soup, side dish 150 g set can be eaten at 100 yen. This is realized with support from the Ritsumeikan University under the support of the parents education society, and when we conducted it experimentally in 2013, it means that students who have breakfast at the cafeteria nearly doubled, 4 It was introduced in December earlier.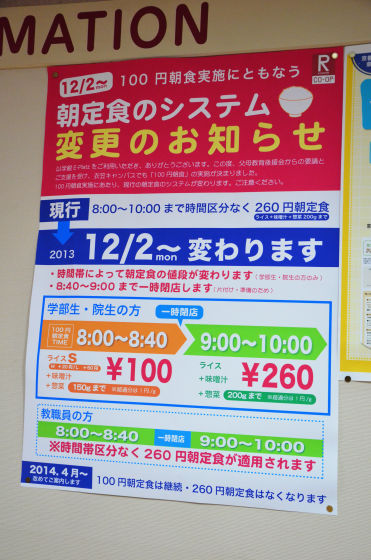 Currently it is available at 260 yen for rice, miso soup and daily dishes up to 200 g if it is from 9 am to 10 am, but after April 2014 there will be no set breakfast of 260 yen.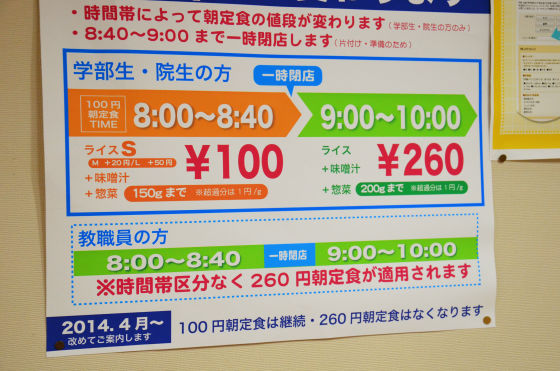 First take a tray ......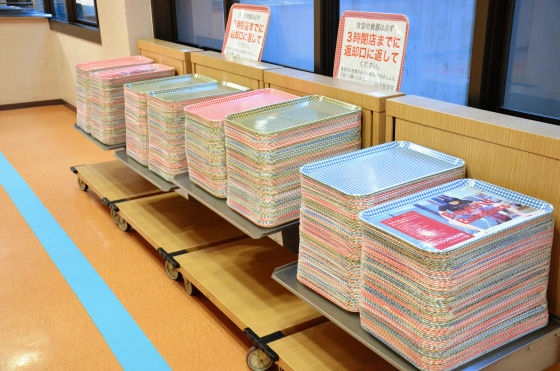 I will receive rice and miso soup at the counter.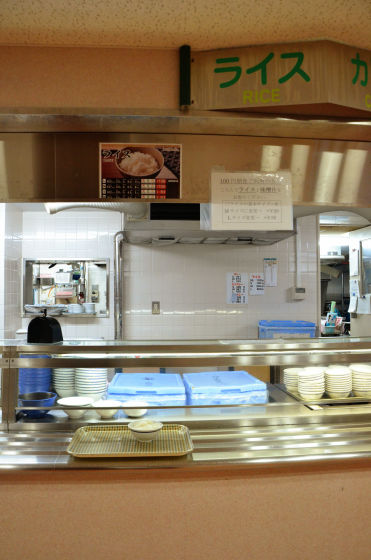 In addition, the basic size of rice is S size, when changing to M size, 20 yen, additional cost of 50 yen when changing to L size is necessary.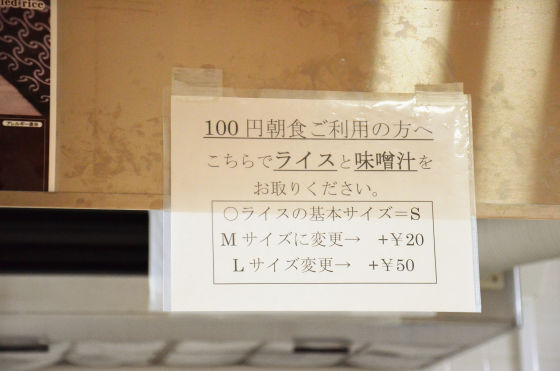 We prepare side dishes in a buffet style.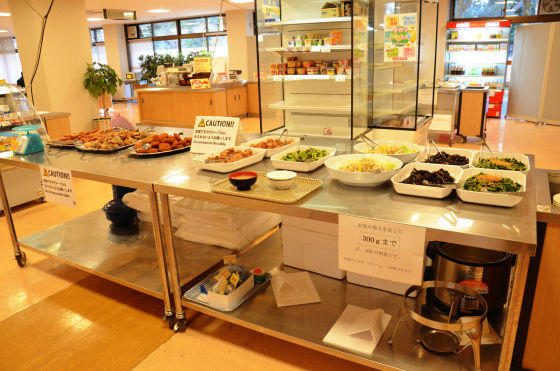 The range that you can eat up to 300 g with 100 yen plus the weight of the dish. Any more excess is added at 1 yen / g.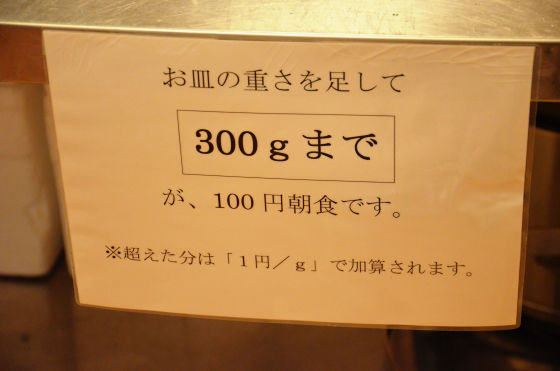 The prepared foods are healthy such as sausage and hijiki ... ...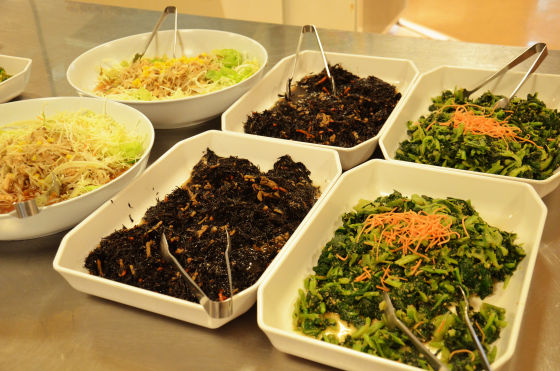 There was also a Gutsuri menu such as spring rolls and croquettes.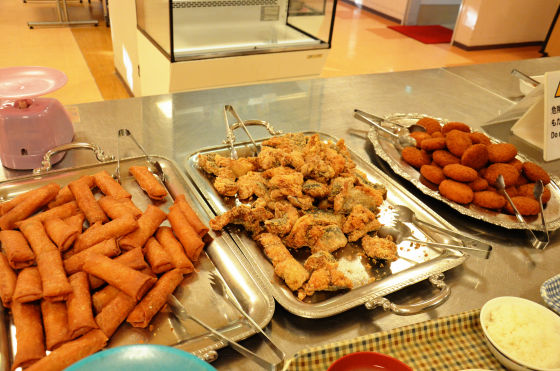 I will check the number of grams by the weight placed next to the side dish.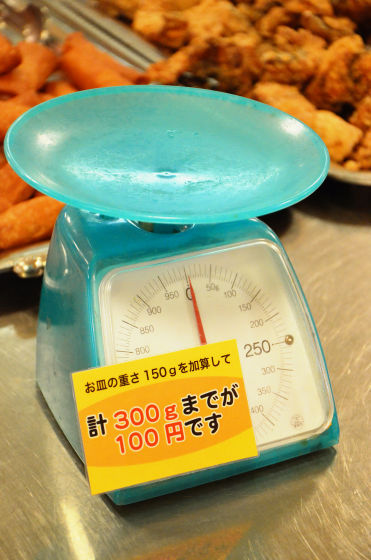 So I will take your favorite dish on the plate.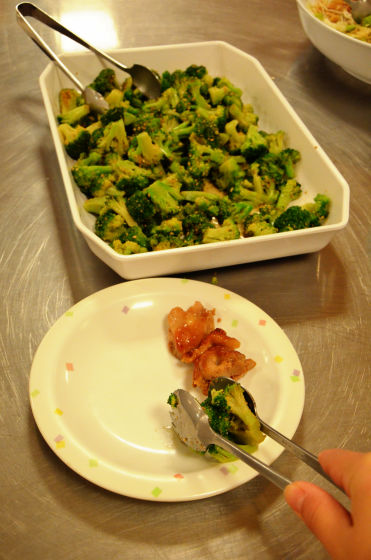 Is it such a thing? When putting the dish on the weighing place, it was about 300 g just about as much as there was enough room on the dish.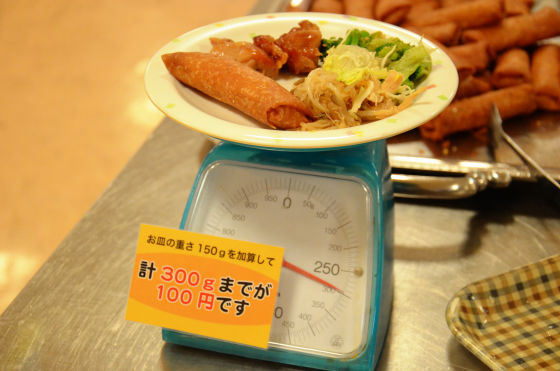 I will finish the account at the cash register.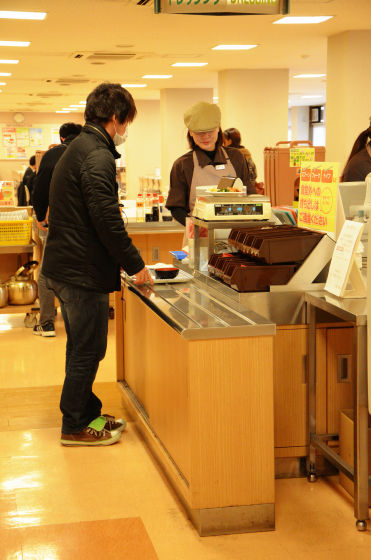 People will increase more and more with the passage of time. Men are slightly larger than women as impressions.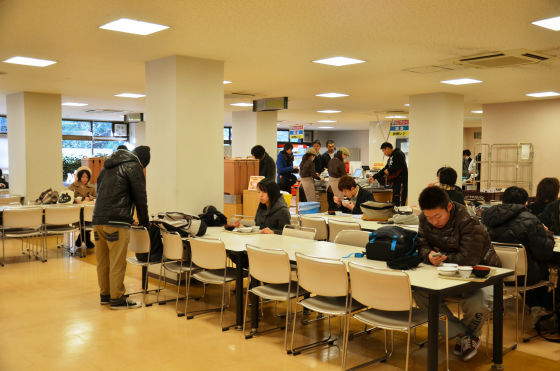 About the seat ......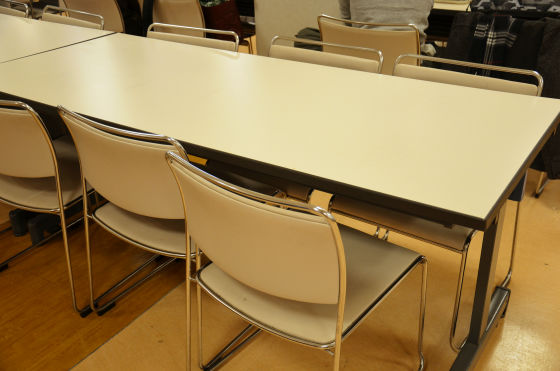 I will get you.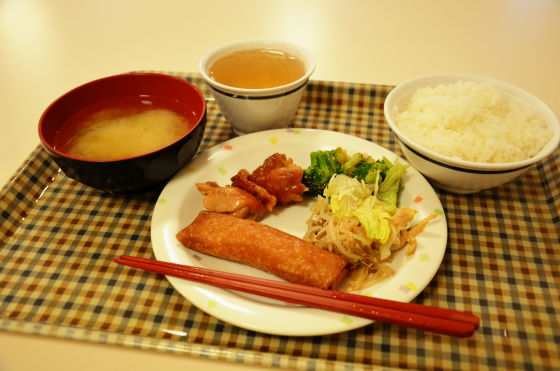 Miso soup is a simple item of onion and seaweed.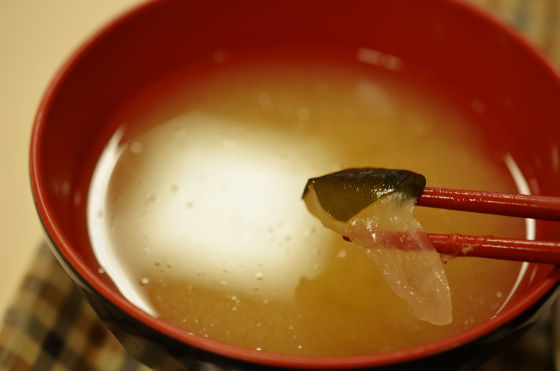 Rice S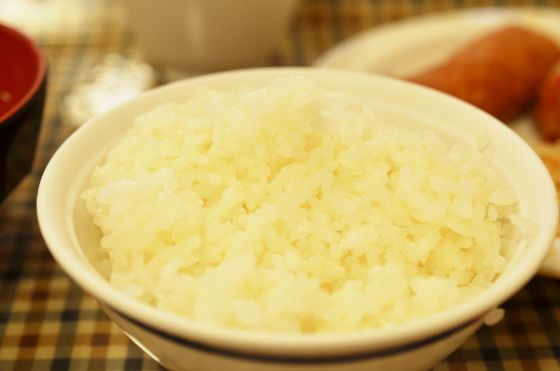 Teriyaki with chicken or ...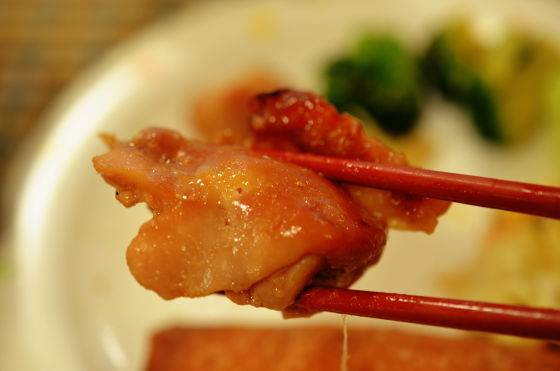 I will clutch spring rolls.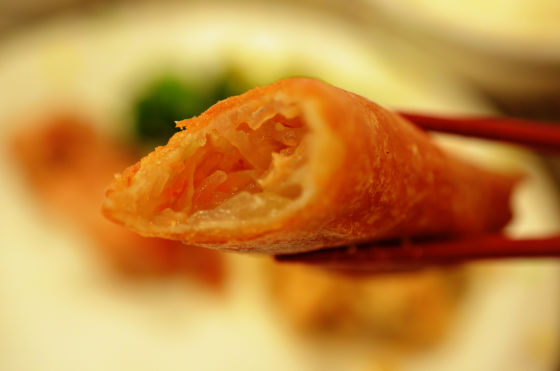 There are also vegetables such as sesame broccoli sesame, so supplement the shortage of vegetables.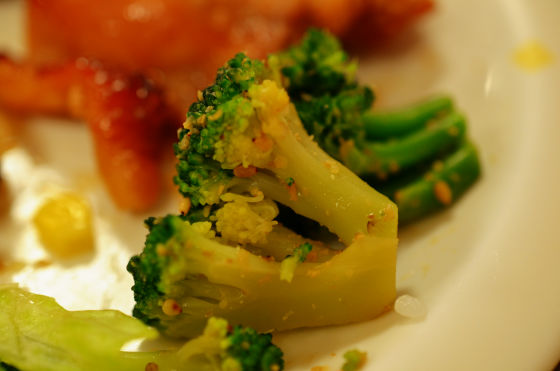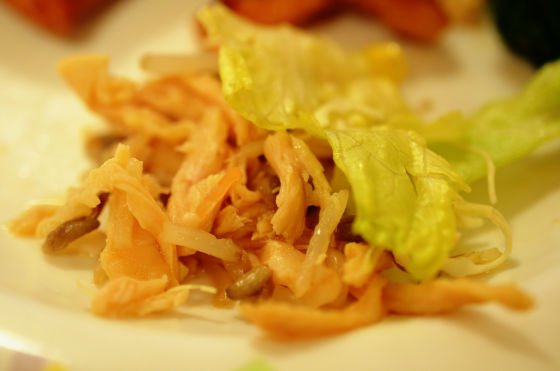 For convenience, it is very appreciated for the students because it is possible to get a solid meal such as hot rice and miso soup with a 100 yen coin, whether or not you can buy one bread. According to the survey of Ritsumeikan University, about 60% of the students did not take breakfast in 2012, but in the questionnaire taken during the experiment introduction period, "students who only have breakfast less than three times a week" It has been visited the dining hall on the grounds that it began, and it seems that students are considerably useful for sending a healthy eating habits. Moreover, it seems that it is becoming nice to get breakfast not only for boarding houses but also for home students who are leaving early in the morning.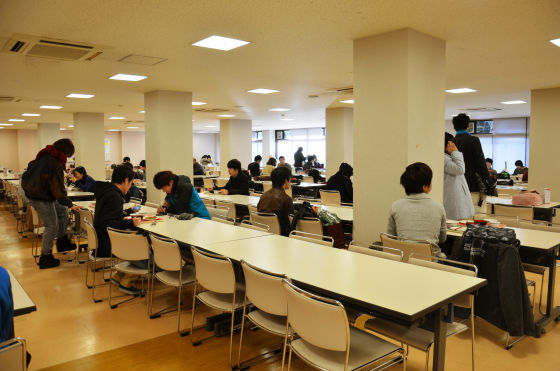 In addition to the Kinugasa campus, breakfast meals are also offered at the BKC Union Cafeteria 1st Floor in Shiga Prefecture. Below is the state of the BKC Union cafeteria.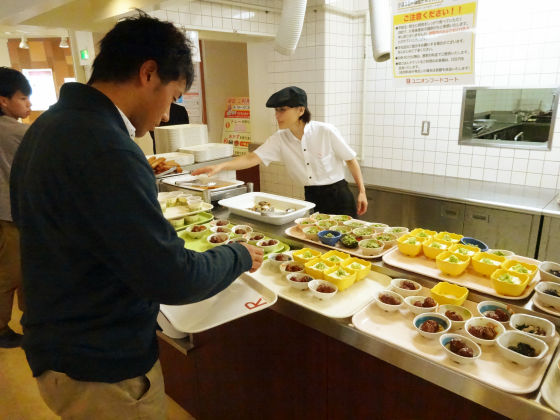 This is not a viking but a system that takes a small bowl.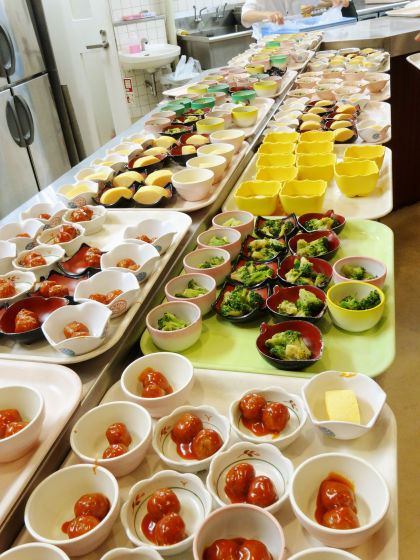 As you put your favorite small bowl in the tray ......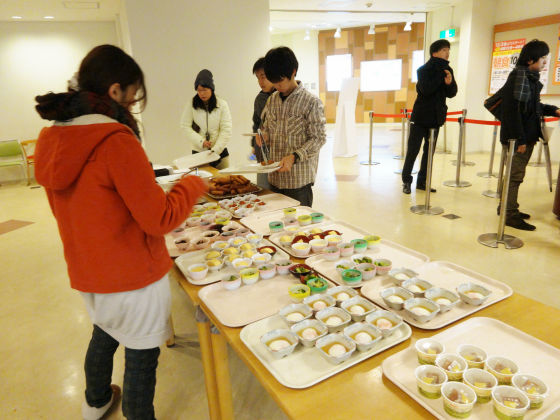 It was breakfast like this.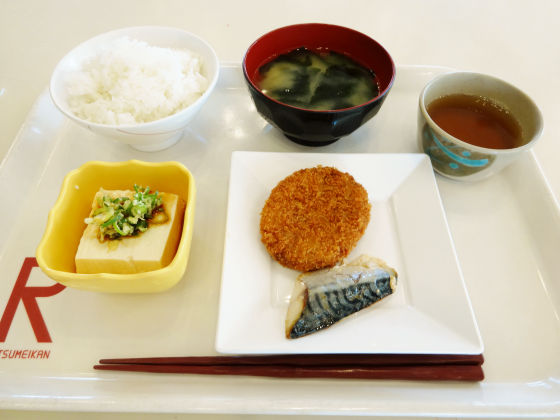 BKC's 100 yen set morning meal is limited to 25 minutes from 8:15 to 40 minutes, a set of 3 small bowls + miso soup + rice S. Because there are many undergraduate departments of BKC, students who stayed at the laboratory stayed used often.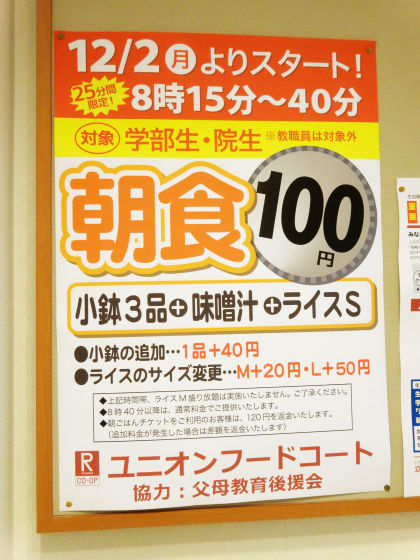 In addition, only the undergraduate students and graduate students of Ritsumeikan University can use the 100 yen morning set meal. When I talked to the publicity staff, I think that further consideration of health balance and introduction of pan-centered menus etc. will be considered. It is a student life that tends to be disordered in eating habits, but it was a revolutionary attempt to get a reasonably healthy breakfast, and to get up early and review even lifestyle.