Personalized personal ergonomic keyboard's favorite sticking · For future sales by Kickstarter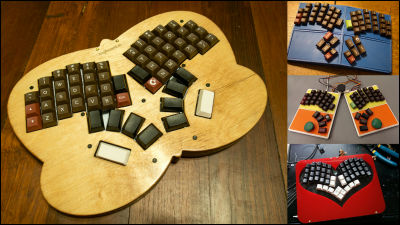 When using a personal computer for work or hobby, the keyboard is as essential as a mouse. Especially for Jesse who used keyboards frequently at work, its usability and comfort were important. The process of evolution of the self-made ergonomic keyboard which such Jesse has created for about one year has been released, and in the near future it is said that the cloud funding siteKickstarterWe are planning to start the project at.

Better and better keyboards. - Massively Parallel Procrastination
http://blog.fsck.com/2013/12/better-and-better-keyboards.html

From keyboard self-made start to numerous prototypes
Jesse who is a computer programmer occupation seems not to be an exaggeration to say that he spends most of the day in front of the computer keyboard since his parents bought Apple II at the age of 8. That particular Jesse liked and liked in particular, Microsoft madeNatural Keyboard Elitewas.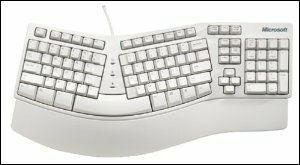 Although it was a favorite Natural Keyboard Elite, Jesse began to examine various keyboards as the manufacturer 's production ended. In such a case, IBM was manufacturing around 1990M15A model called.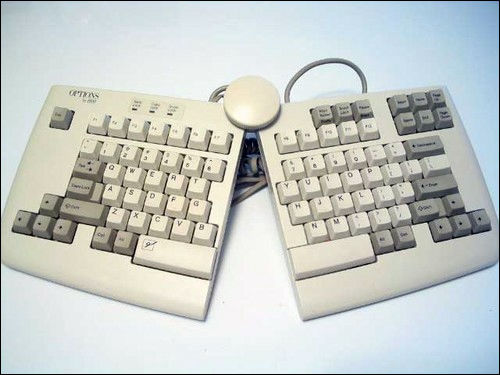 This model was designed to be able to freely set the angle and height by adjusting the ball type joint part provided in the center part of the main body, and it was an irresistible article for keyboard enthusiasts like Jesse. At the time of sale it was sold out in about two years because selling was not good so much, after that some fighting fight with fans continued, at that time it cost about $ 179 17,000 yen) was traded at a high price of eBay of auction site eBay of $ 1,625 (about 140,000 yen at the time of the auction) in 2010.

Rare IBM M15 split ergonomic keyboard hits eBay, bidding war pushes over over $ 1600 | Chips | Geek.com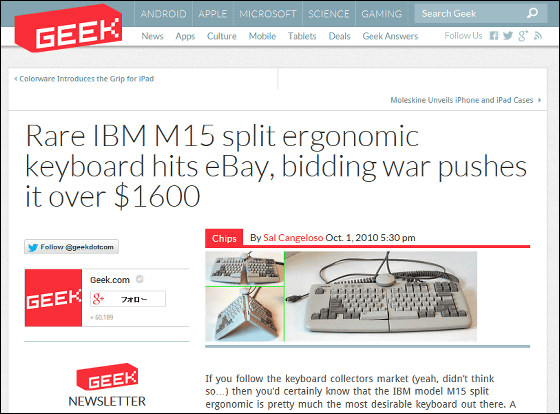 Next, Mr. Jesse got "Personal Media Inc."ΜTRON (microtron) keyboard"was. Jesse liked the quality key touch and the shape of the exquisitely cut thumb key, but because he was only sold in Japan due to various circumstances, it was a difficult situation to obtain continuously.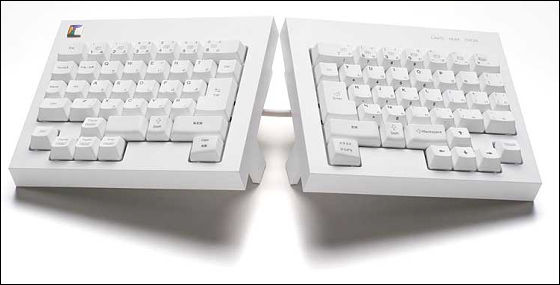 Since thenMaltronYaKinesisJesse who reached the conclusion that neither of them satisfied the demand, but to dream of making their own keyboards vigorously. It is a forum of a self-made keyboardErgoDoxJesse, who assembled the parts jointly purchased with his colleagues on the soldering iron with one hand, completed the first model "Mark 1".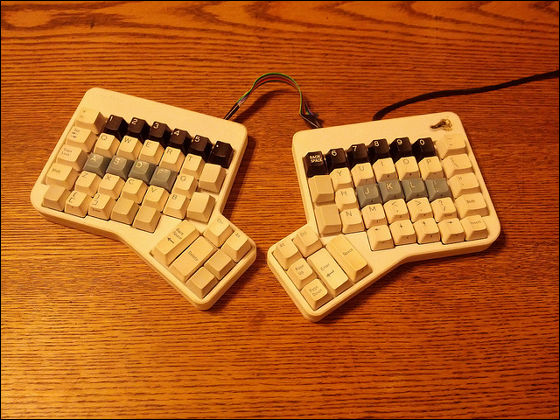 The back side looks like this. The cables wired with soldering iron are exposed, and it is a scenery full of handmade feeling.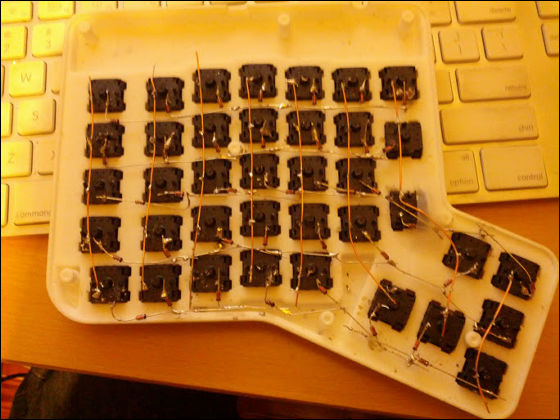 Jesse I tried using Mark 1 for a while, although it is not the best possible condition, I was generally satisfied with the finish. However, as there were points and requests to be improved, we began to create the next-generation model "Mark 2". Mark 1, which is a left-right split type, had the drawback of "It can not be used on a knee", so Mark 2 said that he decided to adopt a one-piece design. And this model is completed.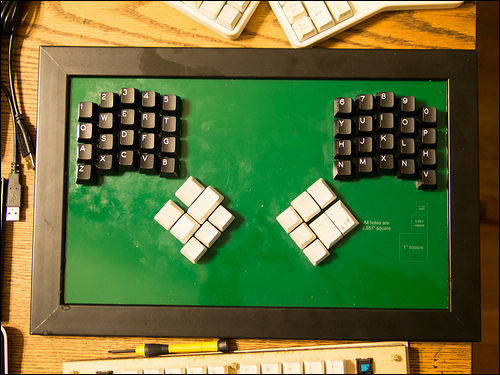 It seems that the outer frame has diverted frame for picture and the keyboard is set on paper mount.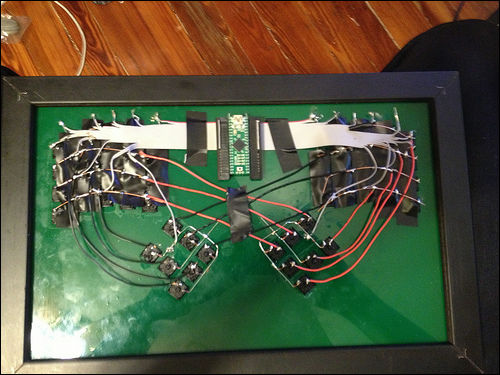 Following the reflection of Mark 2 that it was very big and heavy and the key layout was not good, the next Mark 3 will be created. The Mark 3 with the key on the plywood looks like an orthodox layout at first glance, but you can see that it is ergonomic design with right and left split when looking closely.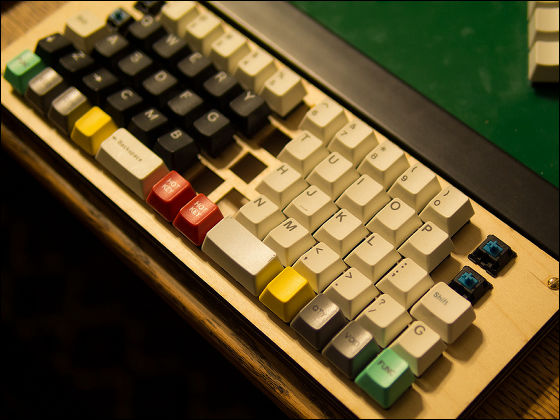 Next is this Mark 4. I am using an acrylic body, and Jesse seems to have felt a sense of resistance from design around here. However, he seems that he was not satisfied at all with the arrangement angle of the keys and the thumb key arranged in two rows.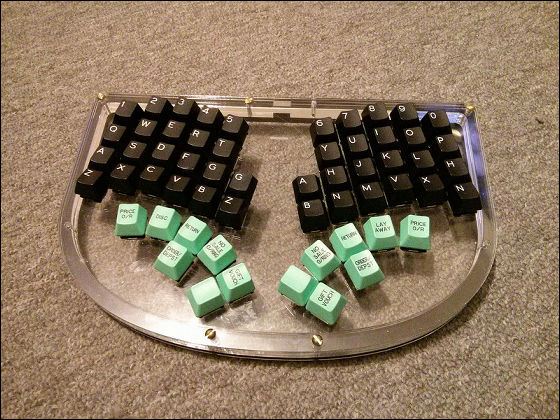 Mark 5 gave a special paint from a friend saying "It looks like heart shaped somehow" from a friend. Although it looks bad, Jesse says that laying out the four keys in a diamond shape in the center is a perfect failure. It seems that the top key of the diamond is very hard to push.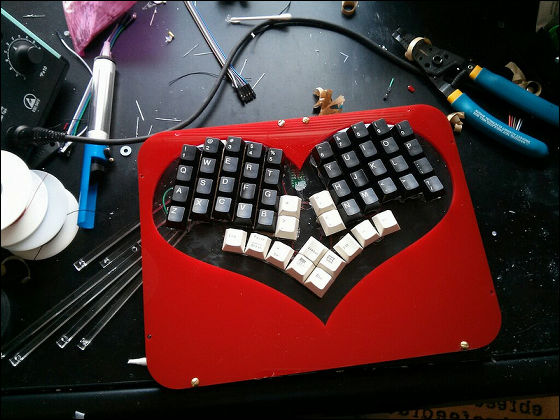 Mark 6 is the first model using a 3D printer printer. The shape of the center part is raised in a mountain shape, but it was necessary to optimize the angle including the key placement.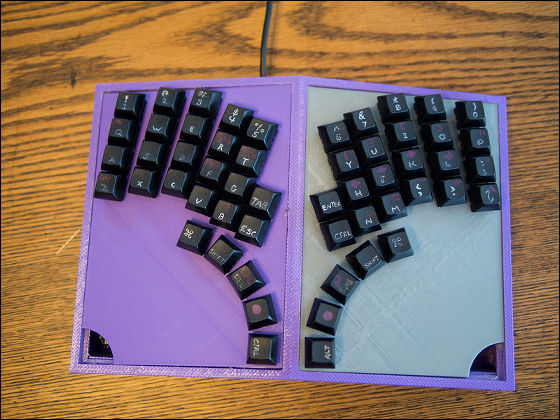 Based on that, Mark 7 was created, but further adjustment of the thumb key etc. is necessary.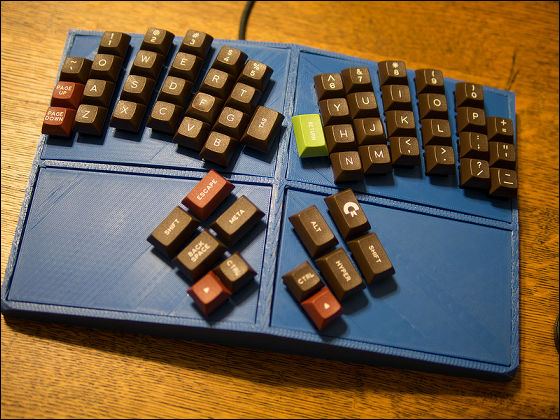 In Mark 8, we made the body into a structure of top and bottom splitting, and made it thin.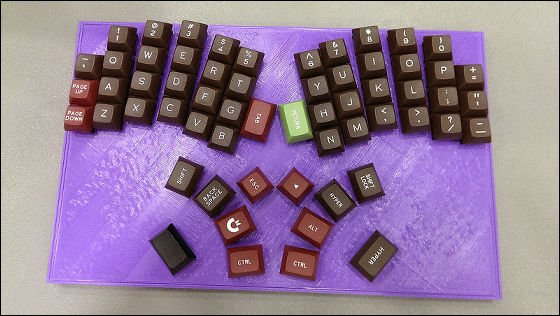 And Mark 9 will change the design at once. We adopted a ball joint structure like IBM M - 15 and improved it so that angle adjustment can be performed.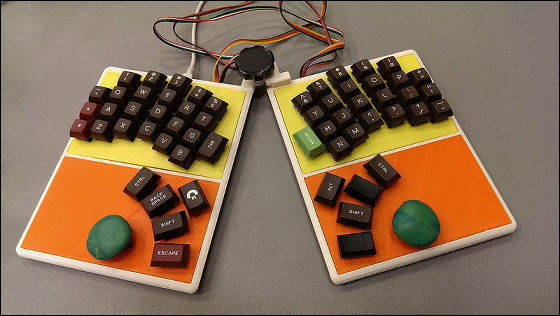 Although it is a model considering usability, such as shaping the edge part of the main body round, as with Mark 1 as before, because it had the problem of "it can only be used in a flat place", after that the split formula is no longer adopted It was.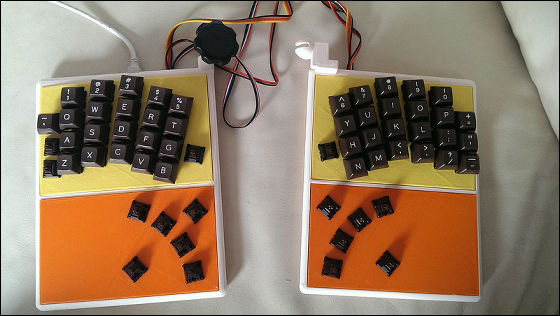 "There is nothing special to talk about Mark 10," Jesse said. It seems that it became a serious thing by fire from a 3D printer during creation.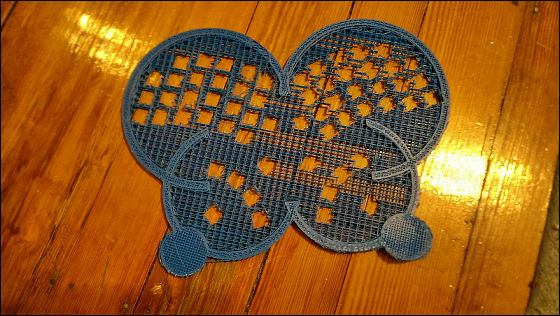 Mark 11 is made by giving up the creation with a 3D printer and overlaying the acrylic plate cut out with a laser cutter. Although it looks very good, it seems that the heaviness has become very heavy and cracks have occurred in acrylic while using it.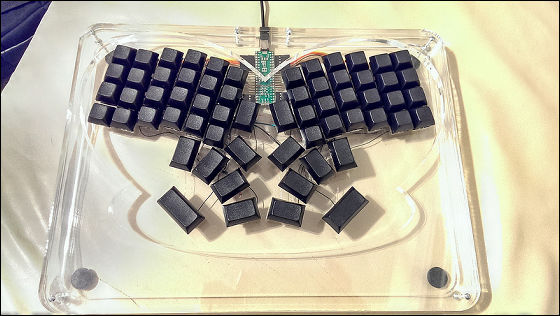 Next, Mark 12 was modified to improve the cutting method of the acrylic board and change the position of the screw so as not to disturb keyboard input, and Jesse was also a very satisfying model , It seems that the slightly smaller size was the only drawback.



And here is Mark 13, which has come close to completion. The optimization of the body size was done and the keyboard controller was opened sourceArduino MicroIt changed to.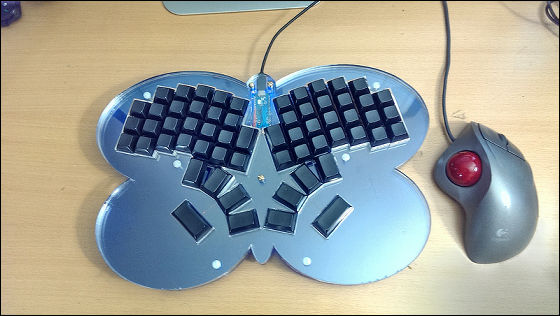 Jesse, who actually uses Mark 13, I am satisfied with the quality of its work, but it is still a disadvantage that the weight is overpowered due to acrylic and cracks occur. And that.

◆ Product prototype "Model 00"
After numerous trial and error, the finished product prototype is "Model 00" at last.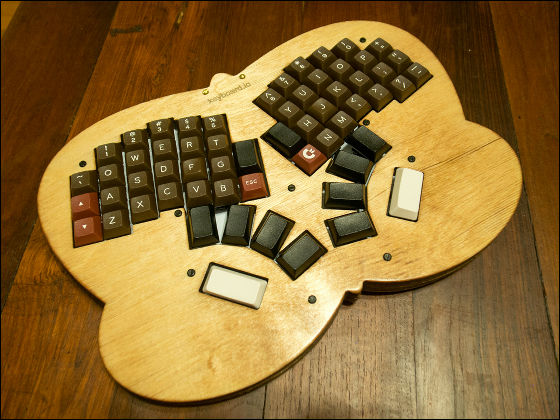 From this model electronic boards made from professional factories are used and it is felt that efforts toward mass production are progressing steadily.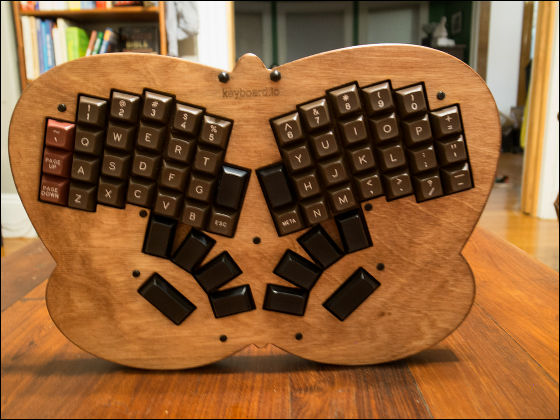 There is a logo on the top. It is created with plywood as a prototype, but different materials should be used in actual products.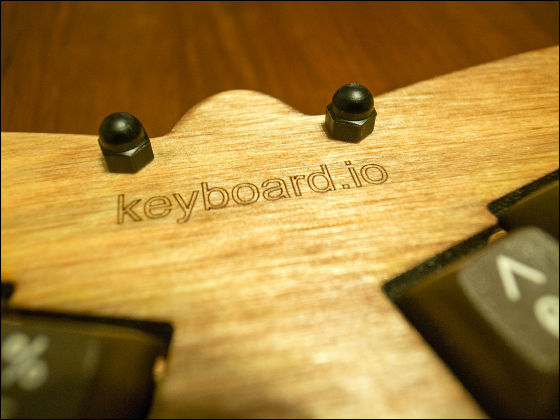 Jesse's keyboard was created by the cloud funding siteKickstarterIt is supposed to start a project of. Although the selling price is still unknown at the stage of preparing the article, the selling price is also unknown, but if you register your e-mail address on the following website, you will receive a notification e-mail when the project starts.

Keyboard.IO - Keyboards made better
http://launch.keyboard.io/