About 1 month and a half I tried using a smart scale "Withings WS-50" that can record data automatically on the net to keep healthy on a diet Report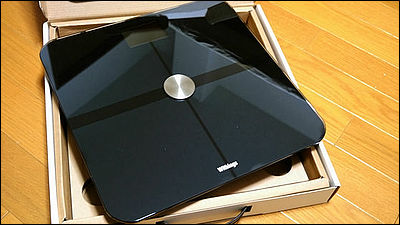 "It is painful if we gain weight as it is," it was pointed out by the female doctor on regular medical examination at the editorial department, and it turned out that it was a situation that the liver value was recovered at the cost, and that it might rush into diabetes if it is as it is Regret! With that being said, he decided to record his / her weight gain properly while chasing a bicycle.

"That said, maybe we can do a lot with the recent weight scale in conjunction with the app, save the data in the cloud, share it, etc. Let's examine it."

Although we examined various smart scales, "Weighing is measured once a day" "Data sharing uploads data on the net after siphoning data by holding the NFC compliant smartphone every time" There are a lot of complicated and troublesome things such as "It is not so .... It is because it is troublesome and can not be self-managed thoroughly because it is not so ... ... It can not do such a complicated thing ...... like this Uploading data to the net without permission by Wi-Fi by itself, automatically synchronizing in the background when starting the smartphone application, the graph is properly seen, the graph is properly seen, some figures are known, somehow used It's okay to let me mind ...... grumbling ...... "

It was in November 2013 that I looked up with a curse like that. As a result, it was that all of the selfish tactic demands were almost all covered by Withings'Smart Body Analyzer WS-50That is why.

Petit on the net and get it the next day, as expected it is Amazon. According to the phrase "hit the iron while it is still hot," it is better for you to do this with haste.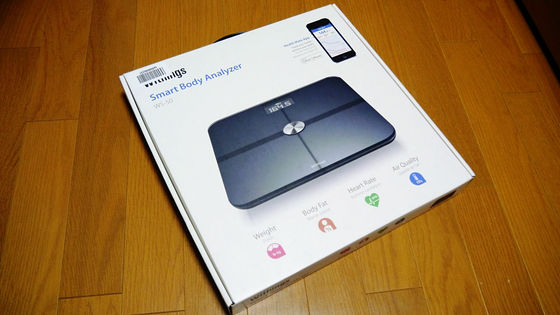 The back side looks like this, English is lined up side by side, but how to use is quite easy, the application is properly Japanese. The point is that the application is compatible with both the iPhone / Android, and in fact it is a spec that the initial setup has been considerably cut off and what a smartphone is mandatory.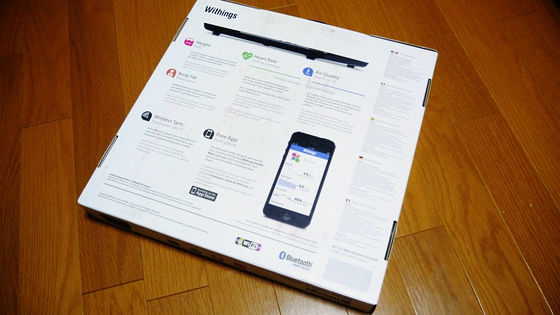 Pacupa's manual that wrote an easy setup method when opened and a body packed cleanly. It seems that France is home based, and it seems that Withings company that developed it seems to be based, somehow the atmosphere differs from American products.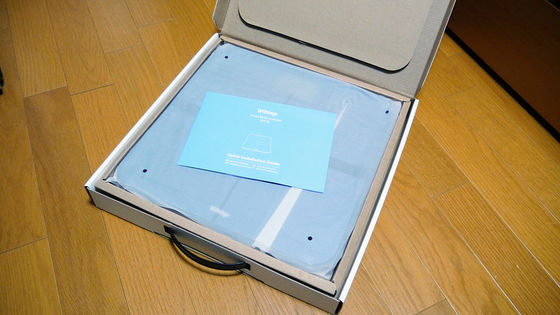 Looks like this, the surface is glass and it has a very luxurious feeling, only the metal part in the center is raised a little, other than that it is extremely flat, beautiful and luxurious design.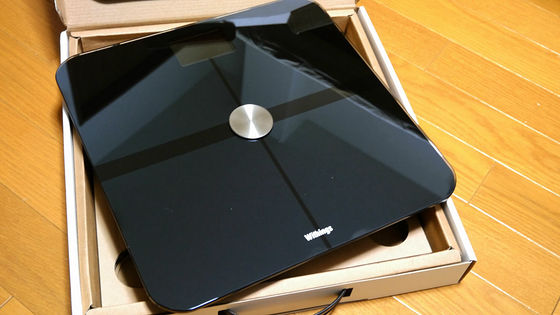 It has been chamfered properly and the lower part is rounded, so it is finished to feel thin like the size.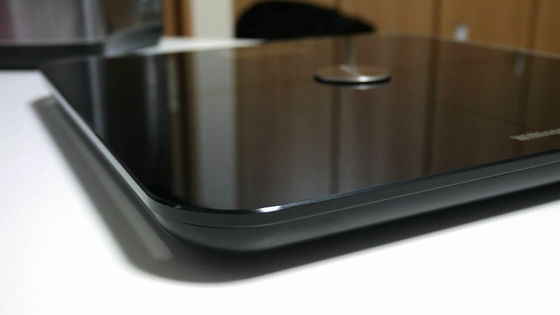 The size of the main body is 32.5 × 32.5 × thinness 2.3 cm.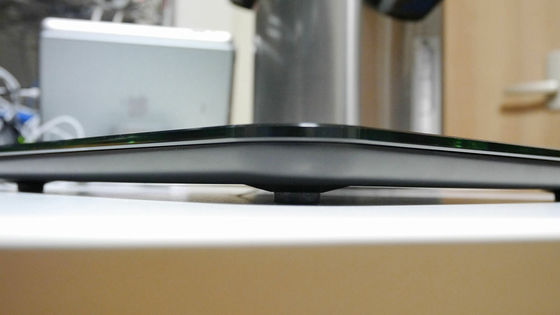 Because it is quite large, even people with big feet are safe, in the case of 26.5 cm feet like this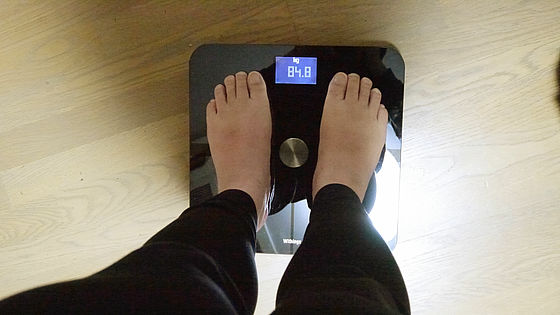 First of all turn it over so that we can use the battery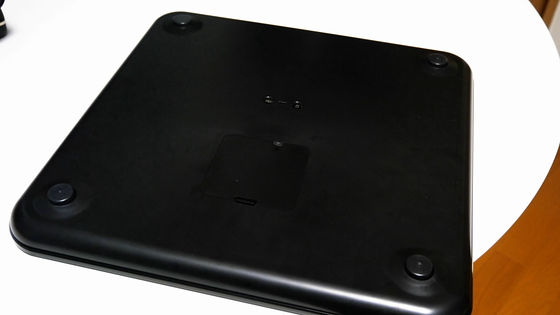 Batteries are inside from the beginning, if you pull out the transparent film OK. It is 4 AA size.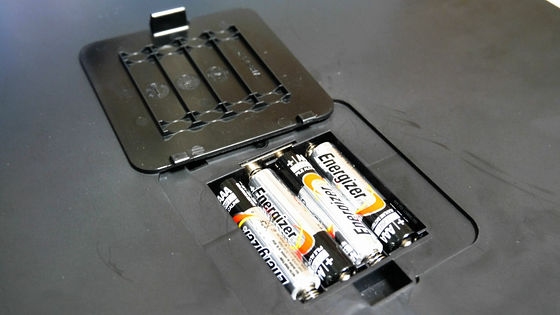 If it is a floor that does not have a dent, such as flooring, you can put it as it is, but if you put it on a carpet or the like, if you attach the attached foot from the top like a cover OK.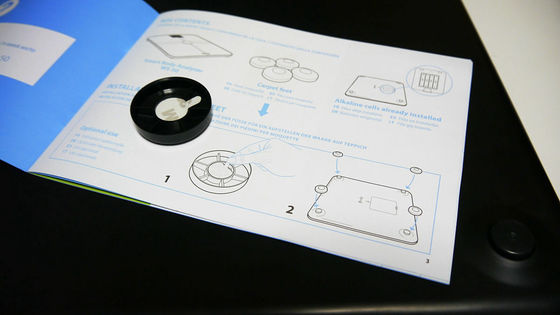 Because the center is an adhesive seal, feeling like peeling off it.



This time I wanted to use it as soon as possible so I bought it at Amazon, but if I purchase it with Apple, it is said to be a Japanese manual.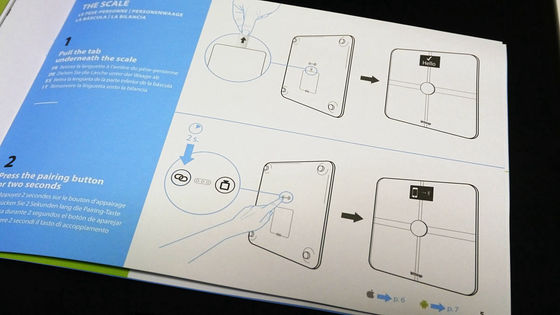 It's easy to use until you can use it for the time being. Touch this chain-like link icon on the bottom for 2 seconds. Since it is not a button, it is not depressed and it does not move too much, so it becomes uneasy as "Do you recognize properly?", But let's look over the display of the main body.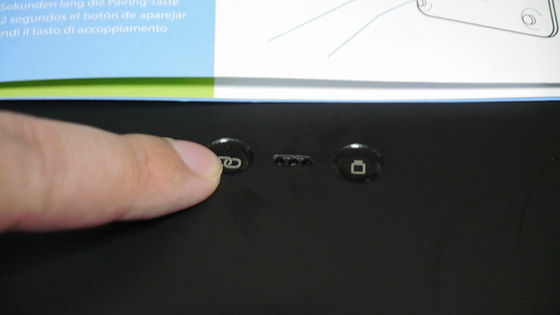 In this way, with a backlight, a 65 x 45 mm display (128 x 64 pixels) glows, and you will see something like this, communicating with the smartphone via Bluetooth. Since it is "1/4" in the lower left, it is understood that it is the first step of all 4 steps, and it is somehow relieved.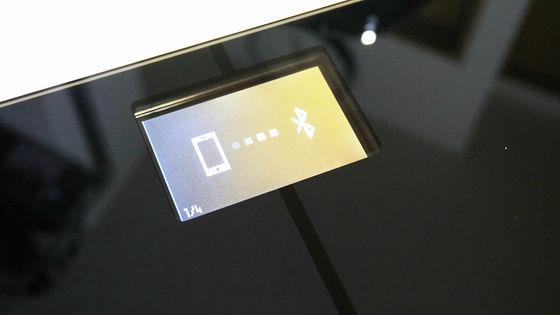 This time I will set it on iOS 7. When you turn on Bluetooth from the setting, "Withings WS 50" is displayed as a smart scale, so tap to connect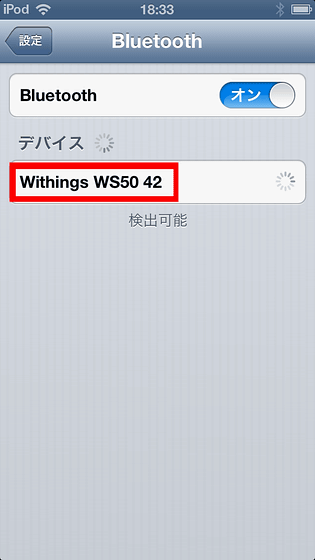 Then you go to the second stage by saying "2/4" this time, and you will see "Start up Withings app"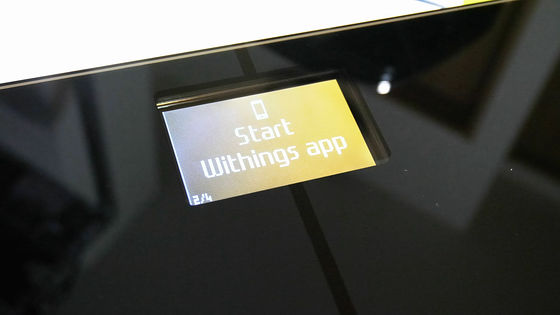 As you see iOS, you are asked if you want to connect to the App Store in this way, just tap "App Store"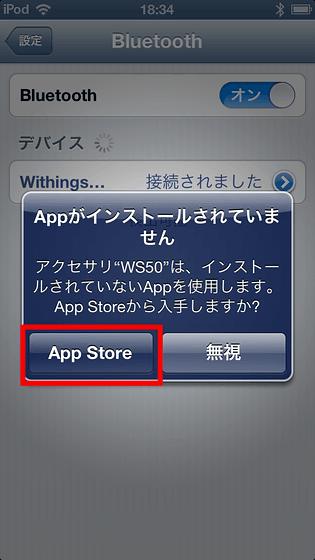 Tap "Install App"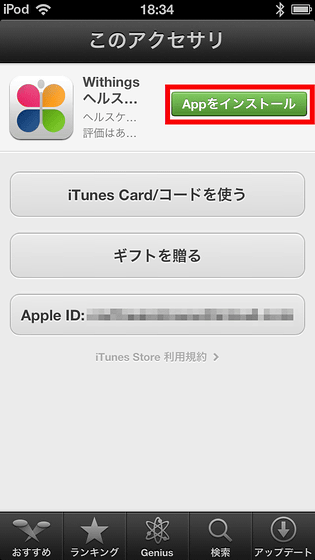 After installation, tap "OK" as you are asked if you want push notification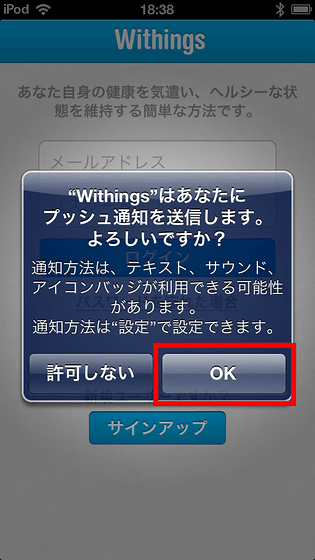 Since it is already paired with Bluetooth, tap "Install now"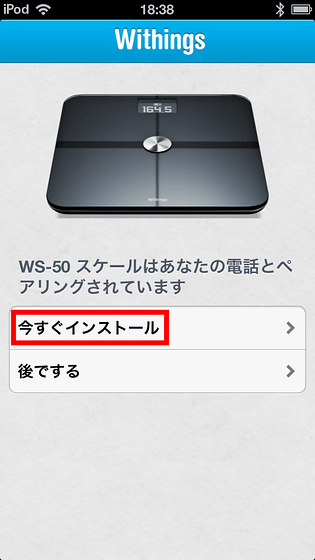 As you move to the account creation screen, tap "Withings is my first time"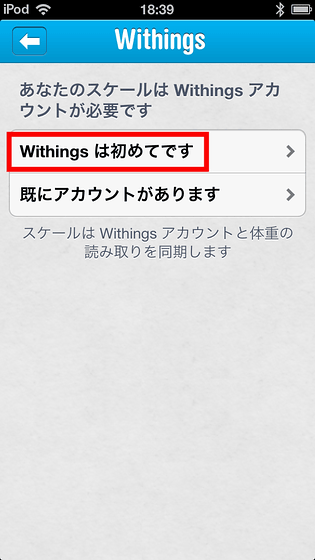 I will ask if you are logging in on Facebook but this time I will create an account for Withings official website. Tap "No".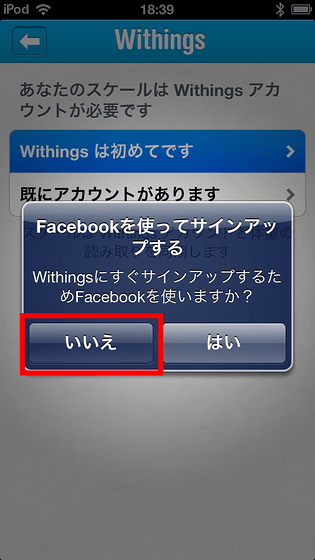 After entering your email address and password, tap "Confirm"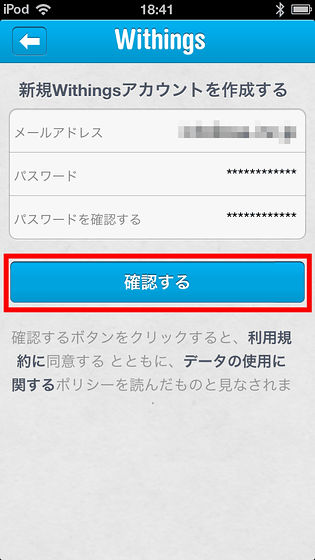 Tap "Create a new user" after entering your first name, last name, birth date, height, current weight, and gender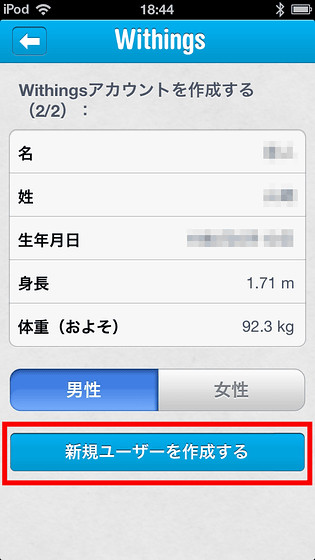 Although it can be used by multiple people and family, tap "Continue" as this setting can be added any number of later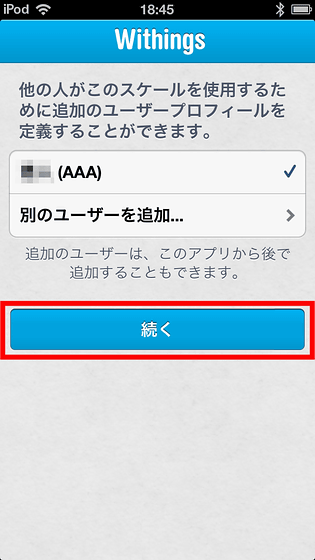 Tap "Set up Wi-Fi connection" so we will automatically upload via this wireless LAN router this time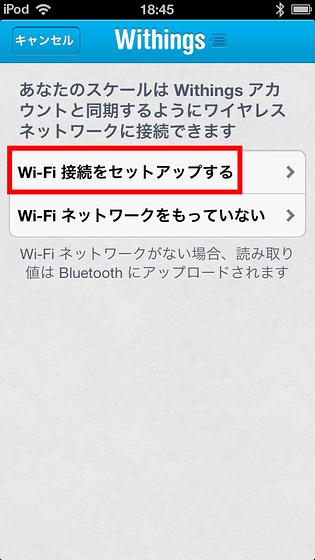 Since the access point name (SSID) of the wireless LAN router is displayed, tap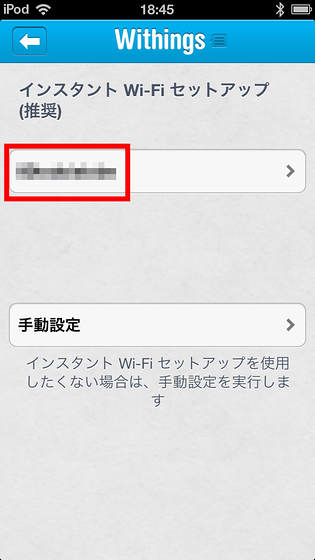 Tap "Permit" because it says "Do you want to share Wi-Fi settings?", Wi-Fi connection settings will be transferred automatically from iOS to smart scale



Please wait for a while "and wait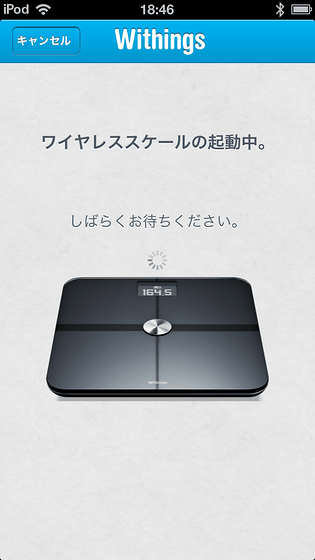 This is displayed on the display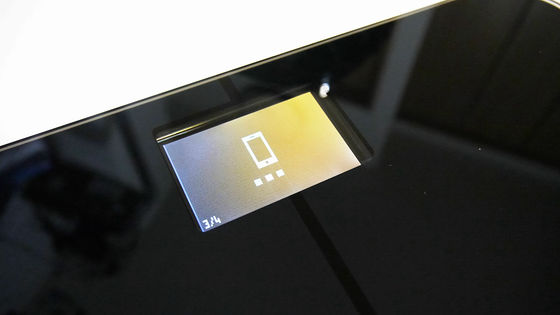 After waiting for about 1 minute, "Setup is completed" is displayed, so tap "Confirm"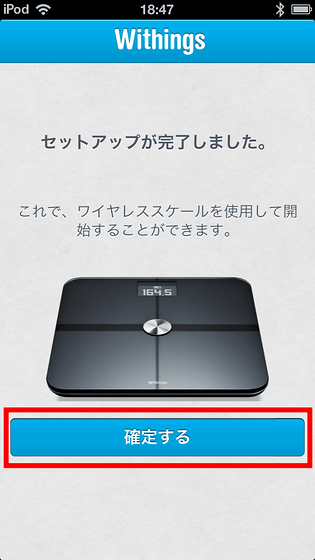 The scale reader is displayed as "Ready", and it is now ready. Then we just measure the weight.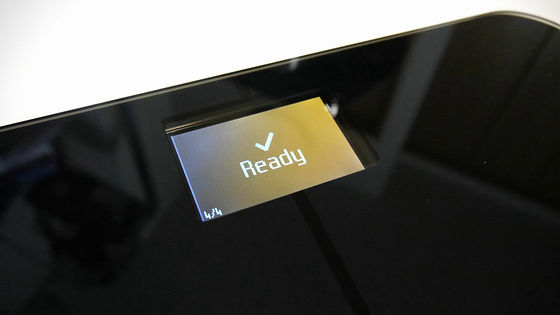 Measurement begins automatically when you put your foot on, weight, BMI (degree of obesity), heart rate, indoor temperature and CO2 concentration are displayed. You can understand what kind of feeling flow it is by watching the following movie. If you measure up to the heart rate it will be okay if you get off the rest, no problem.

Weight measurement with smart scale "Withings WS - 50" - YouTube


This is the dashboard screen of the application after the first measurement. 92.3 kg, looking at it is overweight, thank you very much.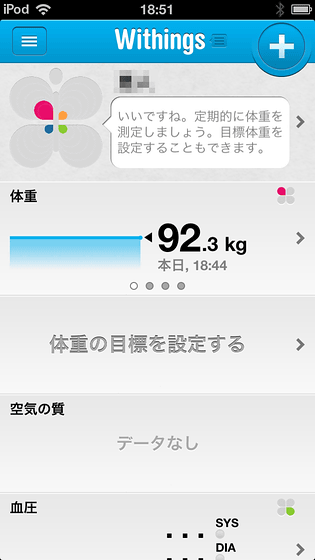 The screen after a few days is kore. Each item is called a "widget", so let's tap a bit because the "set weight target" in the middle is empty.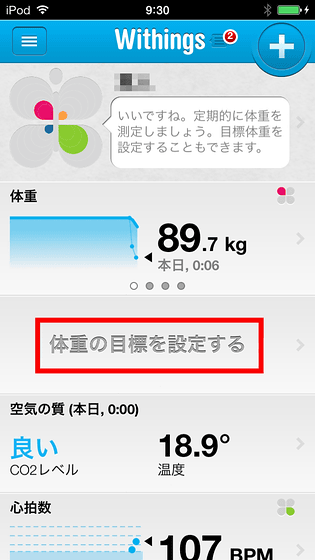 Numbers and deadlines have been entered arbitrarily as soon as "Activate" is turned on. "You are going to make a sweet setting, but it's not going to happen! All of the bad guys' slack ideas and so on are expected! As you continue to motivate, you are ready to hang data to Facebook with real name supremacy It is a screen as if you are shouting "Wui!", It can be seen that you are grasping the features of the audience very precisely.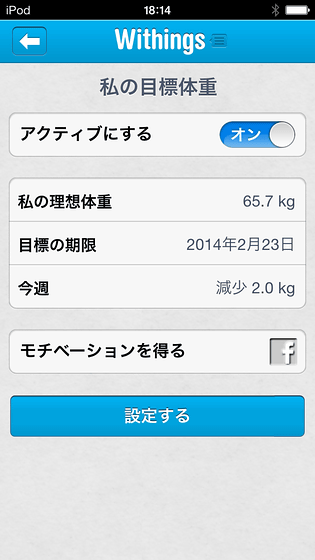 That's why because this smart scale can measure CO2, it is placed on the bed side, measured immediately after getting up, after eating, going home, immediately after leaving the bath, before sleeping, after exercise, etc. at every possible timing Then, "I see ... ... how does weight change or decrease like this ...?" Is grasped, the screen that passed for about a month is Kore. Tap the weight display widget on the dashboard so that the graph display is done in this way and you can change the motivation by switching in the period, such as 2 weeks · 1 month · 3 months · 6 months · 1 year · all It is possible to keep. During the first period, let's display "2 weeks" and myopic eyesight "Oh, I'm decreasing!" At the time when about a month passes, "Woohoou" and smiling at the point of seeing a plunge of graphs That is why. By tapping the button on the upper left, you can display detailed information.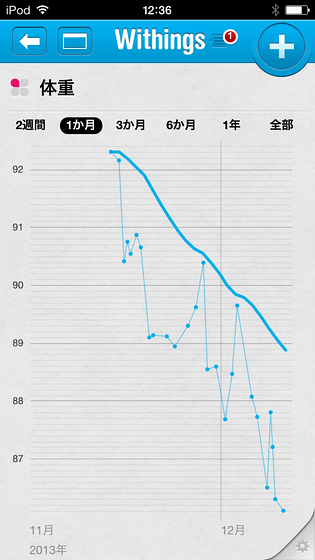 With this feeling, weight, body fat, BMI are displayed and you can see how many years, what day, what day, and what minute you measured.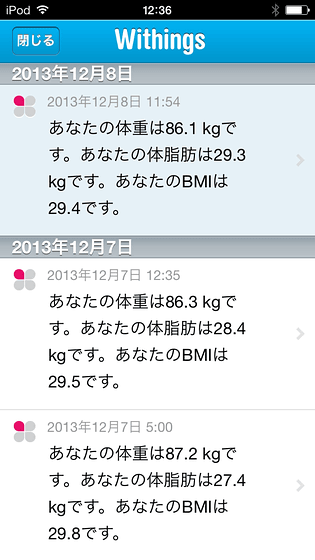 In addition, time passed. Tap as "air quality" became a matter of concern.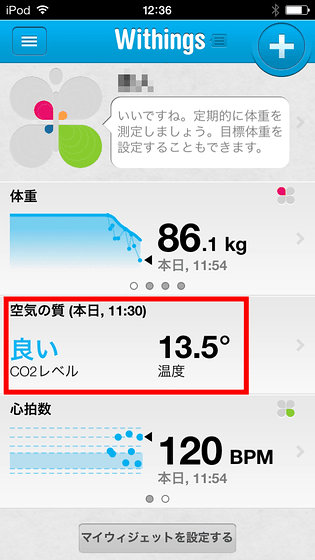 In this way, the transition of room temperature and CO2 concentration is graphed, so if you look back on when saying "Some kind of air is bad ...", you can feel the necessity of ventilation. "Because we put the weight scale in the bathroom / dressing room, it would be wasteful just to measure CO2 or room temperature", but this smart scale is rather rather reversed. To measure the room temperature and CO2 concentration are rooms that I usually have or bedroom. In other words, it is not a place like "I'm not going to lose weight" anyway, by daringly putting a scale on "usual room", I will make sure that my body weight gets in my eyes, It is an idea to make you conscious of your healthy life by continuing to stand by so that it can be measured. How to blend into daily life, how to make it a habit? Indeed, the ingenuity is "I know, Huh, you are deep, that life style is fundamentally ...... That is not sloppy ... ... ... ... Dressing stalls ... .... Once a day measurement ...... It is useless with such a measurement method for ordinary people ... Rather, it is not a scales that violates everyday life like this and shows a tight attachment that always sticks to the back with a human ... .... Murimuri ......! I feel like I'm told.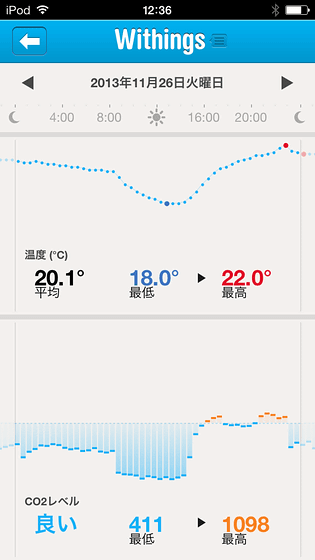 It seems that somehow Withings is seeing the spirit full of this, but it is exactly right, and the heart rate change is also recorded in this way. Throb.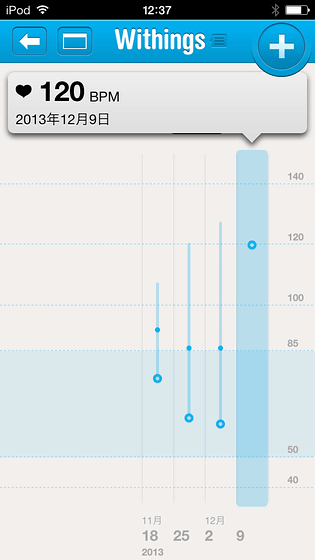 The reason why the pulse rate is large is just after running on a bicycle, the bath rises. As we can measure it many times a day, what changes will you have in your body what will you do? It is easy to understand that it is understood well that it understands to the extent that it understands so much, it is easy to fall into the illusion that you can control your body and so on, it is easy to maintain in a very motivational way. Somehow, because you can see data other than your weight, it will become fun.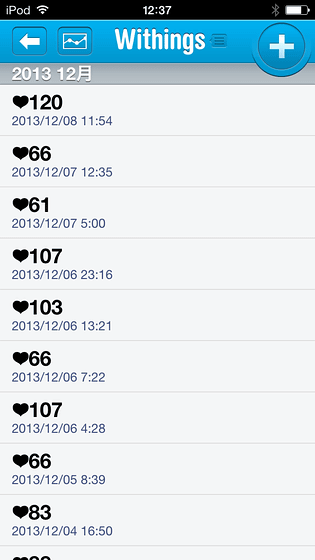 It is also possible to arrange the increase and decrease in body weight and fat by numbers instead of graphs.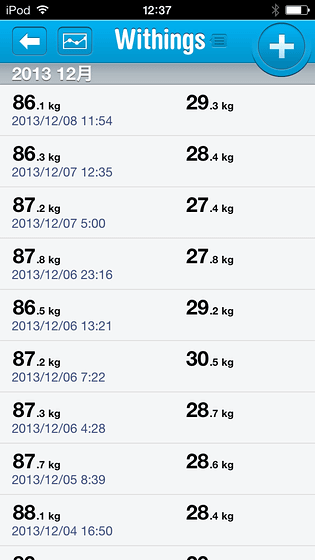 If you look at the graph again like this, you can see that despite repeating increases and decreases, it is decreasing properly. Urushige. So, I tried my best till the end of December. Drastically decreasing near the end is because of a cold pull. It decreased by 1 kilo to 2 kilos in just one day, the physical strength also decreased.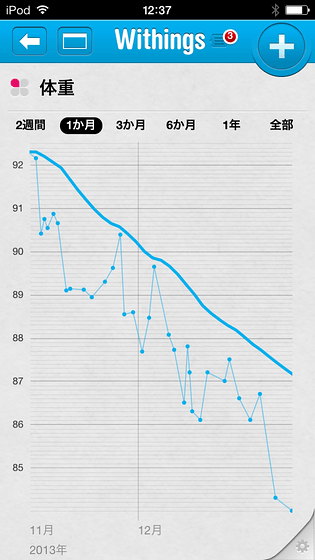 It is almost time to get used to it after a month has passed, but when that happens, you will end up with yourself by finally opening your data to someone other than yourself, feeling the pressure . From "profile" tap "Withings" under "Share your dashboard".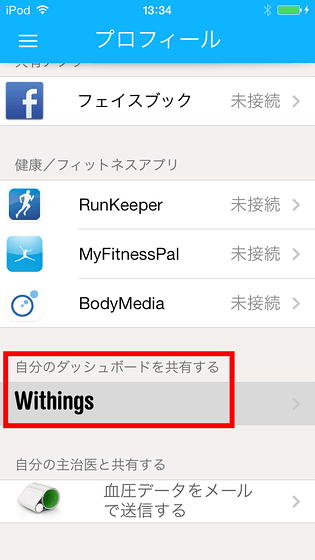 Then you can add the mail address of the person you want to share so you can enter it. Invitation letter will be sent to the other party. If you already have a Withings account, you can share it with haste.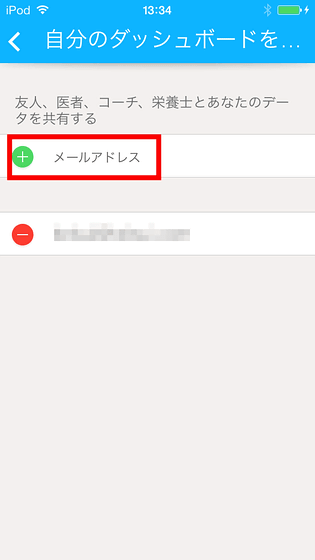 When added and shared, "friend" is added in the partner's menu and your name is displayed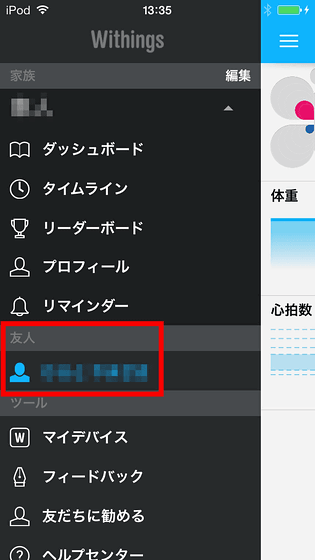 You can see from your opponent like this. Weight and heart rate are shared and other items are not shared by default. After all, understanding room temperature or CO2 concentration, "Okay, I am out of the ... ...." I know that it is so security rather than privacy? It seems to be because there is something.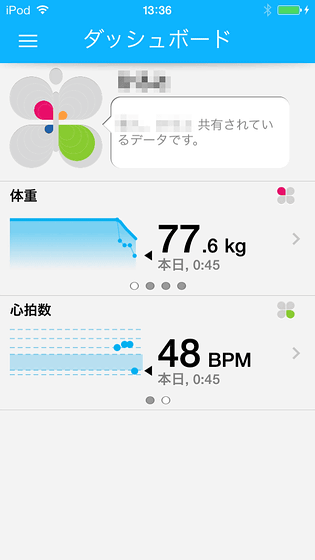 Furthermore, it is also possible to systematically notify you "Weighing weight" by setting "reminder".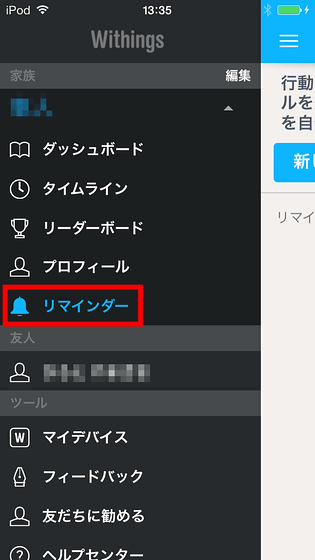 Tap "Set a new reminder"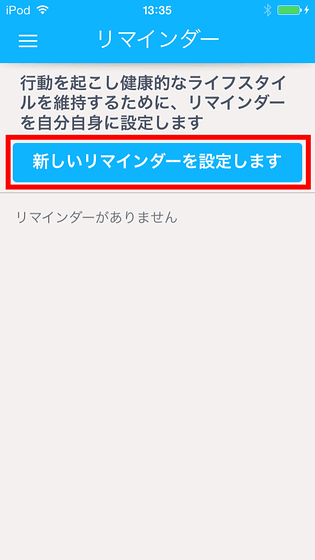 The notification content that can be set is "Measure my BP" "Measure weight" "Exercise" "sleep well" Set the notification timing and tap "Save" is completed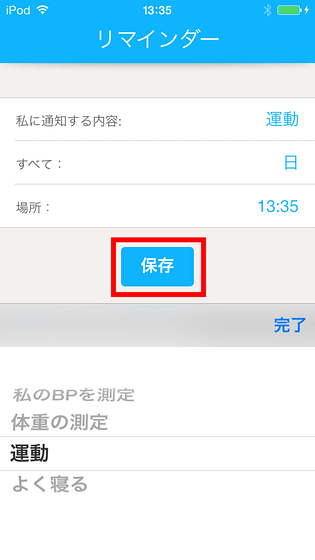 When you look at the shared data above, it is "We are losing weight, what is this?", But this is a smart scale for homeboy who set up when you return home. Yes, because it was a wonderful scale, I decided to use it even at my parents house. So, I thought, "Maybe you can use the data measured with this scale"? Tap "My device".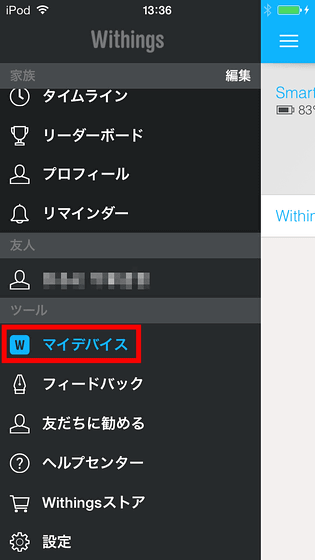 Then the existing setup scales are displayed along with the remaining battery capacity, so tap "Install Withings" under it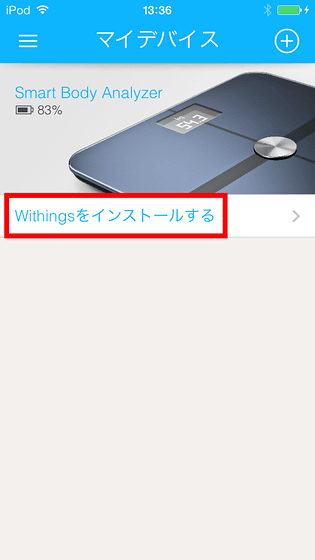 Tap "Scale" at the top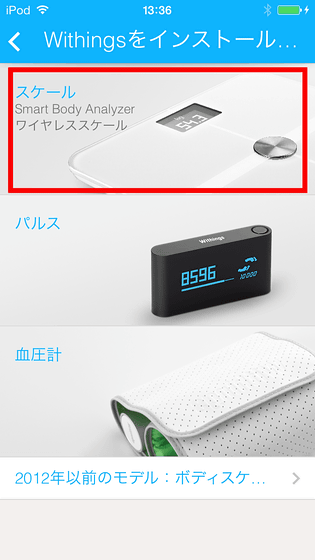 Then repeat the same procedure as for the first setup again so that you can use the second one.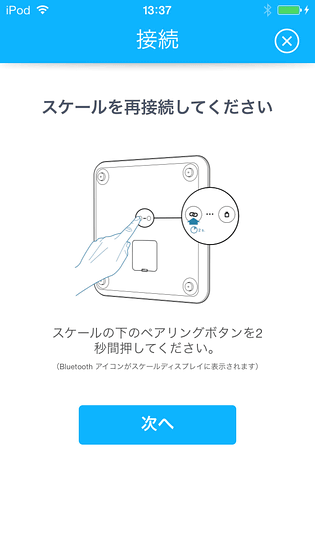 The one on the top is the second one and the one under there is the second one. When you look at the battery level, it is obvious which is more new, but I want to manage a bit more.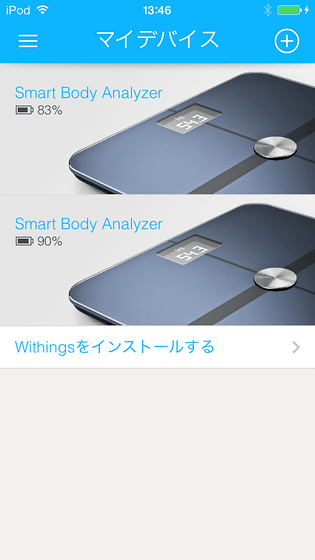 By tapping on the newly added scales we can name them in this way.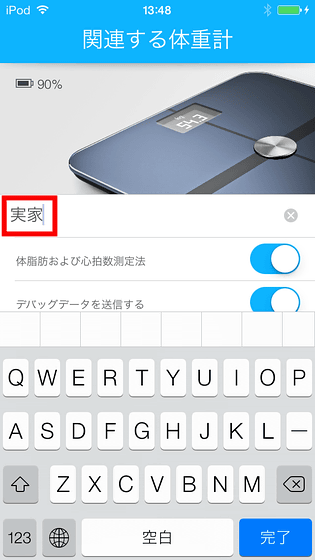 This makes it easy to understand.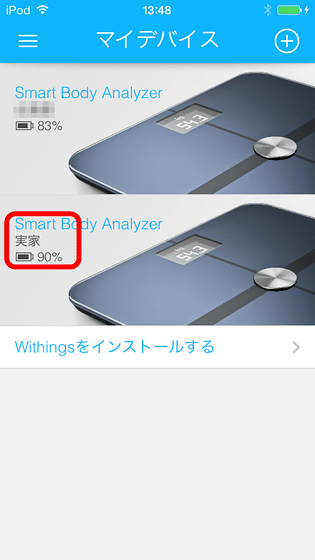 In addition, if you are a masochistic person who says, "I want to see the target weight and average weight too!", If you tap the setting icon at the bottom right of the graph, this setting appears as if you are curled up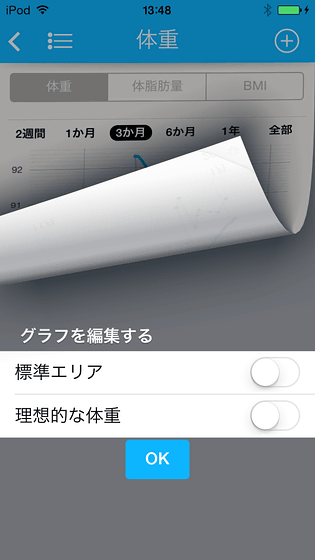 The standard area and the ideal weight are located far below. It feels somewhat bad, so you should leave it off until you get to that area. Let 's do what we have not seen.



This is the graph at the present moment on January 2, 2014. As I returned home to my parents house around the New Year and New Year holidays, and I was not yet working on weight scale, it seems that there is a missing data. But okay, tap the "+" icon at the top right.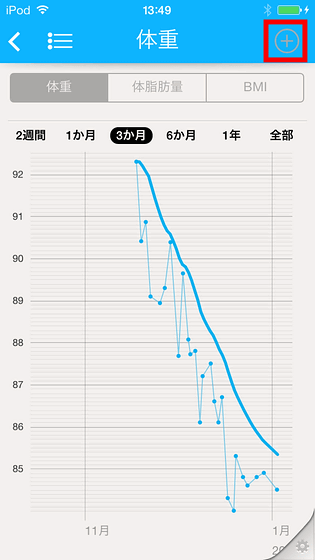 Then it can be added manually like this.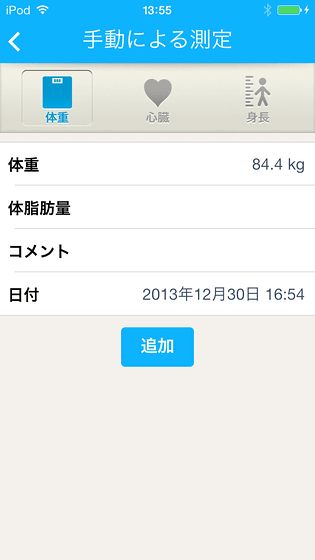 As a result, it became like this. The latest measurement result is 13:44 on January 2, 2014. About a month and a half I reduced about 8 kilos.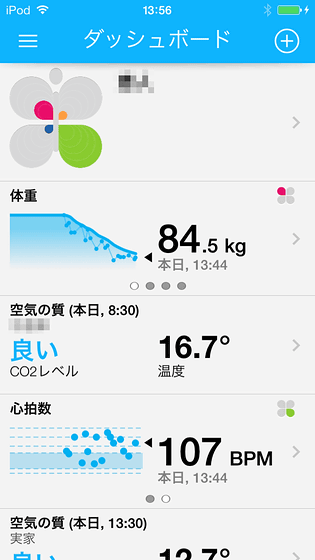 When you look at the weight graph, it increases rapidly at the end and you can see that the binge eating at New Year is dangerous, do not you think?



Also, as the data of the smart scale of your parents' household is also visible, a new widget appeared. Apparently, unlike sharing from your profile via e-mail address, it seems that you can see that data when pairing physically.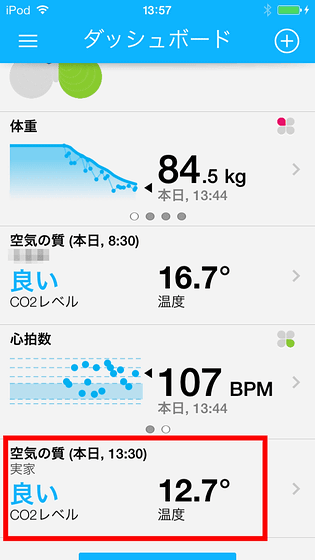 Also, what will happen if somebody other than registered person gets weight measurement means "new measurement value without assignment" comes out, so you can add users later and assign them later.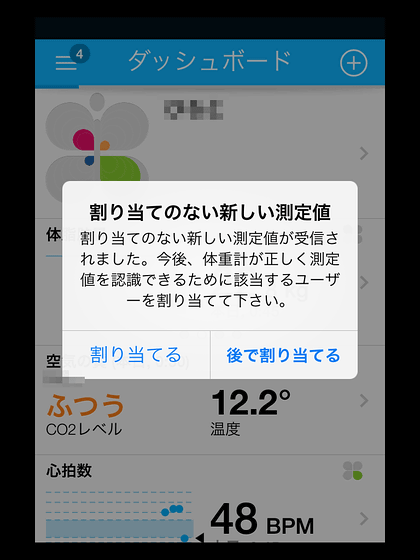 In the menu, data held as "unknown measured value" is displayed.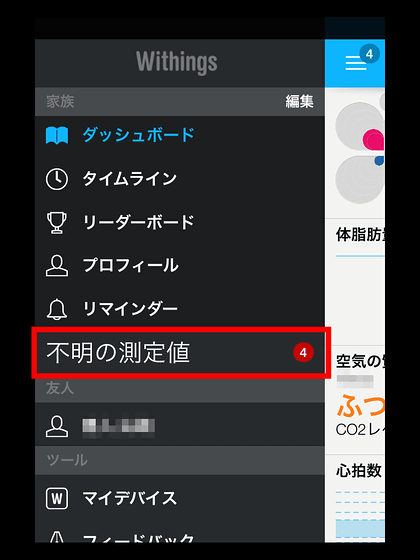 Tap it to see the contents, like this. Unnecessary data can also be deleted.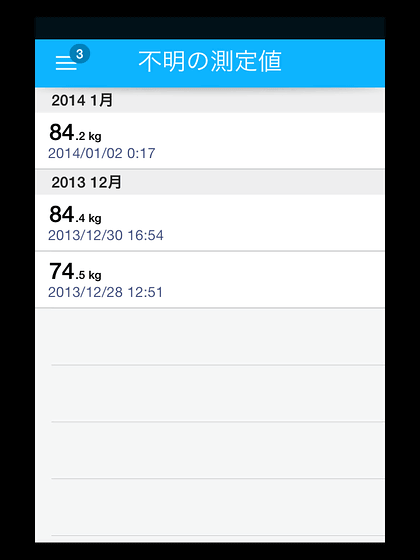 In short, depending on weight, height, constitution, etc., it is automatic judging who is on the scale. Since it is an eyesore if someone other than me gets an "unknown measurement", it's a new addition.

To add a new user, for example a family living in the same house later, tap "Create a user" from "Profile"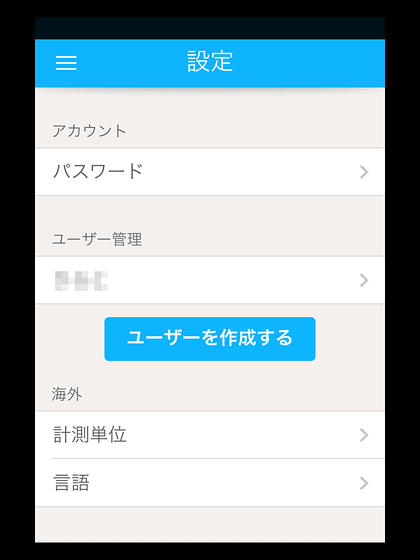 Tap "Create a new user" after entering your first name, last name, birth date, height, current weight, and gender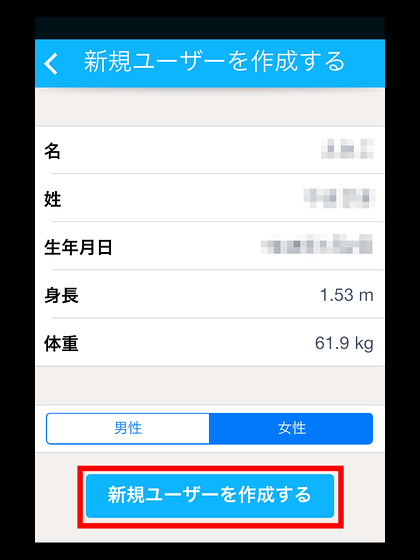 Then new users will be added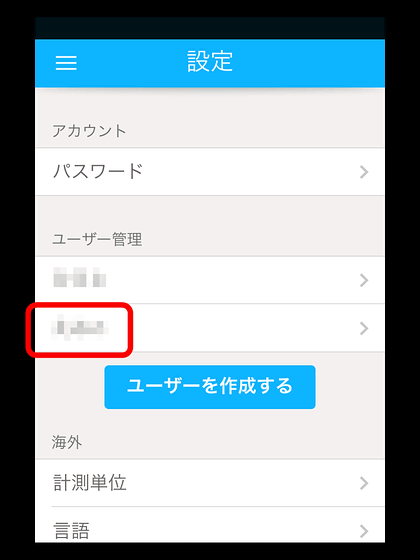 Because the name of "family" of the menu also increases one more, it is clear that usually it is closed.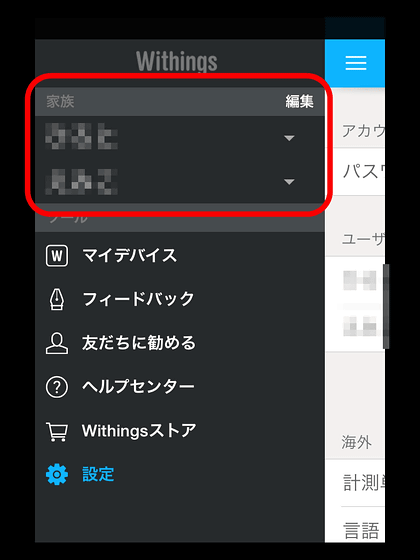 Also,https://auth.withings.com/When logging in from, you can browse the data via the browser, enter your email address and password, click "sign in"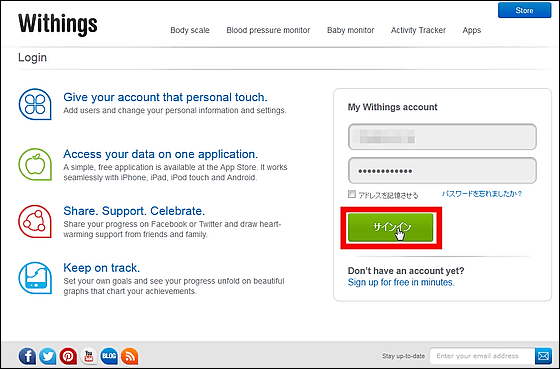 Then you can see the data recorded on the web. Click "+" in the upper right to see more details.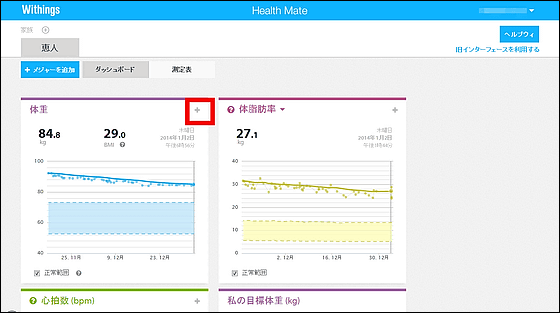 It has become like this, it is possible to look back in detail more than seen on the application. Also, click "Download" in the upper right corner, you can get a graph with PNG image.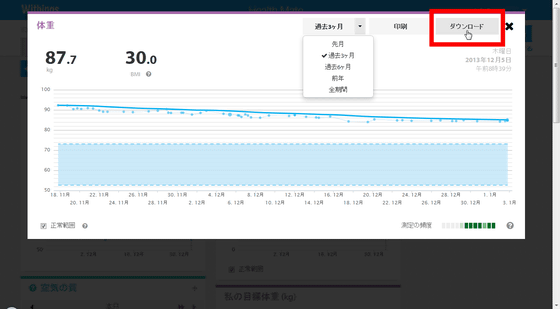 You can also export in CSV format by clicking "Measurement table" and then "Download". If you look carefully, manual added data is written as "M" and further data that failed to be measured is blank, so you can get off immediately.



Conversely, if you select "import data" from the setting, you can capture the "weight" "blood pressure" "height" data which was already recorded with another scale, so you can also utilize the assets recorded so far I will. It is rather a function for fitness or exercise or for those who are training.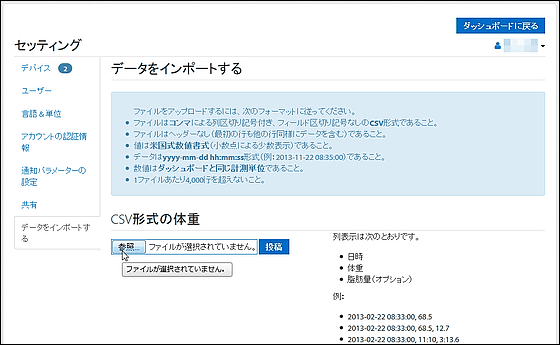 And for those who want to take advantage of it more and moreCooperation with IFTTT is possible"Weighing is measured in the Google Calendar", "Data on the scale is stored in Google Drive", "Weight records are saved in Evernote from time to time" "Weight is sent by e-mail" Tweet "etc. are possible.

So, it is overwhelmingly awesome power and performance, it is perfect for those who really want to live healthy life by losing weight. Actually dropped 8 kilos in a month and a half, it feels like I can keep going smoothly.

In addition, the price is the lowest price of the Apple Store currently at 17,800 yen, waiting for 2 weeks to 3 weeks until shipping free shipping fee. It deals with parallel imports at Amazon, it is roughly 2000 yen high, but if Amazon.co.jp ship it will also ship free shipping and will arrive crisply around the next day or two days later. So, if you are giving it as a present to someone, it is cheap but time-consuming Apple with a Japanese manual but if you want to use it yourself it will be a little expensive but Amazon arrives with haste.

Withings Wireless Smart Body Analyzer WS - 50 - Apple Store (Japan)

Amazon.co.jp: Withings Multifunctional Weight Scale WS - 50 Smart Body Analyzer 【Parallel import】: Health & amp; beauty