I enjoyed my meal at "HOOTERS OSAKA" where you can enjoy authentic American food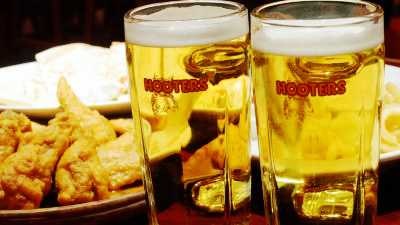 When it says HOOTERS, it tends to have an eye on sexy Hooters girl by all means, it is a shop where you can enjoy American casual food, and only menu that you can not eat easily in Japan. I have tried the recommended menu in a lively, bright atmosphere of pre-opening.

Store information OSAKA | American party at Akasaka / Ginza! "HOOTERS"
http://www.hooters.co.jp/info/osaka.php

When you sit down at the table, it is a system that one Hooters girl takes as a charge. In charge of this table, black hair is nice "Yuka".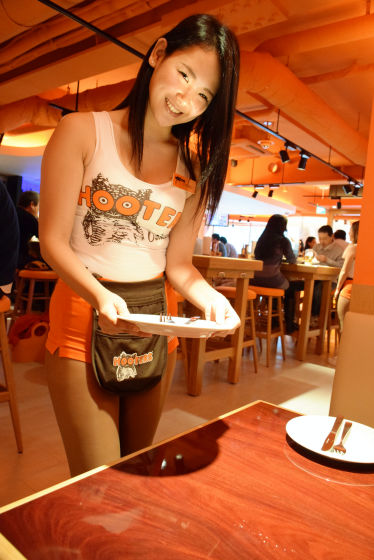 Because it is pre-open, the menu was narrowed down and it was open. Five types of beer draft beer were offered, including classic alcohol called gin tonic and salty dog, draft beer as well as Asahi · Budweiser. This time the barrel studentBudweiser(680 yen including tax) andHeineken(740 yen including tax) ordered.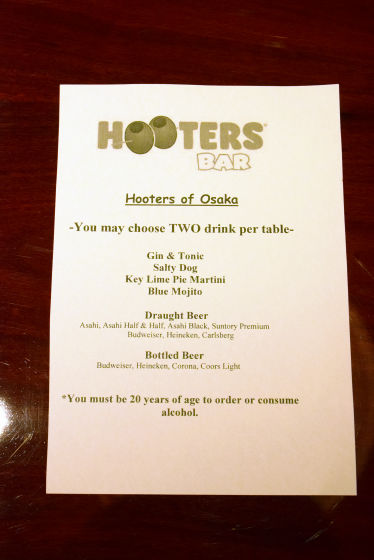 The food menu is said to be "Quezada" of appetizers (appetizers)tortillaPizza style dish using ENTREES (main dish) ordered "sandwich" Texas melt "and a specialty" chicken wing "with medium source, dessert"Chocolate ice cream"Choice.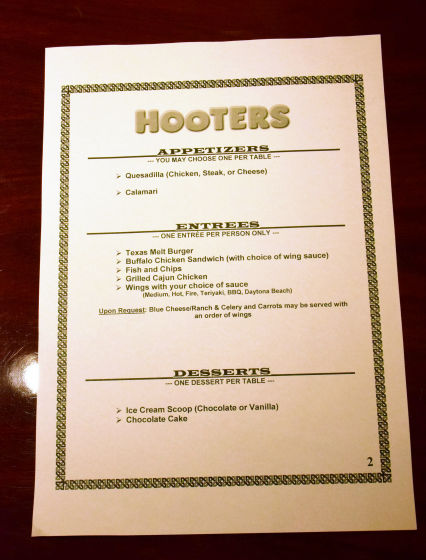 First, a draft beer arrived. Budweiser on the left and Heineken on the right. There seems to be little difference in appearance.



Draft beer is paid by Hooters girl.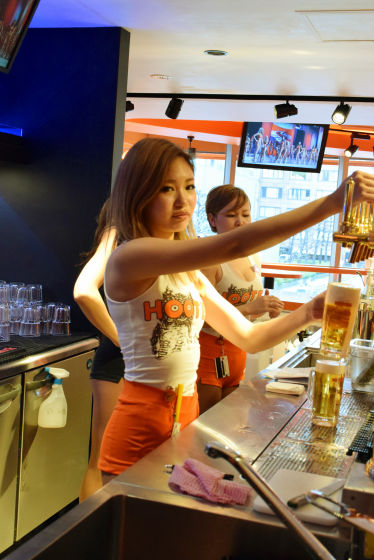 Beer can enjoy not only American Budweiser · Heineken, but also Japanese beer such as Asahi Super Dry and Premium Malt.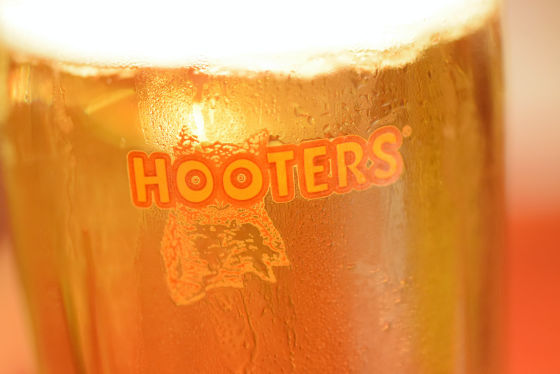 Cola(420 yen including tax) andGingeraire(420 yen including tax) also tried. Soft drinks are free to change.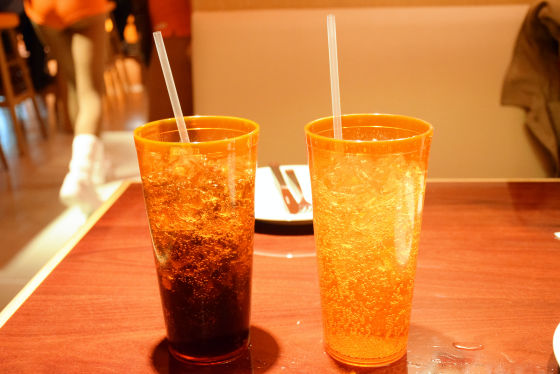 The taste is as usual, but the cup is about the height of a beer mug and it is American size.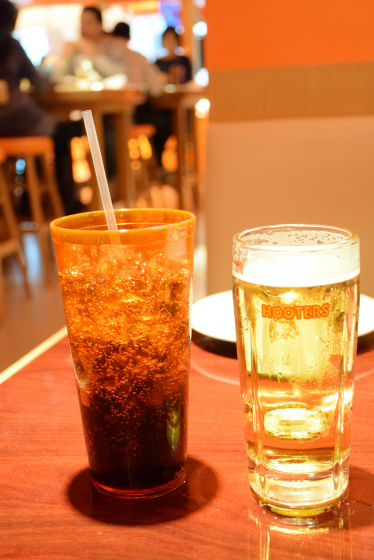 Cooking has been carried one after another. First of all, appetizer Quezada (cheese tax included, 980 yen · chicken 1280 yen · beef 1380 yen) arrived. This time I ordered with beef.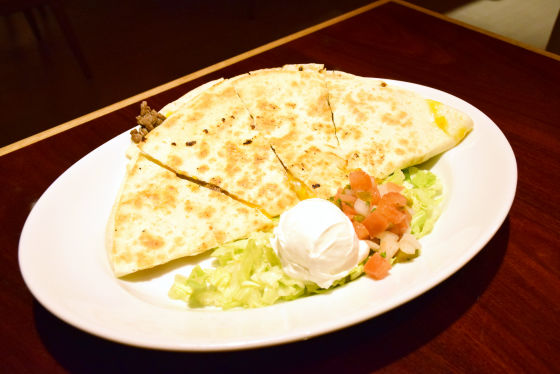 Cream cheese and tomatoes that often accompany Mexican foodjalapeno pepperAttachment using the set has become.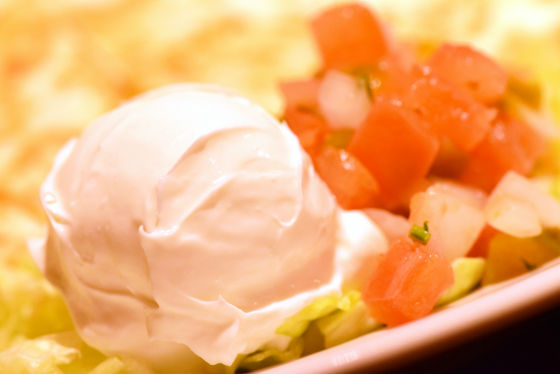 Cheese is melted in the trot and looks yummy.



Bite the fluffy tortilla dough, the flavor of beef and cheese overflows. A slight spice is also effective, it is a mexican food rather than an American.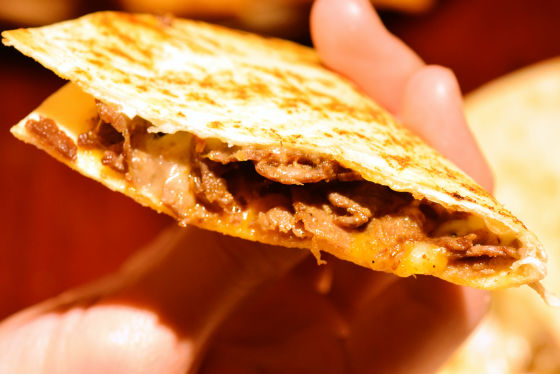 Let's eat it with salad and cream cheese garnished with Quezada.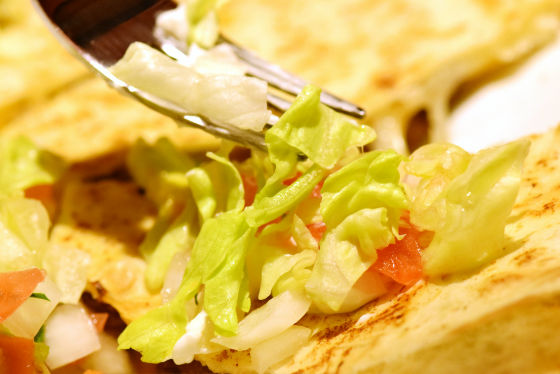 If it is only cheese and beef it will be a little bit tasty, but by eating with salad it will make it more refreshing taste. Also refreshing sourness of cream cheese is well compatible.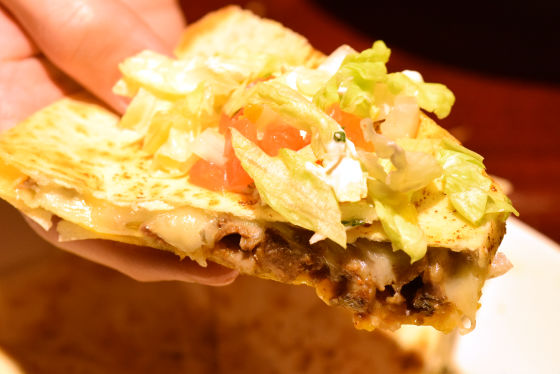 furtherCholula Hot SauceI will try hot pepper based sauce called.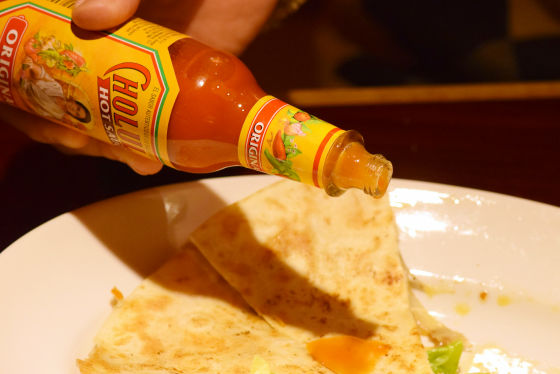 It will be seasoned severely. As it seems to be more Mexican food, people who like spicy food should be put on from the beginning.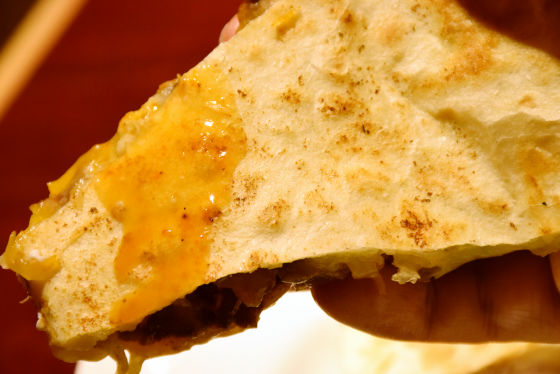 Next I will try Texas melt (1580 yen including tax).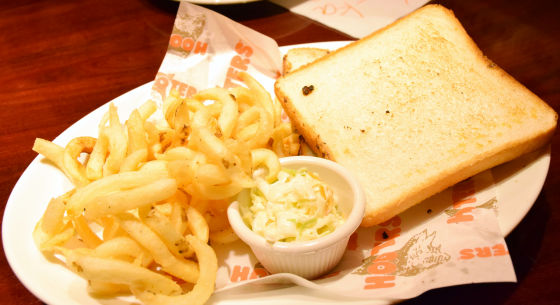 For garnish, curly fried made in shops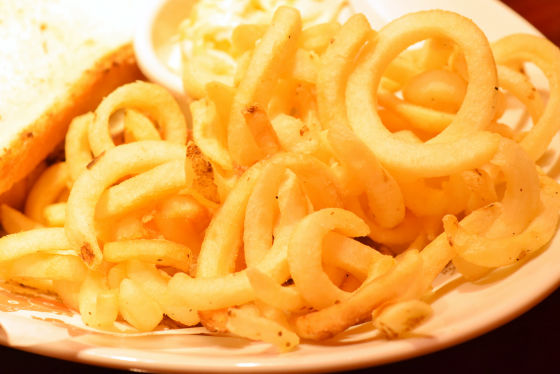 Callsaw is set.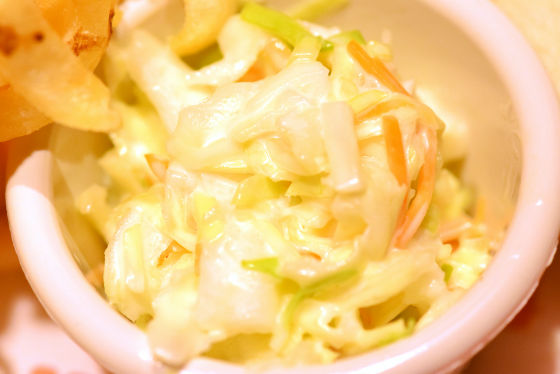 In the bread ......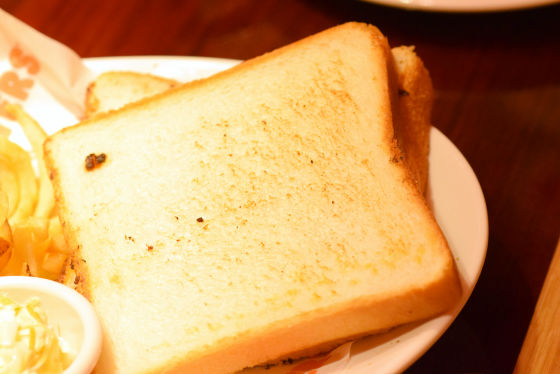 Onions, bacon, eggs, and pretty big hamburgers were sandwiched.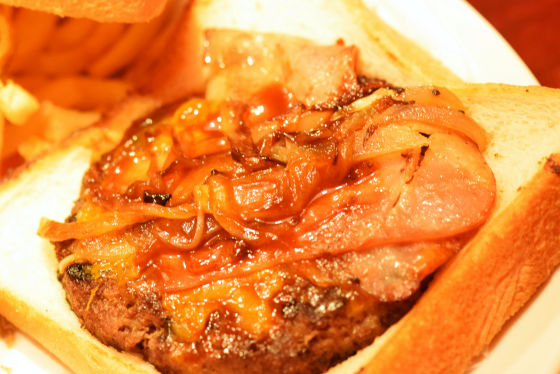 Let's start by cutting sandwiches.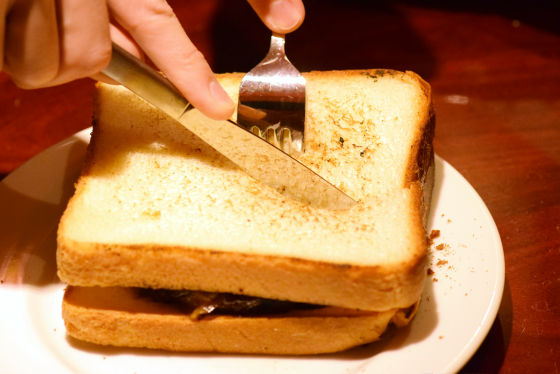 The section looks something like this.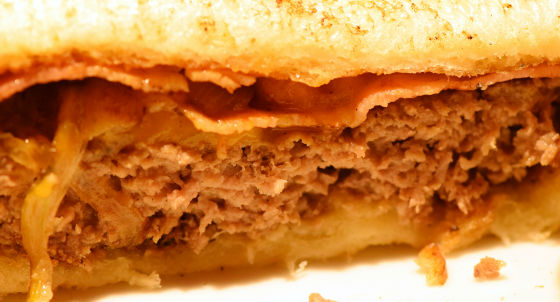 Hamburger has quite a volume. Cheese · barbecue sauce · sauce · egg · salted with bacon etc together, "It's American" taste. It seems to taste good when pouring in beer.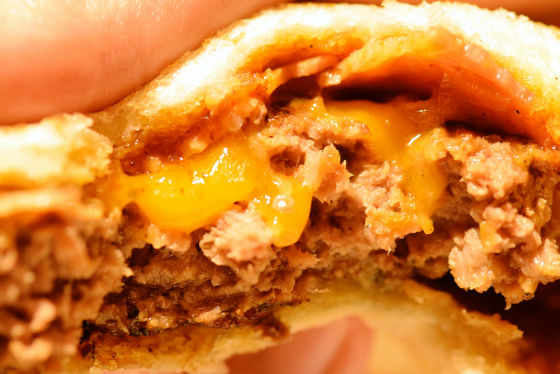 Curly fly has become spiral and it is rather long. There is no doubt that compatibility with beer is compatible with hokuhoku texture.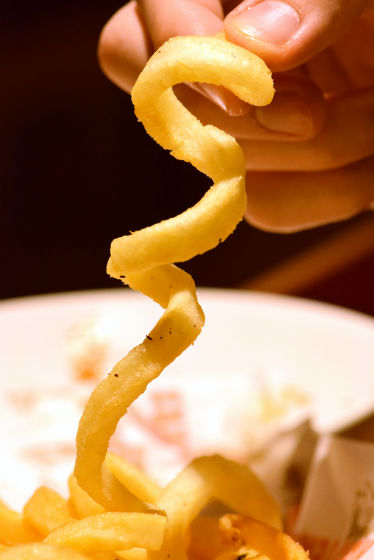 Although it is somewhat rough, it has a sour taste and makes the mouth refresh.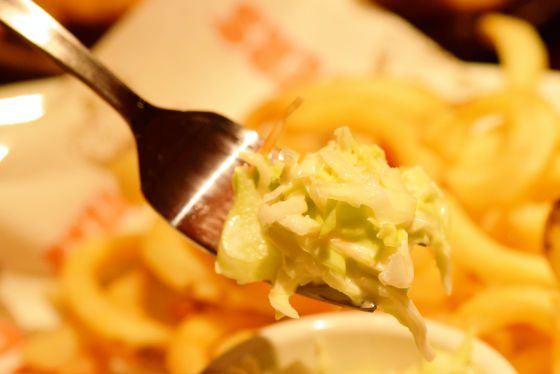 Next, the specialty "Chicken wing" (10 pieces tax included, 1300 yen). The source can be selected from medium, hot, fire, date, teriyaki, barbecue and 6 kinds.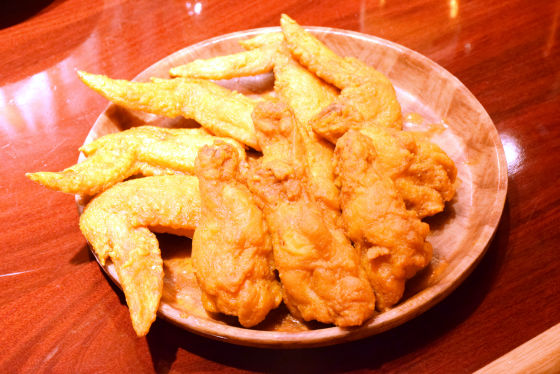 Chicken wings with thigh meat ......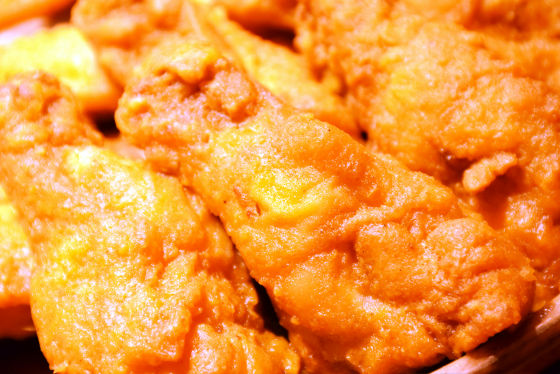 Two types of meat of chicken wings are on the plate.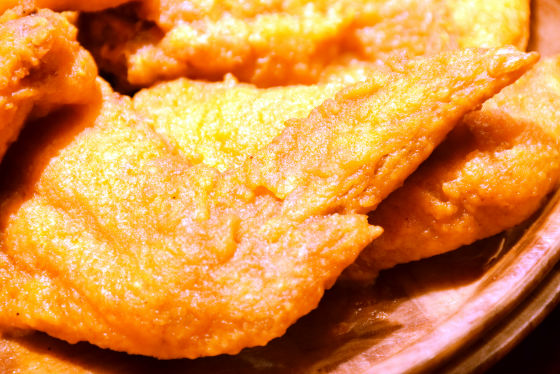 Although I chose the standard source of medium, it is rather spicy seasoning that I wanted drinks without thinking. Where it is concerned about how hot and hot it is hot if it is medium and it is this spicy. The thigh itself is a delicious flavor.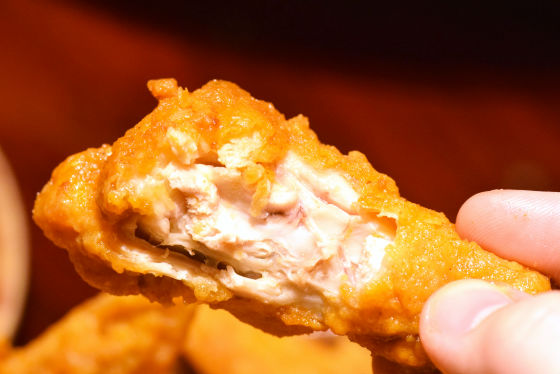 The chicken wings were more tasty than the thighs, and the spice was felt somewhat mild. Daytona is a sweet type sauce, so if you are not good at hot foods, you may order with a daytona or barbecue.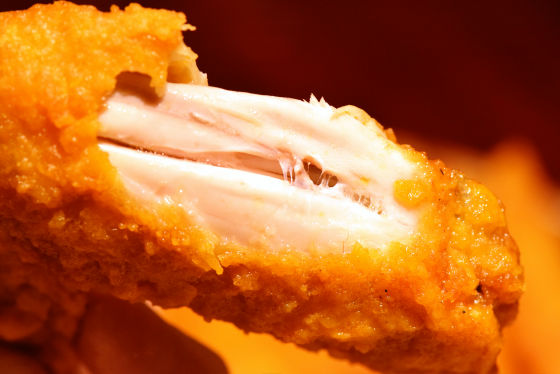 Dessert chocolate ice cream (350 yen including tax).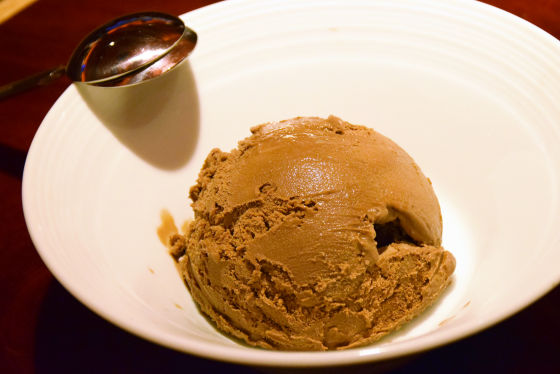 Ice cream with chocolate, cream, sweet taste that works like America. From appetizers to desserts, I enjoyed a rich flavor.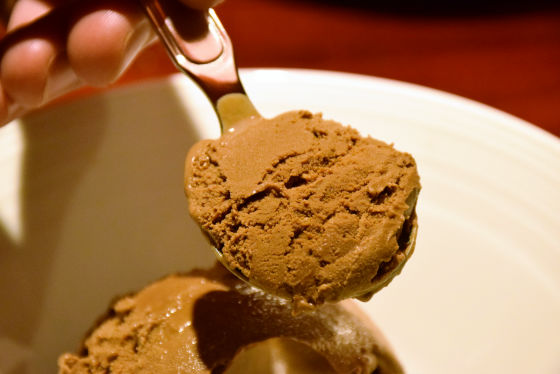 The food of HOOTERS is somewhat higher in price, but it offers more value than enjoying meals, such as Hooters' girl show can be seen, sports events can be enjoyed on a huge screen with a huge screen I will give it. The opening of the Osaka branch is December 18th (Wednesday) in the middle of the year-end party season. Also in TokyoAkasaka·GinzaAs there are already stores, it is recommended when everyone wants to get excited.

◆ Inside & Hooters Girls Edition
I went to a restaurant "HOOTERS OSAKA" where Hooters Girl sang and dance - GIGAZINE