Mincho kettle & gothic kanji font which can also be used for free commercial novel comic balloons "Tenderness Anchic"


"M + (Em Plus) font"IPAex Mincho"IPAex GothicCombining the three kinds of fonts and processing by adding the original letters, it is possible to create unique fonts combining Gothic Kanji with Mincho kanji used in manga blowouts, dictionary headlines, picture books, etc. What is becoming "Tenderness Antique"is. Fonts are available regardless of commercial or non-commercial use for printed matter and digital contents.

Free font kindness Anchic (cartoon typeface) download | font information. Open source safe free font
http://www.fontna.com/blog/1122/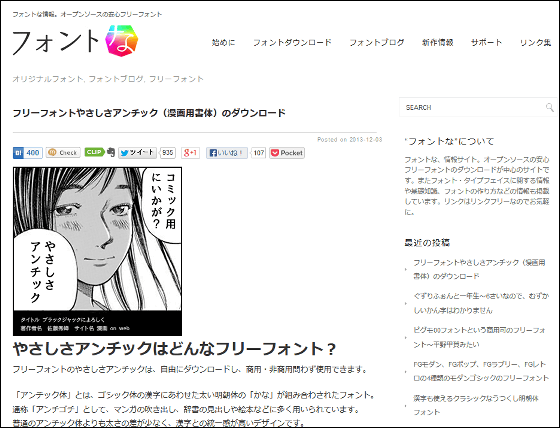 An antique font for comics is a thick typeface which is also called antigoch, a combination of Mincho and comic bodies. The difference in thickness is smaller than ordinary antechs, and the design with high unity with kanji makes the whole impression refreshing and ventilated.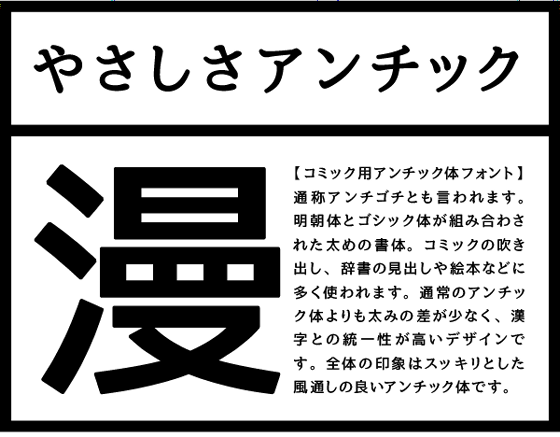 It can be confirmed from the following image that it will be such a feeling when actually used for the comic balloon.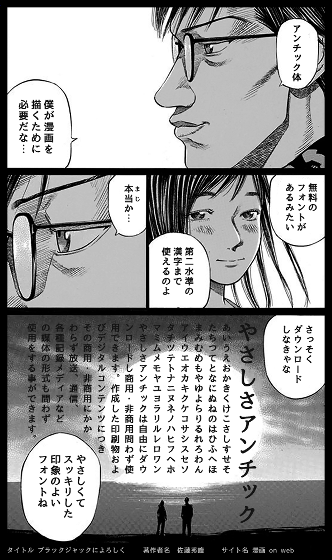 Click "Download font" under the image on the website to begin downloading.




The license is based on the "M + FONT-TESTFLIGHT" and "IPA font license" included in the download file, because there are restrictions in redistributing the font and re-distributing it in the program or embedding in the program Confirmation is necessary before.