The university professor is delighted and the student is confronted with a dreadful copy-up judgment site "Plagiarism checker"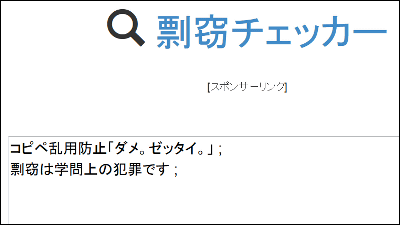 With the spread of the Internet, various information can be easily retrieved and cited. However, I will borrow the paper published in the net and the sentences of others as if it were my own workplagiarismActs rampant, students submitting plagiarism reports, and even some researchers who present plagiarism papers appear, and plagiarism is becoming a big social problem. A net service which absolutely does not allow such plagiarism is "Plagiarism checker"is.

Plagiarism checker: It checks whether sentences such as reports are copypes
http://plagiarism.strud.net/

How to use the plagiar checker is very easy, just enter the text within the search window and click the "check plagiarism" button. I will try it immediately.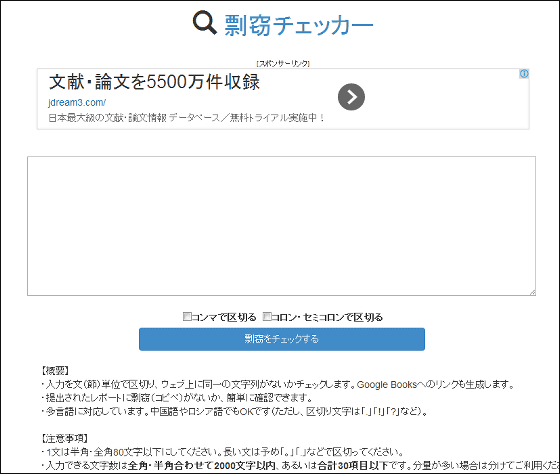 It is a relatively recent paper published on October 23, 2013, which I chose for the experiment.

PLOS ONE: First Evidence for a Massive Extinction Event Affecting Bees Close to the K-T Boundary
http://www.plosone.org/article/info%3Adoi%2F10.1371%2Fjournal.pone.0076683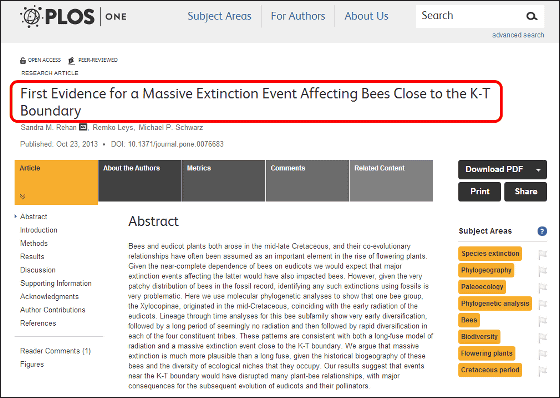 Copy the sentences in the paper ... ...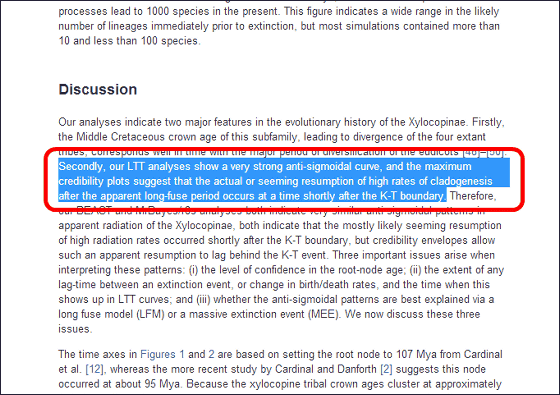 Paste into the search window of the plagiar checker, check the "Separate by commas", "Separate by colon / semicolon" tab and click "Check plagiarism".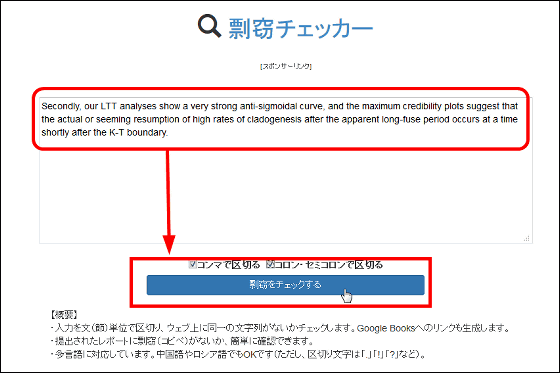 Then, although a check was made, it says "The target is too long, please delimit it so that it is within 80 characters by including a period".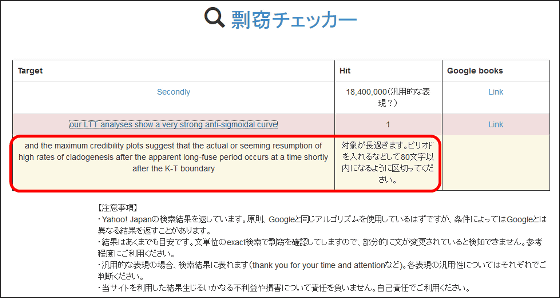 So, when you type "; (semicolon)" in the appropriate place and then click on "check plagiarism" again ... ...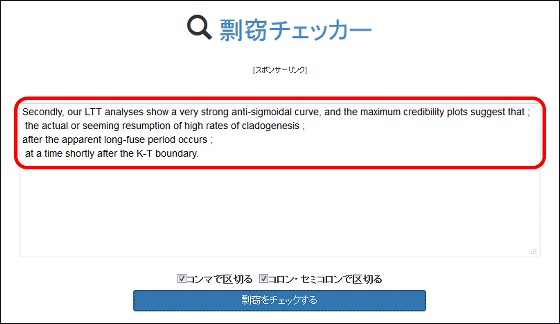 Plagiarism check was done for each phrase separated by ", (comma)" or ";". You can see that there is only one "Hit" link for each clause.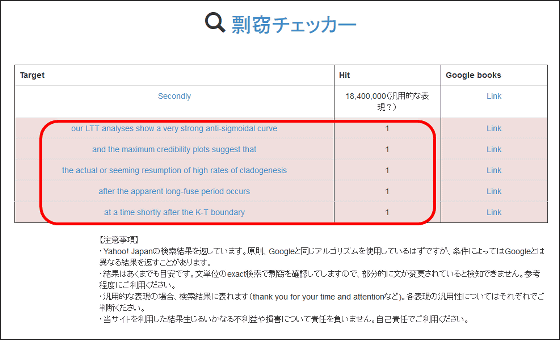 Try clicking the "Target" link ... ...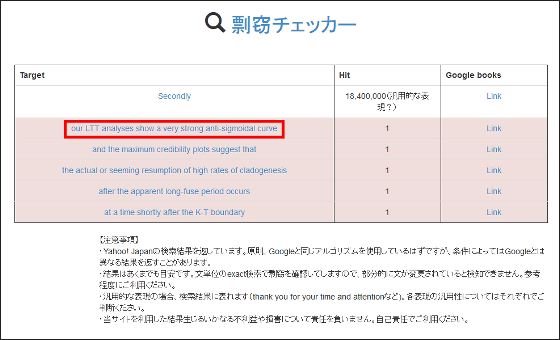 A link of a copyrighted paper was displayed.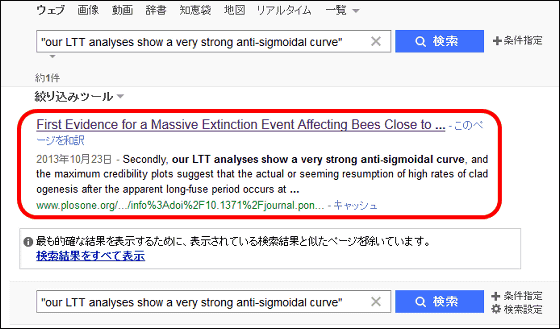 Also, in plagiarism checkerGoogle booksIt is also possible to check the presence or absence of Copipe from the sentences of the books published at. When you click "Link" of "Google books" ......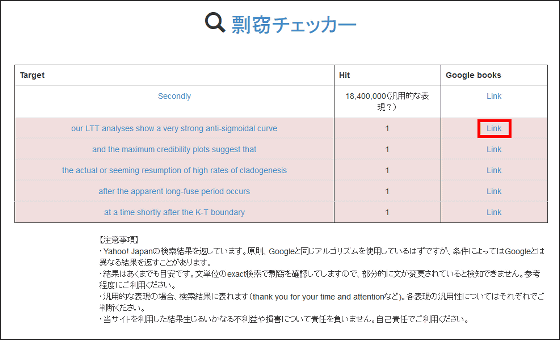 The sentences of the paper I tried this time were not found from the search of Google books.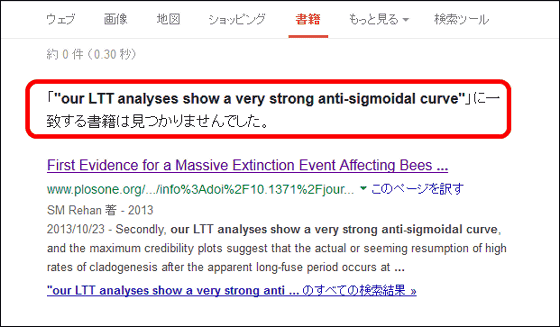 Plagiarism checker also supports Japanese papers. I will try on the paper written in Japanese below.

【PDF】 Satoshi Whitepaper - Satoshi Whitepaper.pdf
http://www.bitcoin.co.jp/docs/SatoshiWhitepaper.pdf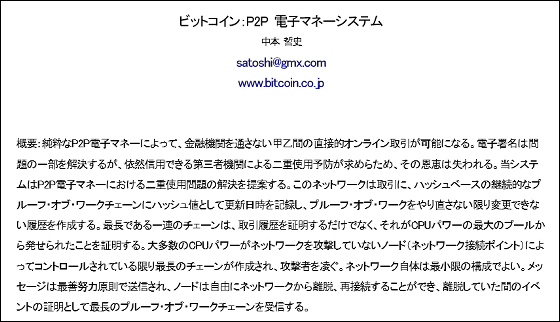 Paste the copied document in the search window and click "Check plummery" ... ...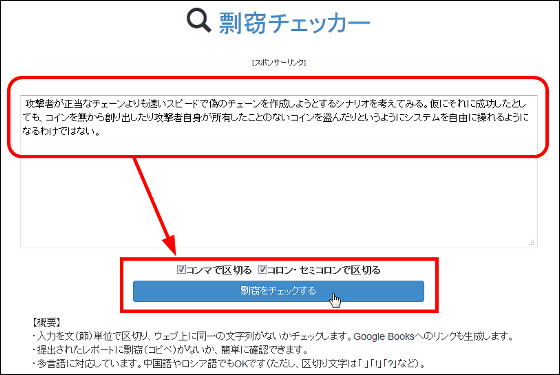 "Hit" did.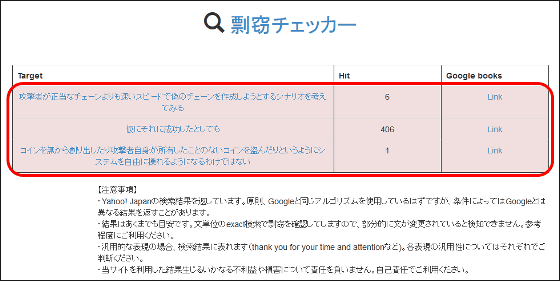 Click the Target link.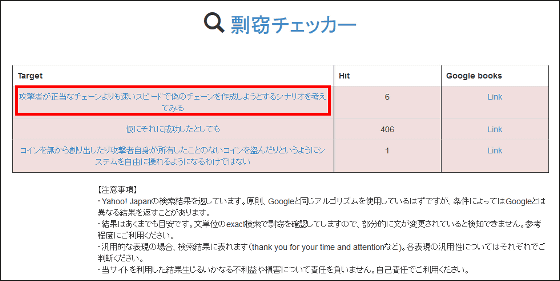 The original paper of Copipe appears in the search result.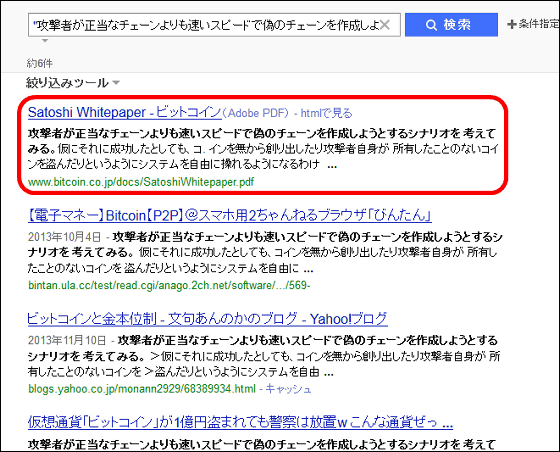 Notes on using plagiarism checker are as follows.

· One sentence must be less than 80 characters. Separate long sentences in advance by "." ".", Etc.
· The maximum number of characters that can be entered is 2000 characters or less, or 30 characters or less in total. If you have a lot of items please use separately.
· Because we do not place a burden on the search site, we are making inquiries after a certain period of time. It may take time to get results, but please wait patiently.
· It is possible that the system may suddenly become unusable due to changes in parameters on the search site side.
· [To students] Plagiarism is an academic crime (letters written by others written correctly "quote"). Unit cancellation etc. Heavy disposal may be given. Please do not do it absolutely (It is a reasonable thing to reverse use this site).
· We are not responsible for any disadvantage or damage arising as a result of using this site. Please use at your own risk.
Plagiarism checker supports not only English and Japanese but also Chinese and Russian, it is possible to check easily whether the sentence was copied and not created. With the plagiar checker, university professor can easily check whether the report submitted by the student is not plagiarized, but as a matter of course, because the professor's paper is also easily checked, recently, It is likely that injustice of the person in the standpoint will be able to see the cancer cancer.