Wikipedia Formulates 'Universal Code of Conduct' for the New Era of the Internet


Nowadays, more than half of the world's population has access to the Internet, and it has been pointed out that as the Internet population increases, polarization and online violence will increase. With respect to this situation, including the Wikipedia '
wiki media
so as to be able to deal with harassment and negative behavior as a whole', the Wikimedia Foundation has developed a 'universal code of conduct' towards the net new era.
Wikipedia Embraces First-of-Its Kind Universal Code of Conduct, Conceived For The New Internet Era – Wikimedia Foundation
https://wikimediafoundation.org/news/2021/02/02/wikipedia-embraces-first-of-its-kind-universal-code-of-conduct/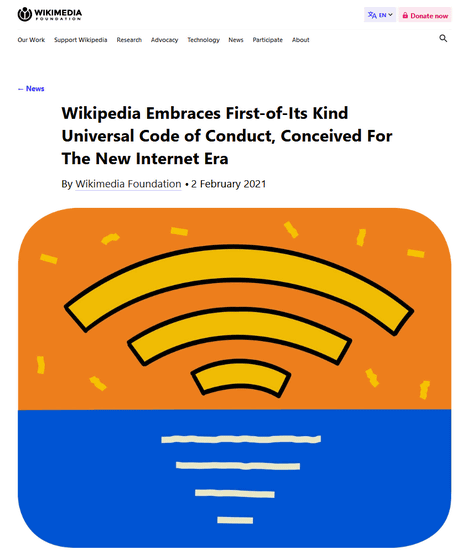 More than 1,500 volunteers from 19 wiki projects representing 30 languages on five continents participated in the creation of the Code of Conduct. There are other cases in the IT industry that have established this kind of code of conduct for the community, but since many of them are long and the standards are unclear, it seems that they have only 1600 words in a way that makes use of their reflection.

Universal Code of Conduct / Policy text --Meta

https://meta.wikimedia.org/wiki/Universal_Code_of_Conduct/Policy_text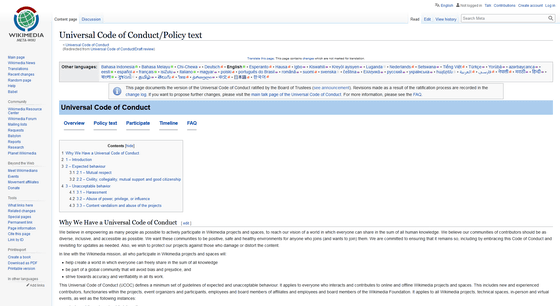 The norm first states that 'in line with Wikimedia's mission, everyone who participates in a Wikimedia project does the following:'

・ Helping everyone create a world that can be freely shared in the sum of all knowledge
・ Abandon prejudice and prejudice and become a member of the global community
・ Strive for accuracy and verifiability in all work

Specifically, it is required to respect each other and be polite, while it is clearly stated that harassment, abuse of power / privilege, destruction of content, etc. are not allowed.

The Wikimedia Foundation and the process-leading participants will discuss further how to implement this standard in each language version.