Domestic and foreign drama · animation such as "Masaki Hanzawa" and "Tiger & Bunny" can be seen on Google Play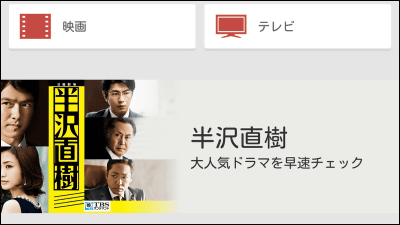 Applications, games, movies, e-books, and other content can be downloaded on Google Play, but from today on October 30 (Wednesday) it has become possible to enjoy domestic and international dramas and animations as well. It was a big hit broadcasted from July to September "Naoki Hanzawa"And a medical drama depicting the appearance that a doctor who has time slipped at the end of the Tokugawa shogunate with sick people and injured people while feeling that they have changed the futureJIN - Jin -"From the work like buddy action hero's anime"TIGER & BUNNY", An animation currently on air"Log horizon"The distribution of hundreds of titles and thousands of episodes has started in total.

Google Japan Blog: My favorite TV drama on Google Play
http://googlejapan.blogspot.jp/2013/10/google-play_30.html

According to Google, some of the titles that will be rented or purchased from today are like this.

Nippon TV: Mother, Chihayafuru
TV Asahi: Doctor-X surgeon · Daimon Miriko, urban legendary woman Part 2
TBS TV: Naoki Hanzawa, JIN - Jin -, K - ON!
TV Tokyo: Professor Suzuki, a lonely gourmet
NHK Enterprise: Tsubasa Chronicle, Log Horizon
Bandai Channel: Gintama, TIGER & BUNNY
Toei: Masked Rider W, Samurai Sentai Shinkenger, White Witch Gakuen
Sony Pictures Entertainment: Breaking Bud, Damage
Walt Disney Japan: Gray's Anatomy
Fox: Glee, 24, Prison Break
Universal: HEROES, Curious George
Warner Bros.: Gossip Girl, Nikita, SUPERNATURAL / Supernatural
KTA: Sungkyunkwan Scandal, Miss Ripley

Actually, I tried to check delivery status on Google Play on Android terminal. I feel that the top menu has been the "movie" notation so far, but in the "movie & drama" notation.



I will see a newly added "drama"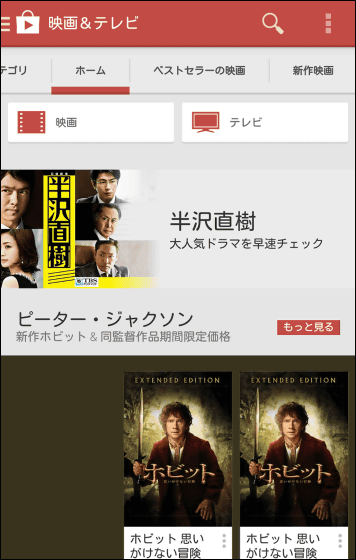 In addition to "Masaki Hanzawa", I am also delivering missed dramas on air now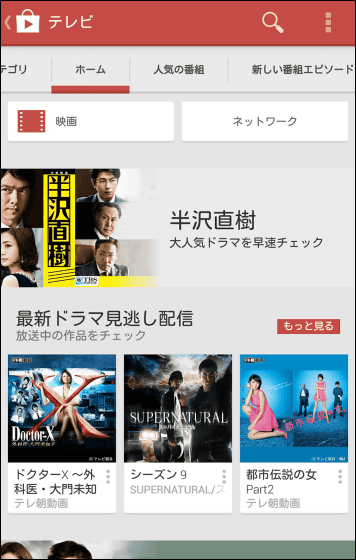 In the case of "Naoki Hanzawa" each story is 315 yen. This is the same pricing as TBS On Demand and its partner delivery destination.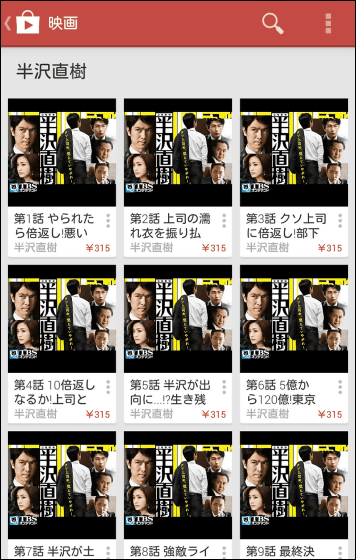 Although the sequel has not been decided, it is written as "Season 1". Tap "Rent Season" to rent all stories.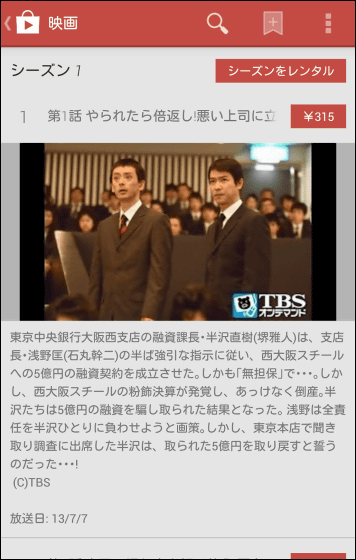 Both HD image and SD image quality are 1575 yen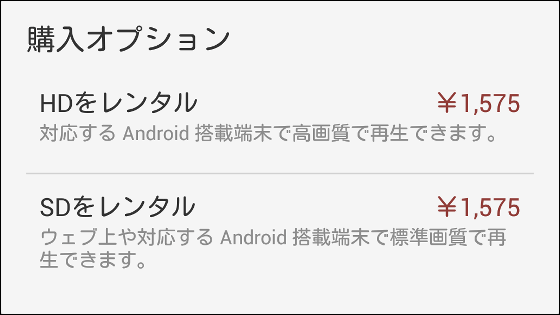 A review has already been posted, but ...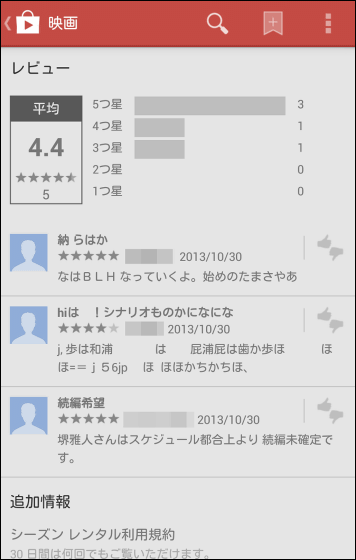 When it is animation, the first episode of 'Log Horizon' currently on air is being distributed for free.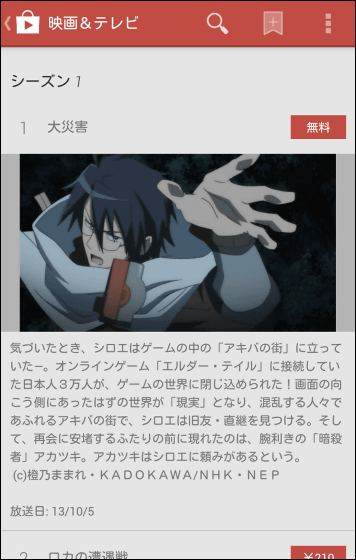 In addition to that, there is a title titled Free only for the first episode.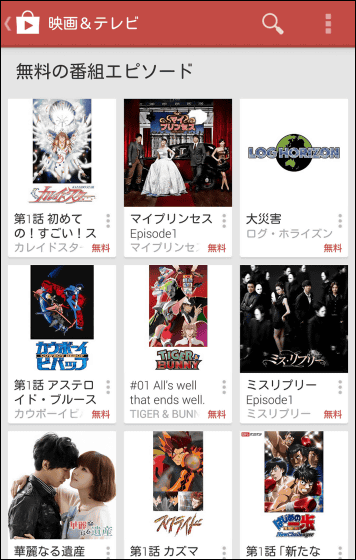 Although it does not differ greatly from on-demand distribution of each television station, video distribution service and fee structure, it can be a threat to peers who can easily rent drama and animation from Google Play easily I do not.