Google will launch the super-discount notebook PC "HP Chromebook 11" with a price of 20,000 yen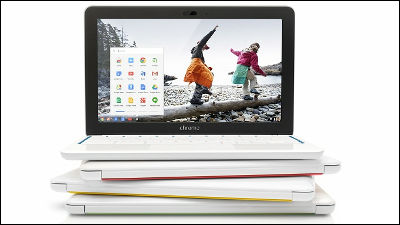 A 11.6-inch IPS display (resolution 1366 × 768) with 176 ° super wide viewing angle realized, CPU with Exynos 5250 GAIA application processor, body frame with magnesium alloy frame weight 1.04 kg, up to 6 hours of Chromebook that can be used continuously is called "HP Chromebook 11"is.

HP Chromebook 11. Made with Google
http://www.google.com/intl/en/chrome/devices/hp-chromebook-11/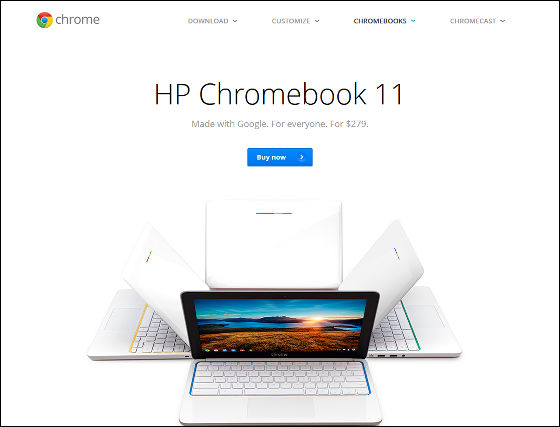 This is an HP Chromebook 11.11.6 inch IPS display. There are two USB 2.0 ports and a microUSB port for charging, and can be charged with the same charger as used for charging Android terminal. The OS is automatically updated to the latest state without interfering with the user's experience of use, and virus removal is also performed.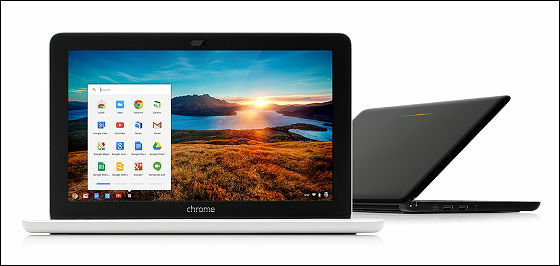 Body color is black and white 2 colors. When selecting white, you can select accent color from 4 colors.

blue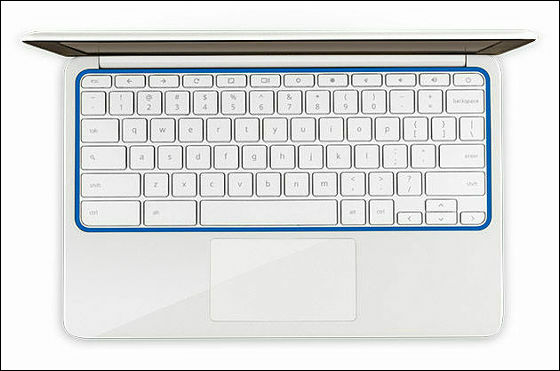 green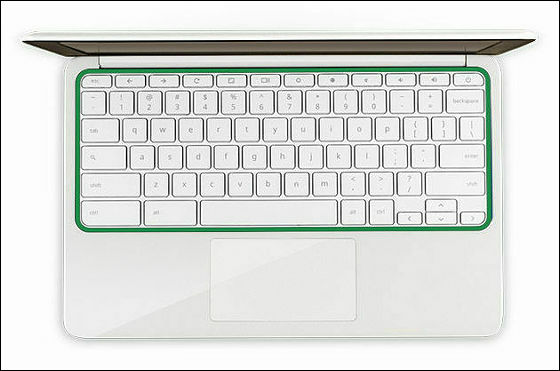 Red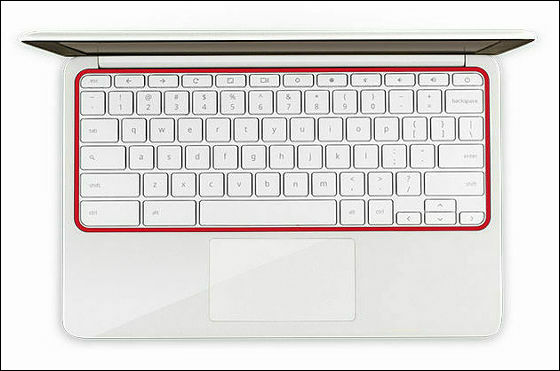 yellow



black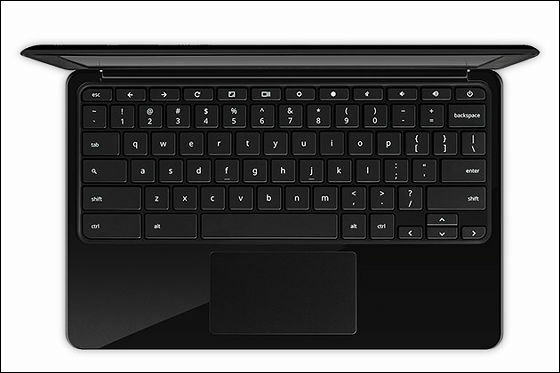 In addition, it is also possible to perform work on the HP Chromebook 11 (browsing mails, browsing websites, applications, etc.) on the way from the middle of the smartphone or another computer, or simultaneously accessing with multiple terminals.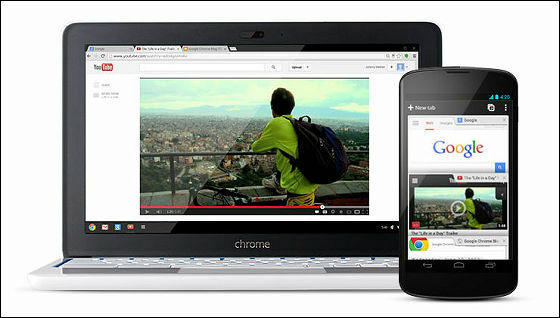 We also co-developed Google with HP Chromebook 11HPButReview HP Chromebook 11 on his blogdoing.

Hands-on with HP's New Chromebook 11 - HP Communities
http://h20435.www2.hp.com/t5/The-Next-Bench-Blog/Hands-on-with-HP-s-New-Chromebook11/ba-p/83621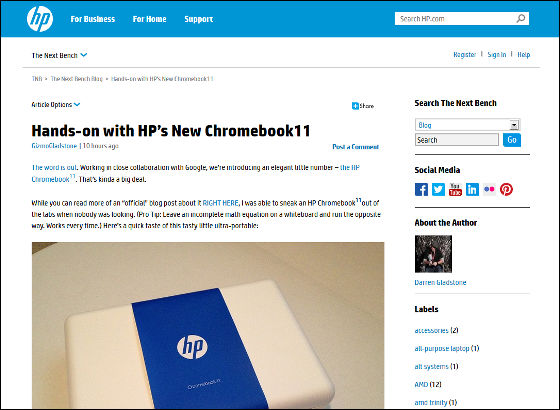 The HP Chromebook 11 package looks something like this.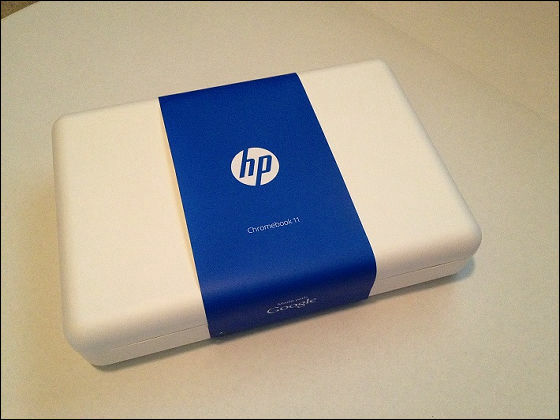 Opened.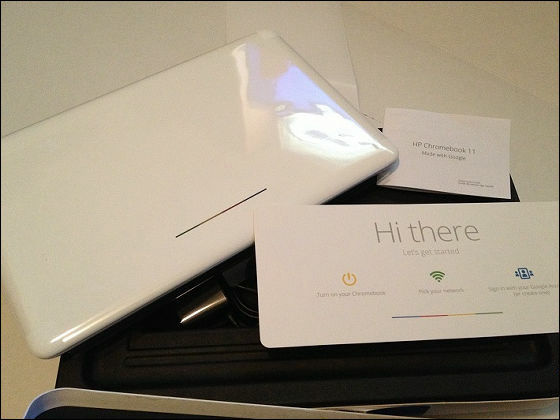 On the top is a colorful light that reminds Google.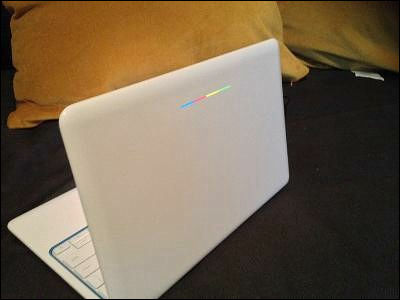 The keyboard part is like this, the speaker is ant under the keyboard.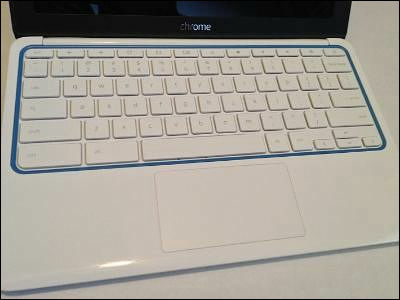 HP and Google logo on the back.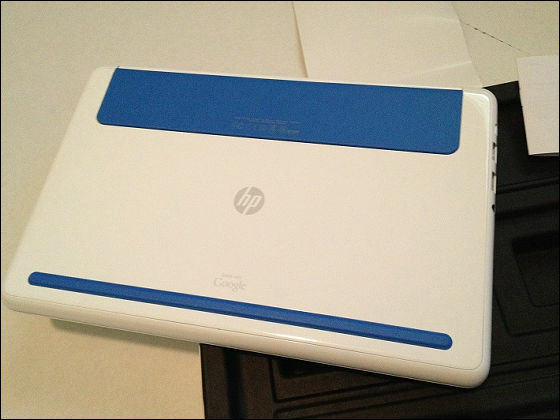 Fanless silent design, smart design hidden screws, vents, speakers.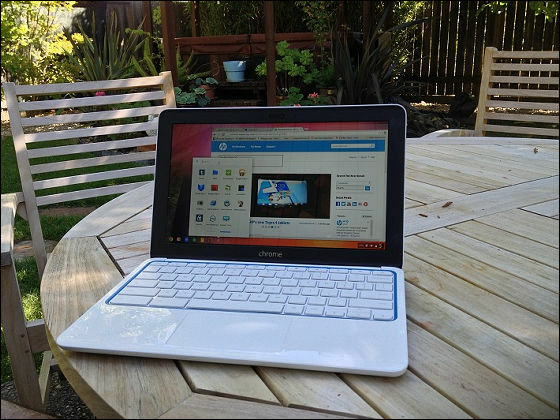 There is also a promotional movie of HP Chromebook 11 by Google on YouTube.

Chromebook: For Everything Built-in - YouTube


In the USA, models using blue as the accent color of HP Chromebook 11 will be released from today, and will be on sale even online on October 16, 2013. Booking is now accepted at Amazon for $ 279.99 (approximately 27,000 yen). The schedule for sale in Japan is undecided.

Amazon.com: HP Chromebook 11 (White / Blue): Computers & Accessories