For the first time in three and a half years GIGAZINE Special lecture "From the Red to the Surplus, What is the Future Form of the Media?" October 12 (Sat)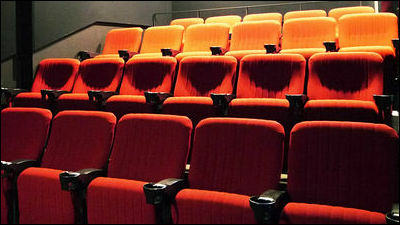 "Machi ★ Asobi vol.11"ofUfotable CINEMA1 hour from 12 o'clock to 13 o'clock, GIGAZINE special lecture "From the deficit to the black surplus, what is the future shape of the media?We decided to hold the. Despite being attached to Asobi from VOL.1, as I have never done an event that seems to be an event even before I think well, "I should do something soon about this time, off Because the meeting will be held next fiscal year ", I decided to start with the smallest thing first. The previous10th anniversary memorial lecture in April 2010So it will be the first time in 3 and a half years. It has been three and a half years of raging really for these past 3 and a half years.

GIGAZINE Special Lecture "From deficit to surplus, what is the future form of media?"
http://www.machiasobi.com/events/gigazine.html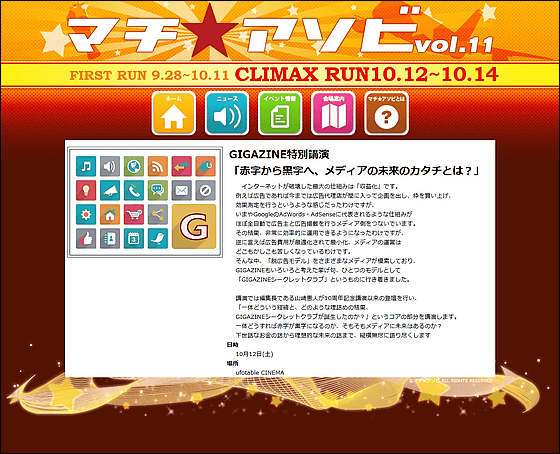 Higashishincho shopping districtThe ufotable CINEMA is on the left immediately after entering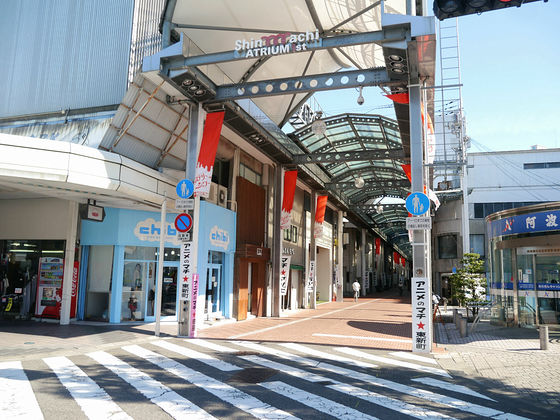 This is "ufotable CINEMA", this lecture will be done here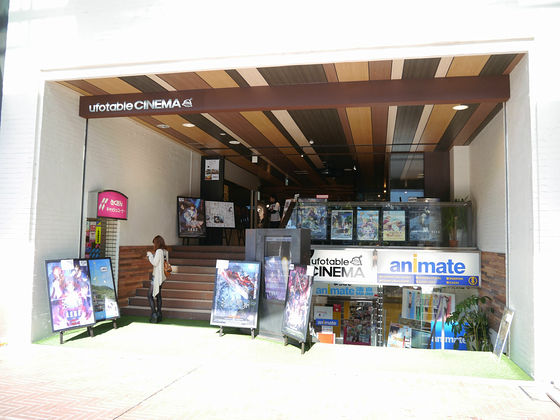 The content of the lecture is exactly as it is on the official website, and it looks like the following.


The biggest mechanism that the Internet has been destroyed is "monetization".

For example, if it's an advertisement, it seems like an advertising agency has entered in between, planning out, buying a frame, measuring the effect, but now it's like a mechanism represented by Google's AdWords · AdSense Is connecting the media side which carries advertisements with advertisers in almost fully automated manner.

As a result, it became possible to operate it very efficiently, conversely speaking, the advertisement cost was optimized and minimized, and the management of the media became painful to everywhere.

In such a circumstance, various media are exploring "advertisement advertising model", and GIGAZINE thought of various things, I arrived at what is called "GIGAZINE secret club" as one model.

In the lecture, Mr. Yamazaki, editor-in-chief, Yamazaki made a talk after the 10th anniversary lecture and will give a lecture on the core part of "What kind of circumstances and what kind of reasoning result, GIGAZINE secret club was born?" .

How do you know if the deficit turns into a black surplus, does the media have a future in the first place?

From the story of inexperienced money to the ideal future story, I will tell you all the time

"Even if there are many accesses, it is not possible to earn revenue corresponding to that" is a trouble common to each news site / news media, and GIGAZINE has been holding the same problem indefinitely. In the first place, why is it so difficult to monetize so much, because the advertisement model has three major problems as follows.

◆ Part 1 "Regular readers do not click on advertisements"
◆ Part 2 "Optimization for advertisers" has a different meaning from media revenue maximization "
◆ Part 3 "The more dishonest the reader is, the more revenue will be"

A little explanation about each will be as follows.

◆ Part 1 "Regular readers do not click on advertisements"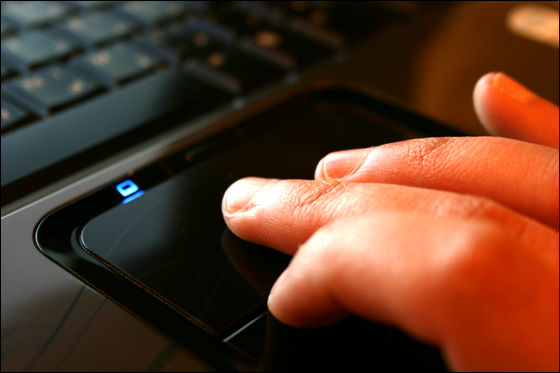 BySamah R

From the standpoint of "myself" who is the editor-in-chief who reads various kinds of news, "From the point of view of the news you want to read in the net, I will write something I would like to read, I will summarize, I will review, Because it started with a subjective stance, it is easy to see GIGAZINE and other news websites from the "first reader" viewpoint absolutely, and that is why I am keenly aware of it, but if it is a website you often read The more you advertise it is obstructing, so do not click. Rather advertisements are more aggressive to erase with Adblock. It is unbearable who is clicking on the advertisement, so that it is clear that it comes out in various access analyzes, "It seems that regular readers do not click on banner ads or read GIGAZINE often As high-level readers are familiar with the means to erase advertisements, there is a situation that there are many strongers who have reached a level of politeness rather than deleting advertisements ". GIGAZINE sees the most recent month's data, in fact three quarters are regular readers, and that which is clicking on ads is the remaining one quarter of new readers. In other words, it is in a state that it does not understand that "Level of GIGAZINE it is tasty?" Is not enough that readers of profit are supported, so that the level of freeride and such half-likelihood is diagonally upward with the MAX value There is. However, it is certain that it helps to increase the number of new readers due to the existence of regular readers, and it is not directly linked to profit, but it indirectly contributes with various forms.

◆ Part 2 "Optimization for advertisers" has a different meaning from media revenue maximization "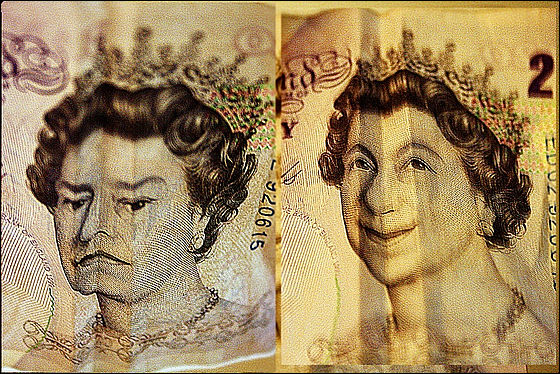 By@ Doug 88888

What does "optimizing" advertising costs for advertisers mean that they advertise more cheaply and more effectively. That means that for news sites and news media, the opposite of profit maximization, "bottom of revenue" will occur. It is a well-known fact that the business model that a major advertising agency like the former Dentsu Inc. purchases advertisement space and sells out in bulk is already completely disappeared, rather it is systematically more user's hobby preference It is also advantageous for advertisers to automatically display advertisements in such a way as to match their interests. This is now the system created by Google's "AdWords" and "AdSense" which can safely be said to be the world's largest advertising agency, and basically the same idea of ​​a variety of other ad networks in addition to that. In other words, the advertising price will "optimize" more and more as you leave it, and as a result, the yearly profit worsens every year. It is because there are reasons why news sites and news media do not grow beyond a certain scale, and there are many cases where similar sites of different genres are being created one by one because there are reasons for that, making sites of various expert genres It is easier to optimize for 'optimization of advertisement', and development can not be expected with new form, but it is optimal for maintaining the current situation.

◆ Part 3 "The more dishonest the reader is, the more revenue will be"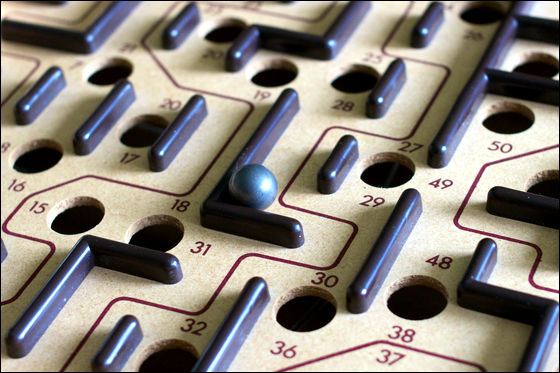 ByMikko Saari

The biggest reason why regular readers click on images of banner ads is definitely "incorrect click". Of course, new readers who came from search results and various timelines will misclick. Also, if you are suddenly forced to display a banner image while reading an article, you can see it even if you get hurt, so you will inevitably increase your CTR. Or, if you cover the entire screen with advertisement, click rate will definitely upload. In a more extreme case, if an article advertisement is delivered as a simple "article" it will also be distributed to various news portals and yet the reader can not know the fact that the article is actually an advertisement, The effect is maximum. However, if you do that, the trust and credibility of the news site / news media will be lost. However, from the side of advertisement, there are many destinations to advertise, so even if the trust of the news site / news media goes down, there is no particular problem and the responsibility of advertising to cheat such readers is in between Putting it on an advertising agency and saying "I have not asked for such a thing, it is extremely regrettable that the person in charge did it on my own," and if I cut the tail of the lizard, it is okay, so it will not be hurt at all. In other words, it is a trend that the more profitable it is to adopt the method which can not be considered if it is thought by commercial ethics, the method disadvantageous to the reader and the more it performs it, the news site like GIGAZINE which has the policy which does not carry out such a method rather, I became a minority overwhelmingly if I noticed it.

Summary,"Regular readers who support the existence of the site are not directly linked to revenue sources, and profitable profitable by fraudulent readersIt has become the current state that it is. Is it possible that Kole should be? It is a revolution at the present moment that it is nothing but a complaint in itself and it is a reality that "if you trick the reader into betrayal and do not make money, stop qualifying companies now and withdraw from the economic market" By the time we can not choose to betray it, we are too idealistic and it's pretty disqualified. Means against this harsh reality,PaywallIs there anything other than blocking information, ie "let's read articles only for paid subscribers who paid money"?

So it is up to three and a half years since I came to "the limit of the advertisement model" which is a fundamental question like the above, so after thinking about various methods, it is said As I got a conclusion like this, I will speak about what I piled up for about an hour at various times and places as below, while spending a lot on that in the special lecture.

Date and time: October 12 (Sat) 12: 00-13: 00
place:Ufotable CINEMA(1-5-3, Higashi Shinmachi, Tokushima city Tokushima prefecture)


From the top "ufotable CINEMA" is around that. Or rather, I do not know which one it is, so let's get down to the ground.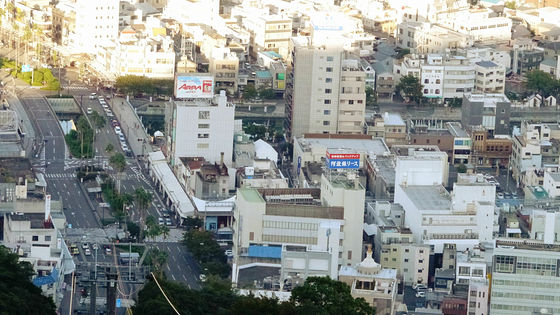 This is the Higashi Shinmachi shopping street leading to the venue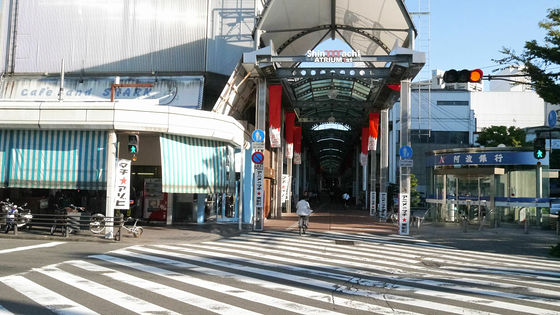 "Ufotable CINEMA" is a little ahead and it is on the left side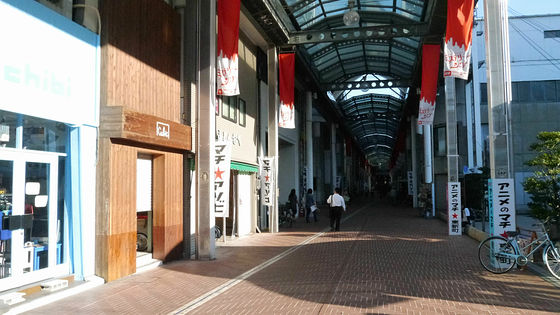 This is "ufotable CINEMA"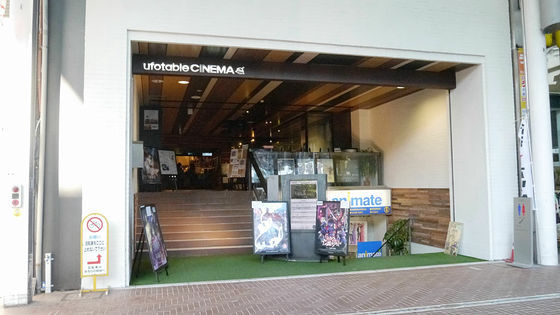 First we will go up this stairway



When entering it is a food and drinking space on your right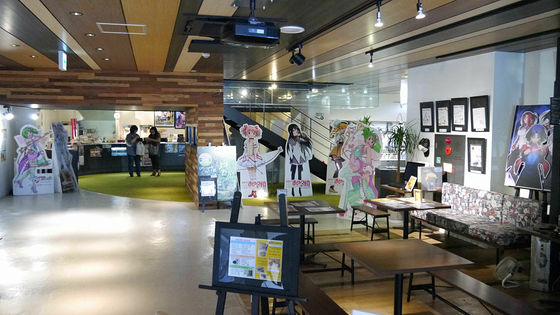 Madameagi greets you, stairs on the other side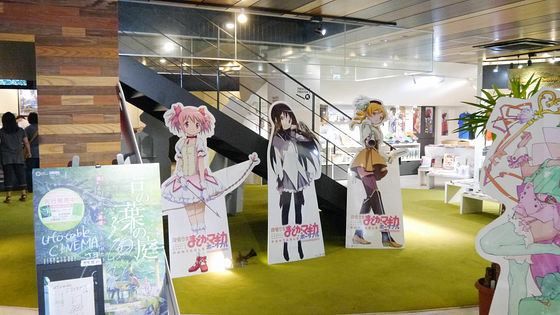 The lecture is strictly planned at "Theater 2" out of the two theaters, so I will move to the second floor as it is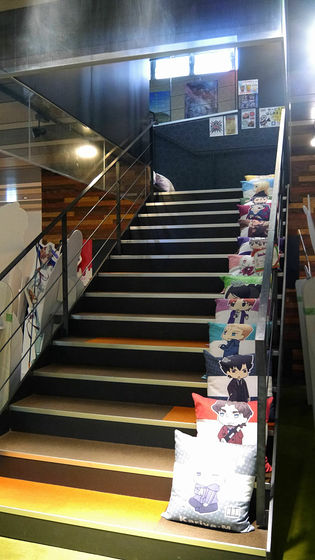 The inside is like this, 6 seats x 4 rows and the back row 5 seats, totaling 29 seats.



The seat looks like this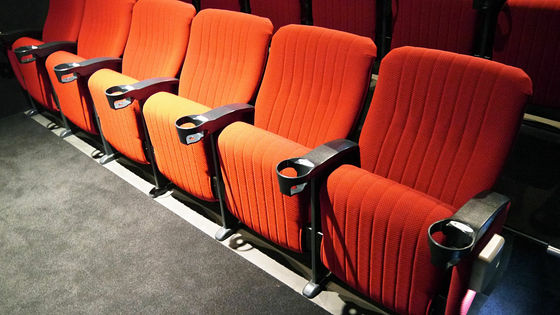 It will probably be the first opportunity to give a lecture in the eyes that is never before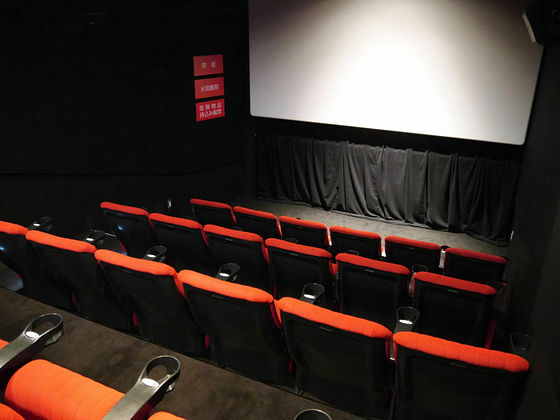 If all the 29 seats are filled, then we will be standing still further behind. Approximately 5 people are the limits. So, 29 + 5 = 34 people will be the maximum number, probably. Because it can not afford to fill the passage as expected.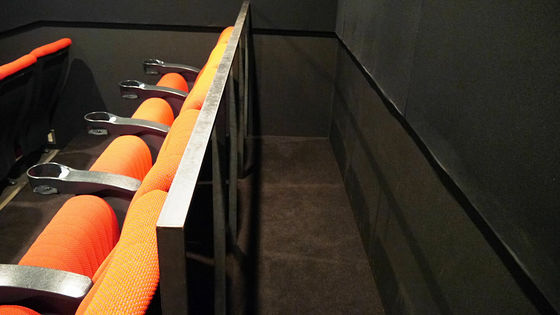 Usually I go in from behind, but this time I will pass the questionnaire form at the entrance and collect at the time of leaving, so the side becomes the doorway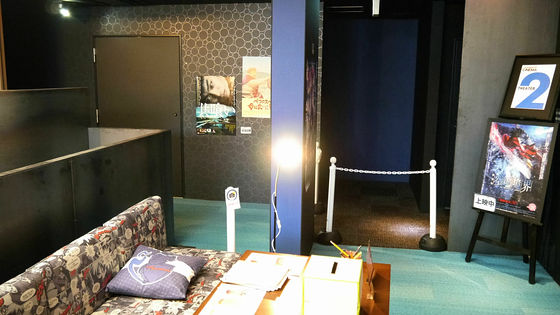 Here it is.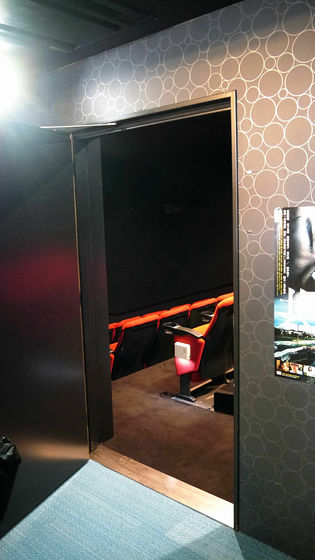 It is likely that it will be "theater 1", as the venue is being adjusted to the limit.

In the case of Theater 1, the inside looks like this, totaling 71 seats.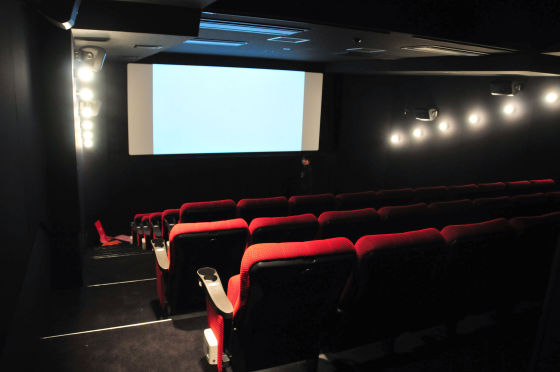 As for other special lecture candidate place, if it says, for example, here



I also considered eyebrow mountaintop Pagoda plaza etc, but this time I do not know what the contents to talk about because it is content only, so I chose a closed space secretly secretly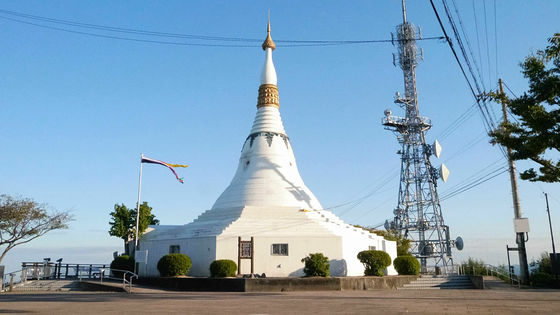 So, as we are planning to accept on the first come first served basis, if it happens that there is time for chance by chance for some reason, if you stop by while you stop by, you should be able to listen to Alecol various story talks.

· Continued
GIGAZINE special lecture in closer after two days, distribution of tickets on the day and promise - GIGAZINE