Summary of what is new with "HDMI 2.0" and will be greatly strengthened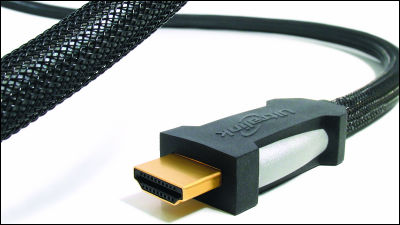 Prior to "IFA 2013" held on September 4th in Berlin, Germany, the HDMI Forum announced the "version 2.0" standard that is the top of the conventional HDMI standard. The bandwidth of data transfer has been extended from 10.2 Gbps to 18 Gbps from the conventional, and supports so-called "4K image quality" at 50/60 frames / second video, up to 32 channels of audio transfer, and so on. There is no change in the terminal shape and cable specification, and backward compatibility with the conventional HDMI standard is maintained.

HDMI 2.0
http://www.hdmi.org/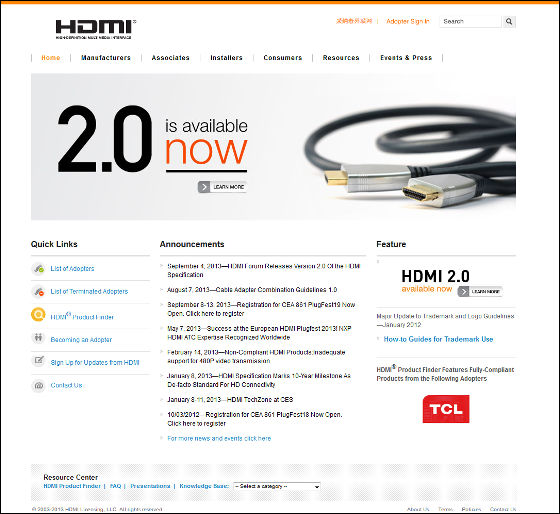 Summarizing the main features announced this time will be as follows.

A picture
· Supports 4K @ 50/60 (2160p) (4 times the resolution of 1080p / 60 which is the "full spec high definition" picture quality)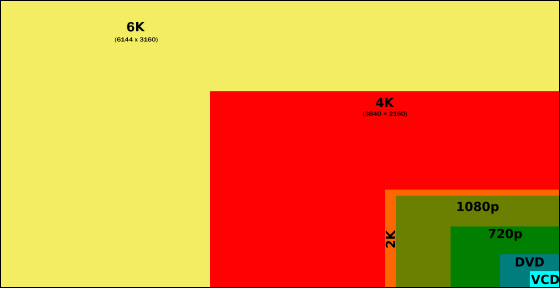 - Supports images with an aspect ratio of 21: 9 called "Cinemascope", allowing playback at the same screen ratio as a movie theater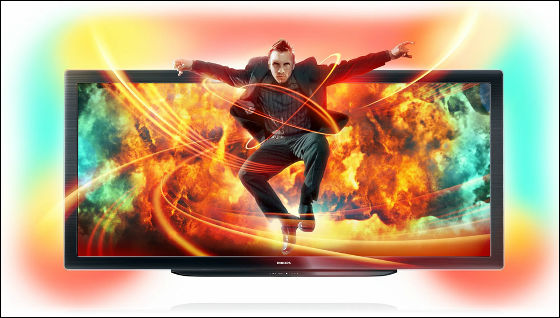 - Supplies two systems of video simultaneously to multiple users watching the same screen

◆ Voice
Sampling frequency of up to 1536 KHz (CD is 44.1 KHz)
Supports up to 32 channels of audio transfer
Supplies multi-stream audio simultaneously for up to 4 users

◆ Other
Expansion of CEC (Consumer Electronics Control) expands the operation range of household electronic devices
Supports dynamic auto lip sync that automatically adjusts the timing of video and audio

Although the functions are greatly enhanced in this version upgrade, conventional connectors and cables can be used as they are.



Also, the website of the HDMI Forum has an explanation in the FAQ format, and compatibility with existing HDMI is as follows.

HDMI :: Manufacturer :: HDMI 2.0 :: FAQ for HDMI 2.0
http://www.hdmi.org/manufacturer/hdmi_2_0/hdmi_2_0_faq.aspx

◆ Is HDMI 2.0 replaced with conventional HDMI 1.x?
No. HDMI 2.0 is located at the top of the conventional HDMI 1.x, and in order to support HDMI 2.0, it is necessary to support HDMI 1.x first.

◆ Will HDMI 2.0 be backward compatible with HDMI 1.x?
Yes. All versions of the HDMI standard fully secure backwards compatibility of previous versions.

◆ Is a new connector required for HDMI 2.0?
No. You can use an existing connector.

◆ Is a new cable required for HDMI 2.0?
No. HDMI 2.0 specifications can be used with existing HDMI cables. 4K @ 50/60 (2160 p) High-speed HDMI cable of "Category 2" is required for formats that require broadband like video.

◆ Is it possible to upgrade the HDMI 1.x device that is currently used to the new HDMI 2.0 standard?
Currently, such upgrades are not offered as new hardware and firmware upgrades are required to realize new and enhanced features. Since it may support upgrading by manufacturer, please check directly with the manufacturer.

In the HDMI forumMember pageAccording to 85 companies participating, AMD · Apple · Dolby · FOXCONN · Hitachi · Intel · JVC Kenwood · LG Electronics · Microsoft · NVIDIA · Onkyo · Panasonic · Philips · Pioneer · Qualcomm · Samsung · Sharp · Sony · TDK · Toshiba etc. are members. "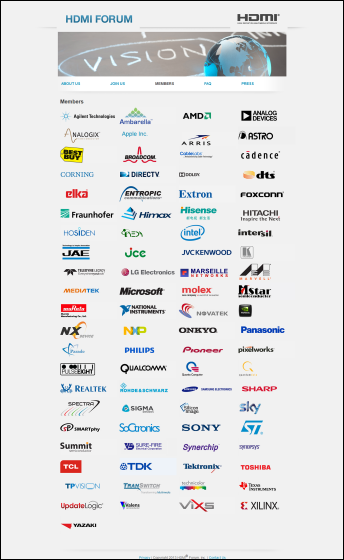 Robert Blanchard of HDMI Forum, president of Sony, commented, "The announcement of the HDMI 2.0 standard this time has left a big milestone for the HDMI forum." "The members of this Forum cooperate together and expand the functions of audio and video to household electrical appliances so that the members of the Forum can reach the level one level higher than the HDMI standard It also states that.