Today until today I have bargain king all-you-can-eat "Monster Festival" limited to 8 stores so I went to the report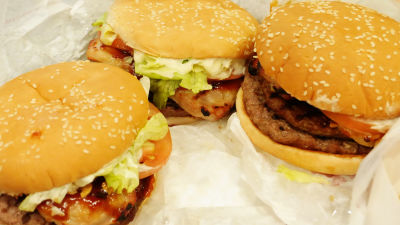 Burger King will do an all - you - can - eat event called Monster Festival at 8 stores in Osaka from 14 o'clock on Friday, August 30. The mountaineer says, "Since there are mountains there, I climb it," but with a similar feeling, I feel like being obliged by the obligation to "go because there is an all-you-can-eat event"Steak dumplingI went to the all - you - can - eat menu for 2 consecutive days.

Campaign | BURGER KING: Burger King
http://www.burgerkingjapan.co.jp/campaign/cp91.html

Arrived at Burger King.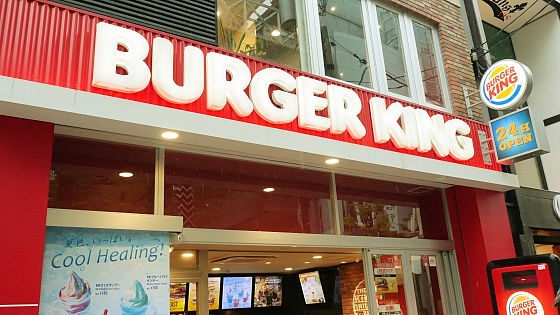 Appeal today's monster festival even in front of the shop.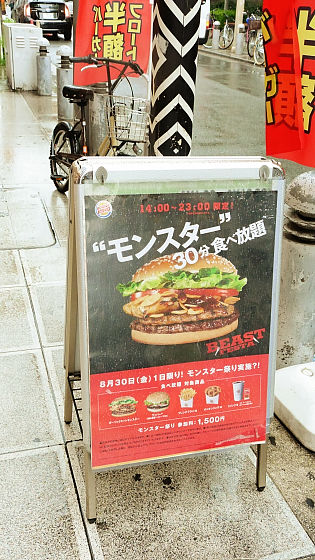 The rule first hands a set of garlic meat monsters, and a mechanism to go to checkout at the cashier with the plate emptied. The substitute menu is Garlic Meat Monster · Wapper · French Fries M size · Onion Ring M Size · Drinks you can choose from set menus are all you can order within 30 minutes from the first order.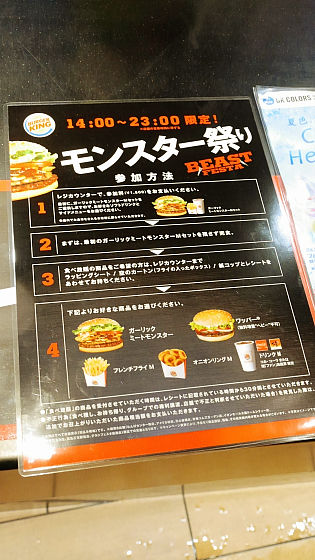 There is a menu of Wapper Garlic Meat Monster on the cash register.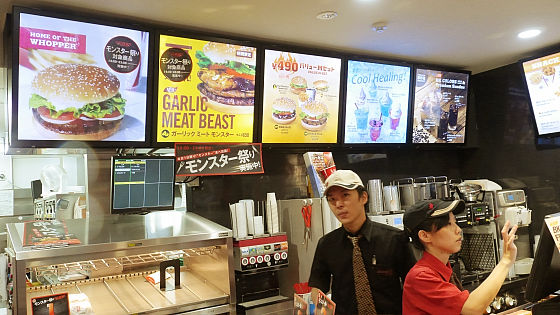 There was a sticker written "Monster Festival Target Product".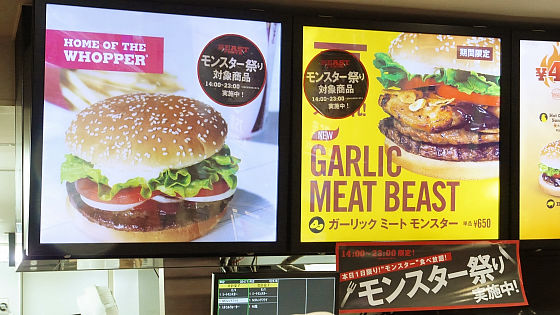 This is the pop of participating in the monster festival.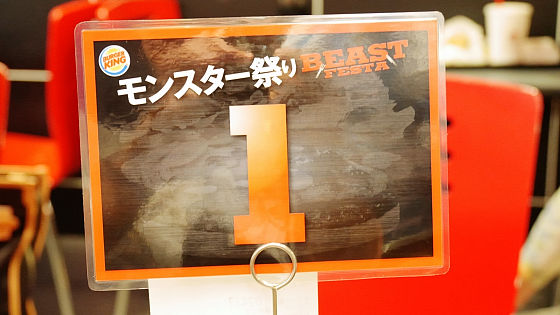 About 3 point notes of all you can eat on the back are written.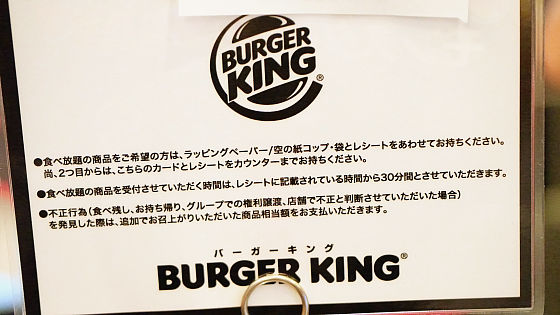 We have all three of you can eat all you can eat.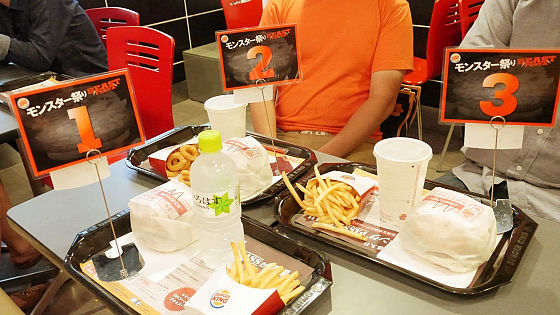 When put on one tray it is like this.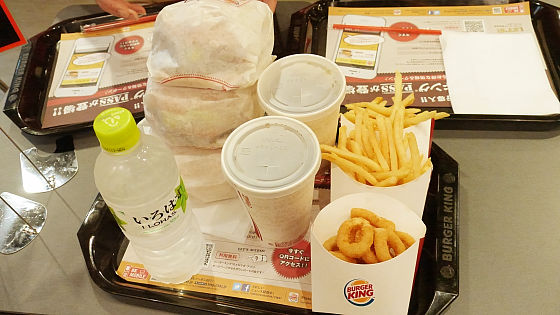 I put a hamburger in three steps. It is about the same height as a 500 mm plastic bottle.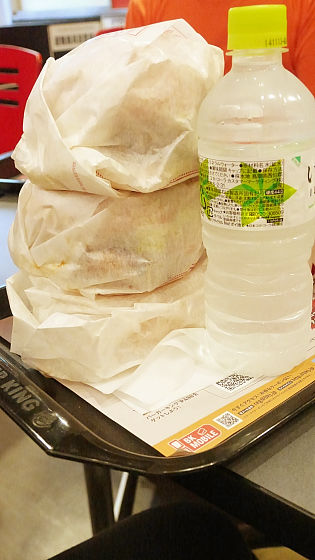 It's quite impressive when you have three.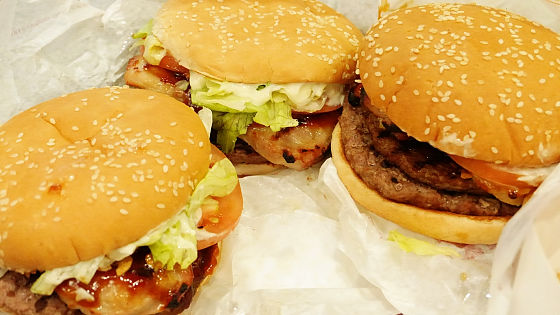 French fries, onion rings and drinks must also be eaten to replace them.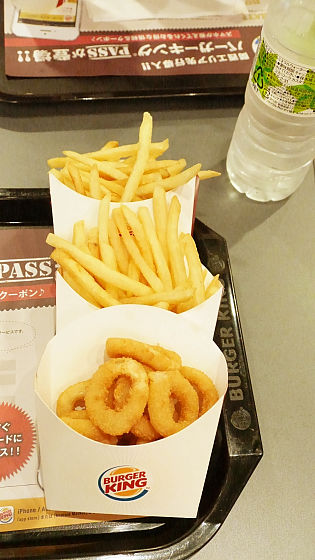 Garlic Meat MonsterIs a hamburger with mayonnaise, lettuce, tomato, fried garlic, chicken patty, pork patty, beef patty caught stunningly.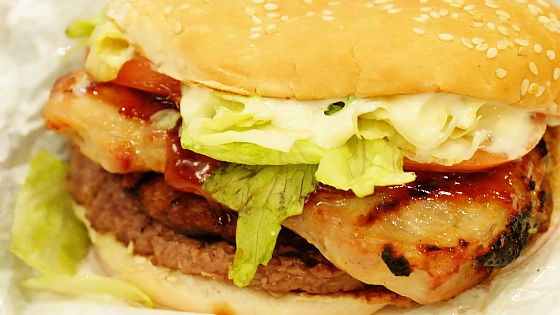 Three savory meats with direct fire are great force. I will eat it.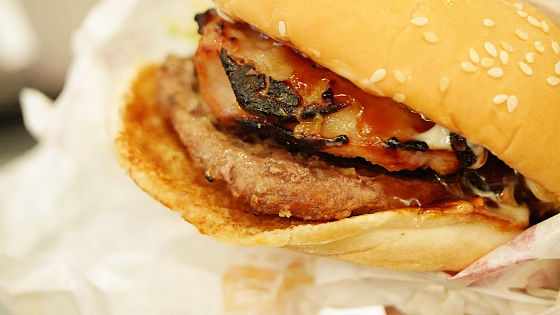 After all, three meats of chicken, pork, beef are serious volumes when eating. Sweet spicy sauce also appetizes, but because the volume is amazing, I suddenly go away with the energy to eat. Although it became uneasy how many pieces of hamburgers can be eaten after this, I can not go back anymore, even if waiting, there is no way to go ahead.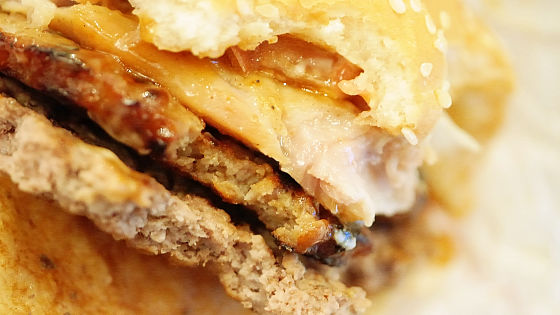 French fries are similar to McDonald 's French fries and should be a good partner of a hamburger ... but it is a little obstruction to the all - you - can - eat hamburgers menu. It is rather a danger element that can absorb moisture and inflate in your stomach.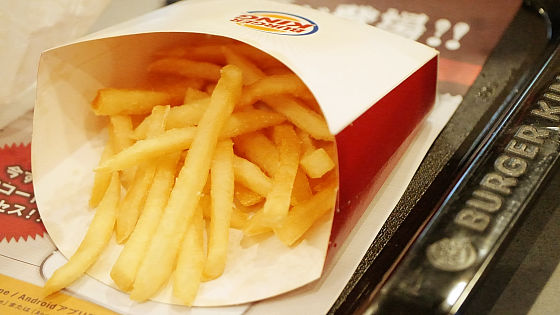 Even more dangerous onion rings, the stomach swells with a lot of clothing. The level where the taste of onion feels thin at this time already.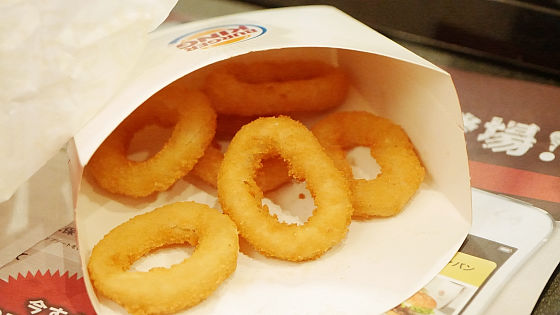 Eat all of this far at once and clear the first stage. It took about 15 to 20 minutes to complete. Considering the time allocation of 30 minutes, one more hamburger, no matter how hard I think the other two are the limit.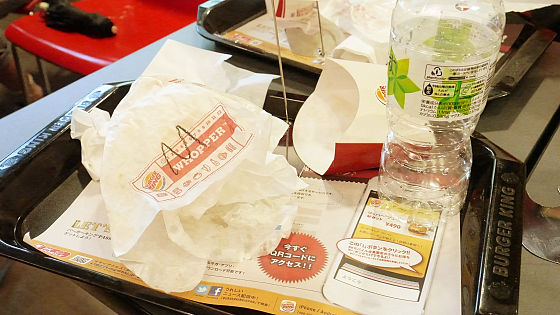 Instead of ordering drinks and wappers. Here one of the editorial staff is swallowed by the meat of the garlic meat monster and killed in honor, confronting with the other two.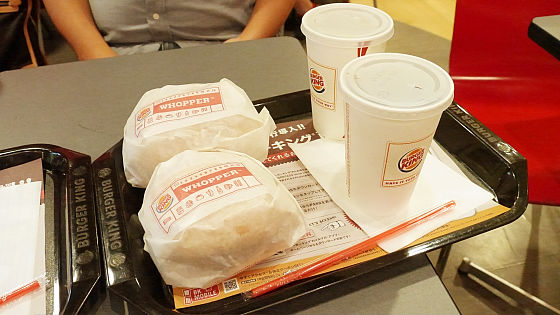 Wapper is a hamburger sandwiched between direct fire grilled beef patties.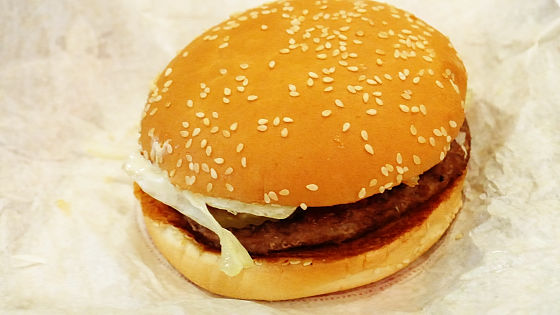 In the buns you can check lettuce, mayonnaise, tomato, lettuce and beef patty with direct fire. I decided to eat it.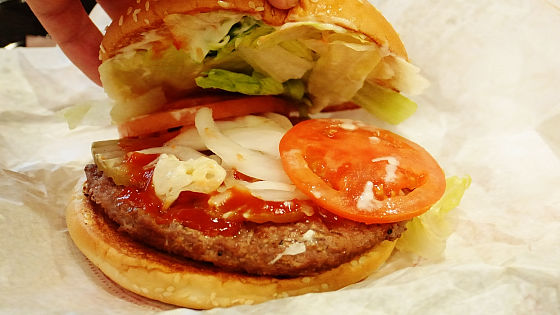 A hamburger that strongly feels the taste of direct flame-grilling of beef. As you can eat all you can eat, the impact of the first meat was intense, so I'd like vegetables. The moment I began to eat this hamburger, I abandoned eating a third hamburger.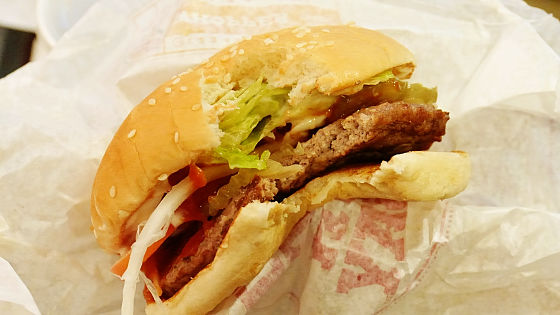 I will recommend a Wapper, but I am already full of stomach. Why on earth are you eating for ... ... Because you can have all you can eat, you can feel the taste of meat strongly because there are a lot of food in the stomach.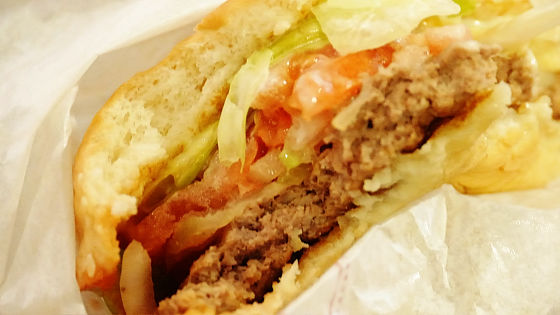 Complete food. When I finished eating, it was past 30 minutes of the time limit. If you can eat all you can eat this two or more seems to be severe unless you eat big snack & fast eating.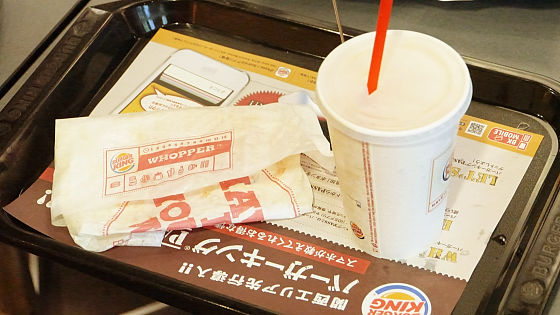 The all-you-can-eat monster festival entry fee is 1500 yen including tax, Garlic meat monster is 650 yen including tax separately, M size of French fries and onion rings 260 yen, drinks 220 yen ~ 230 yen , The amount of the first set is equivalent to 1100 yen, instead of asking for a garlic meat monster with 650 yen including tax or 450 yen for a wrapper with a tax, it is a mechanism that exceeds 1500 yen a little. If you eat more than three, feeling of mind will be further improved so let's do our best.

In addition, the stores that are doing are Namba Center Street Store, Kyobashi Coms Garden Store, Kita Shinsaibashi Store, American Village Store, Aeon Mall Osaka Dome City Store, Kawaramachi Sanjo Store, Grandfesta Himeji Store, Hankyu Sannomiya Ekimae Store .