[Old news] Jun Sadogawa, a manga artist known for 'Invincible Poster Girl', died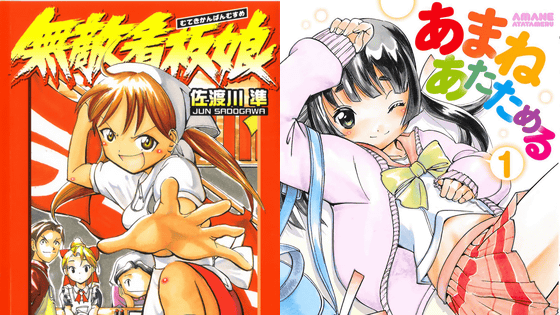 It
turns out that Jun Sadokawa, a manga artist who serializes 'Amane Warm Up' in
Weekly Shonen Champion
, died before dawn on August 13, 2013. I was 34 years old.
Asahi Shimbun Digital: Manga artist Jun Sadogawa's suicide or masterpiece ``Invincible poster girl''-Okuyami
http://www.asahi.com/obituaries/update/0813/TKY201308130275.html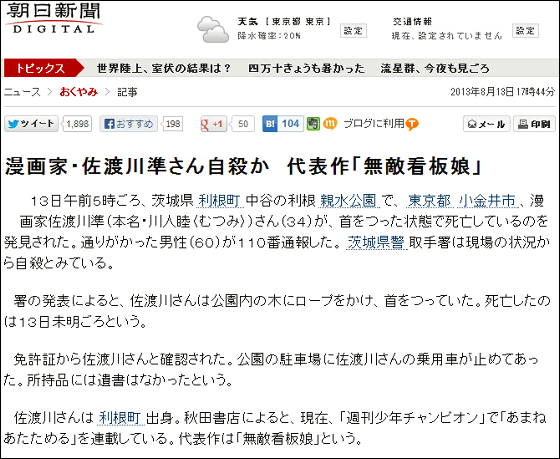 Mr. Sadokawa won the encouragement prize at the 55th Weekly Shonen Champion Newcomer Manga Award held in the second half of 2000, and debuted serially in 2002 Weekly Shonen Champion No. 25 with ' Invincible Poster Girl '. After that, it continued to be serialized for four years until 2006, and all 17 volumes of comics were published, and it was also made into a TV animation from July to September 2006.



After the completion of 'Invincible Poster Girl', the title ' Invincible Poster Girl N (Napalm) ' was serialized until 2007.



From 2008 to 2009, ' PUNISHER ' was serialized, from 2010 to 2012, ' Hanza Sky ' was serialized, and from Champion No. 52 of 2012, ' Amane Warm ' was serialized.



According to media reports, a man passing by an unconscious Sadogawa was found at Tone Water Park in Nakaya, Tone Town, Ibaraki Prefecture at 5 am on August 13. Although I reported it, I was told that my death was confirmed.

Mr. Sadokawa has an account on Twitter and it seems that he visited the Comiket venue on August 10th.

Sadokawa Jun (amanewarm) is using Twitter.
https://twitter.com/amanewarm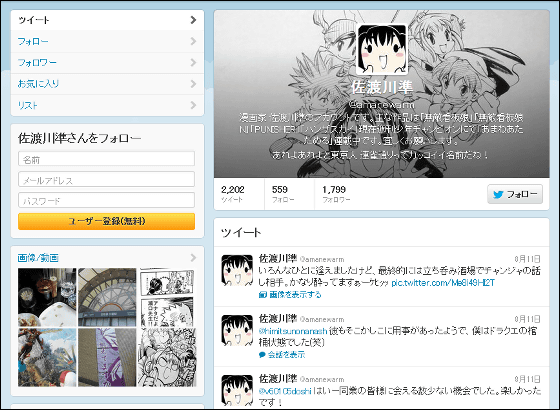 Addendum:
The obituary was published on the official website of Akita Shoten, which publishes the Weekly Shonen Champion that Mr. Sadokawa had serialized.

Dr. Jun Sadogawa Obituary | Akita Shoten
http://www.akitashoten.co.jp/news/191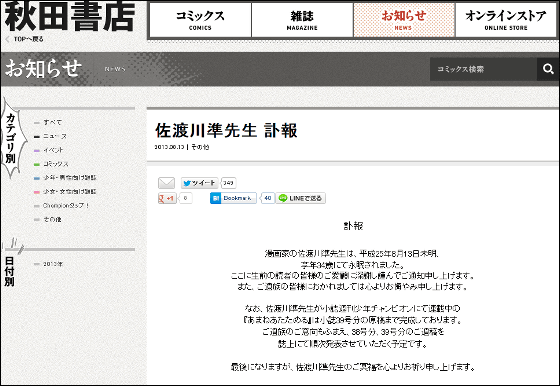 According to this, the manuscript has been completed up to the scheduled publication of No. 39, and the manuscripts for No. 38 and No. 39 will be announced one by one while considering the intention of the bereaved family.