The actual situation of "summer vacation homework" which is going to go wrong despite planning to finish early is revealed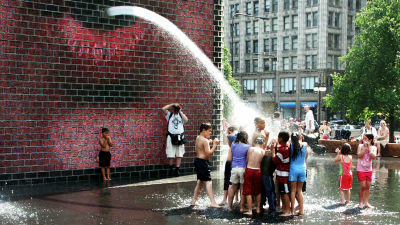 ByDayna Bateman

It is a fun summer vacation period for children, but it is summer vacation homework to turn around as always as possible. Everyone seems to have some bitter memories, but the result of a questionnaire "Buddy Survey on Summer Vacation Theme" for Bandai was held for parents with elementary school children was announced.

"Survey on attitudes about summer vacation homework" Result (PDF file)
http://www.bandai.co.jp/kodomo/pdf/question211.pdf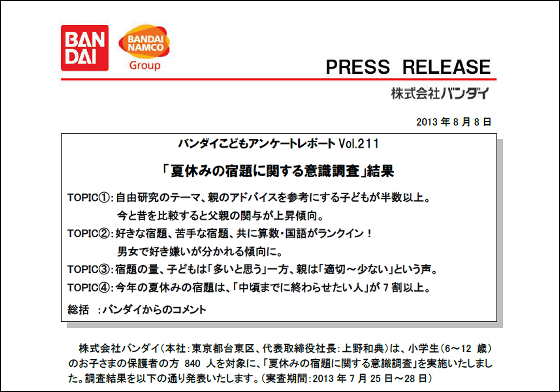 ◆ Source of free research theme
When deciding the theme of children's liberal studies, "mothers" were the most prized sources of information in terms of overwhelming "34.9%". The second place was "father" (13.9%), which resulted in about half of the total (48.8%) of children referring to advice from parents. Even in the parent's generation, the first is "mother" (26.5%) as well, and it seems to be said that whenever a child is in need of a time the mother is listening to the mother.




◆ My favorite homework / I do not like homework
As for summer vacation homework, various things are issued across all genres, but among them I liked the two biggest figures of "arithmetic" and "national language", which I cited as the top of (dislikes) and dislikes (weak). Looking at the sex, it became clear that the boy tends to contrast with "math love · national language dislikes", girls tend to contrast with "love of national language · arithmetic dislike". About "reading impression sentence" was felt as "weak" from both boys and girls, as well as parents who responded to the questionnaire returned similar answers "I was not good at childhood" It seems that it has long stood as a high wall in front of children.




About the amount of homework
Regarding the amount of summer vacation homework, summer vacation feels that children are "adequate / large", while parents feel "appropriate / small", it was easy to understand in a sense. Even though I thought that "my homework is too much" when I was a child, I think that if I become a parent's perspective, I will have to study more ... .... I understand.




◆ Schedule and achievements to finish the homework
When asked about how long we would like to finish this summer homework, about 77% of the children planned to complete in the "first half to the middle stage". The attitude is stunning, but when asked about the results until the previous year, 66.6% have revealed the fact that it ended through "middle stage - latter half". Based on the experience of the previous year, it seems to be planning that "We will finish this year soon!", But that may not be the case. It can be said that it is an eternal theme from ancient times.




Even now and in the past, the summer vacation homework may be a nemesis standing by the children ... ....
in Note, Posted by darkhorse_log