The design concept of Android 5.0 "Key Lime Pie" is quite excellent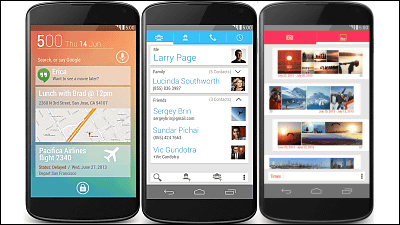 In order to operate lightly even with older smartphones, RAM can operate even with 512 MB,Late October 2013There is also a story that it will be released to Android 5.0 "Key Lime PieIs it okay for the design of this to be like this? The concept draft is a big hit overseas.

Jinesh Shah - Google+ - Android 5.0 Design Concept by me More to come soon! ...
https://plus.google.com/114942641052810674511/posts/eTGWnQz9yN2

Android 5.0 Design Concept
https://plus.google.com/photos/114942641052810674511/albums/5890549162587966337

The lock screen looks something like this with a voice search and the Google Now lock screen widget has built-in other notifications, you do not need to swipe down and open every time, open from the beginning Feeling.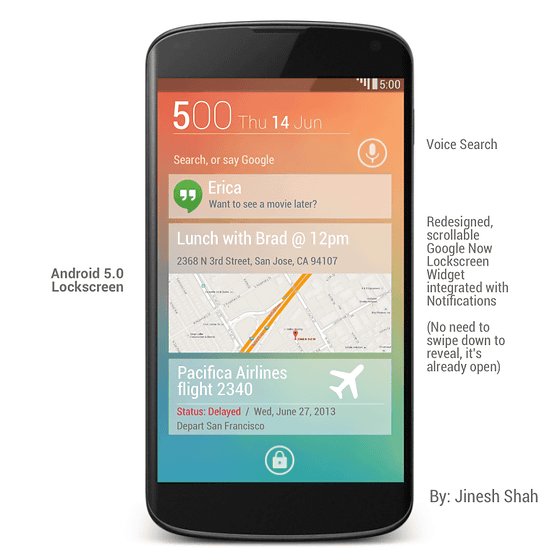 The home screen looks something like this, the taskbar at the top is transparent, redesigned the clock widget, and we are also reworking the Google search widget at the bottom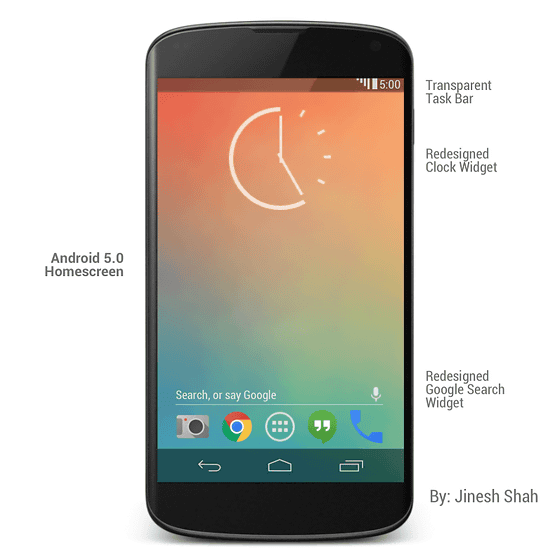 At the top are music widgets, widgets for music playback, tap cover art of album to play / stop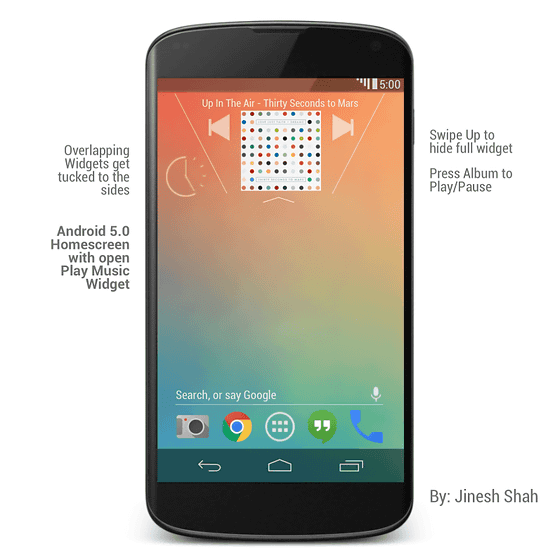 Swipe up when you close the Music widget, it gets smaller when you close it, and the mechanism that the original widget was returned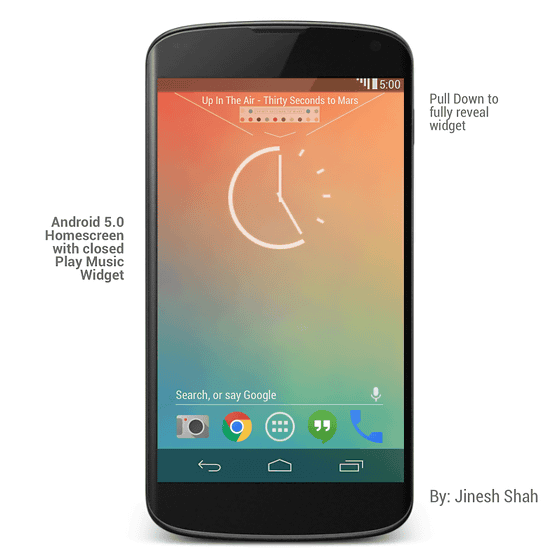 MultitaskingNew Google MapsIt has become a card style also used for, can be deleted by swiping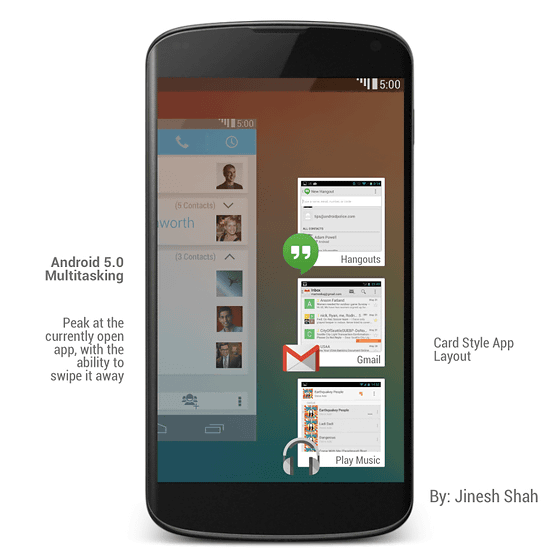 With the touch screen like this, calling / receiving history appears when you swipe, the dialer part also has a card style, and it is possible to call and search by voice recognition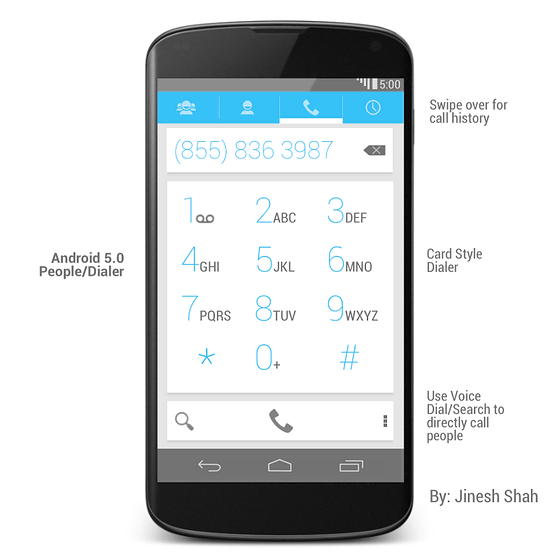 Contacts are displayed like this, here also card base design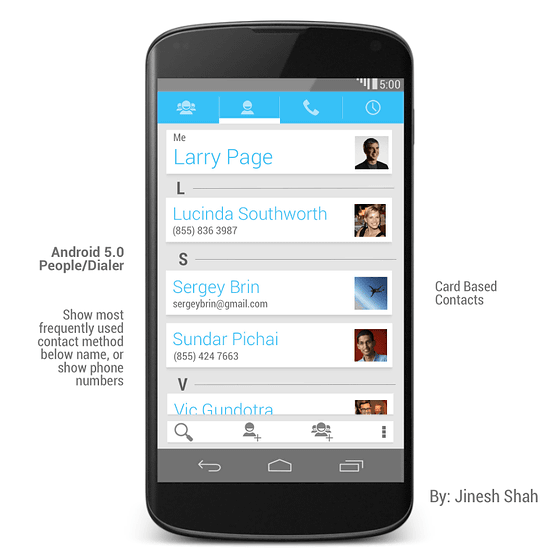 Contacts can be grouped in this way, and how to expand by tapping each group name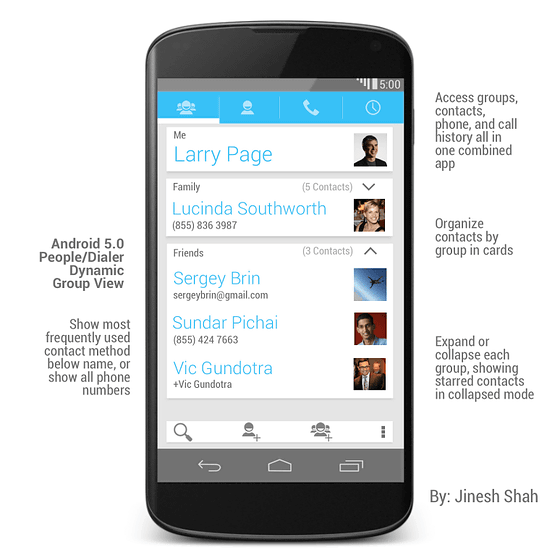 As soon as you swipe the gallery will switch to the camera, the album's highlights will be visible in thumbnails, automatically categorized by shooting date / time / location / application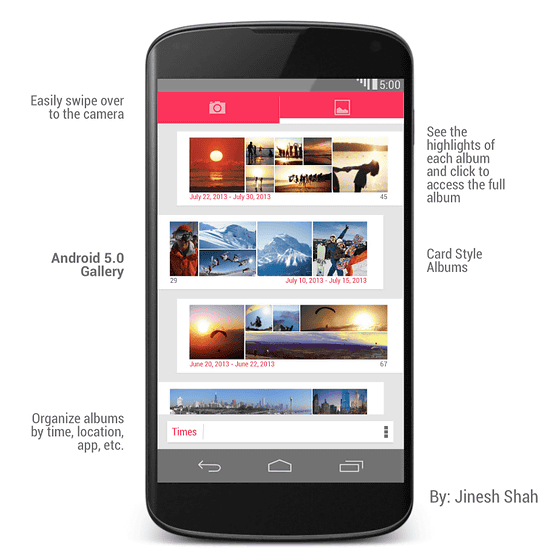 It is a concept design that seems to be totally unlikely, and it seems that it certainly approaches such a direction even though it thinks that Google has adopted card design.
in Design, Posted by darkhorse