Mr. Kasahara, president of Mixi, resigned, nine years since the start of mixi · 16 years since the start of Find Job!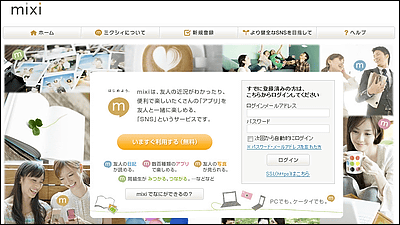 By announcing "Notice on Change of Representative Director", President Kenji Kasahara who has continued to reign as top for a long time from company establishment was announced to resign on June 25, 2013. "In recent years, rapid changes to smartphones, diversification of communication means online, and so on, as the environment suddenly changes, adapting to the changes of the times, to continue to change before the change of the times, I will try to rejuvenate and challenge for a new leap forward. "

About Mixi's New Management Structure «Mixi Corporation
http://mixi.co.jp/press/2013/0515/11729/

Announcement of full-year results for fiscal 2012 and announcement of strategy by new management team · Notice of live broadcast «Mixi Corporation
http://mixi.co.jp/press/2013/0515/11732/

【PDF file】 Notice on Change of Representative Director
http://v4.eir-parts.net/v4Contents/View.aspx?cat=tdnet&sid=1063294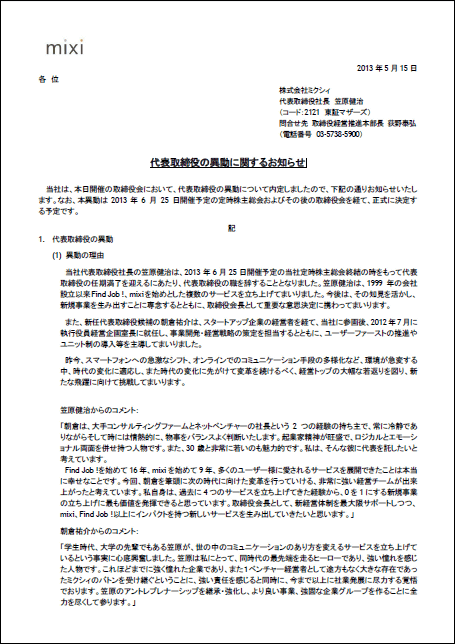 Kenji Kasahara Since the establishment of the company in 1999, President Kenji Kasahara has launched several services including Find Job! And mixi, but from now on, "We will devote ourselves to creating new business by making use of that knowledge, We will be involved in important decision-making as chairman. "

In addition, Mr. Yusuke Asakura is a candidate for the newly appointed director, participates in Mixi after becoming a manager of the start-up company, assumed office as executive officer management planning office in July 2012, and has business development and management strategy It is a person who has been leading the promotion of User First and the introduction of unit system, etc. It is the key to Mixi's revival.

Comment from Kenji Kasahara:
"Asakura has two experiences of a major consulting firm and president of a net venture, we constantly judge things in a calm and sometimes passionately, with entrepreneurial spirit being vigorous, both logical and emotional In addition, it is attractive to be very young, 30 years old.I want to trust him for such a thing
thinking about.

I am truly happy that I was able to develop services loved by many users, 16 years since I started Find Job !, 9 years since I started mixi. This time, I believe that a very strong management team has been completed that can carry out transformation towards the next era with Asakura as the lead. I think that I am able to demonstrate the most value in launching a new business that sets 0 to 1 from my experience of setting up four services in the past. As chairman of the board, I would like to create new services that have impacts beyond mixi, Find Job! While maximally supporting the new management structure. "

◆ Mr. Yusuke Asakura commented:
"During my school days, I was excited by the fact that Kasahara, who is also a senior at the university, has launched a service that will change the way the world communicates, Kasahara is a hero who runs at the cutting edge of the contemporary era, It is a person who felt admiration.I feel strong responsibility in inheriting Mikushi's baton which was a company strongly admired to this extent and also as a tremendously large presence as one venture manager, We are ready to strive to develop our company's business by inheriting and strengthening the entrepreneurship of Kasahara, we will do our utmost to make better business, a strong corporate group. "

As a matter of fact, the point of how mixi stands in comparison with "GREE" or DeNA's "Mobage"【November 2012】 Performance comparison of mixi, GREE, Mobage, Ameba based on latest financial results announcement [ITL]According to the chart below it is quite inferior compared to the SNS related sales.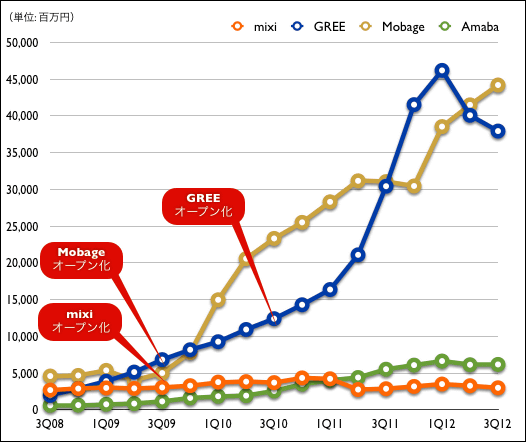 As of February 200790% of SNS users use mixi, And the advantage responded that "I can understand the recent status of my friends", as of April 2006 before thatUsers of mixi continued to increase by 15,000 people / dayThere was also an era in which we fought a lot of good advances like that, and in December of the same yearYahoo! JAPAN's 2006 search word ranking number one is "mixi"There were times when it seemed impossible to break down mixi, such as becoming it, but if it can be reversed greatly from here, there is no doubt that it will be a historic major incident.
in Note, Posted by darkhorse