[Dango] Yamaguchinoboru, a novelist known for such as "Familiar of Zero" dies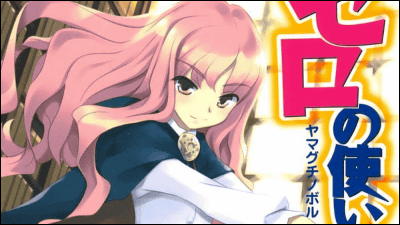 In the series of popular light novel "Zero no Tsukaima" that was made into television animation 4 times, "Strike Witches Suomen Ironman Squadron series" depicting battle of troops different from cartoon and animation of "Strike Witches" Known novelistYamaguchinoboruHe died on April 4th. I was 41 years old.

Death notice and words from editor of Misaka Yasuji are posted on the site of Media Factory · MF Bunko J that had published "Zero no Tsukaima".

【Dreadful】 Professor Yamaguchinoboru
http://www.mediafactory.co.jp/bunkoj/20130411/index.html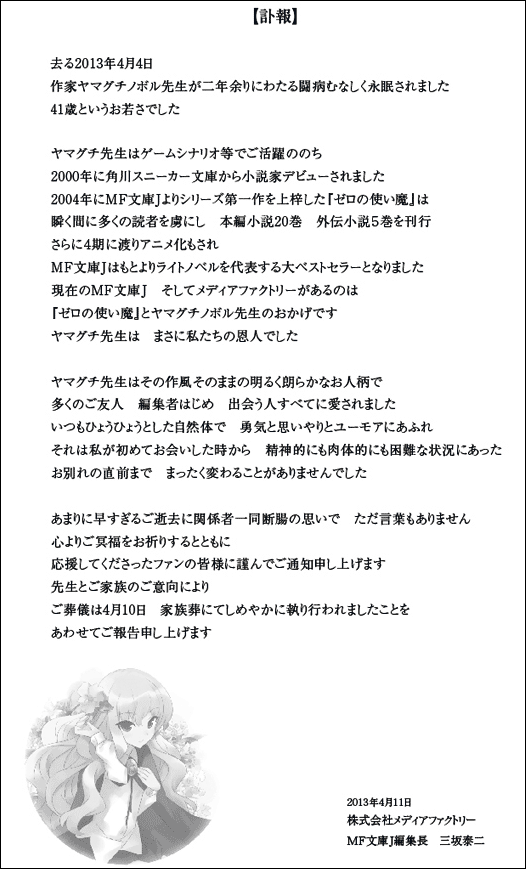 [Dangerous]
Leaving April 4, 2013
The writer Yamaguchinoboru was forced to suffer for more than two years of fighting illness
It was young as 41 years old

Professor Yamaguchi has been active in game scenarios etc.
In 2000 I was debuted as a novelist from Kadokawa sneakers bunko
"Zero no Tsukaima" who upgraded the first series of the series from MF Bunko J in 2004
In the blink of an eye imagining a lot of readers and publishing the volume novel 20 volumes novel 5 volumes
It was also animated for 4 more periods
Besides MF Bunko J, it became a major best seller representing light novels
There are current MF Bunko J and Media Factory
Thanks to Professor Yamaguchinoboru "Familiar of Zero"
Mr. Yamaguchi was exactly our benefactor

Mr. Yamaguchi is a cheerful and cheerful personality with its style as it is
Many friends Editor I was loved by all people I met first
Humor is always filled with courage, compassion and humor in a natural way
It was a situation that was both mentally and physically difficult from the time I first met
There was never any change until just before farewell

Too much too early on your death All the people concerned All of us are disappointed and there is no word
I pray for your soul from my heart
I would like to express my sincere gratitude to all the fans who have supported me
Depending on the teacher and your family members
The funeral was to be carried out in a funeral on 10th April
We will also report

April 11, 2013
Media Factory Inc.
MF Bunko J Editor, Masaka Yasuji

After working as a game scenario writer Mr. Yamaguchi, the novelize work of the game "Canary - put this feeling on a songDebut as a novelist.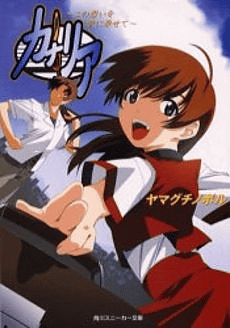 From 2004 MF Bunko J is a representative work "Familiar of Zero"Started.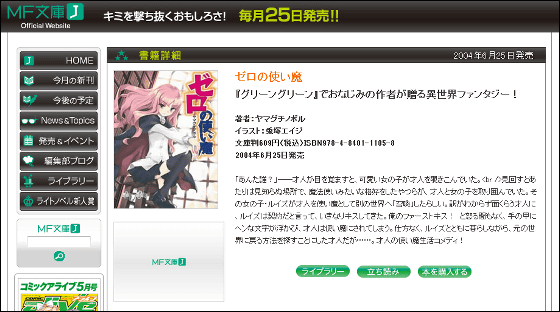 After that, as a novelist I sent out numerous works to the world, but in 2011Publish that you are cancerThen, the operation was carried out in August. After that I was sending a fight illness life.

While fighting illness life also information is being sent on Twitter, the usual tweets continued until March 31 before April Fools. Yamaguchi's last tweet is Elements Garden'sMasanori UematsuIt was the following conversation with Mr. Sato.


@AgematsuI do not understand somewhere, but I understand only that it is amazing anyway Conscon!

- Yamagutinoboru (@ hexagonzero)March 31, 2013

· Continued
To what a completion of that "Zero no Tsukaima" Continuing volume publication decision, that the story of Ruiz and talent finally reaches the finale - GIGAZINE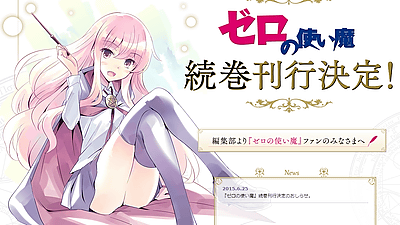 in Note, Posted by logc_nt